Whether you're looking to build a career as a meditation teacher, or simply dive deeper into your own personal practice, a Meditation Teacher Training (MTT) course may be right for you.
While most countries do not require meditation teachers to be licensed or certified, a good MTT course can:
Help you learn new techniques
Hone your teaching skills
Learn what to do (and what not to do) for teaching individuals and groups
Deepen your personal practice
Build your confidence as a teacher
The certification can help you feel more confident in offering your services as a meditation teacher, improve your ability to gain new clients and even get (and accept) insurance.
These Are the 10 Best 200-Hour Online Yoga Teacher Training Programs
 
Meditation Teacher Training Is More Than a Certificate
For millennia, meditation teacher training was mostly provided in monasteries and ashrams. But in our internet age, online meditation teacher training has become the new normal.
Some online MTTs provide only one or two hours of instruction, and viola – you're a certified meditation teacher!
While this can sound nice if all you want is a piece of paper that says you're "certified," it does not do much to build your knowledge, wisdom, practice, presence, confidence, impact, professional network or career.
 
Not all meditation teacher trainings are created equally.
 
The good news is that there are really powerful and transformative online meditation teacher training programs that can truly help you become a powerful, successful and impactful meditation teacher.
Below are the top five best online meditation teacher training programs in 2022.
Find Your Perfect Meditation Match! Here Are 5 Meditation Styles Based On Your Needs
 
 
5 Best Online Meditation Teacher Training Courses:
1. Meditation University's 200-hour Meditation Teacher Training Course (MTT-200)
Meditation University's Meditation Teacher Training Program (in partnership with Meditation Magazine) brings together twelve of Meditation Magazine's top teachers and authors (including our founder, Ashton August!) to create one of the world's most comprehensive meditation teacher training courses.
The great power in the MTT-200 comes from "learning from specialists." Think: trauma specialists, child meditation specialists, and breathwork specialists, all offering their expertise. Every teacher in the MTT-200 provides intimate insights into how they built their successful careers as meditation teachers, so you can do the same. This course also helps you develop your own practice and provides tools to become a successful full-time meditation teacher.
Fully Online: Yes, this course is fully online. There are pre-recorded videos and live Zoom sessions, but you don't have to be in any specific location
Format: 12-Week Course (which includes the live sessions & mentorship), or the "DIY" track (access to videos & course materials, but no live/interactive/mentorship sessions)
Teacher(s): Kevin Ellerton, YouAligned founder Ashton August and YA Classes teacher Dr. Jenelle Kim, Prince Daniels Jr, Nhi Nhi Le, Thara Natalie, Brett Cotter, Isabelle Baker, Mark Van Buren, Forrest Neal, Dr. Mansi Vira and Ronn Pawo McLane
Meditation Technique(s): Breathwork (5 different types), Metta, Tibetan bowls, "Awakening", Shikantaza, Mindfulness, Chakras, Body-scan, Zen koans, Standing and walking meditation, Karma yoga, meditation for kids, meditation for traumatized individuals and more
Accreditations: The Meditation Organization and International Mindfulness & Meditation Alliance
Length: 12 weeks
Additional Bonuses:
Comprehensive Meditation Teacher's Manual with dozens of styles of meditations
MTT-200 graduates' names are published in Meditation Magazine and can get coaching leads through listing
Direct access to publishing articles in Meditation Magazine
Graduates can use Meditation Magazine logo on their websites
Graduates can livestream meditations to Meditation Magazine's 20k+ social followers
Graduates can "moderate" (and possibly attract clients) in Meditation Magazine's Facebook group
Graduates get a one-on-one mentorship and career building session
Price: $3000 for the Full 12-Week program, or $1500 for the "DIY" Track. Scholarships and discounts are available Scholarships, financial aid, and payment plans are available!
 
2. Sounds True's Mindfulness Meditation Teacher Certification Program
This is the most expensive course on our list, coming in at $8,700… and for good reason. Sounds True's Mindfulness Meditation Teacher Certificate Program is a two-year course, with live training from big-name meditation teachers like Tara Brach and Jack Kornfield.
This course combines online videos with live Zoom trainings, teaching practices and Q&As. It also features video lessons from Eckhart Tolle, Dan Siegel, George Mumford, Zenju Earthlyn Manuel and Kristin Neff. It includes a "Cultural Sensitivity Training" so you can teach a wide variety of people from all demographics.
Format: Pre-Recorded Videos & Live Sessions
Fully Online: Yes, this course is fully online. There are pre-recorded videos and zoom sessions, but you don't have to be in any specific location
Teacher(s): Tara Brach, Jack Kornfield (with "guest appearances" by Eckhart Tolle, Dan Siegel, George Mumford, Zenju Earthlyn Manuel, Kristin Neff, Van Jones and several other guest teachers
Meditation Technique(s): Mindfulness
Accreditations: International Mindfulness Teachers Association
Length: 2 years
Price: $8,700
 
3. The Chopra Center's Meditation Instruction Certification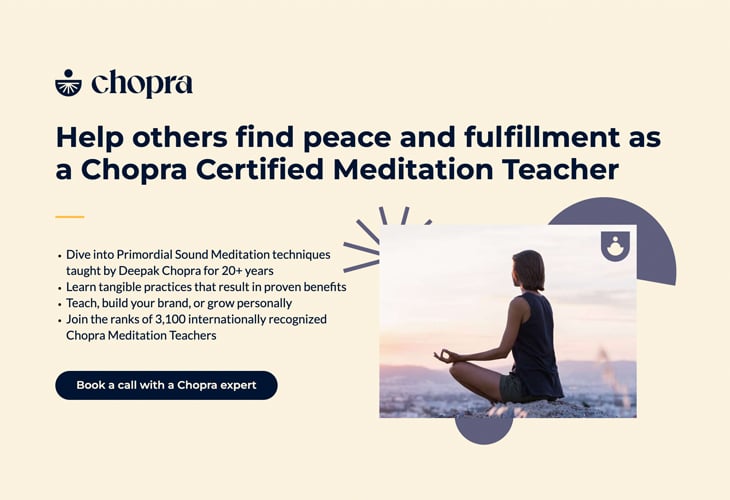 Everyone has heard of Deepak Chopra… so getting an internationally recognized certification from Chopra Center's Meditation Instruction Certification will certainly be deeply rewarding.
This comprehensive training focuses on the ancient Vedic meditation technique of Primordial Sound Meditation. Learn about the history of this unique mantra-based meditation tradition, yoga philosophy, and receive a toolkit of practices and personalized teaching strategies to support you as a teacher.
Format: Pre-recorded videos & live zoom sessions
Teacher(s): Deepak Chopra, Devi Brown, Yogini Shambhavi Devi, Roger Gabriel, Pete Kirchmer, Teresa Long, Manjula Nadarajah and Pandit Vamadeva Shastri
Meditation Technique(s): Primordial Sound Meditation
Length: 16 weeks
Additional Bonuses:
3 group manifestation and visualization sessions with Roger Gabriel
60-minute Coaching Wisdom Workshop hosted by Pete Kirchmer
Printable Planner PDF
eBook bundle
Access to Chopra's online mantra calculation program
Price: $5,188
Why Deepak Chopra Is Practicing Two Hours of Yoga Every Day
 
4. The Mindfulness Center's SOMA Meditation Teacher Training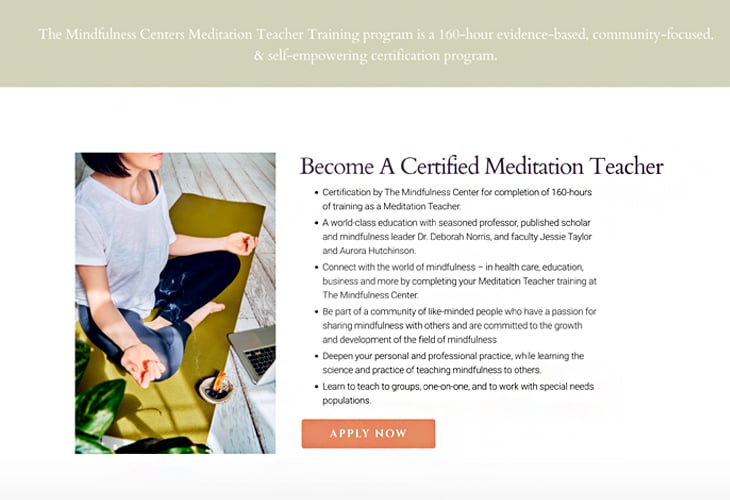 The Mindfulness Center's "SOMA" Meditation Teacher Training is deeply rooted in science. In fact the name SOMA stands for "Science Of Mindful Awareness."
The course is led by Dr. Deborah Norris, a prolific neurobehavioral scientist who is also the founder of The Mindfulness Center, author of , Editor-in-Chief of MindBodyJournal.com, and Psychologist-in-Residence and Director of the Psychobiology of Healing Program at American University.
As it is run by a scientist, it's not surprising that this course focuses on evidence-based practices and the effects that different meditation techniques have on the brain.
Dr. Norris's steadfast focus on the science underlying mindfulness is the virtue that earns this course a spot on our top five list of the best meditation teacher training programs.
Format: Pre-recorded videos and live monthly discussions
Teacher(s): Dr. Deborah Norris, with faculty Jessie Taylor and Aurora Hutchinson
Meditation Technique(s): Covers a variety of well-studied meditations, specifically self-awareness and compassion-based mindfulness techniques
Accreditations: International Association of Yoga Therapists (IAYT)
Length: 160 hours
Price: $1,700
 
5. Sacred Breath Academy's Breathwork Facilitator Training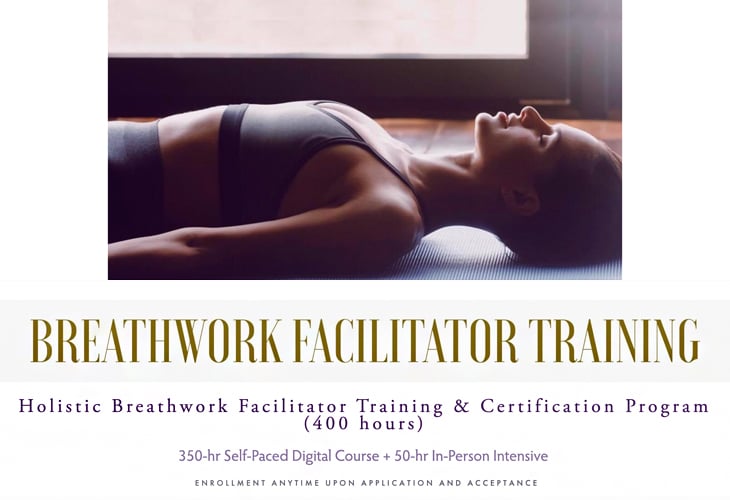 The Sacred Breath Academy's Breathwork Facilitator Training may be the most comprehensive online breathwork facilitator training we have found online. If you want to specialize in breathwork, and have less interest in teaching more traditional forms of meditation, this is a nice bridge.
It includes 350 hours of self-paced work (using their online platform), plus 50 hours of "intensive" work, either in person or online.
While this article is mainly focused on online-only meditation teacher trainings, this course does have an in-person component (but if you need to, you can take the intensive part online.)
The Sacred Breath Academy highly recommends joining the in-person component, though, in the US, Mexico, Greece or Bali (sounds like fun if you can make it work)! Travel, food and lodging are not included in the tuition, so budget accordingly.
Format: 350 hours of self-guided online modules and 50 hours intensive (either in-person or online)
Teacher(s): Kaya Leigh
Meditation Technique(s): Breathwork
Length: 400 hours
Price: $4,444
 
 
Discover The Best Meditation Teacher Training for You
There you have it – the best options for online meditation teacher trainings. Which one calls to you?
Whether you decide to take one of these meditation teacher trainings (or another!) to deepen your own meditation practice or to guide others in their journey, they are all incredible programs, led by phenomenal teachers and wisdom keepers, and you are sure to have a transformative experience.
This article has been read 4K+ times. Feelin' the love!