Perfect for picnics, potlucks, or cookouts, coleslaw is the perfect summer side dish. Coleslaw often contains refined sugar and mayonnaise, both of which have high fat and unhealthy oils. If you're looking for a healthier coleslaw, or one that's mayo-free, give this delicious Easy Healthy Coleslaw recipe a try. 
In this recipe, we toss shredded cabbage, grated carrot and sliced scallions with a tangy and delicious dressing made with apple cider vinegar, lemon, Dijon mustard and a touch of Mānuka honey. To blend everything together, we use nutty, buttery and healthy omega-3 rich Udo's Oil.  
Buy pre-prepared coleslaw mix and it can be ready in about 5 minutes.
This coleslaw is like the vinegar-based coleslaw you'd find in the South. And it's really easy to customize with additional ingredients like extra veggies, herbs and spices. Check out some of our tips and serving suggestions below.
Ingredients You'll Need For This Easy Healthy Coleslaw
Cabbage:

Use green cabbage, red cabbage or a combination of both. The red cabbage will stain the other ingredients. Use store-bought coleslaw mix to save on prep time.
Cabbage is an excellent source of antioxidants, vitamin C and vitamin K. If you're using purple cabbage, it's a good source of vitamin A too. 
Mānuka Honey:

Mānuka (pronounced 'muh-NOO-kuh') is a delicious, medium sweet and earthy honey that will stick to your spoon rather than drizzle off of it. It's native to New Zealand.
And it's a superfood. Unlike other honeys, Mānuka honey contains a potent antimicrobial compound with antioxidant properties called methylglyoxal (MGO). It's also rich in antioxidants and trace nutrients like B-vitamins, calcium, copper, iron, magnesium, potassium, sodium, and zinc. 
You can buy Mānuka honey with different strengths of MGO measured by its UMF™ (Unique Mānuka Factor). For culinary use, UMF Grades under 100 (which are least expensive) are perfect for this recipe. 
Apple Cider Vinegar:

We love the crisp, tart flavor of apple cider vinegar for this coleslaw, but you can also swap in white, red, champagne or rice wine vinegar.
Udo's Oil 3·6·9 Blend

: This rich, nutty, and buttery tasting plant-based blend of organic flax, sesame, and sunflower seed oils is certified organic, cold-pressed and unrefined.  
Made with all healthy fats, Udo's Oil provides the ideal 2:1 ratio of omega-3 to omega- 6 essential fatty acids. Research shows that 90% of us are deficient in omega-3 fatty acids and the dressing for this coleslaw is a great way to get your daily boost (1). You can buy Udo's Oil here.
Lemon Juice:

Lime juice will work great too.

Dijon Mustard:

Dijon mustard gives this dressing a really smooth finish and balanced flavor. You can also substitute yellow or the creamy mustard of your choice.

Grated Carrot:

If you're buying a packaged coleslaw mix, it may already contain some carrot, but it's usually not much. Add more if you like.

Fresh Sliced Scallion
Salt + Pepper
 💡 Healthy Cooking Tip: To preserve the nutrients and beneficial compounds, never heat Mānuka honey or Udo's Oil.

How to Buy Mānuka Honey
Mānuka is a rare type of honey. Here's what to check before you buy:
Certifications:

Authentic Mānuka honey will have a UMF™ (Unique Mānuka Factor) certification rating on its label. If it doesn't have it, don't get it. This internationally recognized, third-party verification system tests for three signature compounds.
MGO (Methylglyoxal):

the antibacterial compound. 

DHA (Dihydroxyacetone):

this chemical determines the age of the honey.

Leptosperin:

It's a compound from the pollen found in Mānuka honey that can't be faked.
 💡 The presence of all these compounds ensures your Mānuka honey is real.
Traceability & Transparency:

The place where you buy your Mānuka Honey from should share lab testing results and be upfront about their source.
We love Flora's award-winning Mānuka Honey because it's:
UMF™-certified
Traceable to the Hive:

  Scan the NFC code on the label for its lab test results.

Sustainably Sourced:

  Flora sources its Mānuka honey sustainably from a beekeeping operation owned by the Māori, the indigenous people of New Zealand

.

 
For recipes and culinary use, 30+ or 100+ MGO strength is perfect.
How to Prep Your Cabbage 
Remove any outer leaves that are bruised or torn.

Cut your cabbage in half. 

Cut out the tough inner core.

Slice cabbage into thin shreds by hand.
For more consistent slices of cabbage, you may also use:
A box grater

A food processor 
(check the manual for which attachment will produce the texture you're looking for. The 2mm slicing disk and grating disc both work well.) 
 A mandoline (adjust to your desired slice thickness).
Quick Prep Tip: Save time and skip the cabbage prep. We love to purchase pre-shredded bags of coleslaw mix. These usually contain white cabbage, red cabbage and carrot.

How to Make the Coleslaw
Prep the Ingredients (or open your bag):

Place them in a large bowl.

Make the Dressing:

You can whisk all the ingredients in a small bowl or pop them in your blender.

Mix up the Slaw:

Pour the dressing over the coleslaw, toss and thoroughly coat.

Serve + Enjoy!

Try This Step to Keep Your Coleslaw Crunchy
Homemade coleslaw is a delicious side dish. But if you don't love the way it can get watery and soggy after a day in the fridge, try soaking the cabbage in salt before adding your dressing.
This optional step will help draw moisture out of the cabbage so your slaw stays crunchier longer. It's worth the extra effort if you're prepping your coleslaw ahead of time or serving it to guests.
Here's what to do:
Place the shredded cabbage in a bowl.

Toss it with a tablespoon of salt per head of cabbage (for this recipe 1 to 2 teaspoons is enough).

Let it sit for 1 hour then drain the excess liquid, rinse away the salt in a colander. 

Pat dry with paper towels or pop it in your salad spinner.

Add the dressing! 
Now your coleslaw will stay crunchy!
Possible Add-Ins and Variations
Depending on what you're serving this coleslaw with, you can easily add more flavor. 
Here are some ideas:
Swap in Extra Veggies:

Add

bell peppers, broccoli, kale, fennel, celery, radish or red onion.

Add in Herbs + Spices:

Cilantro, parsley, or a teaspoon of

celery seeds

Boost the Heat:

Add finely diced jalapeno peppers, habanero or serrano chilis.

Add Crunch:

For more texture, add in toasted almonds, sesame seeds, sunflower or pumpkin seeds.

Serving Suggestions
This coleslaw is really versatile! Serve it with:
Grilled chicken, fish, tempeh or veggies.

Seafood

Chicken, salmon or veggie burgers

Fish or shrimp tacos

BBQ

Sandwiches
It would also compliment Caribbean, Latin American and Southern dishes. 
Can You Make This Coleslaw Ahead Of Time?
For best results, you can prepare the "coleslaw dressing" up to 4 days in advance. Keep refrigerated and then pour over the cabbage mix when ready to serve. 
If you need to prep the coleslaw cabbage ahead of time, consider "salting" the cabbage to remove moisture and retain crunch.
How Long Does Coleslaw Keep?
Leftover coleslaw is best eaten within 3 days. For the best flavor and texture, within 2 days is best.
GET THE RECIPE!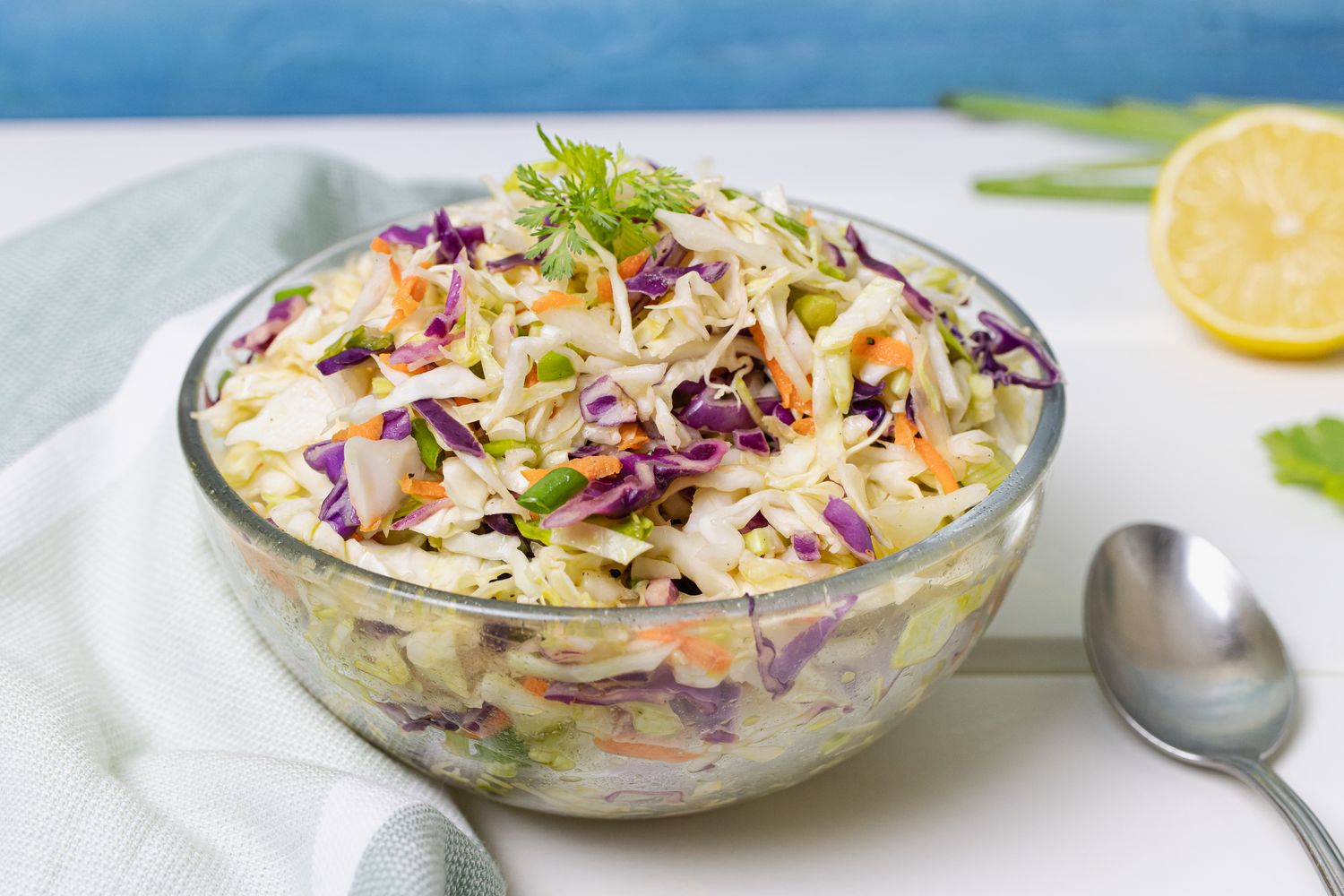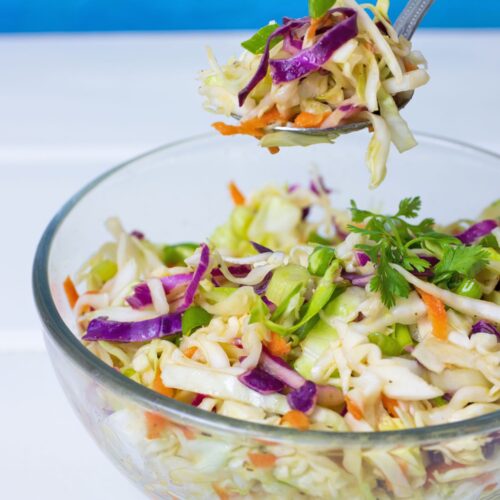 Easy Healthy Coleslaw
This easy, healthy coleslaw recipe is tangy, sweet, and mayo-free. It's also dairy-free, gluten-free, and goes great with a variety of dishes.
Ingredients 
FOR THE COLESLAW

4

cups

cabbage

finely sliced or shredded (green, red, or a combination) *

1

medium carrot

grated

3

scallions

finely sliced (about ⅓ cup)

2

teaspoons

salt

optional

FOR THE DRESSING

¼

cup

Udo's Oil 3·6·9 Blend

2

tablespoons

apple cider vinegar

2

tablespoons

lemon juice

1

tablespoon

Flora Mānuka Honey

2

teaspoons

dijon mustard

1/2

teaspoon

pepper

1/2

teaspoon

salt
DIRECTIONS 
** Salt the Cabbage (OPTIONAL): Place the shredded cabbage in a colander over a bowl. Toss with 2 teaspoons of salt and let sit for 1 hour. Drain the excess liquid and rinse off salt. Pat dry with paper towels or pop it in your salad spinner.

Mix the Coleslaw Veggies: In a large bowl add the shredded/grated cabbage, grated carrot and sliced scallion. Set aside

*** Make the Dressing: Add all the dressing ingredients to a small bowl and whisk until completely smooth and blended. You can also pop them all in the blender.

Mix it Up: Pour half of the dressing over the cabbage mix and toss until all the veggies are evenly dressed. Continue to add additional dressing until you are happy with the coverage.

Serve and enjoy!
Notes
* To save time on prep time substitute the 4 cups of cabbage with (2) 16-ounce bags of store bought coleslaw mix. Some mixes contain carrots while others don't.
** This step is optional, but it will help keep the coleslaw crunchy, and prevent it from getting watery and soggy after sitting. If you don't plan on having leftovers you can skip this step.
*** If you have any dressing leftover save it to toss with salad greens.
Nutrition
Calories: 104kcalCarbohydrates: 7gProtein: 1gFat: 9gSaturated Fat: 1gPolyunsaturated Fat: 6gMonounsaturated Fat: 2gSodium: 927mgPotassium: 133mgFiber: 2gSugar: 5gVitamin A: 1667IUVitamin C: 19mgCalcium: 27mgIron: 0.4mg
 💡 Visit FloraHealth.com for Udo's Oil 3·6·9 Blend and authentic, traceable and sustainably sourced Mānuka Honey!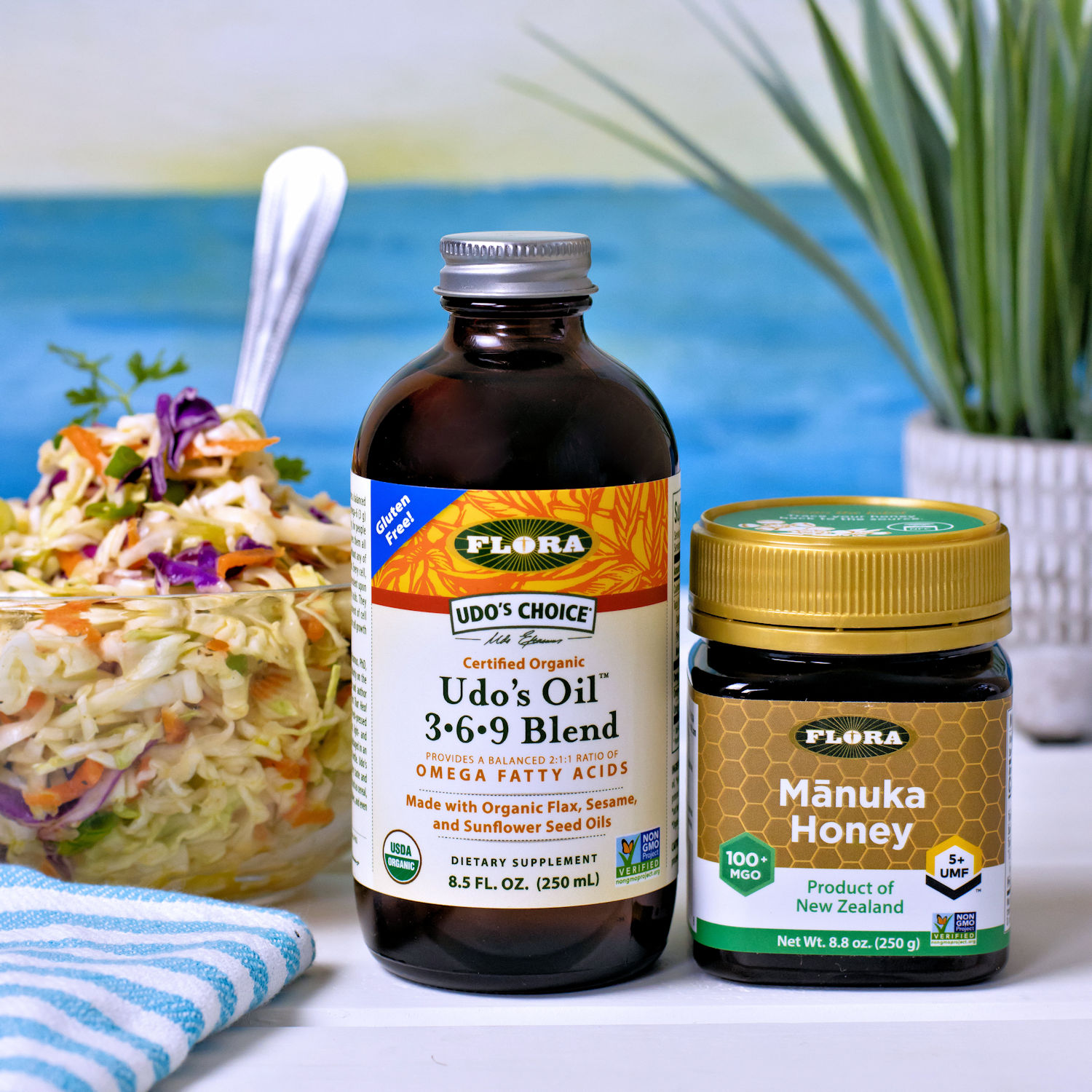 *These statements have not been evaluated by the Food and Drug Administration. This product is not intended to diagnose, treat, cure, or prevent any disease.