On the lookout for garden party ideas that take your outdoor event from "meh" to "yeah!"? Then you've come to the right place since that's precisely what we share with you ahead. We're here to show you that throwing a unique party doesn't have to be complicated.
Make your hosting dreams come true with a little help from Peerspace! If there's a type of party you've always wanted to have, we can find an affordable way to make it happen. So why not think outside the box? Escape from your living room and take your guests on an adventure for your next party.
Whether it's for an engagement, a baby shower, or "just because," — a garden party is a charming and relaxing way to get outside and enjoy the fresh air. Here are some lovely garden party ideas to get you started.
1. Find a venue on Peerspace
If you don't have an outdoor garden of your own, don't stress — you can borrow one of ours! The enchanting garden of your dreams awaits on Peerspace.
Here are a few examples of the types of spaces you'll find ideal for garden parties on Peerspace:
Many hosts own gorgeous outdoor spaces with picturesque landscaping, grills, pools, fire pits, and other amenities to bring your garden party ideas to life. Some venues even offer catering as an add-on, so you don't have to go out of your way to keep your guests fed and happy.
Check out Peerspace and start looking around to find the perfect garden space near you for your party.
2. Make it a tea party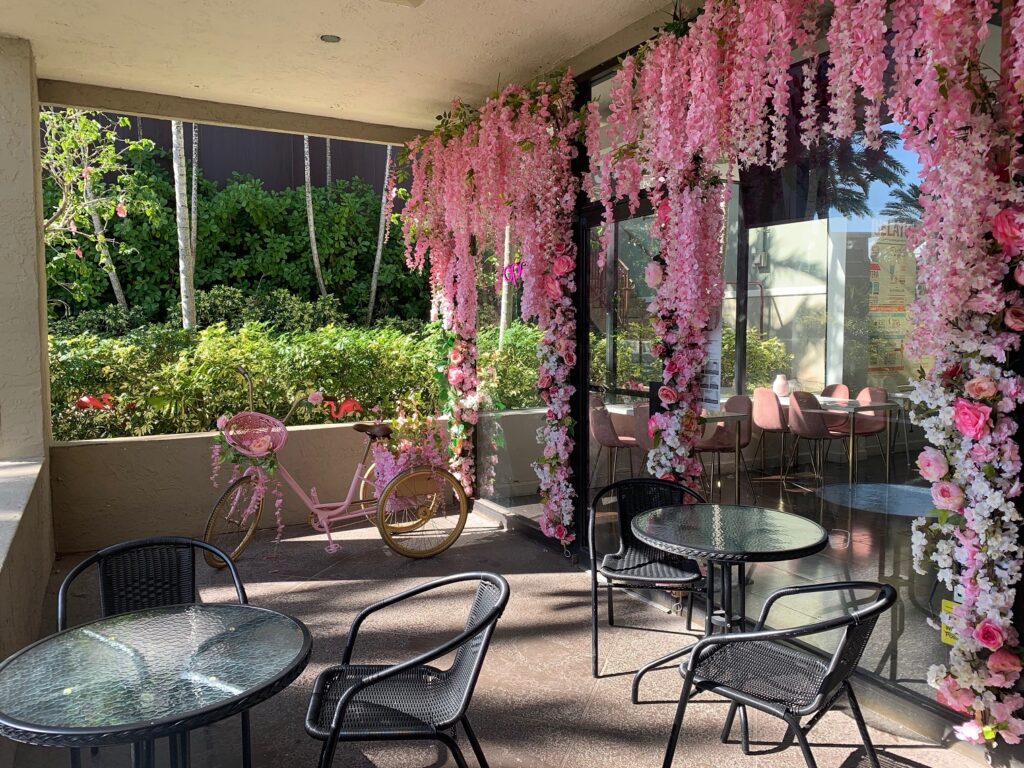 What's a garden party without tea? Channel your best Alice in Wonderland vibes by serving tea as the signature party drink. Set up a hot tea station with a decorative tea set and honey or agave. Or, if the weather isn't suitable for something hot, serve up some iced tea in pretty acrylic glasses.
But don't just settle for generic sweet tea! Try some unique, refreshing flavors with these copycat recipes for Starbucks refreshers. To add extra flower power to your garden party, serve floral-infused drinks like elderflower lemonade or blushing ginger rose fizz mocktail.
Want to leave the tea-making to the experts and enjoy the drinks and garden setting with your guests? Then you need to book a Peerspace like this well-decorated super cute tearoom in Miami (pictured above). You can host your party on the beautiful flower-strewn patio while the friendly hosts serve you tasty teas.
3. Plan some outdoor games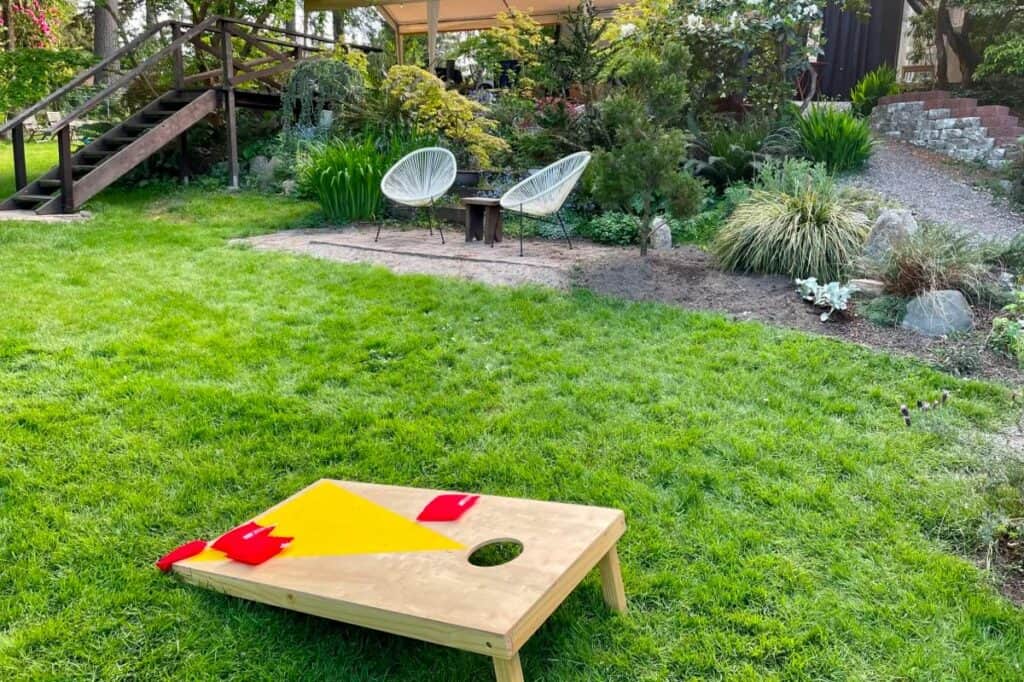 Enjoy the outdoors and liven up the party with fun backyard party games like horseshoes, cornhole, bocce ball, croquet, limbo, giant Jenga, or hacky sack. If little ones are invited to the party, fill up some water balloons (but don't forget to clean up!) or set up a beanbag toss, hopscotch, or even a sack race if you have space.
If you rent an outdoor garden venue from Peerspace, your host might already have games available for you to use. Just check out the amenities section when you book or message the host to find out what they may have to offer.
As an example, check out this urban farm garden in Seattle. It is 25,000 square feet of outdoor space that includes tables, chairs, and yes, lawn games!
Our elegant picnic brunch ideas can give more food and party game ideas!
4. Prepare a garden-grown meal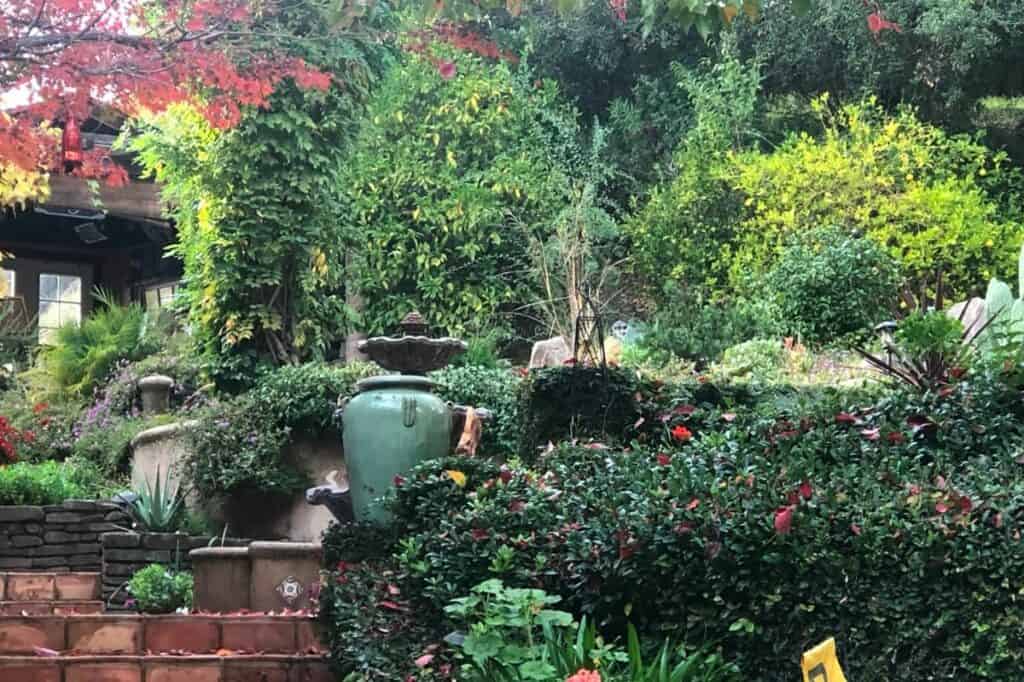 Take inspiration from your green surroundings and prepare a fresh, farm-to-table style meal. Think fruit salads, flatbreads topped with veggies, cheese, bruschetta, and cobblers for dessert. If you are stumped, this blog offers some creative, garden-inspired recipes to jumpstart your culinary imagination. 
Serving mainly plant-based eats at your party is sustainable and a great way to work around any dietary restrictions and preferences your guests may have.
5. Dress up!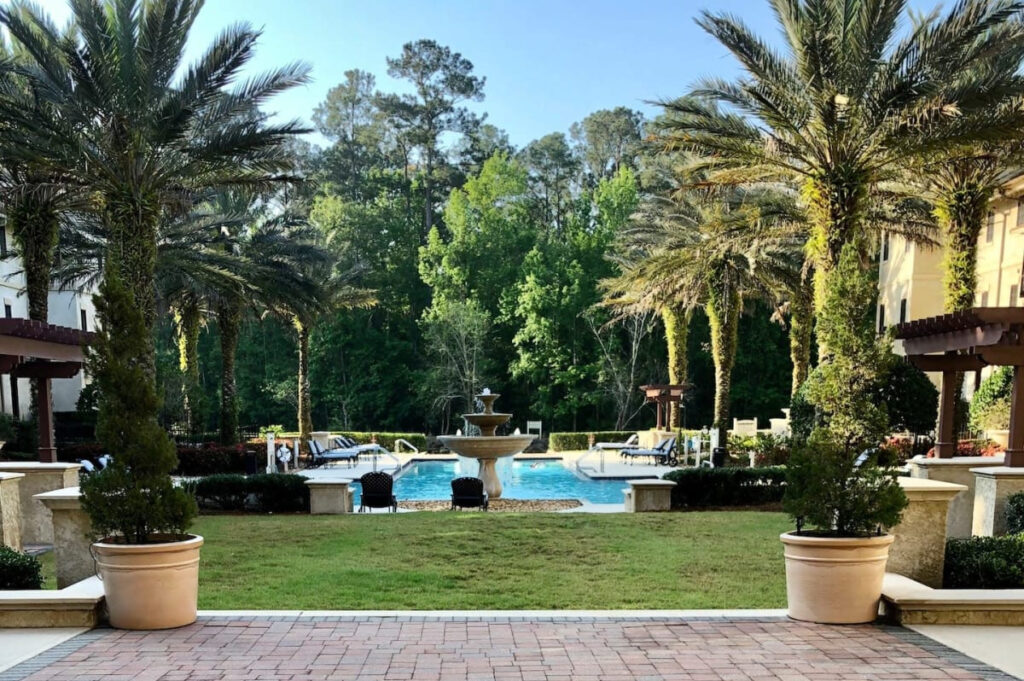 Pick a theme for your garden party and dress up accordingly! Think old-fashioned with elegant sundresses, fancy hats, and colorful vests.
Or go for an Alice in Wonderland theme and ask everyone to dress as their favorite character. They can choose from the Cheshire Cat, the Mad Hatter, the White Rabbit, the Red Queen, the talking flowers or the Queen's cards, the Dormouse or the Dodo bird, and of course, Alice herself. You can find great costume pieces and accessories at your local thrift or vintage stores.
For more inspiration, check out this Alice in Wonderland-inspired condo in St. Augustine, FL, that even has a pool and outdoor space.
6. Design a beautiful tablescape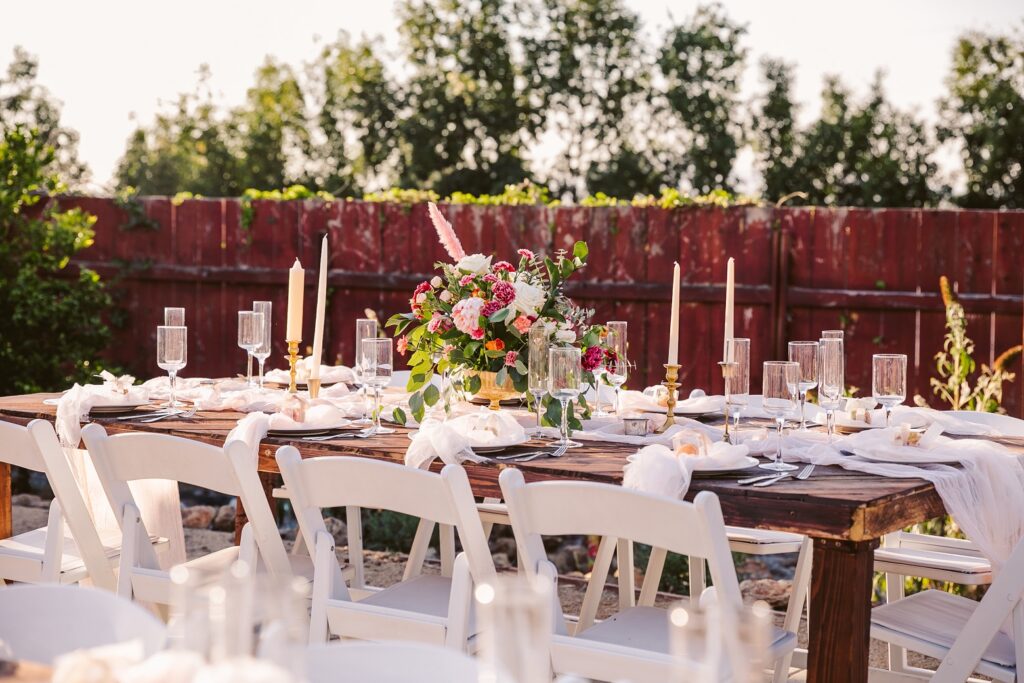 Your garden party will already be beautiful thanks to your choice of venue, but you can still find ways to decorate by designing a festive tablescape. Incorporate artificial or real flowers, twigs, succulents, fake moss, fairy lights, and candles as centerpieces, and put it all on display with a table runner.
Consider using cloth napkins and reusable utensils, plates, and cups out of respect for the environment. You can check out Pinterest and Instagram for tablescape inspiration, and you can find the centerpieces you need at craft and home improvement stores. 
7. Have your flowers and eat them too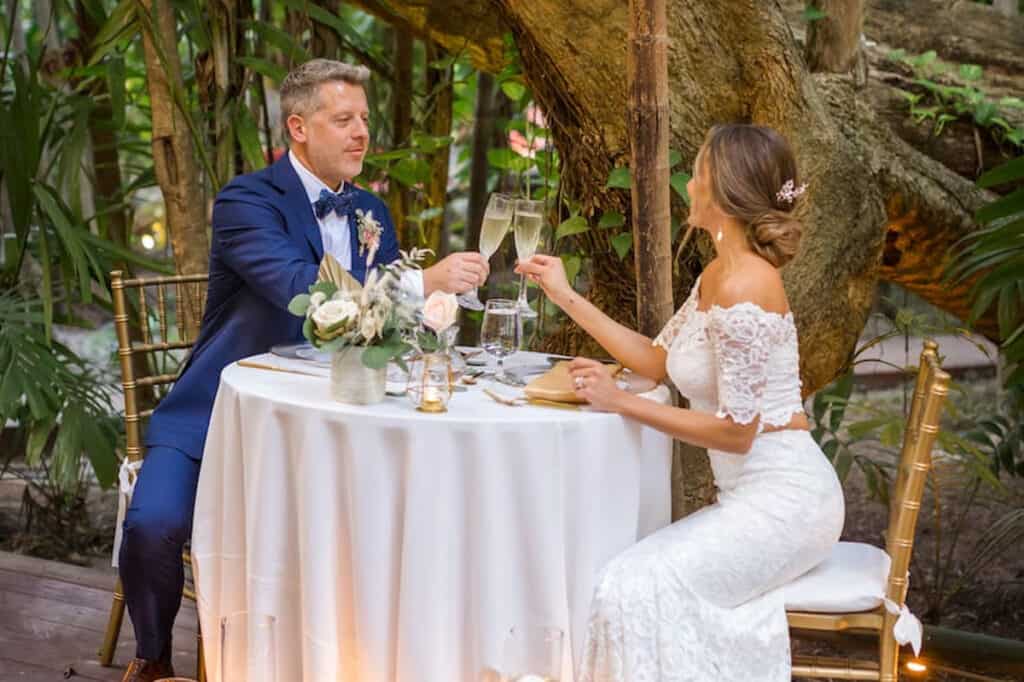 Add edible flowers to the table by sprinkling them into food and drinks. Roses, violets, nasturtium, elderflower, daisies, dandelions, calendulas, pansies, and the blossoms of the garden pea plant are all edible and eye-catching garnish options!
Here are some beautiful floral cocktail recipes that will also wow your guests and look gorgeous on the table and in the party photos. Serve them with brightly-colored paper straws for an extra festive look. This garden party idea is a fun and unique way to take the event up a notch.
Make your cute outdoor space even sweeter by utilizing our unique outdoor party decoration ideas!
8. Serve succulent cakes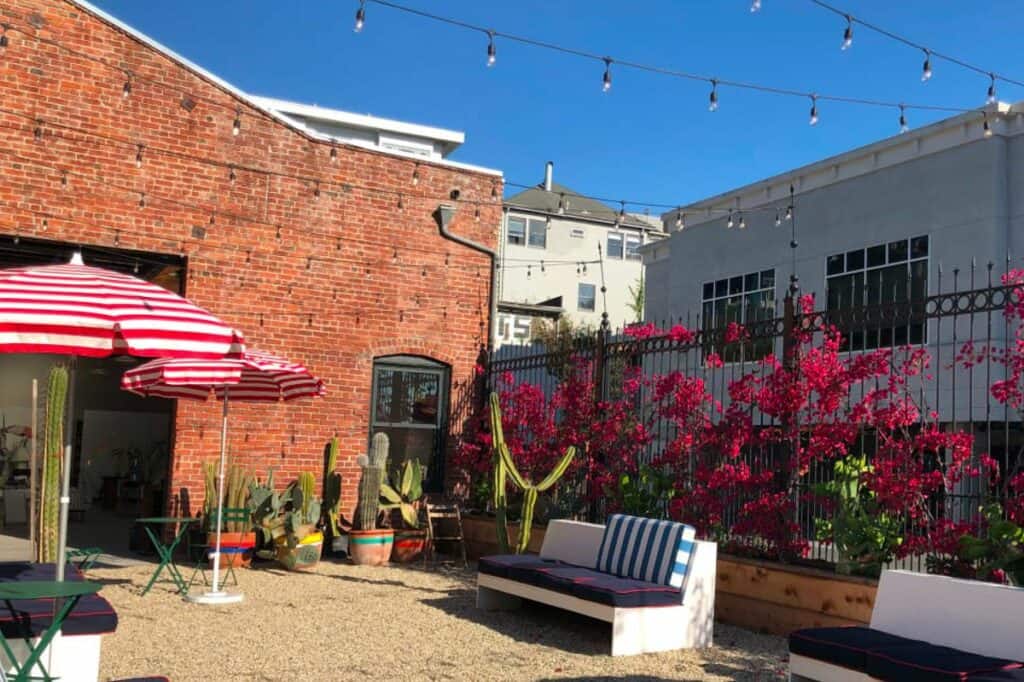 Top off your party treats in an extra-festive way with a succulent cake. And no, we don't mean succulent like "delicious" — we're talking cakes that literally look like succulent plants! These gorgeous, intricately designed cakes have been gracing bakers' Instagram accounts in recent years because the popular, almost-indestructible houseplant makes a beautiful, unique cake topper model.
Depending on your color scheme, you can get a succulent cake in greens and blues or pinks and reds. Fondant succulents can go on full-sized cakes, or cupcakes, depending on your preference. They are definitely the trendiest new flowers when it comes to cake decorations
9. Give out themed party favors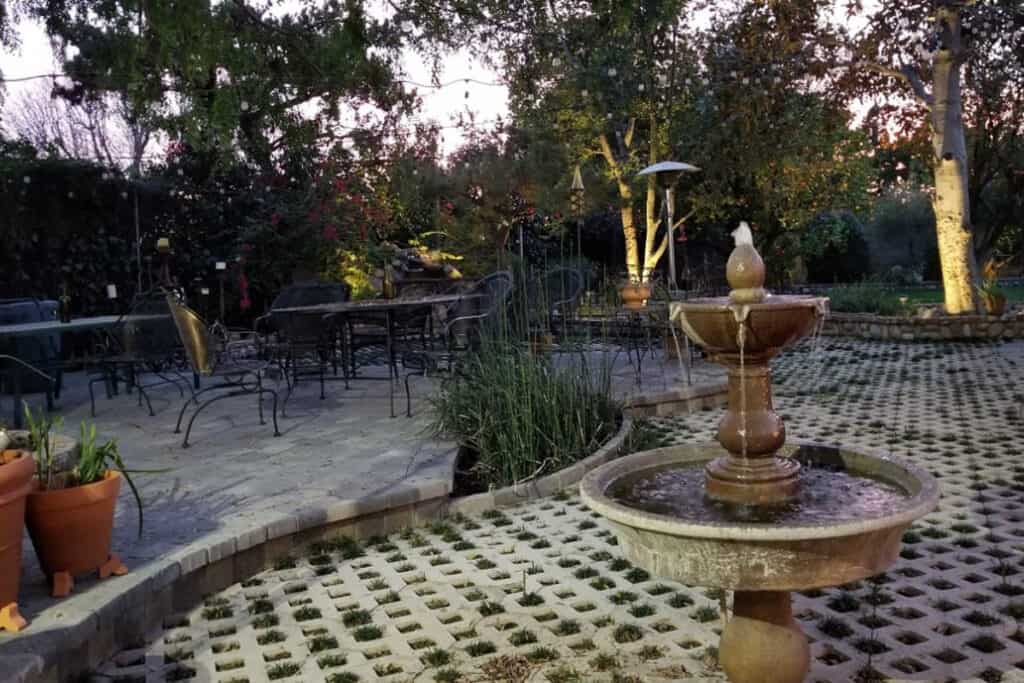 Favors aren't just for weddings and birthday parties, so give your guests a sweet sendoff by gathering an assortment of garden-themed goodies! Tiny succulents, air plants, pretty pots, gardening tools, seed packets, and small bouquets all make excellent little gifts that everyone is sure to appreciate. This garden party idea is an extra special touch that will impress your guests and leave them something memorable to take home.
Bonus idea: The night time is the right time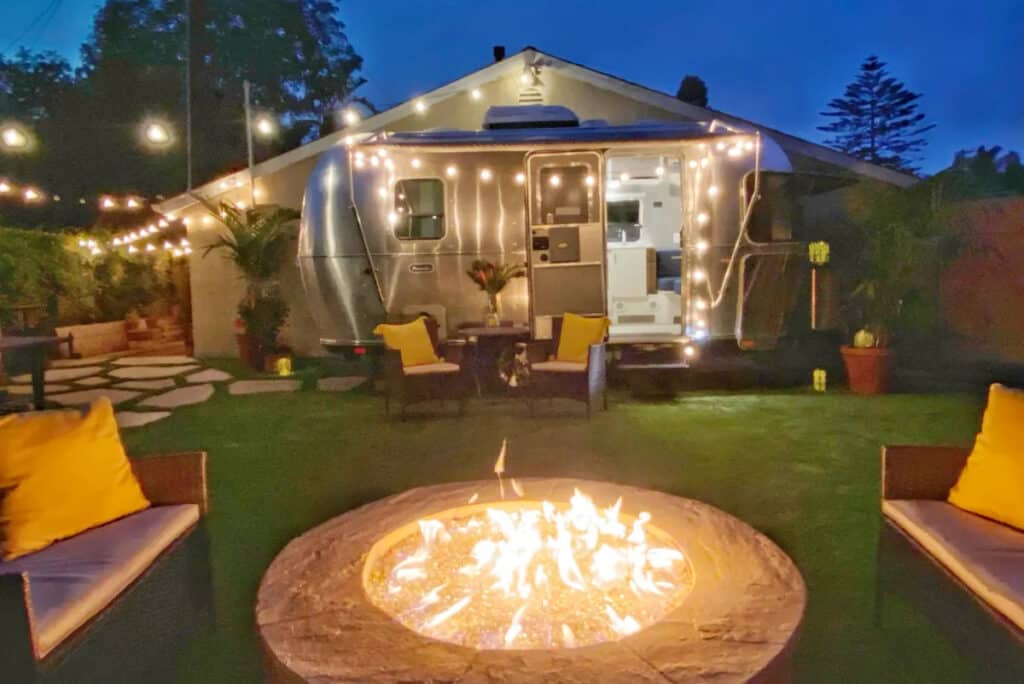 When you picture garden party ideas, you may automatically assume it's an afternoon affair. However, you can totally flip the script and host a night time garden party with the right conditions!
For instance, you can book this brand new Airstream outdoor venue in Santa Barbara. You'll have access to the camper's kitchen for serving your guests. Then, gather around the fire pit and enjoy a night time party in the garden under the string lights.
Garden party ideas: conclusion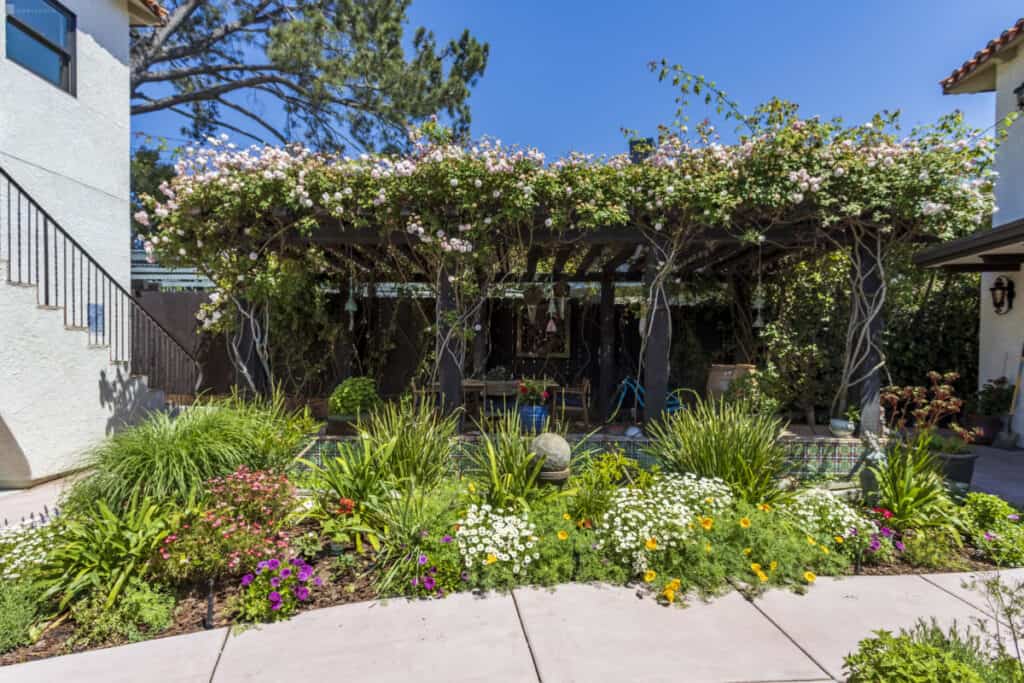 This spring or summer, celebrate the days of sunshine with a lovely garden gathering of friends and loved ones. These garden party ideas will give you all of the inspiration you need to have a wonderful outdoor gathering.
Check out Peerspace for a dreamy garden setting and then use some of these ideas for the perfect event.