Whether you're a brand new startup or an established business, having a team that works well together is vital to your success. And there's no better way to build trust as a team than with some fun team-building exercises! If you're looking for ideas on unique activities that your team can tackle in London, you're in the right place. Here are some team building ideas in London that will make your team a well-oiled machine!
No matter how many of these you try, book a Peerspace venue for the perfect post-activity wind-down! With Peerspace, you can book a glorious mansion, a Thames-side penthouse, a yoga studio, or a private pub for a low hourly cost. You can even bring your activities to your private Peerspace venue in many cases. And if you and your team prefer extras, like board games, karaoke machines, catering, or bar staff, the Concierge service can deliver it all to you. Talk about a perfect mix of fun and efficiency that will no doubt impress your team!
Shuffleboard isn't just for cruise ships — it's also an amazing team building idea in London. At the London Shuffle Club in Shoreditch, shuffleboard is back with a vengeance. You can book shuffle lanes for up to two teams of two to eight players. The venue has both indoor and outdoor lanes, so you can choose which you prefer before booking. You can also book tabletop shuffleboard sessions for an addictive game that's sure to ignite your team's passion. All that shuffleboarding is sure to work up your appetite, so don't forget to check out their bottomless weekend brunch!
2. Get away to a Peerspace venue
Looking for a gorgeous space where you can host your next company retreat? Peerspace has you covered. At Peerspace, you can book tons of beautiful and productive venues by the hour in cities all over the world. Book a scenic venue and create your own team-building exercises, or just hang out and enjoy each other's company. With more and more venues in London added to our platform daily, you are certain to find the space(s) that suit you and your crew best.
Plus, when you book a Peerspace venue, you have the full support of the Concierge service. This dedicated crew can source and deliver any extras you want, like catering and karaoke machines. It's an easy way to customize your very own team building ideas! Whatever you want to do, you can make it happen at Peerspace. 
3. Navigate a Crystal Maze with your crew
Inspired by the 90's hit game show The Crystal Maze, this team-building exercise will allow you to live out your wildest fantasies. Your team will go face-to-face with a wide range of mental and physical challenges while darting between themed Aztec, medieval, industrial, and futuristic zones — just like on the show. Your experience comes complete with an inflatable Crystal Dome, an event-management team, and all the props and equipment you need for an amazing time. You can even add on a Richard O'Brien lookalike to complete the experience!
Opt to play in person or virtually from your Peerspace venue. Book it for your team here. 
4. Solve a mystery like Sherlock at an immersive escape room 
The game is afoot at our next team-building idea in London. More than just an ordinary escape room, the Sherlock live experience takes things up a notch by combining a basic treasure hunt with actors from the hit BBC show. You and your team will have a blast working together to catch a killer and stop Moriarty dead in his tracks. Book your team's experience today. 
Want to explore the city while building trust with your team? The AIM AR Experience combines high-stakes adventure with stunning augmented reality puzzles and games. You'll be able to get your blood pumping, take in some gorgeous sights, and maybe save London while you're at it. You can either book one of the standard games or have the company create a custom experience exclusively for your team! That makes this one of the most distinct team building ideas in London.
6. Hit your mark at Bunker 51 
At our next team-building idea in London, your team will be able to channel their inner zombie hunter. Nestled near North Greenwich by the River Thames, you'll find an immersive Cold War bunker where you can take shelter. Play all kinds of high-adrenaline team activities like paintball, laser tag, and airsoft. Bunker 51 even offers zombie-themed experiences to up the intensity even more. Your team will have to strategize and prove their mettle to survive!
Have you always dreamed of going live on the Great British Bake Off? Now's your chance! At The Big London Bake, you and your team can put your baking skills to the test. Up to 36 members of your team can compete in timed bake-offs inspired by the hit show. Whip up stunning cakes, pies, and biscuits in an adorable tent complete with all the equipment and ingredients you'll need. It's one of those team building ideas in London to exercise your competitive spirit and sample some delicious sweets. The Big London Bake has two locations, one in Tooting and one in Hackney, for added convenience.
If you're looking for team building ideas in London that will take you off the beaten path, you're in luck. More than just an ordinary bike tour, Alternative London will take your team straight into the heart of the vibrant East End, showing you the London you won't find in the guidebooks. Admire stunning street art on a bike tour, or learn to spray a masterpiece together in a guided workshop. It's a fantastic way to learn about London and make your mark as a team!
9. Let off some steam by axe throwing 
Channel your inner lumberjack at this team building idea in London. Urban axe-throwing venue Whistle Punks has locations in London and Manchester, where you and your team can learn to throw axes like a champ. Compete against each other in a winner-takes-all tournament, split into teams of six to vie for the highest score. It's the perfect way to blow off some steam and bond as a team!
If you're looking for a casual way to bond with your team, there's nothing like a good old-fashioned pub crawl to make it happen. From the South Bank to Camden Town, London is full of lively pubs where you and your crew can share a pint or two. Follow a classic pub crawl, like the Wimbledon Eight, or create your own just for the occasion. So long as everyone on your team is 18+, it's a fantastic way to elevate your crew from mere co-workers to close friends. 
11. Score goals for your team at TOCA Social 
While you and your team are out on the town, consider kicking off the fun at TOCA Social. This unique restaurant and bar combo features an immersive virtual football experience where your team can face off on a digital pitch. Book a private box for teams of up to 12 or a blow-out event for the whole company. Don't forget to stop by the dessert room on your way out to celebrate your epic teamwork!
12. Walk on the wild side at the Dare Skywalk 
This team building idea in London is for only the most adventurous groups. Located at the peak of Tottenham Stadium, you and your crew will scale the very edge of the stadium, venturing out on a glass walkway nearly 50 meters above the football pitch. You won't find a better way to build trust as a team as you venture to the very edge together. It's also an amazing photo-op for your company website or Instagram page! 
Bonus idea: set sail down the Regent's Canal with Hidden Depths
Hidden Depths provides you and your team the chance to hire a canal boat and set sail for an afternoon of fun on Regent's Canal. Depending on the size of your team, you can enjoy a canal cruise on a boat that seats up to 12 or one that seats up to 42. The cruise takes you between King's Cross and Islington, including through the mile-long, 200-year-old Islington Tunnel!
Team building ideas in London: conclusion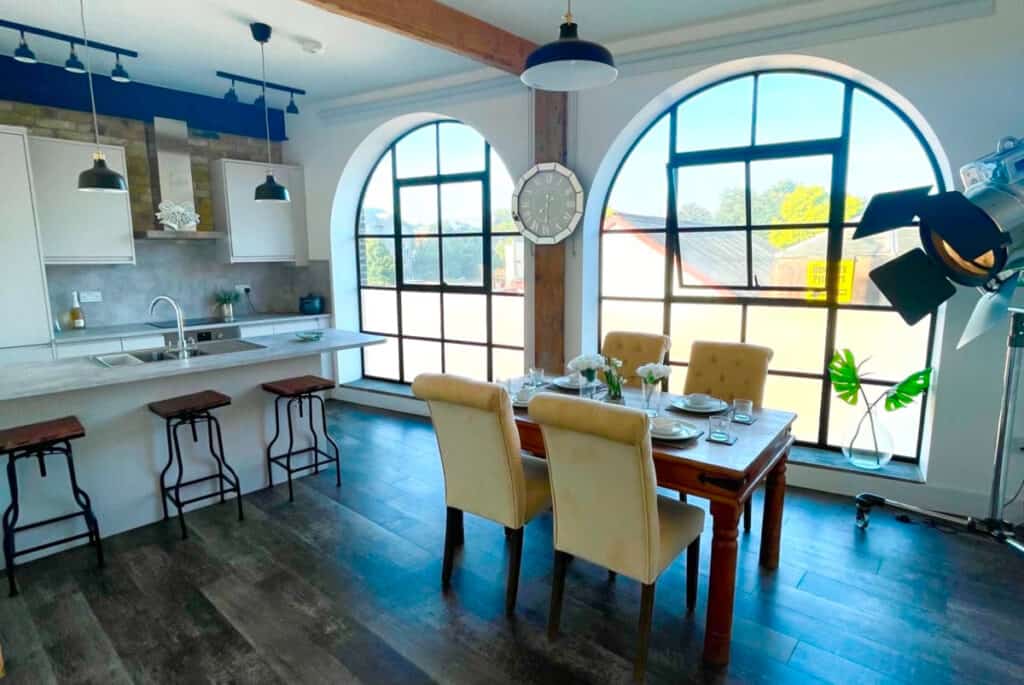 Now that you know the best team building ideas in London, it's time to get cracking! But first, remember to book a sensational Peerspace venue to suit your team. Whether you're looking for a chill retreat zone or a private meeting space to regroup, Peerspace has suitable (and no doubt, stylish!) options.
Don't forget to call on the Concierge service to maximize your booking with any extras. It's their mission to help make your team building activities as rewarding as possible.