Christmas is right around the corner, but so is another exciting event – your baby's gender reveal! Combine the beauty of Christmas with the excitement of your gender reveal using these 12 festive Christmas gender reveal ideas.
No need to clean the house or even decorate for Christmas dinner or your gender reveal party. Rather, rent a beautifully decorated Peerspace that's perfect for a combined Christmas dinner and gender reveal! Peerspace is the largest online marketplace of event spaces, and on the website, you can find tons of beautiful Christmas-themed homes around the U.S., Canada, and the U.K.
For example, you can rent this stunning New York home with epic waterfront views for a family dinner. Then, when it's time for dessert to be served — bring out a very special cake that's blue or pink inside!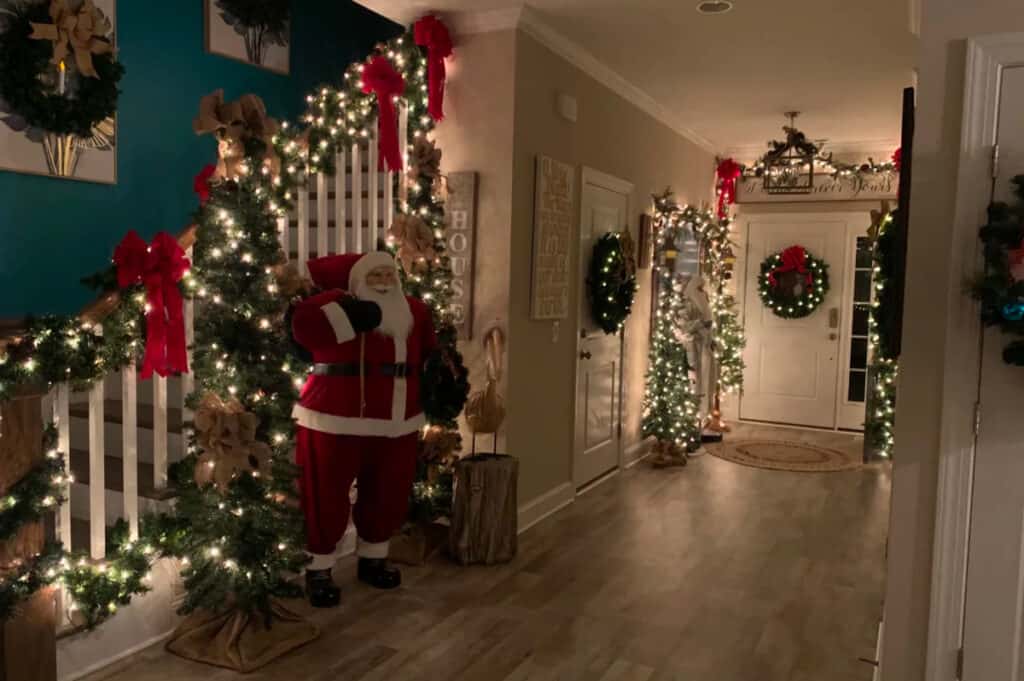 Christmas crackers are a popular English tradition — not food! They are small, cylindrically wrapped gifts that are named crackers because when you open them, CRACK! A small amount of gunpowder inside causes the gift to make an exploding noise (a very small exploding noise, albeit). Generally, cute little holiday gifts come flying out of Christmas Crackers but for a gender reveal twist, you can instead hide an item revealing your baby's gender inside!
This would be a beautiful reveal idea for both a Christmas gender reveal party and a photoshoot. Especially if you book a gorgeous Christmas-themed home on Peerspace, like this one in North Carolina, for the big reveal!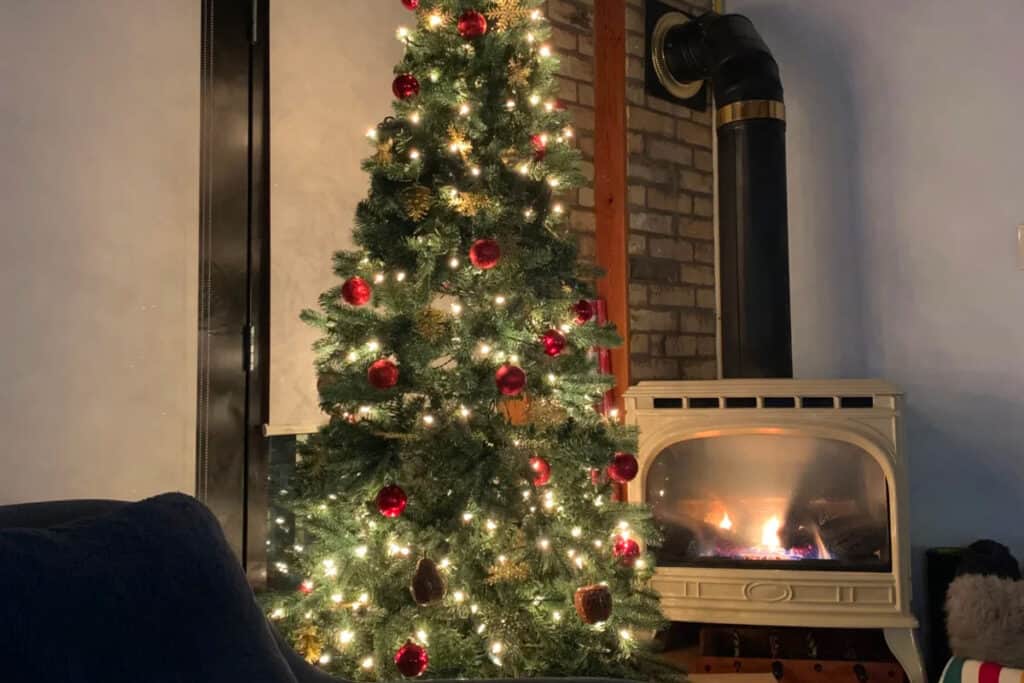 Nothing says Christmas quite like a roaring fireplace next to the Christmas tree. For example, check out how magical the Christmas vibes are by the fireplace in this adorable Toronto loft on Peerspace!  Add a fun gender reveal twist to this beautiful setting by placing some "magical" logs on the fire. Adding copper chloride to logs can make them turn blue, while the addition of lithium chloride will cause the fire to burn pink!
Our merry couples Christmas photoshoot ideas celebrate you, your SO, and your bundle of joy this year and every year!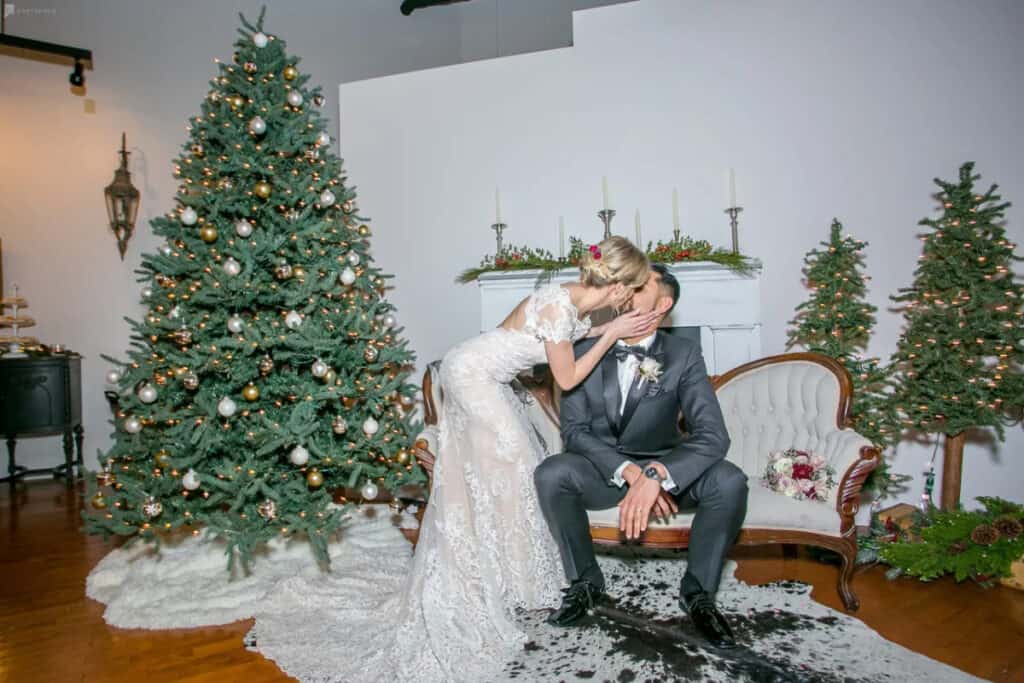 Capturing those beautiful first reactions is an important element in planning your Christmas gender reveal ideas — so make sure you hire a photographer who is up to the task!
You'll also want to rent a space with a gorgeous backdrop for your reaction photos, like this historic luxury loft in the Chicago suburbs. We love the look of the fireplace, couch, and adorable Christmas tree at this venue to capture the moment where your jaw drops, you go in for an excited kiss with your partner, or begin crying happy tears!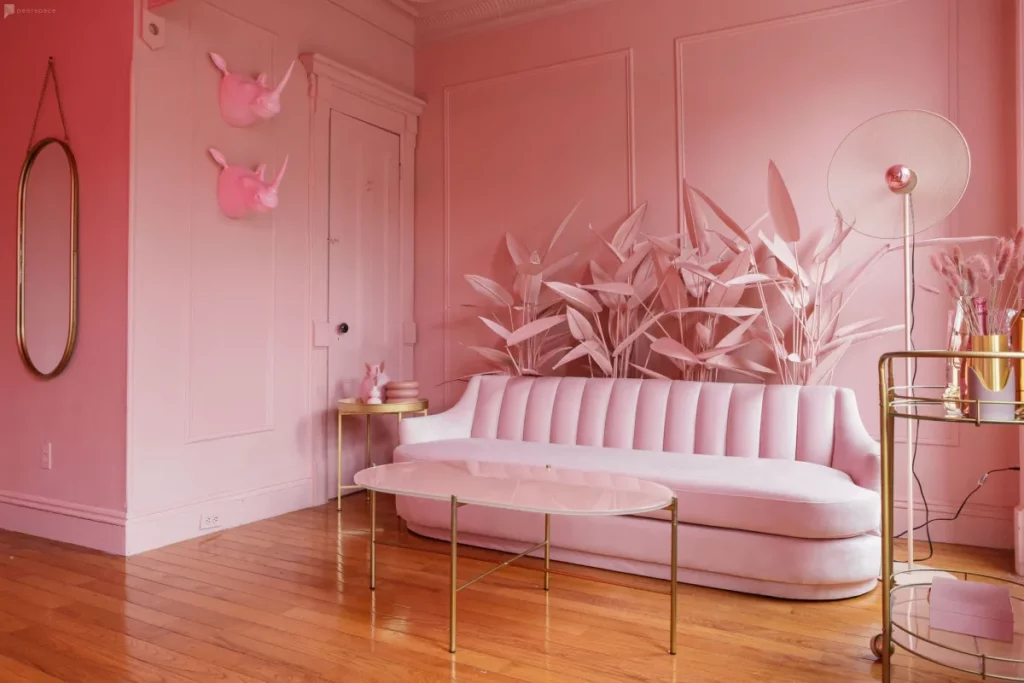 Trying to come up with totally unique Christmas gender reveal ideas to announce on social media? How about booking a blue or pink Christmas-themed space, like this adorable venue in New York City? The pink parlor's Christmas room features pink Christmas trees, pink presents, pink ornaments, pink walls, and more. Taking photos in a space like this is the perfect way to announce your little girl is on the way!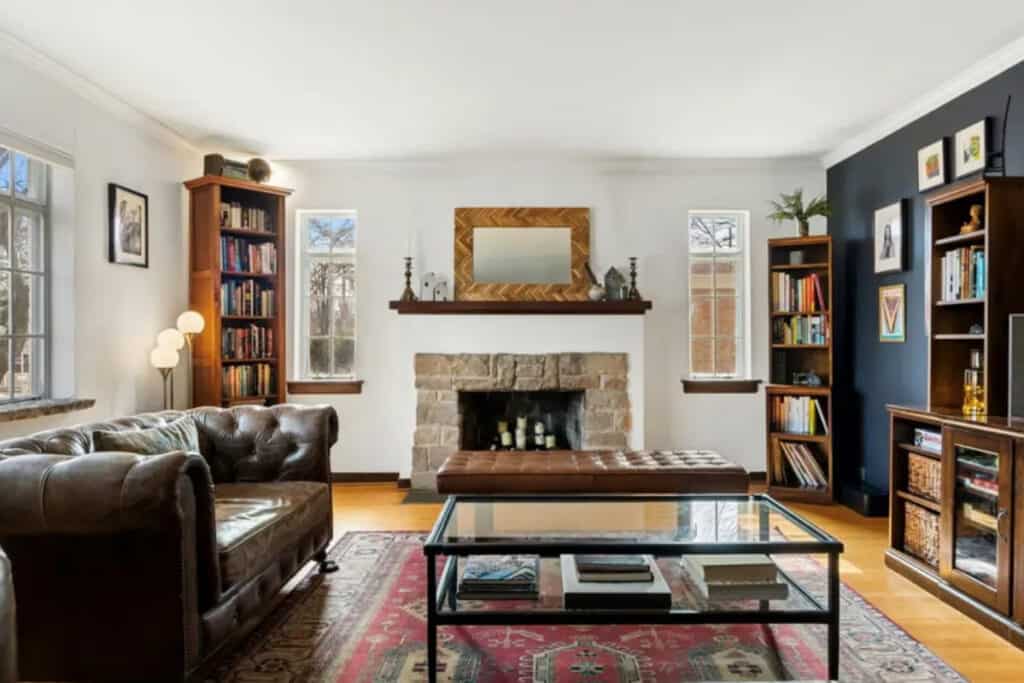 What's that on the mantel? Your newest family member's stocking, of course! And what's inside? The biggest present of the season! A gift revealing the gender of your little one! If you don't have your own beautiful fireplace and mantle to hang stockings off of, rent a gorgeous Peerspace like this Tudor home in Illinois for the day. It has an adorable minimalist setup, so all eyes are drawn to the Christmas decorations — and the stockings more specifically!
Boy, have Mickey and Minnie got a surprise for you! During your gender reveal party, have your favorite fictional characters arrive on the scene, dressed up for Christmas and ready to present the big news! Wondering how this fun idea will look on camera? This Peerspace's Mickey and Minnie-themed Christmas shoot will give you a good idea!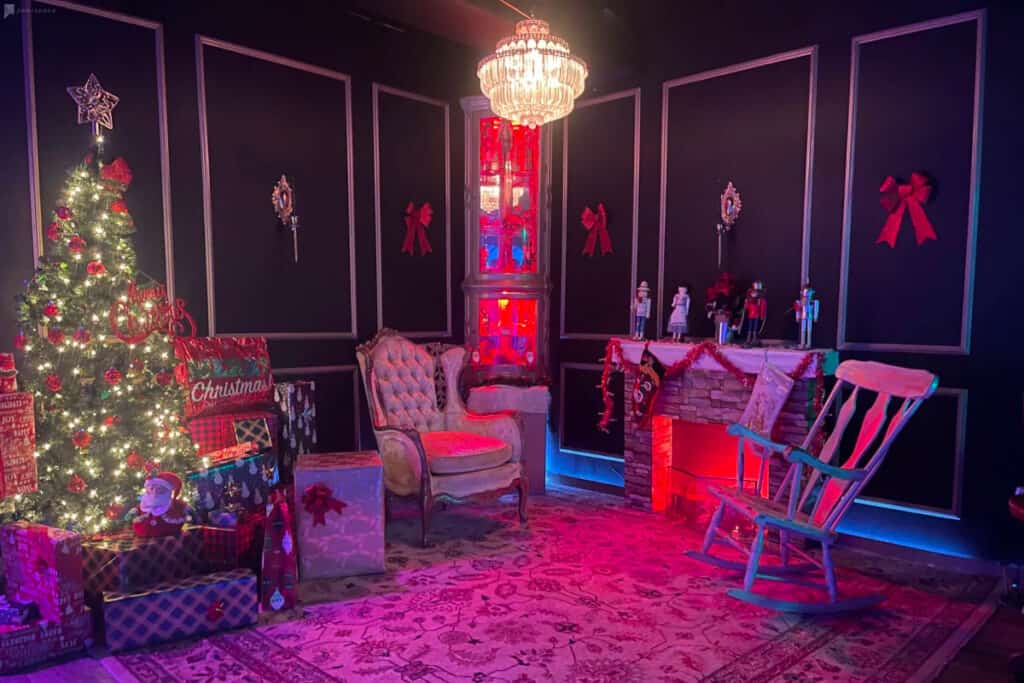 Under the Christmas tree this year, you'll find the most exciting gift of the season. Hire a photographer to capture the moment you and your spouse unwrap the gift that reveals your baby's gender, or choose to just open this gift among close friends and family. If you opt to go the photography route, this Chicago Peerspace's adorable Christmas setup would be the ideal location to open such a gift!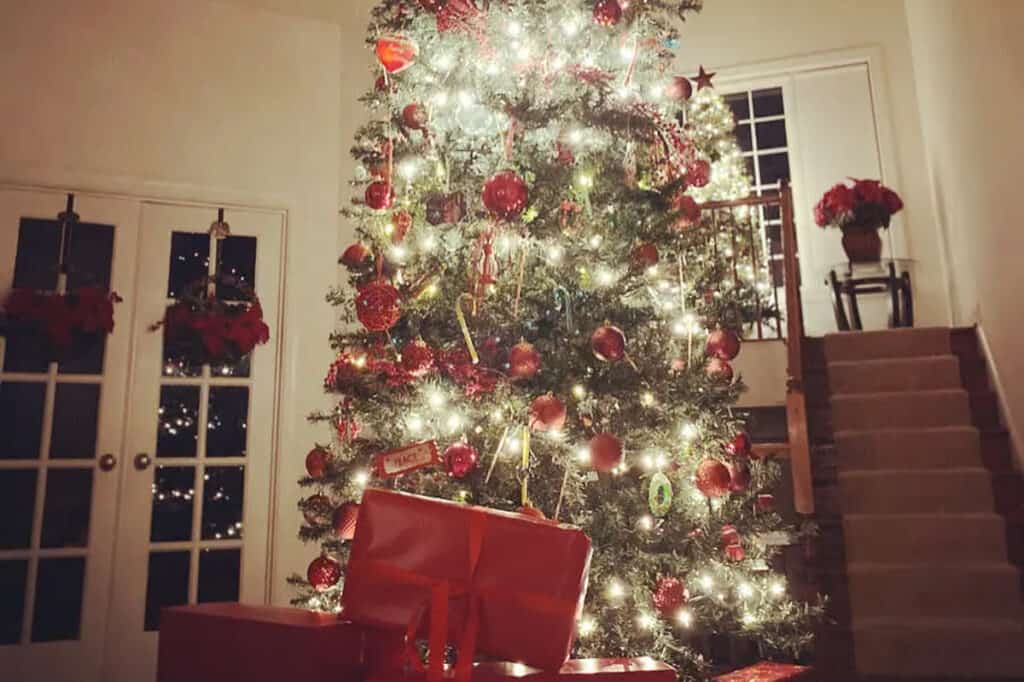 The answer to the big question is hidden somewhere in the room. Can you find it? Somewhere on the tree is an inconspicuous "it's a boy" or "it's a girl" ornament hiding for mom and dad to find. Make the task extra difficult with an enormous, fully decorated tree — like in this Peerspace home in Maryland! 
Check out our sweet gender reveal decoration ideas for more style inspiration for the big reveal!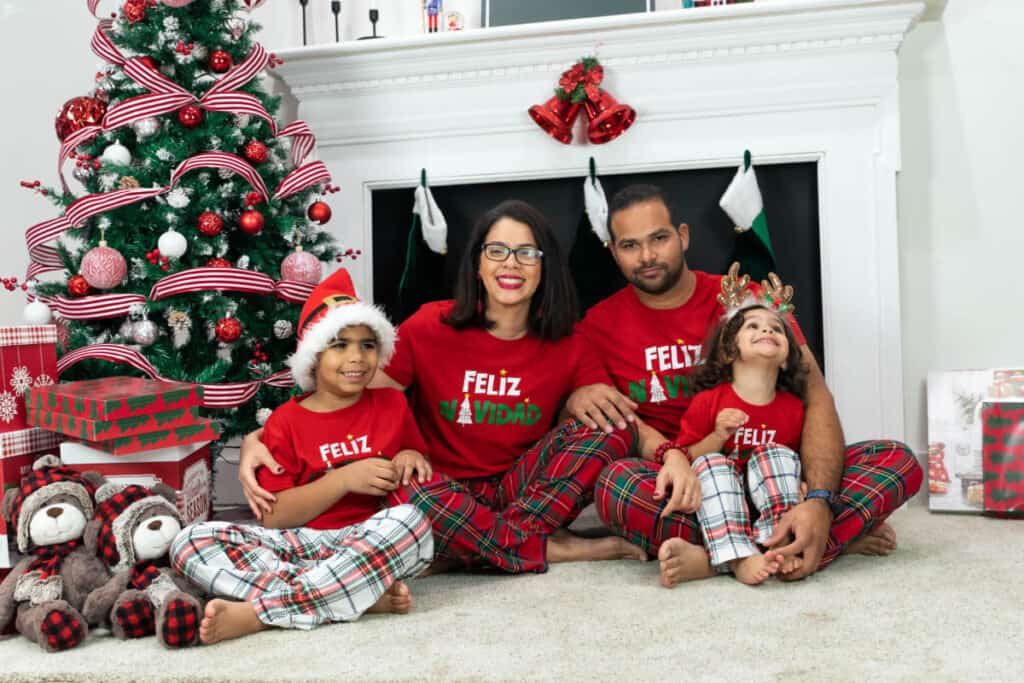 Involving your kiddos in the big reveal can be so much fun — and it's also a great opportunity for a family portrait sesh! So don your best Christmas pajamas, hire a fantastic photographer, and take beautiful gender reveal and portrait photos in a gorgeous Peerspace home, like this spacious studio in Maryland.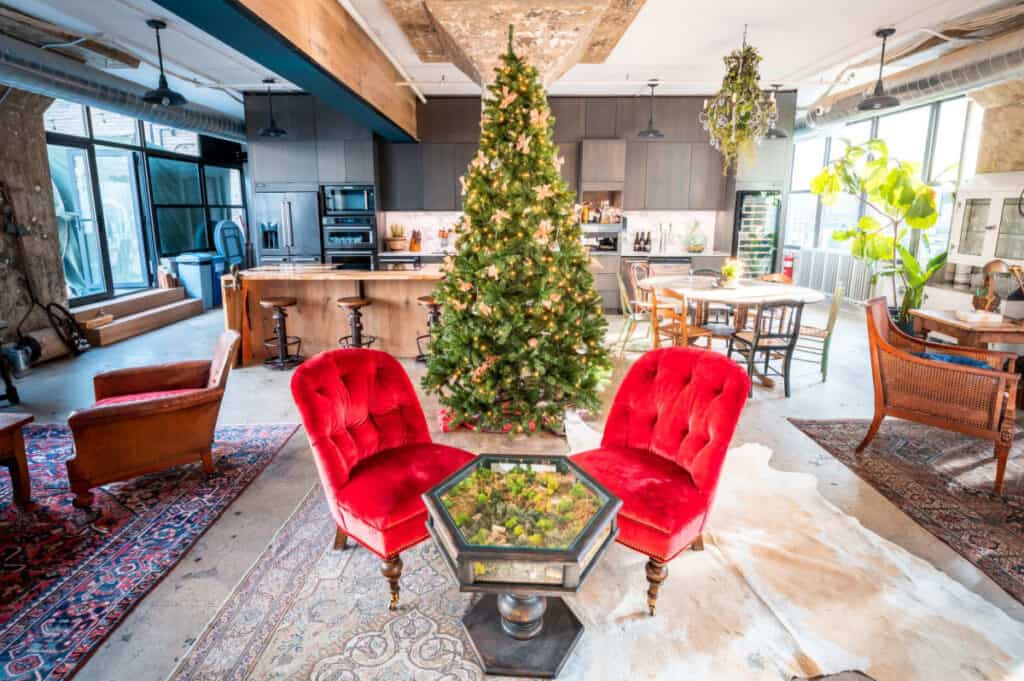 Your Christmas gender reveal ideas should include the most stunning Christmas touches! Unsure where to start in terms of decoration ideas? This NYC Peerspace venue can offer you some beautiful yet subtle ideas for Christmas decorations. The bright red chairs and minimally decorated tree are just enough decorations to give your gender reveal a Christmas feel without overwhelming the big announcement!
Don't forget to involve your 4-legged friends in the gender reveal surprise! Many Peerspaces are pet-friendly, so you can invite the *whole* family to be a part of your Christmas gender reveal. Hurray!