The Tour of Flanders is upon us. The build-up races are done and dusted, recon rides  have been ticked off and final team line-ups have been confirmed. All that remains is the anticipation for the Holy Sunday. 
Part of the pre-race shuffle are the final press conferences, a chance for the media to quiz the riders on their hopes and fears and so fill the internet, radio, television and newspapers with the riders' hopes and fears for Sunday.
As ever, the top-tier contenders have sat down in various corners of Flanders over the past couple of days to share their pre-race thoughts, and Cyclingnews' Patrick Fletcher and Barry Ryan made their way around many of them. 
Soudal-QuickStep weren't as downbeat as you might imagine, Wout van Aert was short and succinct in his answers, and a relaxed Tadej Pogačar cracked a few jokes. Only Mathieu van der Poel avoided scrutiny, his Alpecin-Deceuninck team again preferring to post their own video of the Dutchman's thoughts.
Here, we've put together all the key quotes from the key contenders for both the men's and women's races, for an overview of how everyone's feeling ahead of the big day. 
Wout van Aert (Jumbo-Visma)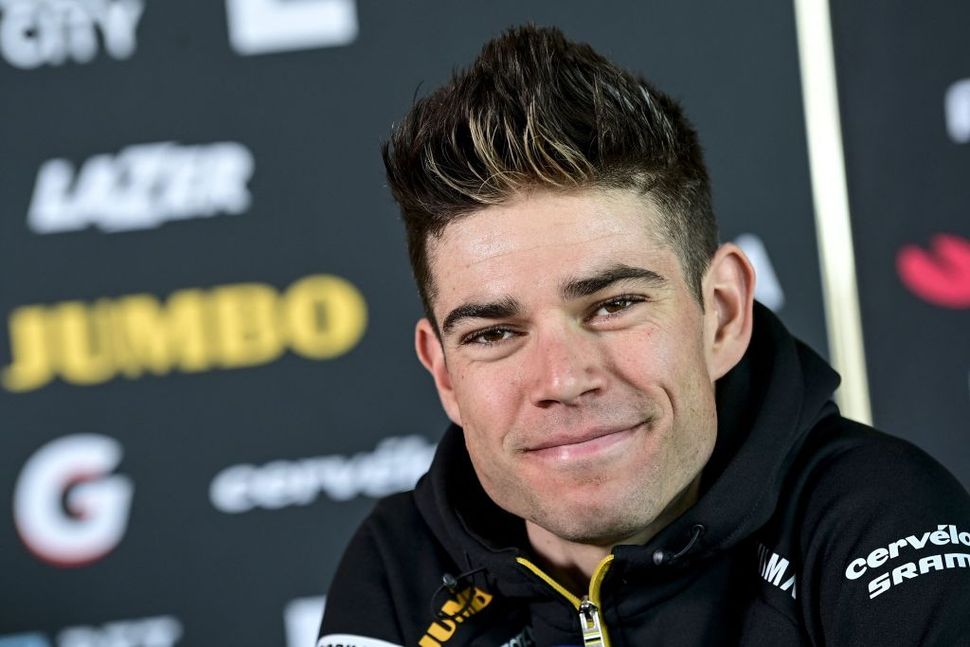 "Last year, I was really on a top level earlier on in the spring and I was quite confident I would be really ready for the Tour of Flanders. I think this year I kind of grew towards the same feeling, so hopefully it's right on time.
"It's always hard to tell, but I definitely feel that I'm recovering faster and faster than I was one month ago at a race like Tirreno, for example. If I look at it that way, then for sure I am progressing. You can also see that in the way I'm riding, so hopefully there has been this tiny little step in this last week. That would be nice.
"I would have a different feeling now if I hadn't been really at the top end of the race last weekend [E3 Saxo Classic and Gent-Wevelgem]. For my confidence, it was really nice to have a win and to have the good feeling in the legs during these two races.
'I learned [at E3] that Mathieu and Tadej were super strong, probably a bit stronger than me. Luckily I could hang on and that was a good lesson for me. I showed I could also win the race if I'm maybe not the strongest but if I'm able to stay with the guys. I hope to be a little better on Sunday – we'll see when I make my move. But they are the two guys I will be looking at the most, of course."
"As a team, hopefully we can have some kind of control on the action, like we did in the previous races. That will be definitely our goal, to create good situations. But at a certain point, you have to move yourself."
Tadej Pogačar (UAE Team Emirates)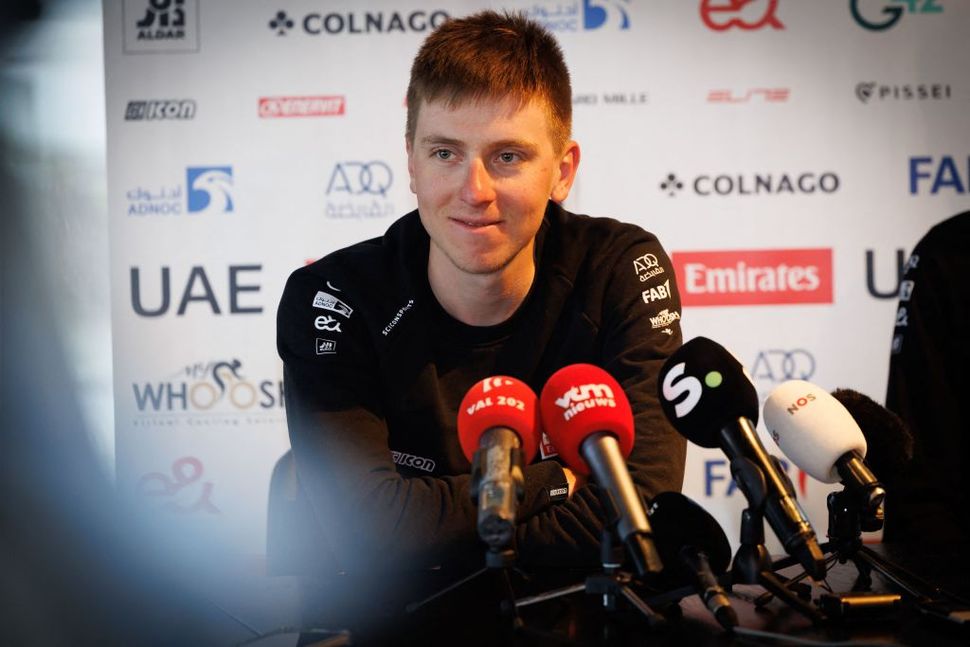 "For me, the crucial thing will be to come alone to the finish, that's how I can win. But that makes it even more hard. It's a really, really long race, and a lot can happen before the final. I need to save a lot of energy and choose the right moment to go.
"I weigh a few more kilos now than at the Tour. Two days ago, it was 67kg. I'm not so much lighter than them [Van Aert and Van der Poel]. And you need power either way. On the flat, for sure, you feel the difference a bit. But on the climbs, even if it's just two minutes, power is power, so if you're strong, you can go.
"Jumbo-Visma have a strong team, so I think they will play as in all the Classics up until now. Van der Poel will probably just go and attack on some random climbs.
"I like theese races. It's as simple as that. I feel good, my shape is good. It would be a waste if I just stayed home and watched it on TV."
Mathieu van der Poel (Alpecin-Deceuninck)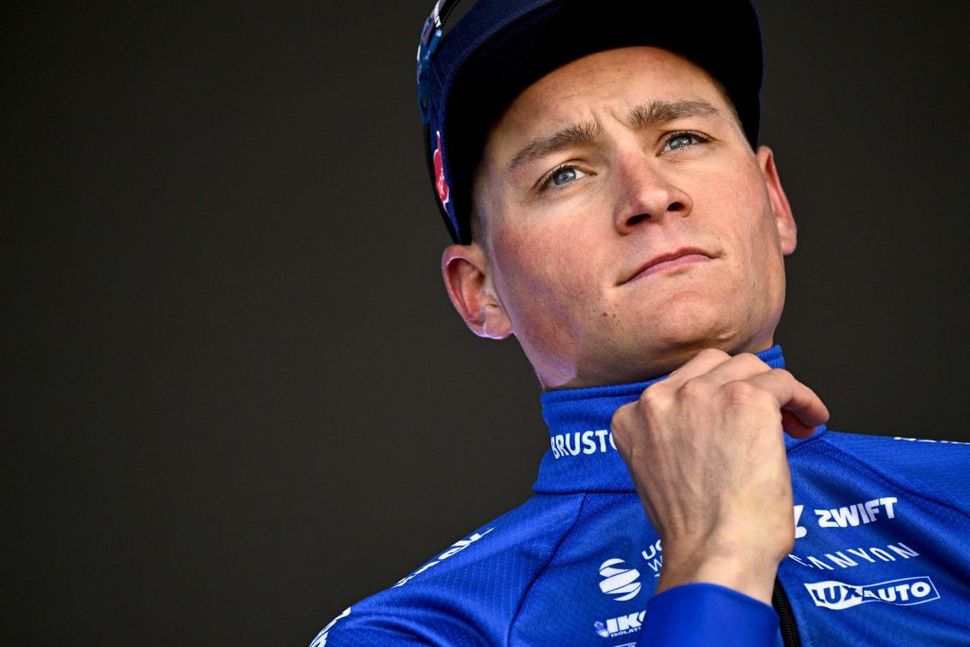 "I put in some extra work in ideal weather conditions to be fine in both the Ronde and Paris-Roubaix. On Sunday I completed one last really long training session, but also the following days some longer trips were on the menu with extra accents to be at my best the coming week. The last days I obviously built in some rest, to keep the freshness.
"Because of back problems, the run-up last year was atypical, but in the end I made it to my very best level that day. Now I feel I'm more 'race-ready'. Last year I also succeeded with a slightly less broad base, but then the peak lasts just a bit less long. In Roubaix, the legs were already a bit less. That will be hopefully different this year."
"I'm not going to pin myself down to a three-way battle. It's too easy to say the three of us are going to come out on top. The past three editions we rode to the finish with two, so coming in alone would be something special, even if it will not be easy."
Lotte Kopecky (SD Worx)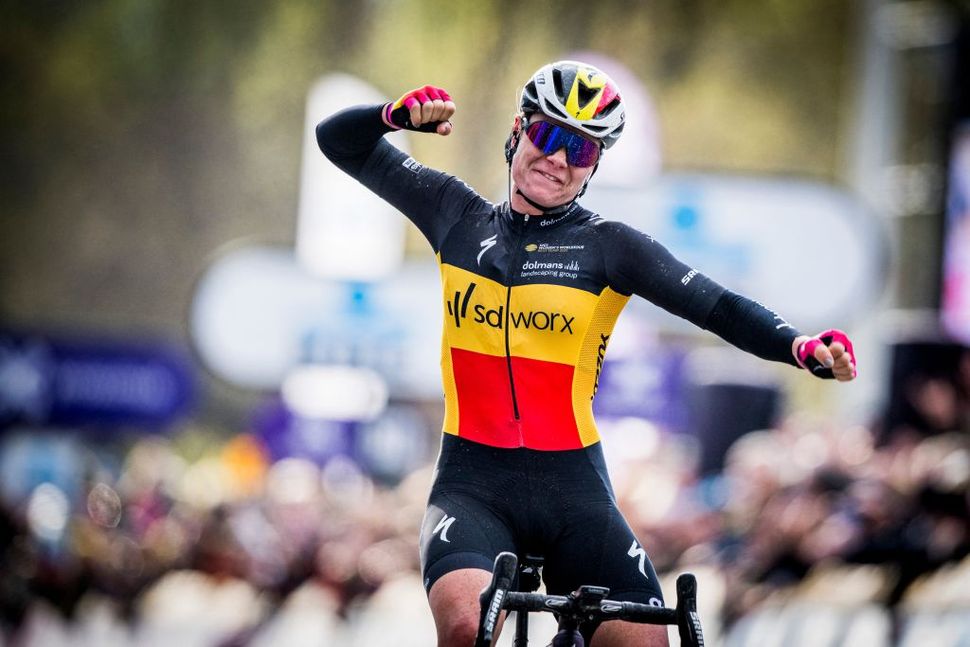 "The cold in Gent-Wevelgem seriously affected me, so I didn't really have a good feeling this week. I wasn't panicked, but I still listened to my body and rested well. Fortunately, I had good legs again during the reconnaissance. I am confident that I will be at my best on Sunday.
"My teammates are allies, not opponents. The important thing is that one of us wins. Our team is dominant at the moment, but that doesn't mean it can't go wrong on Sunday. Annemiek van Vleuten remains a super champion and after her altitude training she will certainly look better than in Strade Bianche. And Marianne Vos is back in shape just in time.
"Of course I like to win myself, but I will also cheer if Reusser or Vollering win. They are as much favourites as I am. And don't forget Lorena Wiebes The bond between us is really great, we have all been working together since the winter to win races. We are a close-knit group.
"My spring is already a success, but that does not mean that I do not want to win on Sunday. It is just no longer necessary, there is a lot of pressure off my shoulders. Paris-Roubaix is already in my head. If I can choose, I'll go for Roubaix. But it won't stop me from trying to win on Sunday."
Annemiek van Vleuten (Movistar)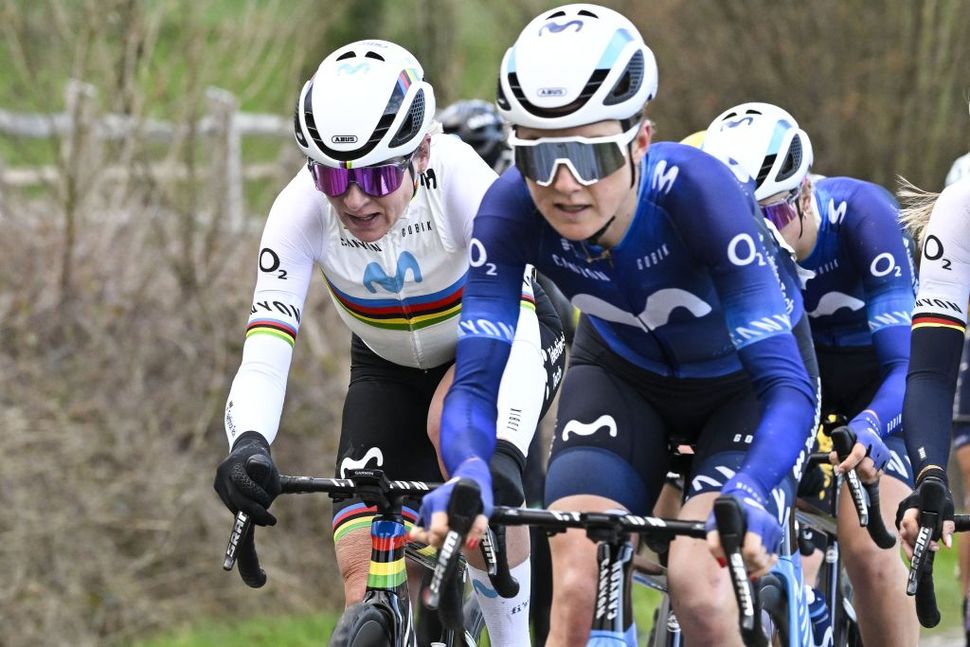 "I'd rather not get caught up again with a surplus from SD Worx, although there is a good chance of that. We have to forge a plan to see how we can squeeze out of it, but that will certainly not be easy in Flanders with a team that is so dominant. I know I wasn't good enough to follow them in the Strade Bianche, but every race is different and I'm better too, so I'm going to Flanders in good spirits.
"I was able to do a good training camp and I think I was certainly able to take it up a notch. I'm curious what the result is and I'm looking forward to racing again. From Strade Bianche I went straight to Tenerife, so I was able to train well there and also had good weather. When I saw the weather in the Netherlands I was completely happy that I was on Tenerife.
"I hope that several teams have a plan. That will also work to our advantage. We should not just give up against that strong block."
Tom Pidcock (Ineos Grenadiers)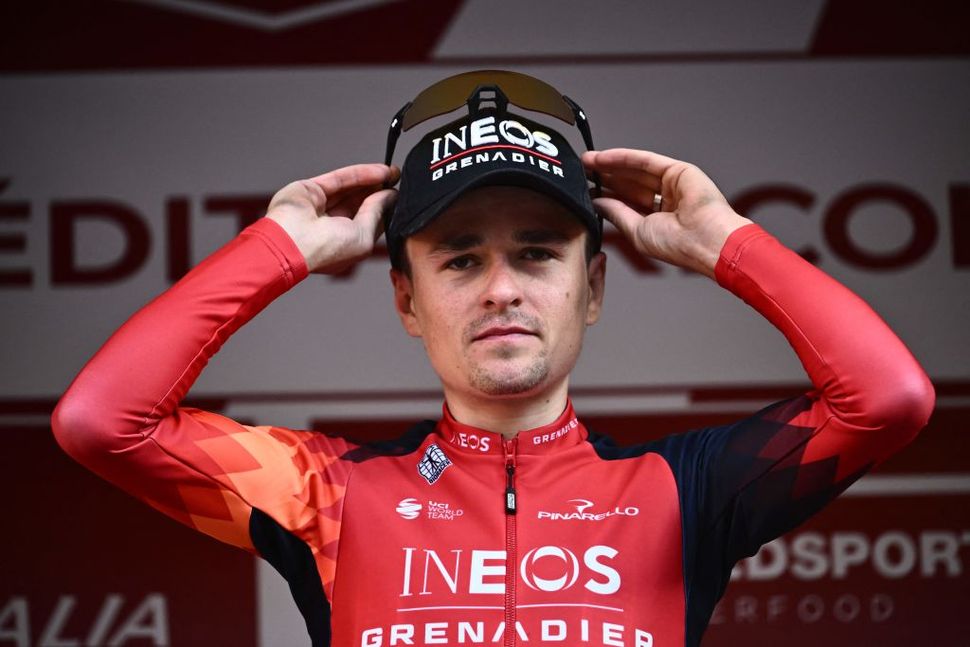 "[My recent concussion] was not ideal but I don't think it has destroyed my Classics campaign either. My legs in Dwars door Vlaanderen were not bad, but I was not brilliant either. I just missed the top end, but I always struggle in my first race after a little period away. The plan leading into Dwars was not what we had planned, so I guess not ideal, but not bad.
"[Van der Poel, Van Aert, and Pogacar] have all shown that they're in top shape, and they made the race in E3, so I think everyone expects those three to make the race on Sunda.y But I want to be able to be with them as well in the final. It's not complicated: I can either follow or I can't, so I hope it's the former.
"I'm a smaller, lighter rider with less power and that's a fact. That's an advantage they have over me, but at the end of a race, after 250km, that real explosive power comes less into play. So I have to get through to that part."
Julian Alaphilippe (Soudal-QuickStep)
"We're certainly not the favourites, but that doesn't mean we're laying down arms.
"We had higher expectations for results on the Classics this year, but voilà. We'll give the maximum on Sunday. The pressure isn't necessarily higher than before, because we always want to do well in every race we do."
Marianne Vos (Jumbo-Visma)
"There are different teams with different strengths, but SD Worx has the depth and a very strong team.
"Dwars was my second race of the season, and I'm happy with the feeling. It's good to get a race like this in the legs, and it's nice to be able to be part of the game, to play the racing game. It's nice to be in this race and be a part of the final.
"It's good to take this race with me. It's a hard race. It's also good as a lead-up to Sunday. The focus today was on Dwars door Vlaanderen, and now we will switch focus and get ready for Sunday. It's nice to take this with us into Sunday."
Demi Vollering (SD Worx)
"I learned a lot last year and that's made me a lot stronger for this year. I think I'm already a step further tactically, and in terms of race understanding. I also worked a together with mental coach, where we really work on growing as a person and as a rider. There you also learn to know yourself better and better, to work on both your strong points and your weak points, and that helped a lot.
"We've grown a lot as a team – again. This year, you can feel the spirit in the team is super, super good. We are really willing to give it our all for everybody. We'll race like always. We need to try to be as good as possible again in Flanders of course, but I think it's really nice that we win so much the last times – that gives a good feeling in the team.
"For the other teams it's really difficult to predict what we're going to plan because we're really strong in numbers."
Christophe Laporte (Jumbo-Visma) 
"On Sunday I will help Wout van Aert. I will try to assist him in the final. I don't have any stress, but I do feel Wout's stress for the big day. That is not illogical because it is his main goal, just like Paris-Roubaix. We will do our utmost to achieve that.
"Any team can win the race. That is the case in every race and certainly in a Monument. It is a match that is difficult to play tactically, because you have to have the good legs for it.
"My favourite race remains Paris-Roubaix, but I've learned to love the Ronde. These races have become increasingly important to me in recent years."
Elisa Longo Borghini (Trek-Segafredo)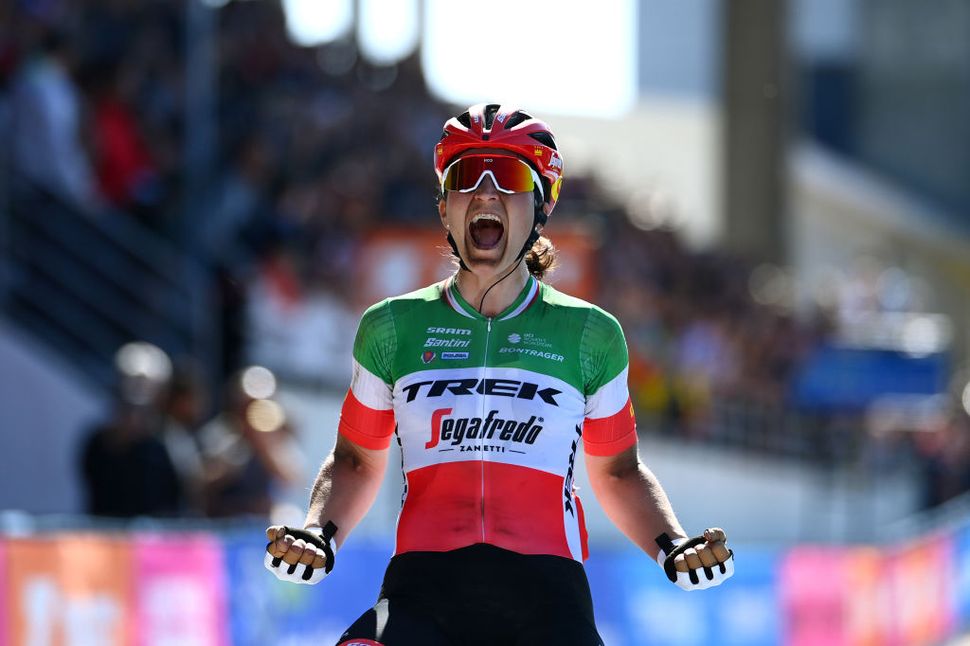 "I was positive for COVID for a really long time, and I got a fever for about 10 days, and I felt really tired afterwards. But I don't really know how I am. As a human being, I feel good. But as for how I feel as an athlete, I don't know. Before Dwars, my previous race was Nieuwsblad in February, and that was a month ago."
"But we'll see. If I feel good, to be honest, you'll see me somewhere at the top of the [results] list at the end of the race. If I don't feel good, I'll just work for the others. But at least COVID is over, and that's good."
Stefan Küng (Groupama-FDJ)
"Flanders is a different race, it's quite a bit harder in the sense that the finale lasts over 100km. Right now, it's hard to say, because if [Van Aert, Van der Poel, and Pogačar] just go on the Koppenberg, then it becomes physical, and it's a case of whoever can follow, follows.
"But we have several cards for sure, and this is what makes it good for us. We're a good team but we're not the big favourite, so we have to take advantage by maybe anticipating and so on, instead of looking at the others. That way we're up there when they charge from behind.
"Paris-Roubaix is still my favourite race, I'm really looking forward to it already," Küng said. "But first we have the Tour of Flanders, so we'll give it our all."
Matej Mohoric (Bahrain Victorious)
"I was happy with the result in E3, and I just didn't have quite enough to go with the 'Big 3' when they attacked. In Gent-Wevelgem, I felt better and I was misfortunate not to follow the move of Van Aert and Laporte due to a mechanical for a rider in front of me. Then I risked too much to clinch that podium spot and crashed. Luckily I don't think the crash will impact me on Sunday.
"We have a plan with the team, and we will commit fully to try and clinch a podium. We will need to anticipate our position for when the 'Big 3' attack and build from there."