Refresh
And the peloton has rolled out to start the neutral zone in Roskilde. 5.3km of riding until the real start.
Lampaert is in yellow today. Wout van Aert wears green. Tadej Pogačar is in white. There is, of course, no polka dot jersey just yet.
Not long now until the stage gets underway.
The Belgian also commented on the team's COVID-19 situation. Several staff members left the race after testing positive, including directeur sportif Tom Steels.
"It's a pity because also Tom Steels was one of the victims. He's my coach and the guy who took control in the car behind me so it's a pity that I can't celebrate with him. I called him on video call. It's not so fun but I hope he recovers well and can come back to the Tour.
"In the beginning I wasn't so afraid but yesterday after the finish I hugged a lot of people so now I start to think 'oh shit' two hours later they are COVID-positive and I start to think maybe I have it. I didn't have it the past two-and-a-half years, so to have it now in the coming days it would really be a pity."
Here's what Lampaert had to say at the start today…
"We have Fabio Jakobsen to do the best sprint today and we hope to maybe again take a victory today. I think we have quite a good shot. He's one of the fastest guys in the world.
"I'm proud. It's crazy. It's difficult to understand that I took the jersey. Also for the team it's straight away a nice start to the Tour and let's hope we can continue like this."
A look at Yves Lampaert, who is in yellow today having won yesterday's opening time trial.
Read our stage 1 report here.
We're around 35 minutes from the start of the stage and the riders are signing on in Roskilde.
A look at the map of today's stage, featuring that bridge right at the end.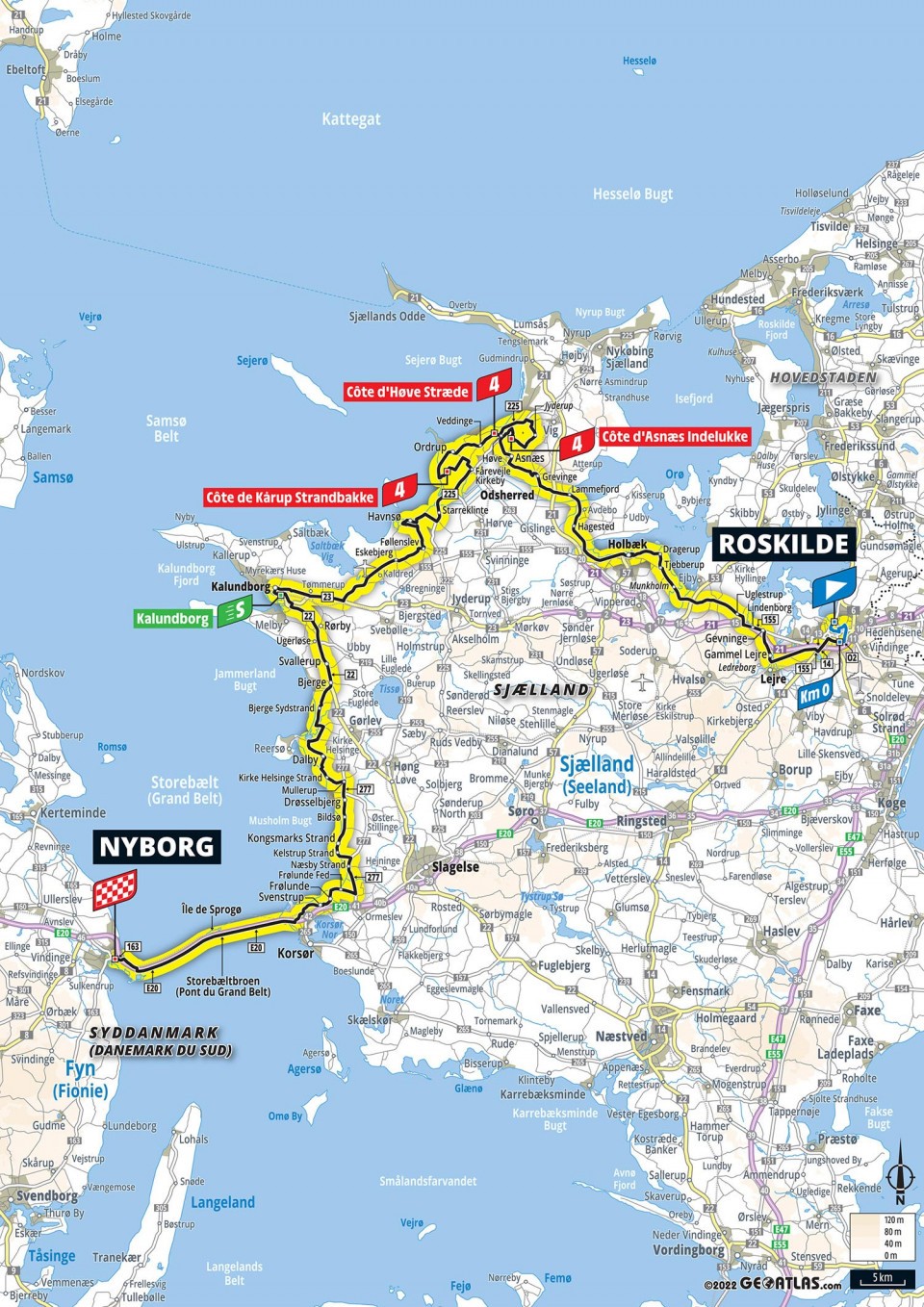 It's the longest of the opening three stages in Denmark today, clocking in at 202km. Crosswinds could come into play today, with a crossing of the exposed 18km Great Belt Bridge coming just 21km from the line.
Hello and welcome to our live coverage of the second stage of the Tour de France, the first road stage of the race.