Online yoga platforms have become increasingly popular Today, we can access our favorite teachers and find a treasure trove of accessible health and wellness content and online yoga platforms available on all of our devices.
Have You Taken an Online Yoga Class? 5 Reasons Why It Can Be Better Than the Studio
You can now enjoy thousands of hours of online fitness content, but that also means it can be extremely overwhelming to figure out which platform serves you best.
Good news! We are here to help you find your favorite online yoga platform!
While there are a myriad of ways to practice yoga online, some platforms stand out more than others. Most of these channels offer free trials to access their own live and on-demand class libraries, all of which vary in style and length.
 
There are a myriad of ways to practice yoga online, and some platforms stand out more than others.
 
There is also an emerging trend of teacher specific platforms and while these are exceptional in their own right, we've chosen to highlight the major yoga platforms with a more diverse array of teachers and offerings.
Check out our picks for the top ten online yoga platforms below.
How to Choose the Best Online Yoga Membership for YOU
 
 
10 Best Online Yoga Membership Platforms:
1. YouAligned Classes

YouAligned Classes (formerly YogiApproved.com) offers hundreds of on-demand classes in categories ranging from yoga to fitness, dance to barre and Pilates, guided meditation, breath work, and mindset wellness. Classes can be played on-demand or downloaded to play offline – perfect for travel!
YA Classes curates recommended individual classes and multi-class programs to help you reach specific goals and needs. All classes are led by relatable, passionate, and down-to-earth yoga teachers. YouAligned Classes is female founded, led, and operated!
Pros:
Very affordable – as low as $7/mo for unlimited access to all classes (right now the annual membership is 50% off!)
Beautiful videos – among the highest quality content in the industry
Every class you take helps plant a food-producing tree!
Cons:
Smaller library of advanced classes than other platforms
 
Trial Period: 14-Days
Cost: $16/mo or $79/yr (Right now annual membership is 50% off!)
2. Yoga International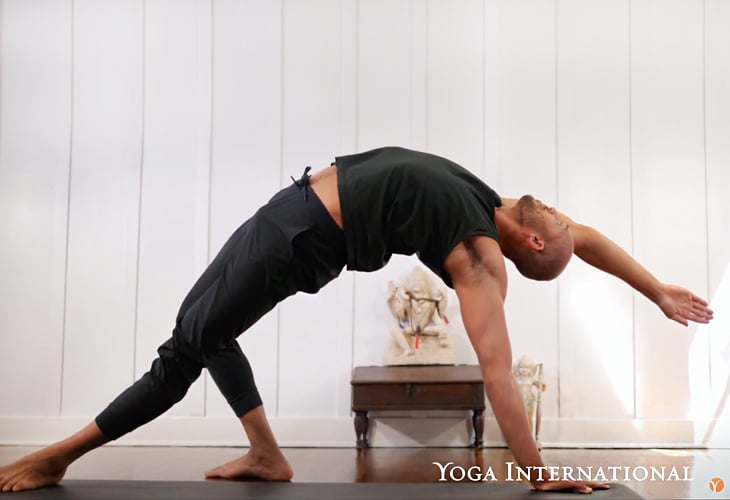 Yoga International features a few internationally recognized yoga teachers which typically offer more of a traditional style approach to the practice. With hundreds of classes offered daily, there is something for every yogi at Yoga International.
Pros:
Offers specialized trainings and courses in addition to on-demand and live classes
Programming beyond asana, including meditation, anatomy, Ayurveda, etc.
Research-based periodicals written by yoga industry experts
Cons:
Content library is not as easy to navigate as other platforms
 
Trial Period: 7-Days
Cost: $20/mo or $200/yr
3. Glo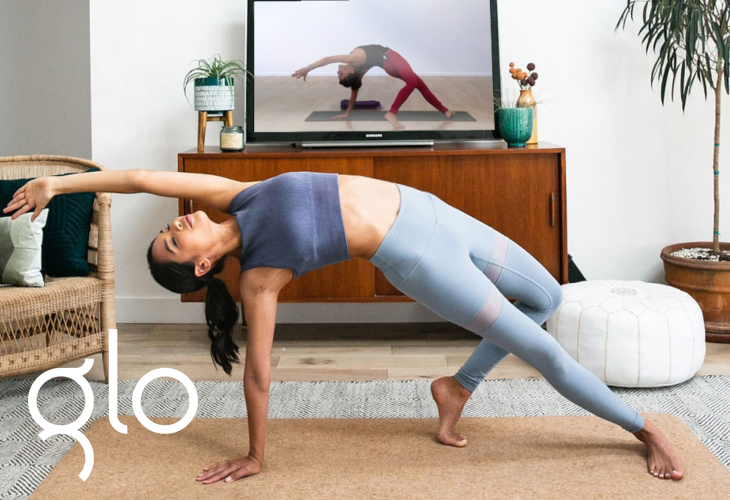 Previously known as Yoga Glo, this popular digital platform hosts world-renowned teachers and offers a wide variety of class styles and programming focused on well-being. With an extensive and vast array of live and on-demand classes, Glo hosts a plethora of yoga and fitness options to help you glow!
Pros:
Offers five different class categories (yoga, meditation, pilates, fitness and yoga conditioning, etc.)
Additional programming included in subscription with a variety of styles and lengths
Highly specialized content from experienced and highly skilled yoga professionals
Cons:
More expensive than other platforms
 
Trial Period: 7-Days
Cost: $24/mo or $245/yr
4. Obé Fitness
Obé Fitness is a trending platform featuring a blend of yoga and fitness from A to Z. Opt for a HIIT workout, a vinyasa yoga practice or a foam rolling class. In addition to enjoying a wide-variety of online fitness, you can also enjoy a bit of retail therapy and snag some branded Obé gear to sport a new look when you workout.
Pros:
Over 7K+ fun and colorful videos with 20 live classes per day
Diverse group of instructor talent
Ability to search music genre along with your preferred fitness regimen
Cons:
 
Trial Period: 7-Days
Cost: $25/mo or $170/yr
5. Yoga Download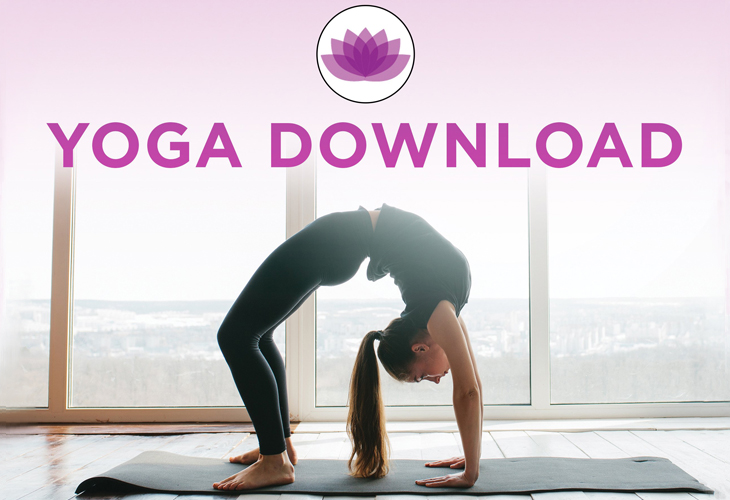 Yoga Download is one of the first online yoga platforms to offer students the ability to stream and/or download their yoga class. With over 1500 classes to choose from, you can embrace their motto and "Go You're Om Way"!
Pros:
Offers yoga in Spanish
Hosts numerous challenges throughout the year to hold you accountable and to keep your practice going
Female founder hosts YDL retreats with YDL teachers and team
Cons:
Lacking diversity within teacher talent pool
 
Trial Period: 7-Days
Cost: $18/mo or $120/yr (for unlimited)
 
7 Ways to Get the Most Out of Your Online Yoga Practice
 
 
5 More Online Yoga Platforms for You to Know About:
1. Alo Moves
Alo Moves is known for their celebrity yogis offering advanced asana practices.
Trial Period: 7-Days
Cost: $20/mo or $100/yr
 
2. Yoga Anytime
Yoga Anytime features thematic yoga shows and classes customizable to your interests.
Trial Period: 15-Days
Cost: $22/mo or $240/yr
 
3. Yogaworks At Home
Thumbs up to Yogaworks At Home for their daily live-streams and on-demand only options.
Trial Period: 14-Days
Cost: $19/mo On-Demand or $49/mo for All-Access Live + On-Demand
 
4. Wanderlust TV
Wanderlust TV offers specialized classes, courses and multi-day online retreats.
Trial Period: 14-Days
Cost: $17.99/1 mo or $49.99/qtr or $169.99/yr
 
5. Yoga Today
Yoga Today offers yoga practices filmed in national parks and public lands.
Trial Period: 14-Days
Cost: $15/mo or $119/yr
 
 
Find Your Perfect Online Yoga Platform
Since many of these platforms offer free trials, you can certainly try your hand at each of them! But, just like dating, the novelty wears off quickly.
If you're looking to get serious about your relationship to your practice, it's wise to consider what you're seeking in a practice, try a few of these platforms and then (hopefully) match with your soulmate!
Until then, enjoy your practice!
Which one of these online yoga platforms is your go-to? Or better yet, who did we not mention? Please share with us in the comments below – we love hearing from you!
This article has been read 6K+ times. Feelin' the love!