In my last blog, I talked about how indoor air pollution is a huge problem with indoor air being 5x more polluted than outside air. I mentioned the problems with chemical cleaners and other indoor air toxins, if you missed that check it out here: Indoor Air Toxins & Chemical Cleaners.
Now I will cover how to test the quality of your indoor air, indoor air quality solutions, how to make natural cleaners, and how to purchase the best cleaners.
Just a Reminder: Blog does contain Affiliate links. If you buy something, I'll possibly make a small commission from it, but at no additional cost to you.

---
How to Test & Improve Indoor Air Quality
Tests for Indoor Air Quality
Here is some great information on testing indoor air quality: How to Test The Air Quality in Your Home
Here are mold tests: The Best At-Home Mold Tests to Use Around Your Home
Below is a Radon Test Kit.
What are Air Pollution Solutions?
Air Filters – Use a High MERV rating. The higher the MERV rating the better the filter is at trapping particles.

Add a HEPA Filter to your vacuum. This will help with removing pollen, dust mites, and pet dander.
Use an air purifier. This helps sanitize the air removing harmful chemicals.
Use a humidifier to help with mold and mildew.
Test for mold, radon, and carbon monoxide.
Clean Vents. Vents look dirty? Have them professionally cleaned. We did this, our vents were really bad.
Have a professional clean your carpets naturally.
Add a UV Light in your furnace – We have one! Germicidal or UV lights for HVAC systems are used to kill the DNA of germs, viruses, mold spores, bacteria and fungi as they pass through the air handler system (Reliable Heating & Air). A UV light can kill close to 100% of harmful pollutants.
Diffuse essential oils into your air (as I mentioned in previous blogs).
Open all the windows in your house once in awhile to let all the fresh air circulate.
Purchase some indoor plants. There are many great plants that are known to clean the air and help people who struggle with allergies. 26 best air purifying plants for the home.
I used to have a ton of allergy problems, and so we have done basically all of these things. I did have a recent allergy attack, but I think I was exposed to some chemicals that the neighbor was spraying on their lawn. But my one allergy attack that landed me flat on my back for a week is nothing compared to the ongoing allergies I used to get in the winter months. I talk a bit more about allergies in my Facts on Germs & Immune Health blog.
---
DIY Replacements for Chemical Cleaners
It is easier and cheaper than you might think! I'm going to provide the most simple ideas and recipes. We are all busy, many of don't have time to be making new cleaners weekly or monthly. You probably don't want to spend a bunch of money on fancy brands either. I personally don't.
Unlike body care products, making your own cleaners is crazy simple, takes minutes, and is likely cheaper than the chemical cleaners you are paying for.
Did you know vinegar works well for cleaning most things? Vinegar may already be present in some of your cleaners. Vinegar is not only a disinfectant but it is awesome at breaking down grease, grime, and dirt. It has 5% acidity the same as most cleaners, but it's super safe! Just make sure to test it out on your surfaces to see if they agree. White Distilled Vinegar is the best type of vinegar for cleaning.
Vinegar can be used to clean your windows, microwave, floors, carpets, stove, kitchen sink, garbage disposal, unclog the sink, coffee maker, pots/pans, blender, glasses, dishwasher, refrigerator/freezer, walls, fabric softener, furniture polish, bath tub, and toilets. Crazy right? Vinegar is my go-to cleaning ingredient! There are different vinegar ratios for all these different things, but some recipes work for multiple cleaning jobs. Some recipes might also have a few added ingredients such as essentials oils, olive oil, or baking soda, but they are still super simple and cheap.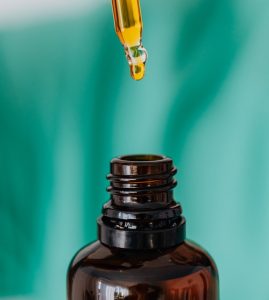 The essential oils will break down the smell of the vinegar. Sometimes that's their only purpose, but sometimes they also help with cleaning. In addition to their wonderful aroma, certain essential oils are known for their antibacterial, antifungal, antiseptic, and germicidal properties (Jabs).
So when do you want to avoid vinegar? natural stone, marble, granite, stainless steel, cast iron, and quite possibly wood surfaces. Also, avoid mixing them with Castile soap or lemon juice, as the things will cancel each other out when combined.
3 different websites with vinegar recipes:
27 Chemical-Free Recipes for DIY Spring Cleaning (this is the one I've mostly used)
Cleaning with vinegar: 15 things you can clean with vinegar
18 Places You Should Be Cleaning with Vinegar in Your Kitchen
Ingredients You Need
I have 4 bottles of cleaners I utilize regularly: a bottle of a strong disinfectant, counter cleaner, toilet bowl cleaner, and a window cleaner. I utilize a commercial plastic spray bottle so I don't have to frequently be remaking the recipe. Often with essential oils it is recommended to use glass bottles as they can break down the plastic, but it is such a small amount of essential oils I haven't had a problem with that.
Distilled White Vinegar or baking soda you can just pick up at your regular grocery store.
Other Simple DIY Recipes
For other recipes, I also recommend again: DIY Natural (She has recipes for everything you can possibly imagine!)
ALL PURPOSE CLEANER
If you want a cleaner that works for most surfaces in your bathroom and kitchen, DIY Natural has a Homemade All Purpose Cleaner.
CARPET CLEANER (using vinegar)
Homemade Carpet Cleaner Spray Recipe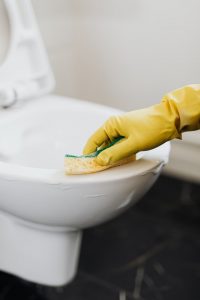 TOILET BOWL STAINS
Did you know you can use Coca-Cola to clean toilet bowl stains? Pour 1-2 cups into the toilet, next day scrub and flush.
BLEACH REPLACEMENT –> For serious disinfectant power, mix ½ cup baking soda, 1 teaspoon castile soap, and ½ teaspoon hydrogen peroxide. Use a cloth to apply the mixture to a wet surface, scrub, and then rinse thoroughly (Newcomer, 2015). Hydrogen peroxide is a common medicine cabinet staple that can kill bacteria, mold, mildew, and fungus. It is listed with the Environmental Protection Agency as a sterilizer (Jabs).
HOME MADE AIR FRESHENER
Homemade Air Freshener for Bathrooms and More
---
Other Cleaning Options
Norwex®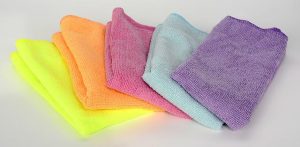 This is multi-level marketing business that is known for their microfiber cleaning cloths that only require water to use. You don't need any spray cleaners or other ingredients to use them. They say, "Our premium microfiber cloths remove up to 99% of bacteria from surfaces using only water when following proper care and use instructions (Norwex)." You can read the science of how it works here.
The cleaning cloths are well worth the price because they can last a couple years. I have tried many of their products in the past. Things I've tried include basic cleaning cloths, a cloth for cleaning mirrors, a brush that helps remove cat hair from furniture, a dust glove, and cloths for washing my face. I think the cleaning cloth and cloth for cleaning mirrors/windows are well worth it. Those products I used the most.
Purchasing Products Online & In Stores
If you read my blog How to Replace Dangerous Skin Care Products, you already know that things labeled as natural, non-toxic, and even choosing organic products isn't the best way to go. It is also important to note, sometimes products may sound like they are safe because the company calls them "green" advertising that they are environmentally friendly, but they may still contain toxic chemicals that are bad for your health. In my skin care blog, I also mention using the EWG (Environmental Working Group) website, app, or looking for their certification on products in stores. That also works for finding safe cleaners for your home.
Unfortunately, the EWG database of approved cleaning products is pretty small. You can also look for Safer Choice certification which is created by the EPA.gov. It has a lot bigger database, possibly because they are less picky (I use some of the products they recommend). Is is hard to know what to trust, so that is why you might want to consider making some yourself. At the very least, just check the labels of the products you buy. Aim to buy products without any of the major chemicals I mentioned in my previous blog.
Here are some cleaner products that I use, or brands that I've used. Not all our EWG verified, but are still safer than most commercial products. 
Castile soap is a great choice for hand soap. As I mentioned in my previous blog, there are actually a lot of toxic ingredients in hand soap. So I just fill my soap dispensers 1/5 full of the Castile soap and then just fill them with water. It is the recipe from the site I mentioned earlier here.
Where to Start?
I recommend starting either creating an all-purpose cleaner, or just a regular counter cleaner, toilet, and mirror cleaner. Or replace anything your kids use regularly – their bodies are more sensitive than our adult bodies. Bleach is the worst! So that would be the first thing to replace if you are using it. Definitely replace your air freshener if you use a chemical one. From there I would work on kitchen soaps, laundry stuff, etc.
---
References:
Building Performance Institute, Inc/Indoor Air Quality and Your Health. (2019, February 26). Retrieved from: https://bpihomeowner.org/blog/indoor-air-quality-and-your-health-0?gclid=EAIaIQobChMIiOKb7or89wIVG21vBB0mxggqEAAYAiAAEgKeuPD_BwE
Jabs, Betsy. DIY Natural/Homemade All Purpose Cleaner: A Simple DIY Recipe That Really Works. Retrieved from: https://www.diynatural.com/homemade-all-purpose-cleaner/
Newcomer, Laura. (2015, March 19). GREATIST/27 Chemical-Free Recipes for DIY Spring Cleaning. Retrieved from: https://greatist.com/health/27-chemical-free-products-diy-spring-cleaning#1
Norwex/removes up to 99% of bacteria. Retrieved from:
https://norwex.biz/en_US/pages/microfiber-science
Reliable Heating & Air/UV Light for HVAC: Do they Work?. Retrieved from: https://reliableair.com/blog/uv-lights-for-hvac#:~:text=Germicidal%20or%20UV%20lights%20for,percent%20of%20these%20harmful%20pollutants.