This is a follow up blog to my post: DANGER! Toxic Ingredients in Skin Care Products. So if you missed that one, check it out. It covers what bad ingredients are in skin care products, why they are toxic, what health issues they cause, and how the FDA isn't helping even though they acknowledge some of these things are toxic.
In this blog, I cover what to look for when switching to nontoxic skincare products, how to buy in store, buy online, DIY concepts, and some more toxic things to be aware of for different products.
Just a Reminder: Blog does contain Affiliate links. If you buy something, I'll possibly make a small commission from it, but at no additional cost to you. 
---
How to Choose Nontoxic Skincare Products
Do We Trust Organic Labels?
First note, there is a difference between a product that is labeled as certified organic, organic, or 90% organic. Anyone can say a product is organic or say it is natural. It has to have the certification to truly be an organic product. Cosmetic products labeled with organic claims must comply with both USDA regulations for the organic claim and FDA regulations for labeling and safety requirements for cosmetics.
However, even though a plant is organically grown, it doesn't necessarily mean that it isn't toxic or allergenic. Also, organic products are not always easy to come by, and they often come with a big price tag.
Do We Trust Natural Labels?
"Natural" doesn't mean anything. Anyone can label their product as natural. Pay attention to ingredients and other certifications instead. ALSO, avoid highly commercialized products – they are usually the worst for toxic ingredients!
Do We Trust Nontoxic Labels?
For a product to certify as "non-toxic" only means that less than 50% of animal test subjects were fatally harmed after being exposed to it (TOXIC FREE FOUNDATION).
Certifications Most People Trust 
One of the best resources is EWG – Environmental Working Group. They have been around since 1993 tracking the safety of chemicals, and pushing for safer products to help people nationwide. From their website: Our team of scientists – toxicologists, chemists and epidemiologists – scrutinizes every product so you can be sure that a product bearing the EWG VERIFIED™ symbol meets our strictest standards (EWG Verified).
Other Certifications & Databases 
I personally haven't used these, but there is Think Dirty which has a website you can search for products, and they have an App you can use to scan products. There are also certifications COSMOS Standard, Made Safe, and TOXIC FREE FOUNDATION.
---
Purchasing Online – Nontoxic Skincare Products 
On EWG you can run a search for the best products, or you can even type in a product you are interested in and see what rating they give it. Their Skin Deep search database ranks products on a scale from 1 to 10. A scoring of 1 is amazing and 10 is horrendous. I prefer to stay in the 1 to 4 zone. To see how the rating system works, here is a link to a lotion I like: https://www.ewg.org/skindeep/products/835166-everyone_Lotion_3_in_1,_Citrus_+_Mint/
These are some products I like and use:
Note: Some of these are two packs, and one is showing the wrong price.

---
Purchasing In Store – Nontoxic Skincare Brands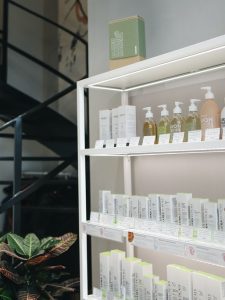 Do you prefer to get all your skin care products when your shopping for your groceries? That's typically how I roll. Luckily for me, my favorite grocery store Woodman's, has it's own natural, organic section.
Here is a list of places that typically have more nontoxic body care products: Woodman's, Whole Foods, Good Harvest Market, and Fresh Thyme Market. I've also found some good products at my local Farmer's Market. I'm sure there are many more natural type grocery stores, but these are the one's that I've been to locally. You might also find some boutique stores that sell more natural products.
What Should You Look for When Shopping?
1. Look for Natural/Organic aisle. If your store has one start there!
2. Look for EWG certified products. Be aware of what it looks like, it can be a really small label. However, some products are not labeled with the certification, but still rank very low in toxicity.
3. Download the EWG App and scan products. See what ranking the product has from 1 to 10. (Not all products will be listed, but they do have a lot in their database).
4. Review labels and ingredients. Usually less toxic products are labeled with things such as "made without… sulfates, dyes, parabens, phthalates, and no synthetic fragrance." The high quality brands will sound less like a science experiment. They usually have ingredients such as plant extracts, essential oils, flower extracts, herbs, etc. Without any sort of certification though, there is no guarantee the product is completely safe. This is because sometimes companies won't list all their ingredients.
---
Do It Yourself – It Can Be Fun!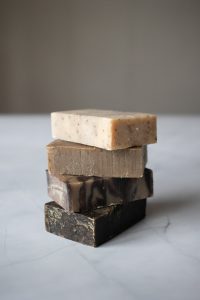 I've dabbled a bit in DIY products. I made my own soap from scratch and it turned out great, but it wasn't really my thing. I've also made lotion/hand creams that have turned out horrible I think they were just bad recipes to begin with.
I have made my own chapstick and that was a success! I'm actually still using it. I made a huge recipe that filled like 50 bottles and it was a few years back. I haven't bought chapstick in a really long time! My greatest success was deodorant. For the longest time I struggled to find a good deodorant, and so I did a homemade one and it turned out pretty good. D.I.Y. skin care is not necessarily my cup of tea. However, the chapstick and deodorant were well worth the time and money, and neither of them were hard to do.
The only other thing I do, is make essential oil roller balls to use for perfume or as natural remedies. It is basically just essential oils mixed with a carrier oil like almond oil.
How to Find DIY Recipes
DIY skin care can save you money, if you have the time!
If you want to try any DIY products, I would recommend checking out DIY Natural. She has it ALL on her website! She has lotions, face masks, face washes, toothpaste, eyeliner, hair spray, mouth wash, soap, massage oils, etc. (FYI my crappy lotion recipes were not from this site.) 
Essential Oils are Often Used in DIY Recipes
I would recommend finding a good essential oil brand you like because in order to avoid perfumes and fragrances, most natural products use essential oils. But be aware that many people are sensitive to certain oils and may have an allergic reaction. Always test the oil out on a small area of your skin before adding it to a product. Additionally, check to see if an oil needs to be diluted before being applied to your skin.
Some of the most popular essential oil brands include Young Living Essential Oils, doTerra Essential Oils, Edens Garden Essential Oils, Rocky Mountain Oils, and Plant Therapy Essential Oils. I'm not going to go too deep into this, but not all oils are created equal. Look at if they are 100% pure, undiluted. If they are really cheap you are probably not getting good quality. See what they do to ensure high quality products and read reviews.
---
Wellness Companies 
There are also many companies across the web that have a full line of skincare and makeup products that claim to be free of toxins. I was trying to research which ones are definitely safe, but it was a rabbit hole I didn't want to fall too deep into. It's not my thing. Often times they can be a bit pricey or require subscriptions. Subscriptions can be a good deal if you have a big family.
Bottom line is make sure they are scientifically tested, check ingredients, and read reviews. If I find one I really like, I will make sure to share it with you!
---
Toxins to Avoid with: Toothpaste, Makeup, and Hair Dye
Ingredients such as parabens, dyes, sulfates, phthalates, and synthetic fragrances, are not the only toxins to be worried about. There are other ingredients you want to watch out for with other categories of products such as hair spray, makeup, and toothpaste.
Dangerous Ingredients in Toothpaste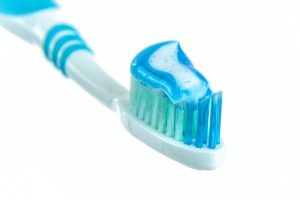 Two ingredients that you want to avoid when picking toothpaste is whitening and fluoride. Fluoride is one of those things where it isn't bad for you unless you are exposed to a lot. However, we are exposed to a lot with fluoride in our water supply. There is a ton of debate over the safety of fluoride. I think Dr. Axe's article does a great job at addressing that debate. View here: Is Fluoride Bad for You? It's Not Just in the Water.
There are also many warnings around using whitening toothpaste. Whitening can cause tooth sensitivity due to higher concentrations of peroxide. It can also lead to tissue damage if used too frequently. I'm actually super sensitive to whitening toothpaste. It irritates my gums and causes a cold sensation.
Other ingredients that you want to watch out for in toothpaste include Diethanolamine, Sodium lauryl sulfate, PEG's (or polyethylene glycols), Triclosan, artificial colors, and of course Parabens. These ingredients are linked to one or more of the following problems: hormone imbalances, cancer, liver damage, kidney damage, and more. View more details here.
Here are some great Toothpaste options I've used

Dangerous Ingredients in Makeup 
One of the biggest obstacles in deciphering the dangers lurking in a makeup label is that not all of the potentially harmful ingredients are actually listed (Selby, 2022). This research article shows that half of popular cosmetic products contain PFAS and it is not listed on their ingredient labels. PFAS can cause multiple health issues including cancer. Other dangerous ingredients in makeup include triclosan, phthalates, parabens, toluene, carbon black, talc, and even lead.
I haven't tested a lot of makeup products out because I found Mineral Fusion had everything I wanted. Here are makeup products I use:

Dangers of Commercial Hair Dye
From POISON CONTROL website: Even when hair dyes are used correctly, they can cause toxicity. Skin damage and allergic reactions are well documented (Dominguez). There are somewhere around 25 ingredients in hair dyes which can be harmful to your skin.
Harmful ingredients in hair dye include P-phenylenediamine, Ammonia, toluene, and resorcinol. Read about their dangers here: Toxic Chemicals in Hair Dye and Safer Options.
Looking for natural hair dye? Check this out: EarthDye chemical free hair dye. This is cool too: Hairprint restores grey hair to its natural color using the latest green chemistry, a discipline which employs benign nontoxic molecules to achieve better results than synthetic chemicals (MADE SAFE, 2018).
Summer is coming – check the ingredients in your SUNSCREEN! The sun isn't the only thing than can cause cancer.
---
Where Do You Start?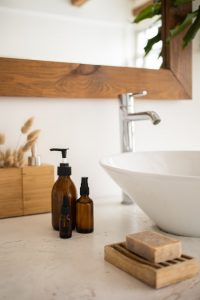 For the most part, I slowly switched my products out for less toxic ones as I used them up. But I did have a few products that I rarely used and just tossed without replacing. This was mostly makeup products, scented lotions, and other small items.
You could make a list of all your products that need to be replaced, and then cross them off the list as you make replacements. You could also label all your products that need to be replaced with a piece of tape as a reminder to find a new product when you throw them out. Otherwise, you could just throw out everything that you want to replace in a certain category (bath products, makeup, lotions, hair products, etc), and then replace that category.
UP NEXT: A blog on Indoor Air Toxins & Chemical Cleaners
---

References:
Lina. FORCE of NATURE/NON-TOXIC PRODUCT GUIDES: How To Find A Non-Toxic Toothpaste (And 3 Of Our Faves!). Retrieved from: https://www.forceofnatureclean.com/choosing-non-toxic-toothpaste/
Selby, Karen. (2022, April 12). Asbestos/45% of People Worry About Toxic Makeup — Should You?. Retrieved from: https://www.asbestos.com/featured-stories/makeup-toxicity-survey/
Dominguez, Karen. POISON CONTROL/Concern about Hair Dye. Retrieved from:
https://www.poison.org/articles/hair-dye
EWG Verified?/Why EWG VERIFIED™?.
Retrieved from: https://www.ewg.org/ewgverified/about-the-mark.php
MADE SAFE/Toxic Chemicals in Hair Dye and Safer Options. (2018, January 19). Retrieved from: https://www.madesafe.org/toxic-chemicals-hair-dye-safer-options/
TOXIC FREE FOUNDATION/Certification. Retrieved from: https://thetoxicfreefoundation.com/certification
Jena
I am a business owner, marketer, innovator, writer, and artist. I have a passion for wellness with a wealth of knowledge surrounding: wellness, flaws in healthcare, root causes for chronic illnesses, and alternative treatments. My expertise includes over 5 years of marketing, research, and developing content for holistic health businesses. Plus, my own personal journey of becoming chronically sick: understanding what went wrong, and finding a way to heal and live a healthier life.