Here are 45 unique gluten free party appetizers to bring or serve at the next gathering you have or attend. Many of these recipes are also dairy free. Being as my blog is about wellness, these recipes are also healthier with lots of whole foods, little to no-processed items, no unhealthy oils, or crazy amounts of sugar.
I went to a party not too long ago where there was virtually nothing I could eat because everything either had gluten or dairy. Although I'm going to be eating gluten and dairy again in the near future, gluten and dairy are not great for your health no matter who you are. Agreed though that avoiding them altogether is hard and not so fun. So I will eventually eat them again, but not often at all. The other problem with the appetizers at the party was they were very boring. I know there are boring gluten and dairy free recipes too, but there are also some VERY UNIQUE recipes when you avoid these ingredients. Some of my favorite party foods are actually gluten and dairy free.
I created this roundup blog (recipes from various bloggers) to be unique and fun.
Loads of spices and lots of flavors with this recipe. I'm actually partially Greek and I can tell you this recipe is made the right way! This is not dairy free, but you could substitute goat cheese.
Don't want to cook anything? This recipe has you covered. Very simple, but with the right cheese and olives it can offer some unique flavors.

Oh yes! I bought some dark chocolate hummus from the store recently and it was great, this is made from scratch so it is going to be even better! I love eating this with fruit, but nuts and pretzels can work great too.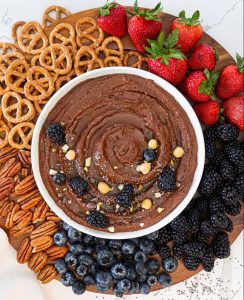 This is a favorite Indian recipe for many people. Lots of flavor! It is not only gluten-free, but nut-free, soy-free, etc. Most people like eggplant after eating this dish!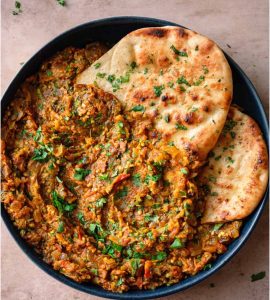 Here is an easy meatball recipe, but what makes it so interesting is the bison meat instead of a ground beef or pork meatball. You can also make it interesting with your choice of red sauce.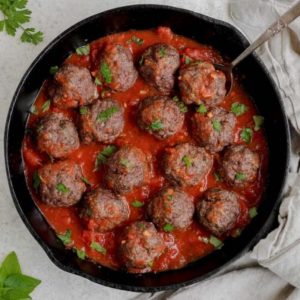 Lots of different flavors in this recipe with shrimp, avocado, tomato, artichokes, red onion, and capers. It could be a delicious appetizer or a light meal.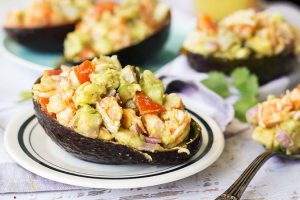 YUM! I've found out recently, gluten free bread baked or toasted for some reason tastes better than eating it cold. Besides being gluten-free, this recipe has a few things that make it unique from your regular bruschetta.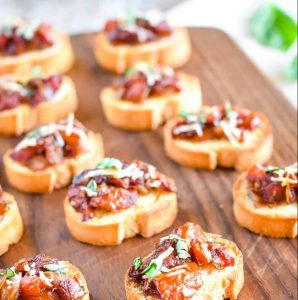 This looks like a great summer or spring snack since it is a colder dish. It has salmon, veggies, sour cream, and loads of other flavors.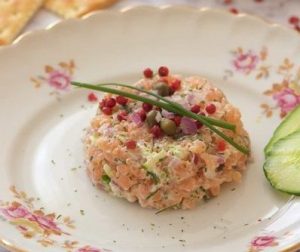 An awesome sweet treat without being a sugar rush. This recipe uses dates vs sugar and you can keep it dairy free based on your choice of chocolate chips.
I rarely say no to bacon! This recipe is super simple with just four ingredients. It is dairy free and has unique flavors.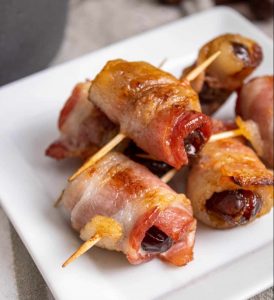 I'm a big fan of Baba Ganoush. Middle Eastern dishes have loads of interesting flavors. This recipe isn't too complicated, it is dairy-free, and would work great with some garlic crackers or gluten-free pita bread.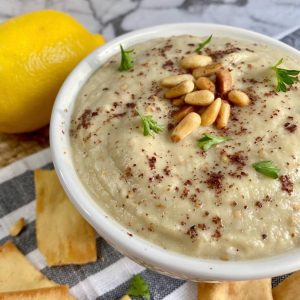 A healthier version of a mini burger with zucchini as the bun. With lots of yummy spices on the zucchini you will have more flavor than a bread bun. Although it is served with cheese, you could probably replace that with something else if you need it to be dairy free.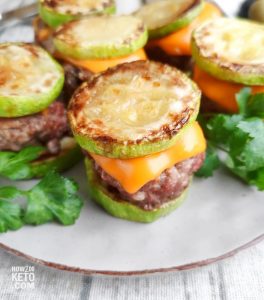 I love this concept because there is something really delicious about sweet flavors mixed with goat cheese. What makes it more interesting is the spices added and the walnuts. A flavor packed recipe.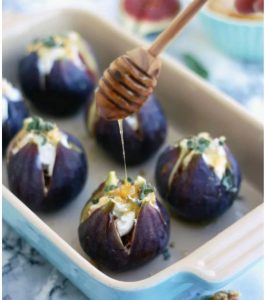 This is a cold salsa that would be refreshing to eat on a hot summer day. This isn't something you can just buy at the store. It is full of fresh fruit and veggies with some sweet, sour, and zesty flavors.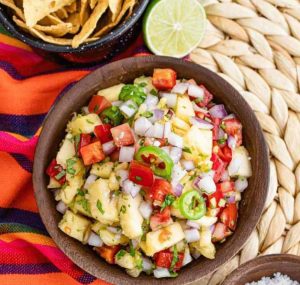 This might look unhealthy, but instead of flour you have coconut flour, and instead of frying it you bake it. But its not just an onion with a crispy layer, it also has some seasoning to it beyond your typical salty fried onion.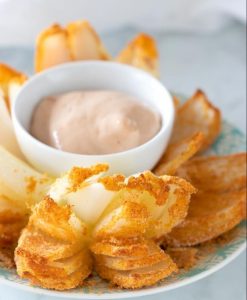 I'm a big fan of stuffed mushrooms. It is amazing how much flavor can be packed into something so small. These have spices, cauliflower, spinach, and pine nuts. There is a lot going on!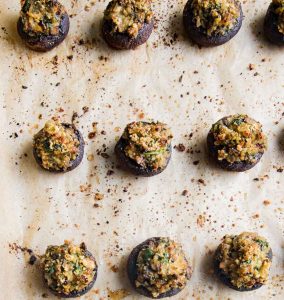 Here is a super simple recipe to make last minute. You can take regular potato chips and make them more interesting with a ton of spices and then you heat them up and serve them warm.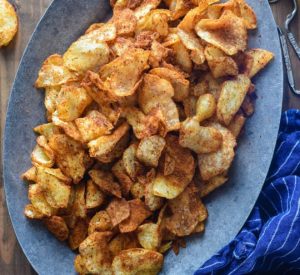 Skip the taco salad and bring this to your next party! Greek flavors are so bold and interesting. I love this combination of flavors – I'm 50% Greek so I know what I'm talking about. This is not dairy free, but you could maybe try it with goat cheese if you need it to be.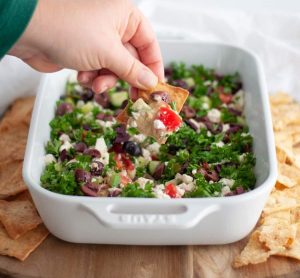 Falafels are such an interesting food. They are made with chickpeas, onions, and spices so they are super healthy, and there is quite a few spices to add loads of flavor!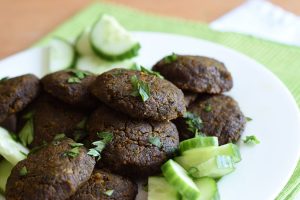 This is literally the recipe, just these 3 ingredients (prosciutto, dates, and goat cheese). Just wrap them up and bake them! A quick, unique, tasty recipe.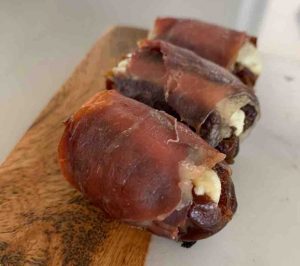 I've noticed anything with buffalo sauce is usually a hit at a party! These are gluten free since they are made with almond flour, but can be dairy free too when made with ghee.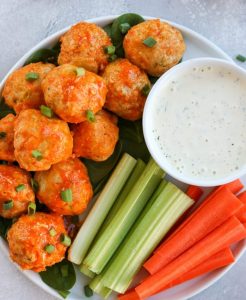 What is this? Endives, goat cheese, mandarin oranges, and fresh mint. Some unique flavors, super simple to put together, and I'm pretty sure you will be the only one bringing this to the party.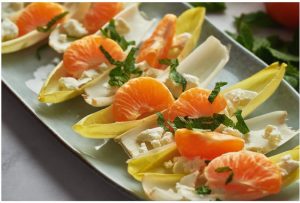 Baby octopus consists of some butter, spices, and lime. A unique appetizer that you can serve with some veggies or just lime wedges.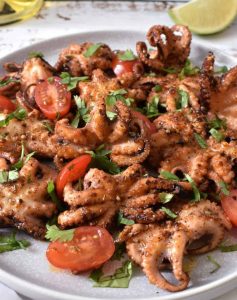 This is a simple, healthy, cold snack. They have some uniqueness to them with the fennel, brie cheese, and caper additions. You can also garnish them with apricot.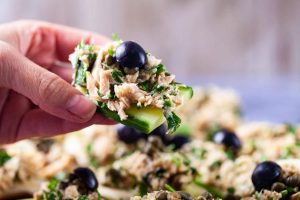 The picture hardly does this justice. These are potatoes topped with Italian truffle cheese, prosciutto, and arugula. It sounds mouthwatering to me.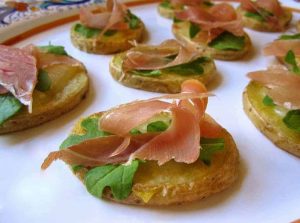 If you are looking for a summer appetizer or brunch recipe fruit salad is always a winner! What I like about this one is it has more than the classic berries you see in most fruit salads, and it uses a natural sugar dressing that is just honey and lime.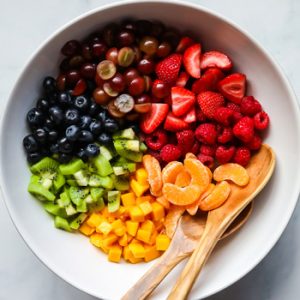 Very similar to the falafel but different. This is an indian recipe with healthy ingredients and loads of flavorful spices. It is also dairy free.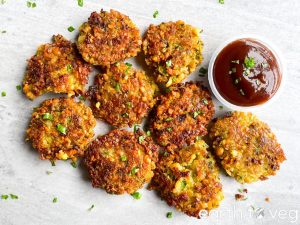 A super simple salsa. Many people go for the red salsa, but this green salsa packs load of flavor.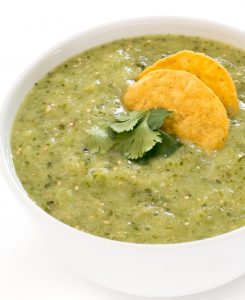 This is made up of carrot, cucumber, and cream cheese. But it also has a pinch of curry powder to make it more interesting. A simple, cold recipe.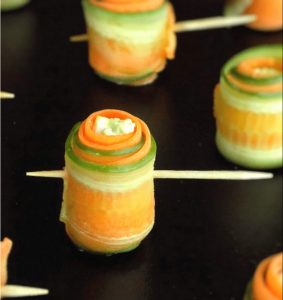 This is like a healthier version of bruschetta. Instead of bread you have sweet potato, and it is made more interesting by having a layer of hummus.
A healthier, more interesting pizza with eggplants as the crust. It also has a homemade sauce and of course delicious melted cheese. Yum!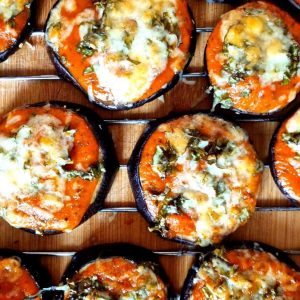 You won't find this salsa in a jar! It is loads of interesting with the combination of avocado, mango, a red bell peppers, jalapeño for some spice, a bit of lime for some sourness, and other fresh ingredients.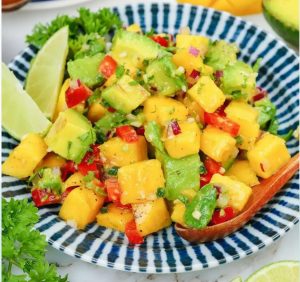 This is a classic French recipe making it a unique appetizer for your next get together. It is a simple, healthy, dairy free recipe. This a spread you could probably serve with some tasty crackers.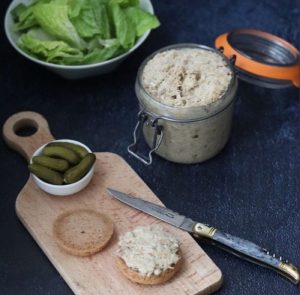 This recipe isn't too unique, but it is a crowd favorite! Who doesn't like chicken tenders? This is simple to make as everything is cooked together in an Instant Pot.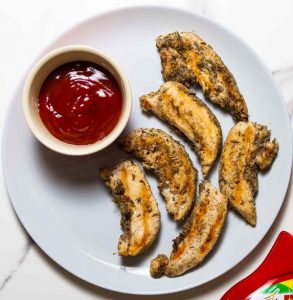 What is awesome about these meatballs is they are made with bacon and ground turkey. They are also unique because they have honey bbq sauce and apricot jam.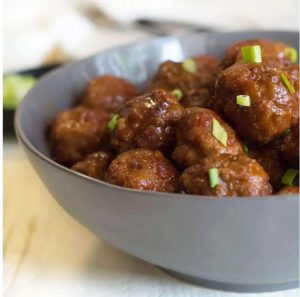 Ceviche alone makes this a unique dish, but I also love the juiced fruits that are added. This is a great cold dish packed with flavor. It is probably best served with chips.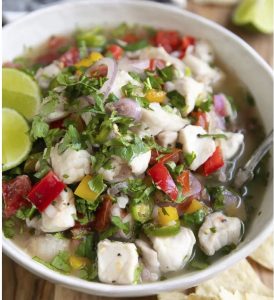 These zucchini pizza bites are one-of-a-kind they are made with pesto and marinara. You can and add cheese, but there is also a recipe for a vegan parmesan.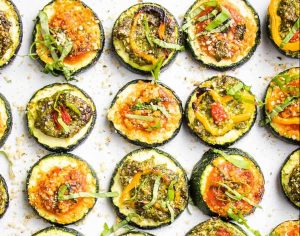 Lots of exciting flavors here with olives, garlic, capers, lemon, and red chili flakes. A super simple recipe to make that can be served with crackers and maybe added to a charcuterie board.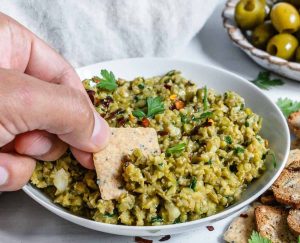 Such a strange and really interesting concept. Instead of the salt create this dill pickle seasoning to add some flavor to your next party.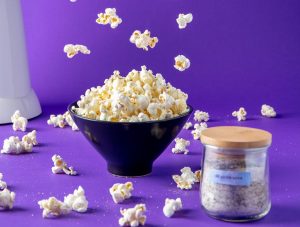 Guacamole is a classic and it tastes better fresh! Nothing to unique about this recipe, but it is one of those simple one's that most people love!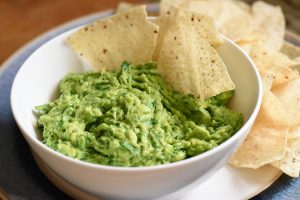 This could be a great brunch or dessert appetizer. It can not only be made gluten free, but also dairy free. The concept of it is definitely unique and it has lots of spices to add various flavors.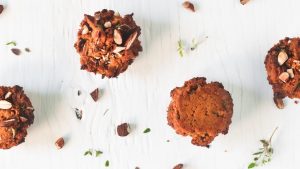 Instead of eating your typical deviled eggs what about adding some avocado? Avocado puts a new spin on this classic party recipe.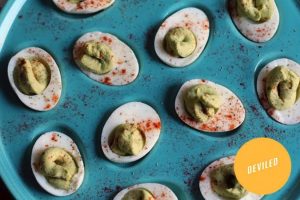 I love this idea of not having plain nuts at a party. Why stick to plain cashews when you can have these sweet flavored nuts that are super simple to make.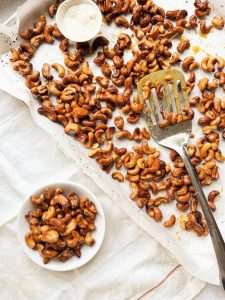 Skip the cocktail sauce and make this unique mango sauce with shrimp for your next party. The combination of the coconut shrimp and the mango sauce will provide loads of flavor.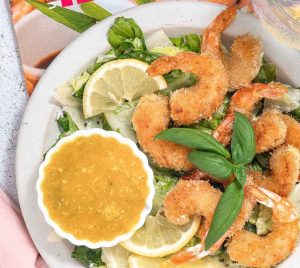 If you are vegan or just want to eat less meat this is a great choice! Cauliflower wings with the right spices could be so good you will forget that you are eating vegetables.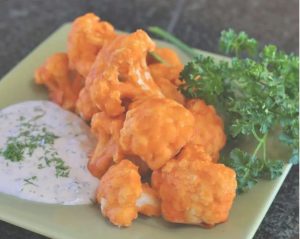 ---
LIKE THIS? Also, check out my blog: Over 30+ Gluten and Dairy Free Breakfast Ideas (& Sugar-Free)
For more awesome appetizer recipes, check out my Pinterest boards
Healthy PARTY Ideas
Healthy Snack Ideas
Clean Eating – Dessert
---
---
View More Healthy Eating Blogs
Jena
I am a business owner, marketer, innovator, writer, and artist. I have a passion for wellness with a wealth of knowledge surrounding: wellness, flaws in healthcare, root causes for chronic illnesses, and alternative treatments. My expertise includes over 5 years of marketing, research, and developing content for holistic health businesses. Plus, my own personal journey of becoming chronically sick: understanding what went wrong, and finding a way to heal and live a healthier life.