Transformation of the Day: Marquita lost 142 pounds. This Ph.D student promised herself that she would never be hindered by her weight or feel like she let herself go again. In April 2019, she had Gastric Sleeve surgery.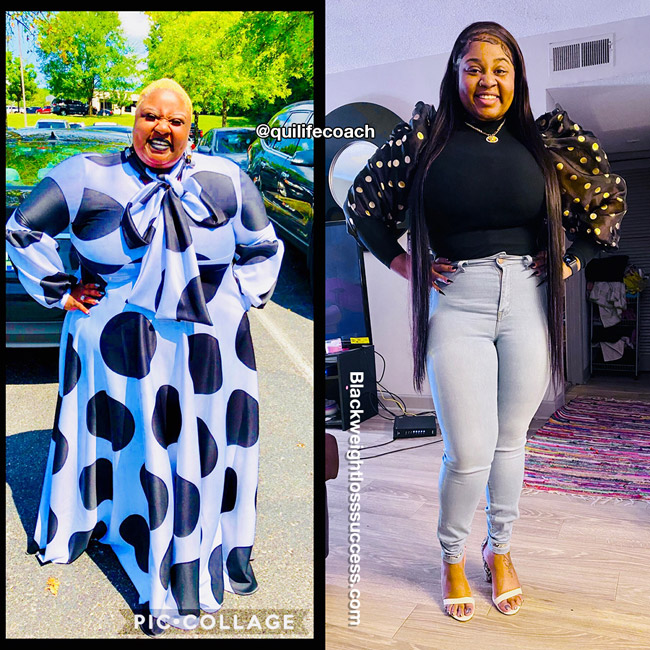 My name is Marquita, and I am 29 years old. I currently am a Ph.D. student, and I work full time. I do not have any children yet. 
What was your motivation? What inspired you to keep going, even when you wanted to give up?
One day I woke up, and I could not wipe off my entire body. I also had to boost myself off with pushes just to get out of bed. I allowed myself to get to 337 pounds. 
When I wanted to give up, I remembered when I could not clean myself properly. I also remembered how exhausted I always was. I promised myself that I would never let myself go like that again.
When did you start your journey?
I started my journey on April 2, 2019. 
How long did your transformation take?
My transformation took 18 months. 
Is weight loss surgery part of your journey?
Yes, I had gastric sleeve surgery on April 2, 2019. 
How did you change your eating habits?
I had to go on a two-week liquid diet before having Gastric Sleeve surgery. During this process, I lost 20 pounds. After surgery, I followed my weight loss doctor's instructions word for word. I stopped eating pork and red meat. Instead, I focused on eating chicken, seafood, turkey, and vegetables.
What did your workout routine consist of? How often did you work out?
In the beginning, I started slow. I walked for 30 minutes every day for about a month after surgery. The walk eventually turned to a jog and then a 5-10 mile run at least three days a week. When I hit 275 pounds, I also began dancing to burn calories, and it did not seem like a workout. This became my consistent routine. Then, around 175 pounds, I started working with a trainer 2-3 days a week to build muscle and burn more calories.
What was your starting weight? What is your current weight?
My starting weight was 337 pounds. My current weight is 195 pounds, but my lowest weight was 169 pounds. I decided that I wanted to have muscle and definition, so I gained back 26 pounds. I'm extremely happy with where I am! At my current weight, I have lost a total of 142 pounds. (At my lowest weight in August 2020, I had lost a total of 168 pounds.)
What is your height?
I am 5'3″.
What is the biggest lesson you've learned so far?
I have learned not to ever give up on myself, and my before and after pictures are consistent reminders that I can achieve anything I set out to do.
What advice do you have for women who want to lose weight?
Focus on yourself and your health. If we want to change, we have to learn to be happy with who we are and who we will evolve to be. Change is inevitable and if you want it, do it! You are your own competition.
Instagram: @quilifecoach