Don't give up, friend. Use these Bible verses on endurance & perseverance to use your faith to encourage you when you feel like things are getting too hard.
I am afraid to fail.
More specifically, I am afraid to fail the people I love – my husband, my parents, my niece & nephew, my friends, my small group, my business partner, and you are included in that, too (I know we've never met, but I prayed for you, reading this post).
(Side note, the daily devotional New Morning Mercies by Paul David Tripp is AMAZING and helps you shift from a fear-focused life to a grace-focused life.)
Fear has a way of twisting logic.
It's the voice that tells you can't do it. That you're not good enough. Not strong enough. Not enough.
The voice that says you have failed too many times, so you better just give up now before you fail again.
It's so important to know what God's voice sounds like so you can recognize when the enemy is trying to whisper lies to you.
If you are feeling tired, discouraged, disheartened, disappointed, and you just want to give up, read on.
The Bible has so much to say on this topic and it calls fear out for what it is – fear is a liar.
Look over the powerful words in Scripture encouraging you to never give up.
Scripture on Endurance & Perseverance – Never Giving Up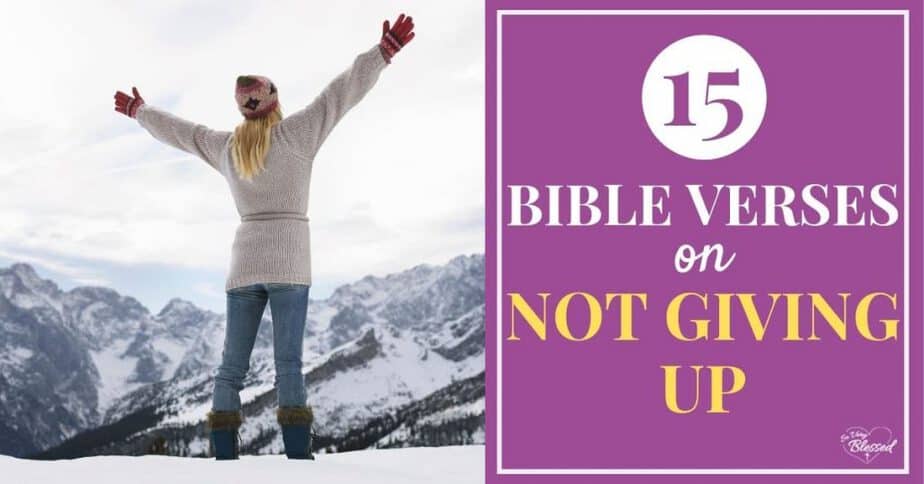 Galatians 6:9 – Do Not Grow Weary In Doing Good
Let us not become weary in doing good, for at the proper time we will reap a harvest if we do not give up.

Galatians 6:9 NIV
This is the first verse I turn to when I feel like giving up. It's a reminder that good things take work. And, often, they take a lot of work.
But that doesn't mean your efforts are fruitless.
One of my favorite hymns growing up was called, "The Hymn of Promise."
It talks about how an entire apple tree is inside a tiny little seed. But, you can't just crack the seed open and have the full tree pop out.
"Unrevealed until its season, something God alone can see."
It takes time, patience, nurturing, and protection. But when you reap that harvest, it is so worth the effort!
Hebrews 12:1 – Run With Perseverance
Therefore, since we are surrounded by such a great cloud of witnesses, let us throw off everything that hinders and the sin that so easily entangles. And let us run with perseverance the race marked out for us,

Hebrews 12:1 NIV
One of the first questions I ask myself when I feel like I can't do it anymore is, "What is the biggest thing standing in my way?"
That simple question usually uncovers an answer I can work with. The asking alone is a powerful thing.
So, what's making you want to give up? We serve a God who celebrates endurance and perseverance!
Keep your eyes on the lookout for where sin might have snuck in. The enemy is a master of using sin to discourage, disappoint, and destroy us.
Philippians 4:13 – You Can Do Hard Things
I can do all this through him who gives me strength.

Philippians 4:13
One of the things we tell women all the time in our Faithful Finish Lines program is, "You can do hard things."
You can be sure of that! And the best news of all is that it doesn't depend on you.
It's all because of Christ in you.
Don't feel good enough? It's okay, God makes you more than enough.
Don't feel strong enough? It's okay, God gives you all the strength you need.
Don't feel like you have enough energy? God renews strength.
God will fill in all of your "not enoughs" with his abundant provision.
Romans 5:3-4 – Perseverance Produces Character
Not only so, but we also glory in our sufferings, because we know that suffering produces perseverance;  perseverance, character; and character, hope.

Romans 5:3-4 NIV
Sometimes we get so fixed on the end result (like your goal weight on your weight loss journey) that we forget about the reason for the process.
When you face difficult things in your life, you always have a choice. Sure, you have the option of giving up. Or you can choose to grow.
When you choose to keep going through the tough stuff, your character changes. You become stronger, more steadfast, more confident, and, ultimately, full of hope.
Endurance doesn't just change the end result you are working toward, it changes who you are in the best kind of ways.
Deuteronomy 31:8 – You're Not Doing This Alone
The Lord himself goes before you and will be with you; he will never leave you nor forsake you. Do not be afraid; do not be discouraged."

Deuteronomy 31:8
One of the lies we often believe when we feel stuck is that we are alone in this.
Nobody else understands how hard this is. Nobody else has been in this situation. Nobody else feels my pain. No one gets it.
God promises that He will never leave you or forsake you. Just because you are going through a tough time doesn't mean He has abandoned you.
God is with you, always!
2 Corinthians 4:16-18 – Shift To An Eternal Perspective
Therefore we do not lose heart. Though outwardly we are wasting away, yet inwardly we are being renewed day by day.  For our light and momentary troubles are achieving for us an eternal glory that far outweighs them all.  So we fix our eyes not on what is seen, but on what is unseen, since what is seen is temporary, but what is unseen is eternal.

2 Corinthians 4:16-18
All of the outward things we work so hard to achieve (weight loss goals, better-paying jobs, a bigger house, etc) are temporary.
The things we see are just a tiny fraction of the big picture that God sees.
But who we are – our identity in Christ – is the big picture.
Are you becoming more patient? Loving? Joyful? Peaceful? Awesome! Then you're on the right track. Those are fruits of the Spirit that show we are becoming more like Christ.
But if you are getting sucked into caring more about momentary (how Instagram-worthy our house is, how we look, how "together" we seem) than eternal things, it's time for a perspective shift.
Fix your eyes on Christ and align your goals with Him.
Matthew 19:26 – It's Possible, Even When It Doesn't Feel Like It
Jesus looked at them and said, "With man this is impossible, but with God all things are possible."

Matthew 19:26 NIV
Discouragement is strong. If the enemy can convince you that something is impossible, then he wins. It will get you to stop trying.
Maybe you've been trying to lose weight for years and can't seem to get the scale to budge. Maybe you've been praying for your marriage for years and you don't see God at work. Maybe you've tried and failed so many times, you just can't convince yourself to get back up and try one more time.
Whatever it is, it's possible.
Our God is a God of miracles. Not just miracles that happened in the past, but miracles that happen today, all around us. Ask, seek, knock. Lean into His strength.
If you've tried 100 times, try 101.
Giving up entirely is the only way to fail.
James 1:2-4 – Keep Going To Be Transformed
Consider it pure joy, my brothers and sisters, whenever you face trials of many kinds, because you know that the testing of your faith produces perseverance. Let perseverance finish its work so that you may be mature and complete, not lacking anything.

James 1:2-4 NIV
As I mentioned earlier, perseverance changes your character. It's not just about crossing the finish line, it's about who you are when you do.
Choose to take another step. Choose to keep going.
You are maturing with each and every step. Every time you choose to move forward, even when things are difficult, you are growing in faith.
You can do this.
Colossians 3:23-24 – Work At It With All Your Heart
Whatever you do, work at it with all your heart, as working for the Lord, not for human masters,  since you know that you will receive an inheritance from the Lord as a reward. It is the Lord Christ you are serving.

Colossians 3:23-24
This verse is a beautiful reminder of why we are working toward our goals.
You will always be disappointed if you are only working to win other peoples' attention, admiration, and approval.
Working for the Lord adds a deeper purpose to every single task in your life, whether you are exercising, washing dishes, or going back to school to earn your degree.
Putting your heart into your work makes it personal and so much more fulfilling! It's no longer just about the checks on your to-do list. It's about growing closer to God as you serve Him in everything you do.
Romans 15:4 – Endurance Leads To Hope
For everything that was written in the past was written to teach us, so that through the endurance taught in the Scriptures and the encouragement they provide we might have hope.

Romans 15:4 NIV
You can read story after story in the Bible of examples of people who faced impossibly difficult situations and still made the choice to keep moving forward in faith, without knowing what the outcome would be.
Job did all the right things, but still faced heartbreakingly difficult situations and praised God in the midst of them. God greatly rewarded Job for his faith.
Paul was imprisoned over and over again, beaten, shipwrecked and more and he still chose to praise God and continue his work.
Jesus, of course, is the ultimate example of endurance. He did nothing wrong and still went through adversity, pain, and hardship…all for us.
There are so many more – David, Jacob, Abraham, Joseph, Jeremiah, Ruth, and countless others.
When you feel like quitting, find inspiration in these people told about in the Bible who persevered in faith, clinging to hope every step of the way.
Romans 8:25 – If We Hope…
But if we hope for what we do not yet have, we wait for it patiently.

Romans 8:25 NIV
If you've been working hard and you're ready to give up, "be patient" is probably the last thing you want to hear right now.
But don't miss the first part of the passage. "But if we hope…"
What are you hoping for? If you're feeling discouraged, chances are, you are slowly losing hope.
What do you do to fix that feeling of hopelessness? You carry on with endurance. You persevere. And that perseverance builds the hope you feel you've lost.
It's a beautifully divine formula.
Colossians 1:9-11 – Lean Into The Lord's Glorious Might
We continually ask God to fill you with the knowledge of his will through all the wisdom and understanding that the Spirit gives, so that you may live a life worthy of the Lord and please him in every way: bearing fruit in every good work, growing in the knowledge of God,  being strengthened with all power according to his glorious might so that you may have great endurance and patience…

Colossians 1:9-11 NIV
As I just mentioned, you make the choice to keep moving forward, but the strength you need to do that?
That all comes from the Lord.
It's in His strength that you can endure and be patient. It's Him that will carry you through.
1 Thessalonians 1:3 – Endurance Inspired By Hope
We remember before our God and Father your work produced by faith, your labor prompted by love, and your endurance inspired by hope in our Lord Jesus Christ.

1 Thessalonians 1:3 NIV
Are you seeing the theme yet? Hope almost always accompanies endurance.
When you have faith and work out of that faith, you are inspired by Jesus. That's the beauty of keeping your eyes fixed on him.
There is still hard work involved, but the reward is oh-so worth it!
James 1:12 – For The Crown Of Life
Blessed is the one who perseveres under trial because, having stood the test, that person will receive the crown of life that the Lord has promised to those who love him.

James 1:12
Every accomplishment you receive in life comes from perseverance.
When you learn to walk, read, graduate college, parent, manage your finances, lose weight, run a 5k….chances are, those didn't come easily.
Perseverance is a skill that certainly takes discipline, but "blessed is the one who perseveres under trial."
Psalm 37:24 – The Lord Upholds You
though he may stumble, he will not fall,
    for the Lord upholds him with his hand.

Psalm 37:24
It's okay to mess up along the way. Endurance isn't about knowing with certainty that each step you take is the right one now.
This verse reminds me of this quote by Martin Luther King Jr.
"If you can't fly then run, if you can't run then walk, if you can't walk then crawl, but whatever you do you have to keep moving forward."

Martin Luther King Jr.
Don't worry about doing things perfectly – just keep moving forward.
God's got you.
More Bible Verses About Endurance & Perseverance
Pin This Post For Later!