Hoping to plan the mid-century modern wedding of the century? Then Peerspace has you covered! One of the trendiest design themes in recent memory is also one of the least understood. But once you get a grasp on it, you'll see why the mid-century modern motif is the epitome of cool for everything from architecture to a wedding.
Yes, mid-mod weddings are a huge deal. And we're here to tell you how to take this historic trend and revolutionize it in your own contemporary wedding ceremony. Read on for tips and tricks to bring a mid-century modern wedding to life.
First, what is mid-century modern, precisely?
Mid-century Modern design hit its apex in, well, the middle of the century – the mid-1900s, specifically. Some assert that the style began in the 1930s, while others say it had a limited 10-year run from 1947-1957, with interest in the style renewing as early as the late-1960s.
It is an offshoot of the Modernist movement – a celebration of all things steel and space age, futuristic, and yet simple and sleek. And mid-century is here to stay.
Narrowing in on MCM minimalism? Then you also need to read our guide on throwing a minimalist wedding!
Book a mid-mod venue on Peerspace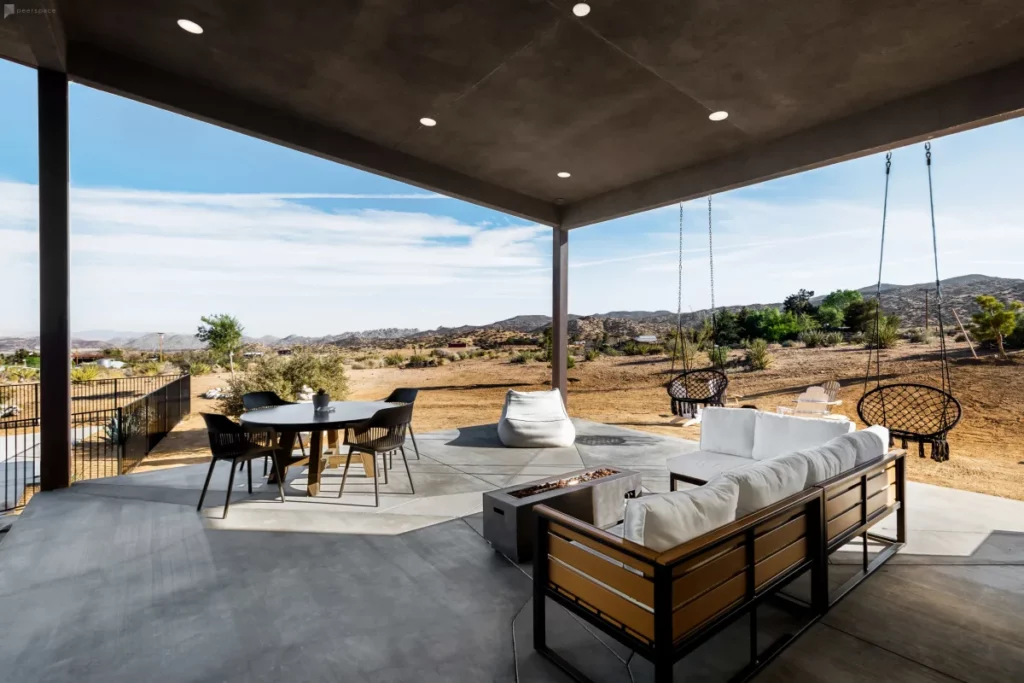 The very best way to extend the beloved mid-century modern vibe to your wedding ceremony is to secure a venue with that architectural design style. Typical events centers aren't going to do the trick, though. Fortunately, there's Peerspace, the largest online platform for unique peer-to-peer venue bookings. There are thousands of Peerspaces in several countries, and a bunch of them are mid-mod spaces you can rent for your wedding. 
Take, for example, this magnificent desert architectural jewel in Pioneertown, California (pictured above). The earth tones of the surrounding mountains and canyons beautifully accent the deep grays of the exceptional interior design. The bright blue pool contrasts against the sublime desert sunsets. A generous flagstone trail is an ideal aisle you can walk to make a lifetime commitment to your new spouse, before 50 witnesses.
Probably the number-one destination for mid-mod fans is Palm Springs, California. That's where you can rent this gorgeous Peerspace home that will leave no doubt in your guests' minds – or your wedding photos and videos – that this was a mid-mod wedding. Color, color everywhere! The interior space is popping with brights and the home itself glares crisp white against the blue sky. The space can accommodate about 50 people. Plus, you can ask guests to dress in early-1960s style for extra flair.
For an all-out urban bash of up to 200 seated guests, head to the East Coast and host your mid-century modern wedding at this vast Greenwich Village gallery. The high ceilings with skylights are supported by MCM artisan-welded beams for an expansive and optimistic energy. The exposed red brick, buffed concrete, glass, and steel architectural flourishes invite the addition of stripped-down chandeliers and a touch of plush like velvet or linen.
Decorating your mid-century modern wedding venue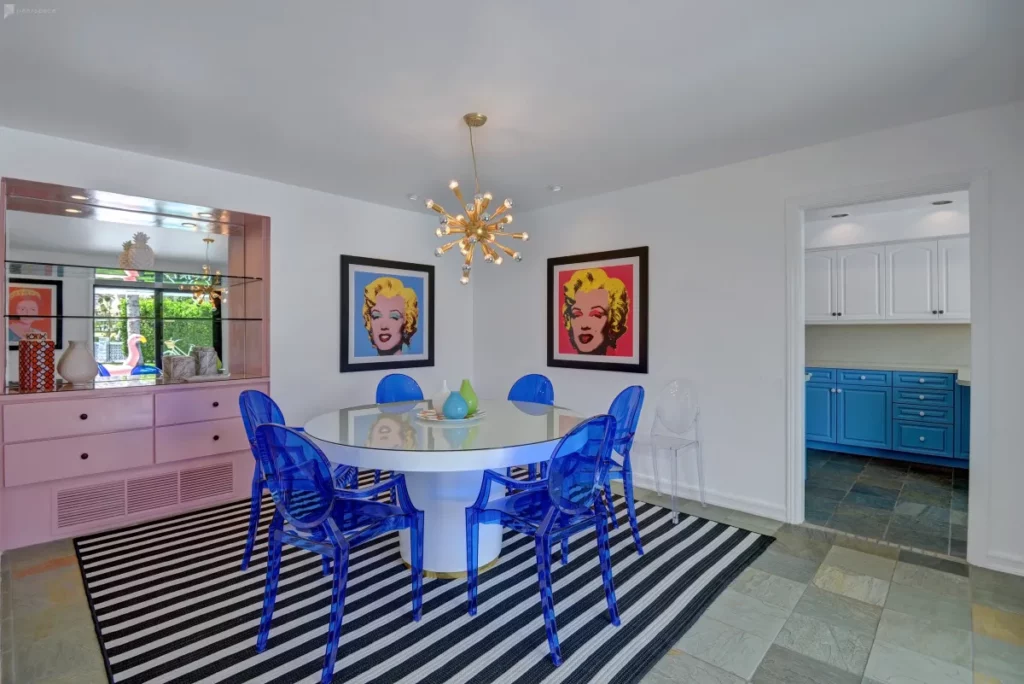 Remember that Mid-Mod design is epitomized by minimalism, and design elements are often built right into the buildings, landscaping, and especially furnishings. So, you probably won't need to invite too many more elements into the scene.
On the flip side of that coin, pops of color and metal are not just extra, but mandatory for the style. Incorporate design elements like starbursts, geometric lattices, Asian-inspired abstraction, hanging metallic or wood ovals and circles, crystal, ceramic planters, and seasonal plants in minimalist arrangements or garlands.
This quintessentially Mid-Century Modern home in Norfolk, Virginia, is nothing short of perfect for your minimony with up to 25 guests indoors. It's a huge estate, so the host might be amenable to a larger outdoor gathering – and luckily when you book through Peerspace you will communicate directly with the venue's hosts so you can ask questions just like that.
In addition to looking like it popped out of a Mid-Mod design textbook, the venue includes all kinds of amenities that you might unexpectedly need at your wedding, like a wardrobe rack and a steamer, and a dressing room where you can get ready.
As far as florals go, go bright. Mid-Mod bouquets trend toward yellow and orange gerbera daisies, zinnias, and the like. Think goldenrod, ruby, copper, teal – an early 1960s palette will do the trick nicely.
Pics or it didn't happen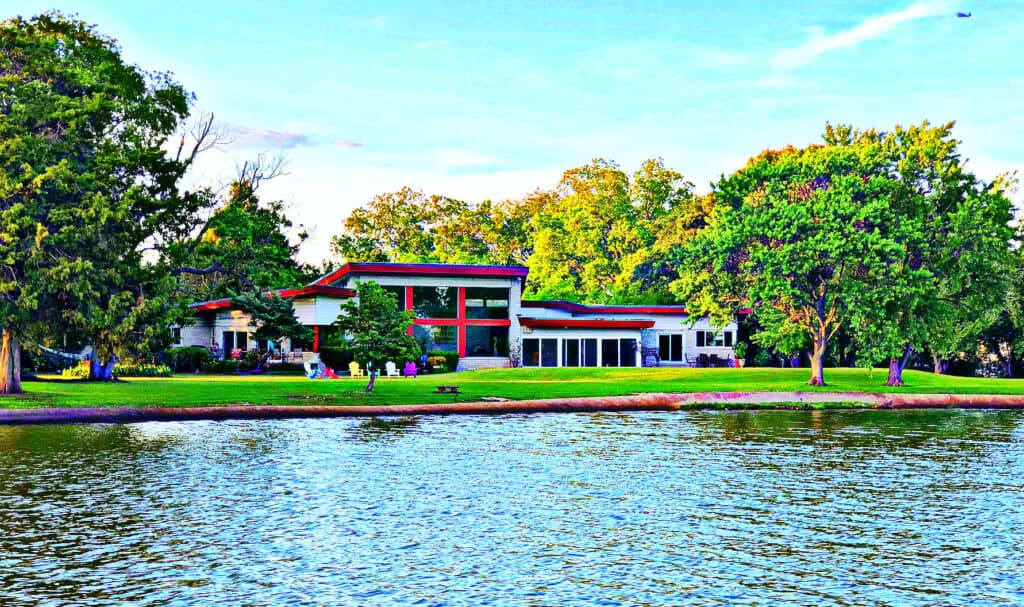 Your selected venue is already highly photogenic, but sometimes in the midst of all this wedding planning we forget vital things like, say, a photographer. That's where Peerspace Concierge comes in. With some advance notice, Peerspace's Concierge service can connect you with trusted local vendors. They can help you find furniture rentals, photographesr, audiovisual gear, and even catering. It all makes your mid-century modern wedding planning that much easier.
As far as photography goes, look into this Paradise Valley, Arizona Mid-century Modern pier-and-beam home. It is professionally decorated using authentic furniture and decorative elements. Plus, the space offers expansive views of Phoenix and beyond, including those sunsets that only the desert skies provide. The upscale Frank Lloyd Wright-inspired architecture does the heavy lifting for your mid-century modern wedding decor. After all, it's complete with rich woods, muted slates, and awesome deep teal couches.
Get even more inspiration by reading our complete guide on throwing a retro wedding!
What to wear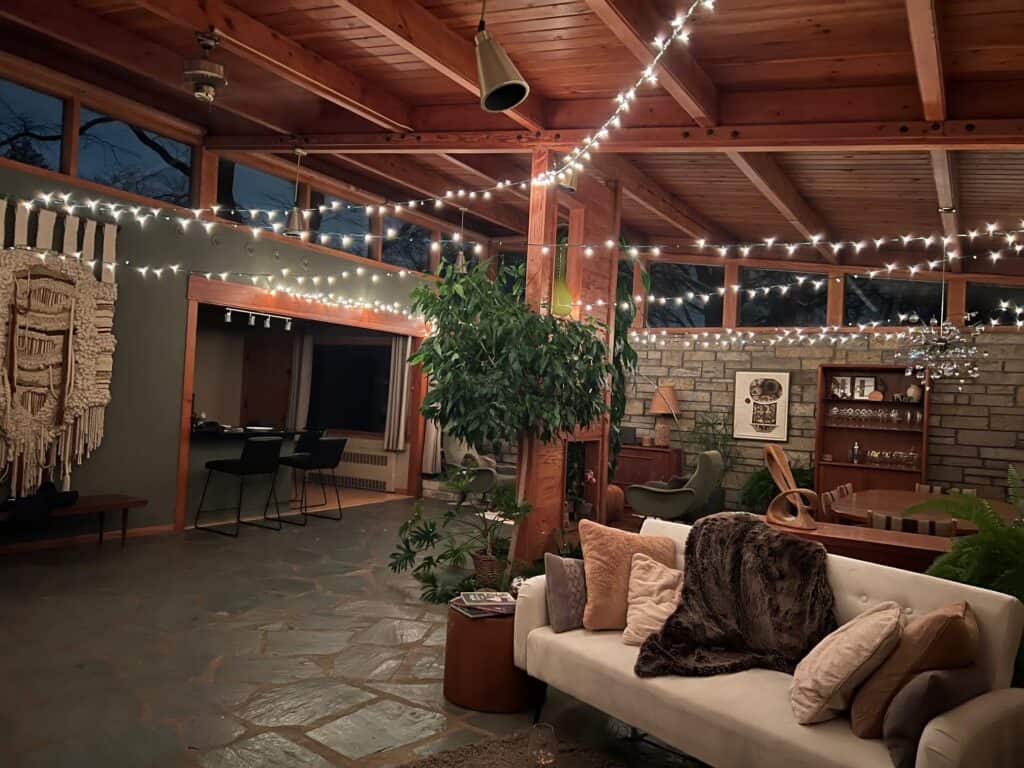 One of the most fun and overlooked aspects of the MCM aesthetic is the fashion. Remember that the mid-century encompasses many years, so you have flexibility when it comes to wardrobe.
As far as a wedding dress goes, MCM designs range greatly. You can opt for an elegant, slim-fitting Scandinavian-inspired A-line dress to a layered tea-length skirt reminiscent of darling '50s frocks. Also fitting are the kinds of daring miniskirt numbers that turned heads in the 1960s. Men might consider marron velvet suits and dapper hats. Watch the second half of the "Mad Men" series and take notes.
When it comes to jewelry and accessories, think diamonds and geometrical metal designs. Go for quality over quantity, and look for a signature designer necklace, broach, or bracelet. Keep the rest of the jewelry simple. This will let your brightly colored bouquet pop.
Music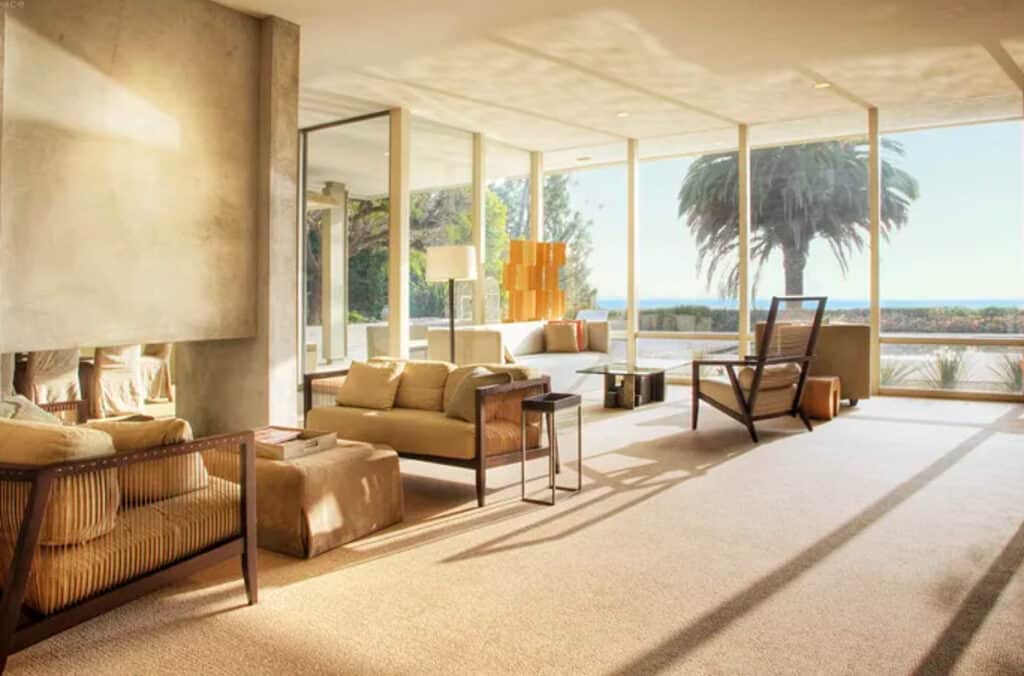 Music might be one of the most overlooked elements of making a wedding theme cohesive. In the case of a mid-century modern wedding, consider walking down the aisle to some loungey smooth jazz number, or maybe a string quartet – with an upright bass, of course.
This isn't the setting for a gigantic pipe organ playing the wedding march. Remember, minimalism is at the very heart of mid-mod.