Plenty of beautiful decor in a Tennessee home
A gothic wedding theme wouldn't feel complete without gorgeous decor lining the walls! This gothic medieval-inspired home in Tennessee feels like a time capsule as soon as you enter with beautiful vignettes throughout the house.
The space mixes together a few different themes, as well as just a gothic theme. Its "speakeasy" bar gives off 1920s vibes, the upstairs arcade is all about retro vibes, and the 1+ acre backyard is all about the modern lifestyle, with a brand new in-ground pool with a waterfall, outdoor kitchen, and firepit. 
It's so goth-perfect that Peerspace users even use it for professional photoshoots! Here's a review to show you what we mean and what it can mean for your wedding: "This home was absolutely amazing and perfect for my client's high glam photo shoot. The owners were very welcoming, it was easy to find, and the options for incredible shots were endless. We loved creating here and I can't wait to come back! Highly recommended."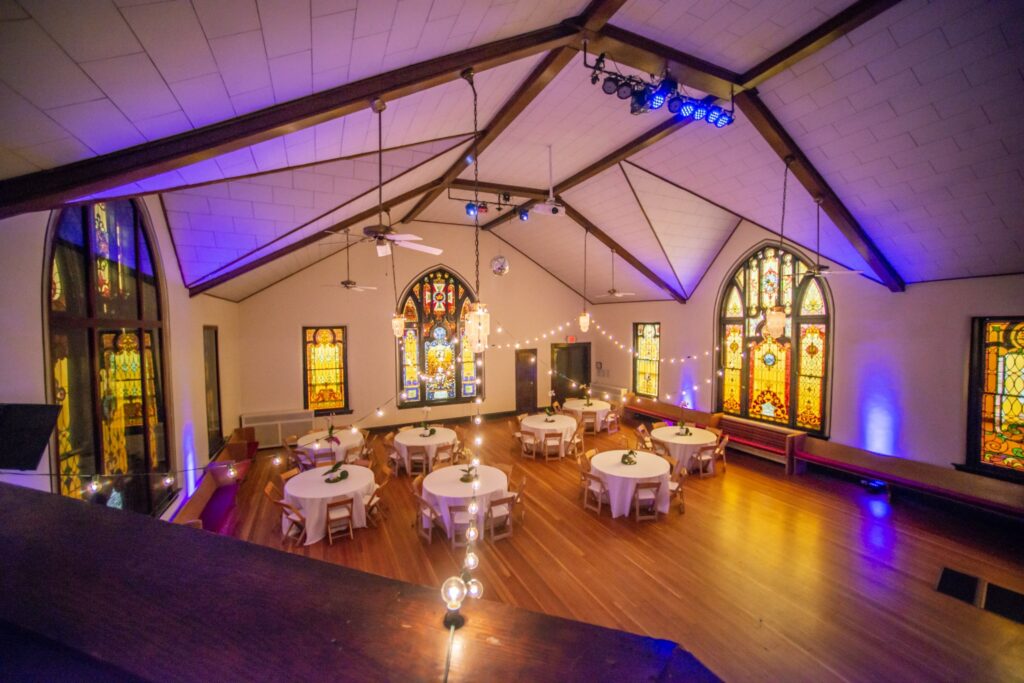 Stained glass is at the heart of gothic architecture and would be such a beautiful backdrop to have behind your gothic wedding-themed ceremony. To find the right look, search for American Gothic Revival churches on Peerspace.
You'll find options like this stunning converted church in Newport, Kentucky! It boasts a grand piano, a stage, A/V equipment, a kitchen, and a dressing room to serve as a bridal suite.
A Peerspace reviewer shared: "The Sanctuary was a neatly setup and beautiful room! Annette was kind and provided great support. The tech was easy to set up and worked without issue throughout our event. Our group enjoyed the unique converted space!"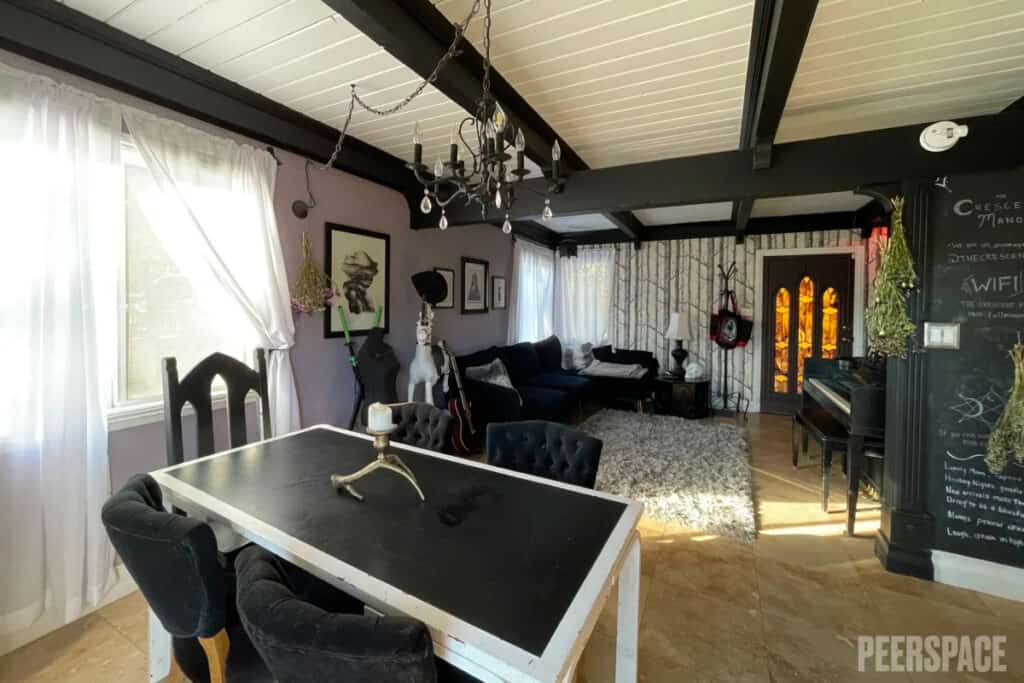 For an intimate celebration, look for a gothic wedding venue brimming with ambiance. For smaller weddings, we love this gothic home in the woods in Crestline, CA! It's a petite space with moody furnishings and eye-catching decor. The fact that it looks like a cottage hidden in a forest of a fairytale doesn't hurt, either!
"This was the perfect location to shoot a couple of scenes for our indie sci-fi feature," shares a Peerspace reviewer. "Very original facade and interior. The view is incredible too. We enjoyed working with the host, who is an artist herself and fully understood the needs of our production. Still can't believe we found such a cool spot!"
Tip #2: Dark shades for wedding party dresses and suits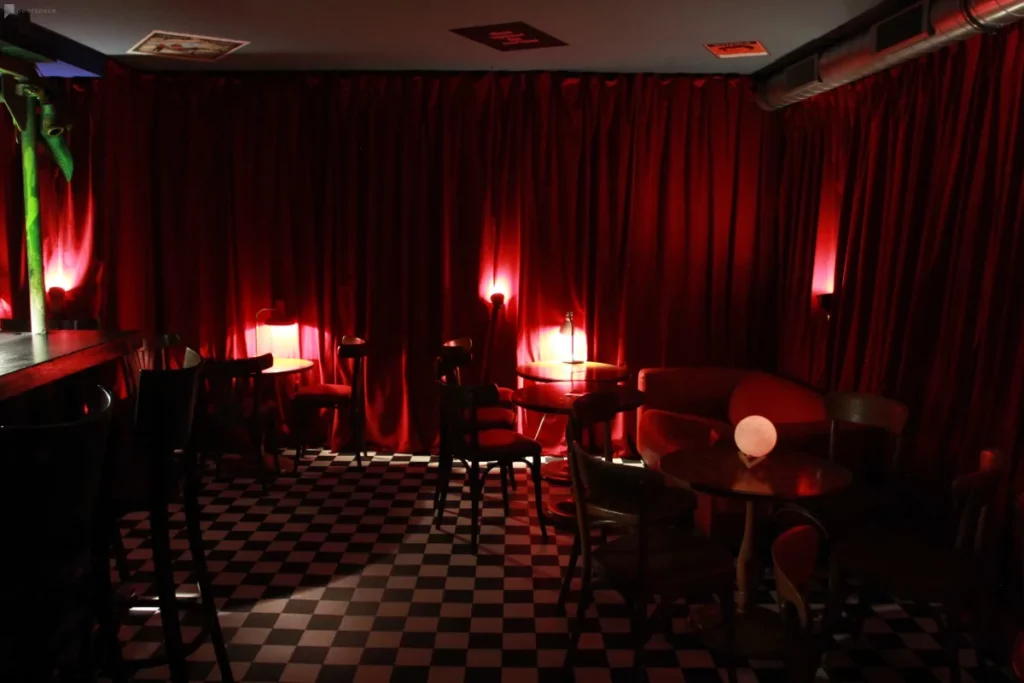 Dark shades are a great choice for gothic wedding theme attire and at a gothic wedding — black definitely shouldn't be off the table! Grays, dark reds, and dark blue hues are also fabulous options for your wedding day. Just make sure you let the guests know the theme ahead of time so they can dress in the appropriate colors!
Tip #3: Feast on medieval cuisine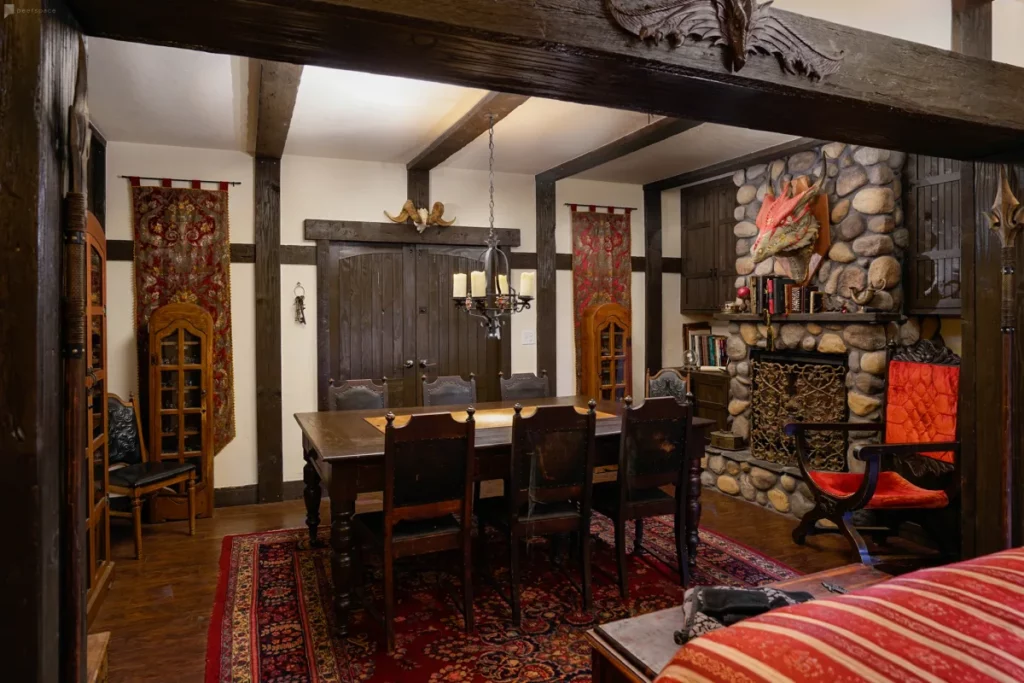 Medieval cuisine is absolutely perfect for a gothic wedding theme! On such a beautiful occasion, medieval royalty would have been feasting on game meat, cod, or domestic fowl (like chicken or duck). Potatoes, rice, and fava beans would also have been common food items for just about anyone living during the time period.
During medieval times, drinking water would have been rare, but every goblet would be full of wine or cider!
Speaking of medieval times, you're sure to love our medieval wedding theme ideas, too!