Dear reader, do you need help finding Bridgerton party ideas? You're in the right place. 
Still not over the first two seasons of Bridgerton? That's ok, neither are we. With all the pastel regency-inspired aesthetics and swoon-worthy romance you could ask for, it's hard not to be a little bit obsessed with this Netflix period romance. You're definitely not alone if you've ever wanted to have tea in the garden or spend your night dancing in a fantastical ballroom. Or just copy Daphne or Kate's impeccable style.
But you don't have to live in regency England to enjoy the fineries of a Bridgerton-inspired affair. You just need a little creativity. To help you find your footing, here are some of our favorite Briderton party ideas your heart will burn for. 
The venue 
The right venue can help you and your guests feel totally transported in time — like you've actually stepped into the Bridgerton universe. If you don't happen to have a ballroom or an English garden on-hand, don't worry. You can find tons of rentable party venues with Peerspace – and lots of them are perfect for regency themes. 
Your options will obviously depend on what's available for your chosen dates in your home metro. But venue ideas across the country include: 
A Vintage dollhouse tearoom in Miami, FL: Bursting with historical style and refined furniture and decor, this Miami tearoom looks like an English garden exploded inside – in the best possible way. 
A historic home with an English Garden in Long Island, NJ: This 200 year old estate sits on 5 acres of land – and there's a real English garden, perfect for tea parties or promenades. 
A renovated ballroom in Gilrose, CA: This roomy and elegant ballroom has a dreamy pastel color palette and enough space for you and up to 225 of your closest friends. And the wooden floors provide plenty of space for period dances!
You get the idea. Search up venues in your city, then find your favorite spot to bring your other Bridgerton party ideas to life. 
Let our garden party ideas add more outdoor elegance to your Bridgerton party planning!
The invites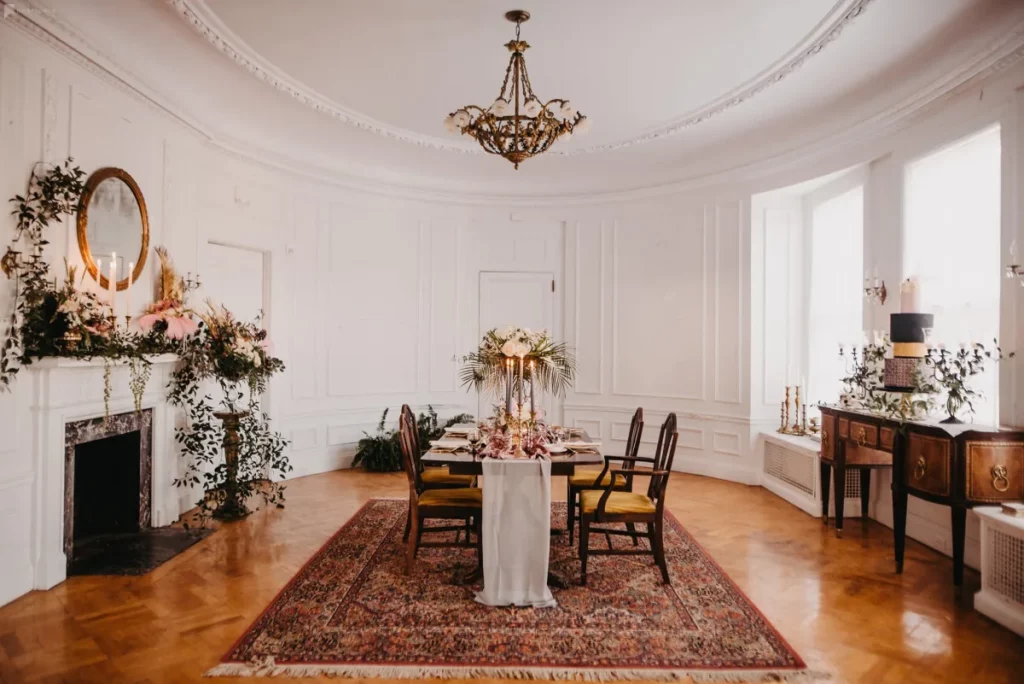 You could pass out your party details via word of mouth, sure. But where's the fun in that? You can capture Bridgerton vibes before your party even begins by sending custom party invitations to all your guests. 
Ideas to spruce up your invitations include: 
Use a printable template: This invitation template from GigSalad looks just like Lady Whitsledown's society papers. 
Make them yourself: Instead of printing your invites, try writing out your own invitations by hand. This Bridgerton-inspired stationary box from Litjoy includes custom stationary and envelopes – and even a feather quill to make you feel like Lady Whistledown penning some delicious gossip. 
The decor 
While your venue might feel regency enough as-is, you can still bring an extra dash of charm and elegance to your party through:
Flowers, all the flowers: All the gorgeous flowers in Bridgerton create beautiful scenes on the screen. You can recreate the look IRL with DIY faux flowers, like the ones you can find at Ling's Moment. Their English Pastel flower boxes are perfect for Bridgerton-inspired garden parties. And you can keep your DIY creations afterward! 
Regency-inspired dinnerware: Only your finest china will do to adorn your tables at your Bridgerton-inspired affair. You can even find Regencycore dinnerware at Overstock to design a tablescape fit for a queen. 
The menu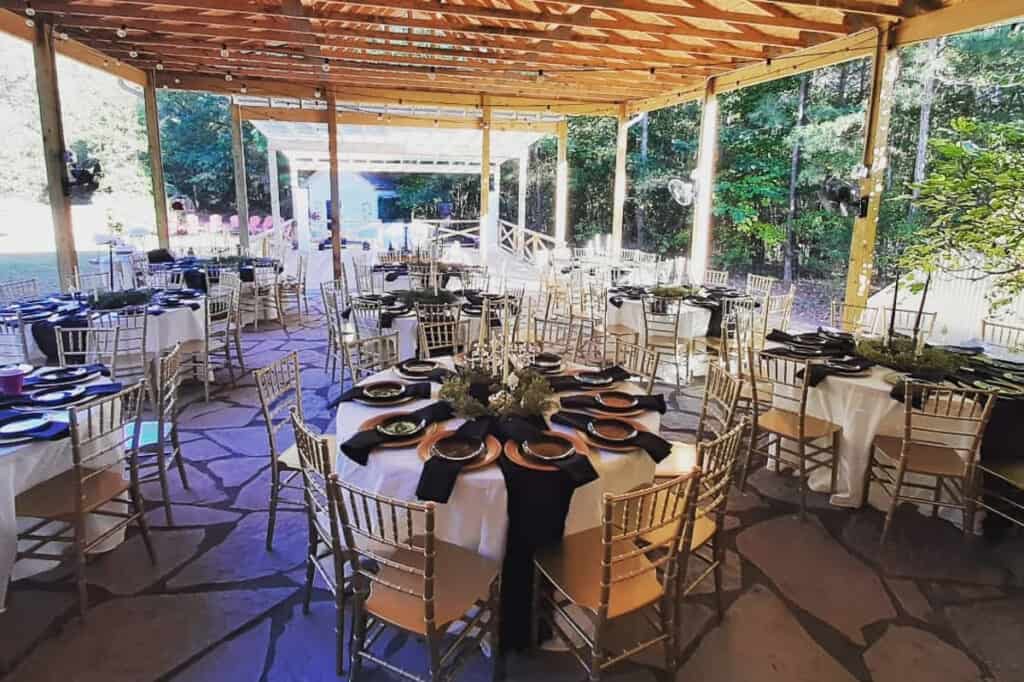 You'll need something to eat and drink while you socialize, like the members of high society you are (for the day, anyway.)
A few ideas to enrich your menu are: 
Afternoon tea: Tea is non-negotiable at any self-respecting regency affair. Lucky for you, the Republic of Tea has a line of Bridgerton teas perfect for expanding your palette. 
English scones and finger sandwiches: These Bridgerton-inspired recipes from Tasty are small, refreshing, and delicious. They're the perfect companion to your tea. 
Bridgerton-inspired brunch: Fancy something a bit more robust than snacks? Try serving up a brunch menu, with options like oatmeal pies with sugared berries. Yum!
If you don't feel like cooking yourself, your Peerspace host can connect you with a caterer to take all the hard work out of menu planning. 
The fashion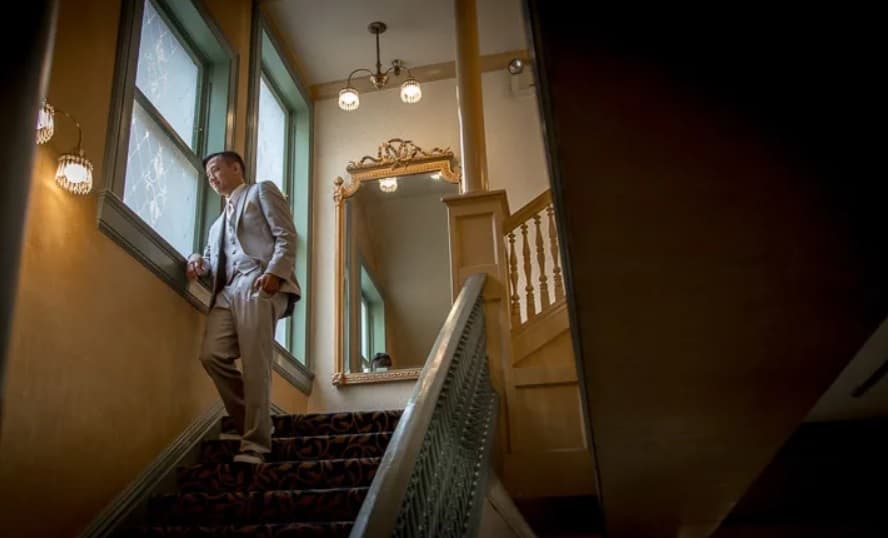 One of the best reasons to throw a Bridgerton party is getting to wear a regency-inspired outfit! While you don't have to go full costume party, there are still plenty of other ways to bring a touch of Bridgerton to your ensemble. 
Fashion choices that are sure to make you the talk of the ton include: 
Empire waists: Empire waistlines are one of the most iconic aspects of regency fashion and are sure to evoke Bridgerton vibes with your look. 
Pearl Jewelry: Take inspiration from Viscountess Bridgerton's gorgeous pearl ring and style your own pearl jewelry at your party. 
Waistcoats: If you'd rather take a queue from the gentlemen of Bridgerton, styling an outfit with a waistcoat can bring period flair to your ensemble. 
Check out our Harry Potter party ideas for more theme party magic!
The fun & games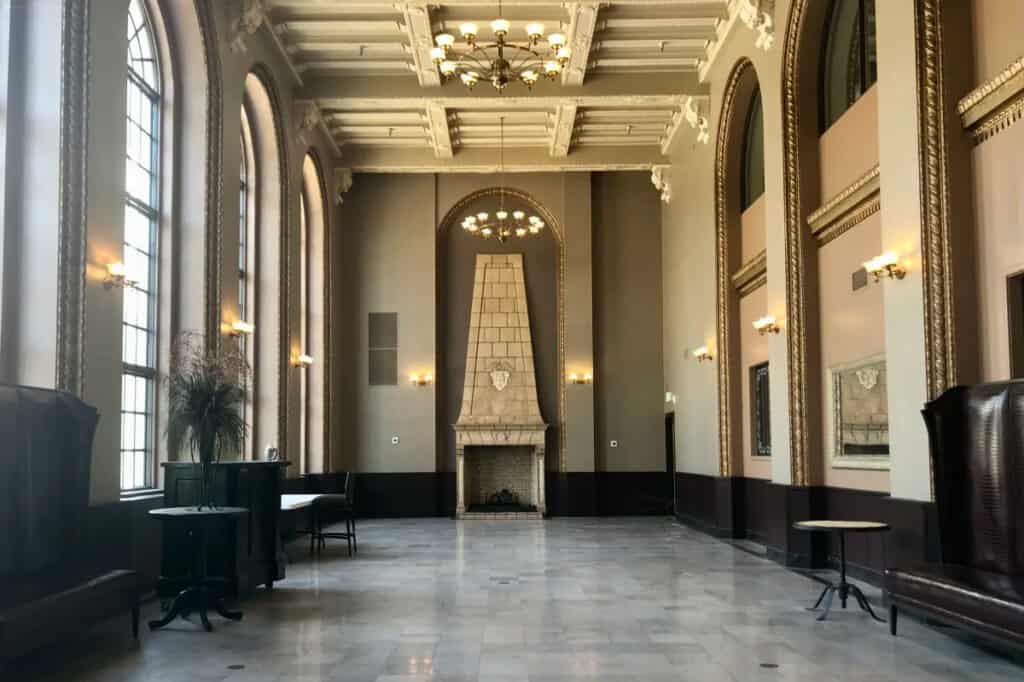 Beyond sipping tea and twirling in your fancy costumes, you can engage your party guests with Bridgerton-inspired activities.
Some ideas to try are: 
Dancing the night away: It wouldn't be a Bridgerton-inspired party without just a little dancing! Put on your favorite string quartet cover, grab your partner, and spend the night giving the gossip-mongers something to whisper about. 
Playing Pall Mall: While Pall Mall has been around since the 1500s, the version played in the show is closer to modern croquet. Grab a croquet set and spend the afternoon playing with your favorite arch-nemesis. Remember — No honor and no honesty. 
Having afternoon tea: We can't think of anything more Bridgerton than a good old-fashioned afternoon tea party. 
Watching the show: Wearing period costumes and sipping tea with your friends can give you a whole different experience while you watch the show!
We hope these Bridgerton party ideas help you impress Lady Whistledown. For more swoon-worthy party ideas, check out the Peerspace resources blog to design elegant affairs worthy of your highest society friends.