Answered
Studios on Peerspace cost anywhere between $30 — $150 per hour.
Have you ever wondered, "how much does it cost to rent a studio?" Finding the right space for a photo or video shoot can be hard, especially when you have a budget. Whether you're a small business owner or working for a branding agency, you also need a studio space that's flexible and affordable.
As the largest online marketplace for meeting and event spaces, Peerspace has thousands of options available in cities across the U.S. and beyond. With us, professionals like you can book studios in San Francisco, New York City, Berlin, London, and beyond. Not only that, but our spaces are available by the hour. That means you can save a lot of money if you only need a studio for a couple of hours. Plus, many hosts offer discounts for extended stays, so you can save money that way, too!
Another unique feature of Peerspace is that you get the full support of the Concierge service when you book. This dedicated team can source any extras you need for your shoot — be it professional equipment or gourmet catering — and deliver them to you at your venue. It's the easy way to get everything you need in one place.
And let's not forget how incredible Peerspace venues are. The sheer number and variety of studios available on the Peerspace platform make it challenging to narrow down a search! Therefore, we'll discuss studio prices, types, and amenities in this article. We'll also highlight several incredible studio rental options and answer your question, "How much does it cost to rent a studio?"
Why do people rent studios? 
Before we get into your question — how much does it cost to rent a studio? — here are reasons why people rent studios in the first place. A studio is a dedicated space for photo or film shoots. They typically come with the appropriate backgrounds, lighting, sound equipment, and props for a successful session. 
You may book a studio if you're shooting a commercial, music video, or even scenes in a film or series. As for photography services, some may use a studio for a magazine shoot. On the other hand, others may be small business owners who take clients' headshots or portraits. There are endless possibilities in a rented studio, and the creativity can stretch as far as the imagination of the renter. 
Many creatives choose a studio based on features. For example, certain studios have breakout rooms for taking a breather in between shoots. Or, you can use these spaces for additional film or photo use. Particular studios even come with airy rooftop spaces that have incredible skyline views. At the same time, others may include dressing rooms, kitchens, and bedrooms. 
People rent studios for the ease and flexibility of having a quality space at the snap of their fingers. If you're someone who needs to use a studio only once or twice a month, this may be the most affordable solution for you. Not only are the rentals hourly, but there are no membership fees, lengthy contracts, or hidden costs.
Learn more with our 12 studio photoshoot ideas in New York City
Types of studios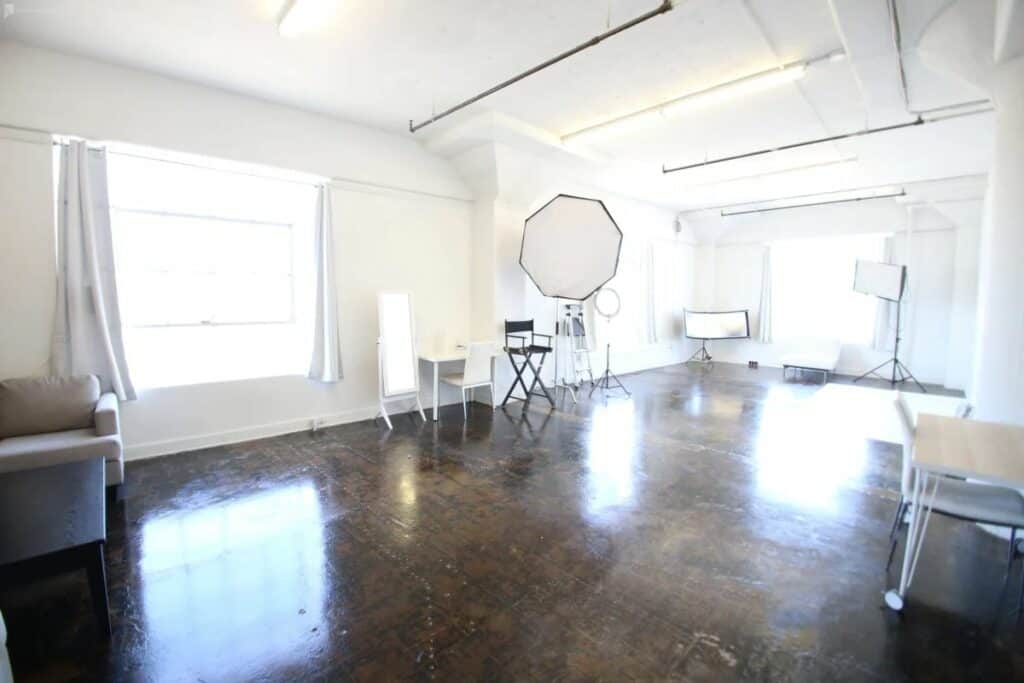 Studios available for rent range from high-quality spaces with a full list of amenities to fully furnished apartments. You can find a studio that fits your budget and needs easily on Peerspace, the world's largest online marketplace for hourly meeting and event space rentals. On Peerspace, you can filter options and amenities to search for venues in your city easily.
The blank canvas studio
Take a look at some of the incredible types of blank canvas studios available for photo and video shoots across the country. In the San Francisco area, you'll find this decked-out studio that includes a cyclorama, a green screen, lighting systems, and a reserved parking space. Many Peerspace studio rentals include equipment and amenities free of charge.
This studio also includes grips, a fog machine, a kitchen, and two restrooms. In 2018, renters used the space for 110 photoshoots, 70 music videos, and more than 60 different video shoots — plus, it has dozens of real five-star reviews from previous professionals that have rented this stunning space.
Like this one: "We rented this space for a full-day of shooting on a small, independent film. The space was exactly as described and worked out perfectly for our needs. The additional props and gear around the space were invaluable. And Al was a hero getting us everything we needed and then some. Would not hesitate to rent this space again!! Highly recommend it!"
A studio like this makes it easy for creatives to make their visions come to life. It also boasts extras that make production time comfortable.
The bespoke, eclectic studio
Other studios have a specific look that you can tailor based on your own creative vision. For example, check out this bright, vintage-inspired disco jungle studio in Los Angeles. It has a distinct and wild style that makes it ideal for photography. Although it doesn't look like the traditional studio space, it has been used by photographers and videographers around the area for various projects. It also includes lots of props and equipment.
In the words of a photographer who booked this loft: "Love this Peerspace. I would recommend to any photographer or videographer. Had a ton of fun and this space is super creative."
Lofts
Another type of studio popular for photo and video shoots is lofts. The high ceilings and bright lighting make for great spaces for creative work. We love this loft space in New York City that includes access to a rooftop area as well! Lighting equipment, a black backdrop, furniture, a wardrobe rack, sandbags, and more are included in this rental. It is spacious enough to accommodate 20 people and has hundreds of five-star reviews. 
In fact, a videographer/photographer shared the following review: "Great space, tons of equipment available, great lighting. Will definitely be using this space again."
These different types of studios available to rent on Peerspace all have one thing in common: they're available to rent right now! Plus, they're breathtakingly beautiful and easy to book. 
Going full-on sultry? Then you need to read our 12 exotic photoshoot ideas!
How to rent a studio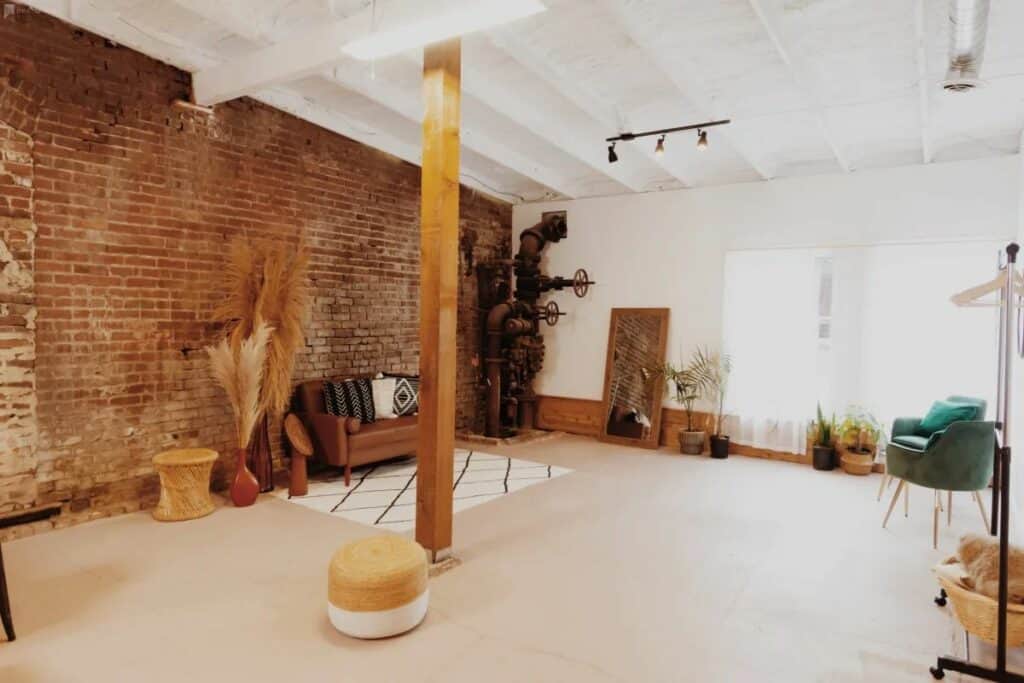 Whether it's your first time renting a studio or you're a seasoned pro, choosing a studio is still challenging. It can be difficult knowing if you're getting the right space for your project.
But, renting through Peerspace means all your questions are answered right away, without having to track down pricing and reviews. Other websites and rental services don't always give the full picture of a space. Instead, Peerspace gives the price per hour, amenities, detailed descriptions, and real reviews on every studio listing. 
How do I find the perfect studio for my project?
Before we get into your question, "How much does it cost to rent a studio?" — here's an easy way to find studio rentals in your area: 
Search on Peerspace by choosing what you are planning and where you would like to rent 
Use the Peerspace Keyword Search to track down the right venue using specific keywords such as "studio"
Filter by other amenities like a rooftop, pool, or kitchen 
Set your price range and search the map by location 
Find your dream venue and read the description
Feel free to reach out to the venue host with any questions about the studio
Equipment
Love a space but don't see the equipment you need as part of the rental? Remember, you can use Peerspace's Concierge service for any photo or video equipment rentals you may need at your studio rental. Our logistical experts can help you find the most reliable, affordable services and get equipment delivered to your venue on time. 
Now, we'll answer your burning question on what this all will cost you (don't worry, it's not as expensive as you may think).
Shooting a music video? Then don't forget to check out our 10 cool music video ideas here!
How much does it cost to rent a studio? 
Studio rentals vary in price greatly. Why is that? Well, prices are based on factors like where you are located and what types of amenities and equipment are included in the rental. A fully-loaded professional studio in Midtown Manhattan will likely cost more than a small, decorative loft in a rural region.
The San Francisco studio
Using the studios we mentioned above as examples, the huge production studio in San Francisco costs just $50 per hour! Don't let its small price tag fool you; this space is decked out with skylights, backdrops, blackout curtains, and a handy loading dock.
The Los Angeles studio
The disco jungle studio in Los Angeles costs $100 per hour to shoot in its unique, boutique, colorful space. Every inch of space offers exotic and glam details. There's a spiral staircase, HUE lights, multiple stylish seating areas, plants, several backdrops, neon signs, exposed brick, shag rugs, huge windows, and of course, a disco ball!
The NYC loft space
Then there's the bright and spacious loft in Queens. This space only costs $45 per hour and is distinct for its massive windows that let in plenty of natural light, greenscreens, backdrops, and lots of professional lighting gear. Keep in mind, it is an entirely self-sufficient studio, so no staff will be on hand.
Here are 6 creative video ideas for YouTube to inspire you!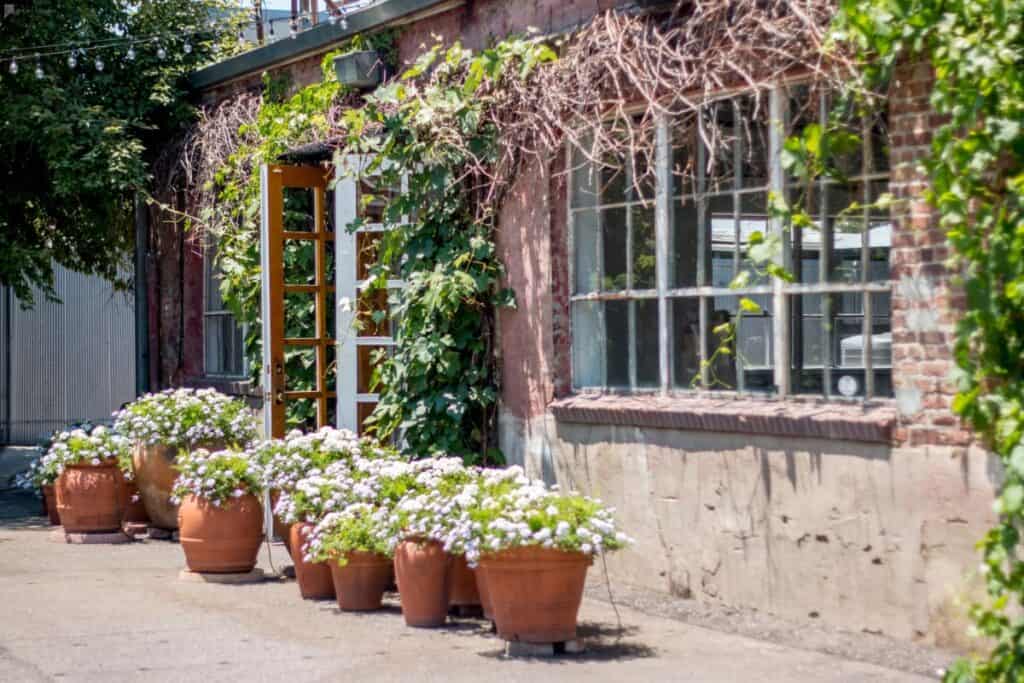 What's great about Peerspace rentals is that you can rent the space for just a few hours, several days, or weeks at a time. Just be sure to check the venue's calendar to see availability and rules that may apply to specific venues. 
Studios through other websites can range from $300-$1,000 per hour, plus hidden fees. Peerspace lets you immediately know how much a venue costs and is upfront about any fees. In addition, Peerspace studios can start at less than $100 an hour and go up to several hundred dollars an hour. It all depends on what you need and what the studio offers.
You've probably noticed by now that Peerspace hosts provide a lot of gear, equipment, and props to those who rent their spaces. This is because, like you, they are artists who understand the needs of their fellow artists and strive to create beautiful, practical spaces. Reach out to them through their listing if you have any questions prior to booking! And of course, you always have the assistance of the Concierge service if you need help renting anything extra.
Discover 13 inside photoshoot ideas that will pop on the 'gram
How much does it cost to rent a studio? Conclusion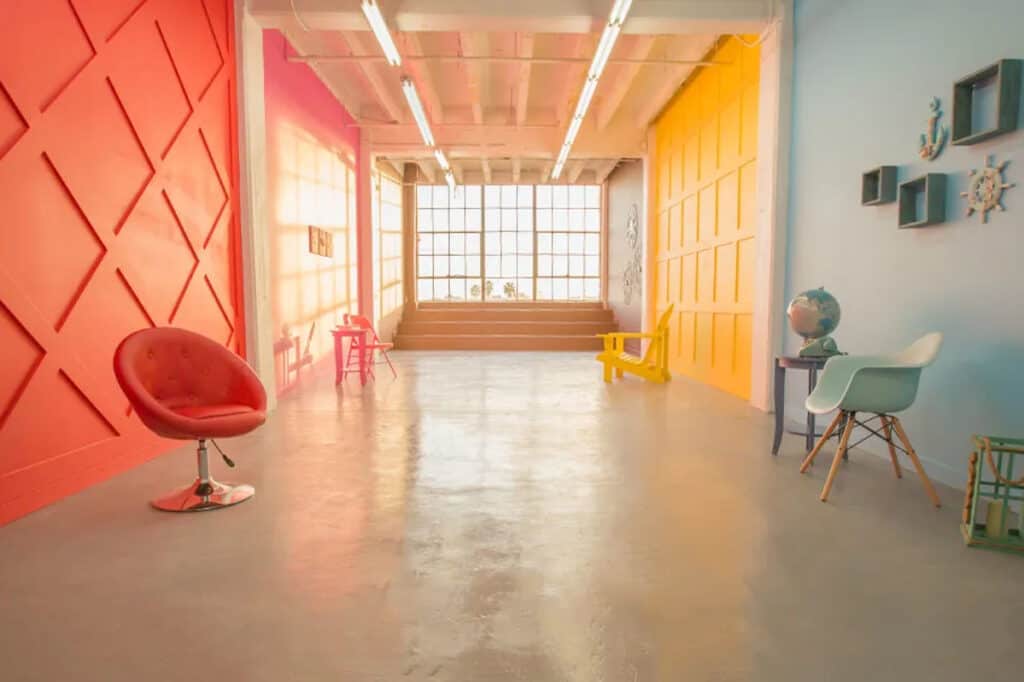 By now, we hope you have a great understanding of how much it costs to rent a studio. Better yet, you now know that Peerspace is your best option for doing so!
Now that you have a good idea of how much studios cost to rent and what types of studios are available, it's time to get creating!