Have you ever wondered, "How can I rent a commercial kitchen by the hour?" If you're a professional chef, business owner, or just someone looking to host an event, there's likely a time when you have! You may worry that finding the right venue with exactly what you need could take hours of shopping around online.
But no worries, you can just use Peerspace instead. It's the world's largest online marketplace for hourly rental venues of every style. From large commercial kitchens fit to feed hundreds to a quaint cooking space in a modern home, the perfect kitchen space is available for you to rent on Peerspace. Many of our commercial kitchens come equipped with state-of-the-art equipment.
Plus, when you book a Peerspace venue, you can also enjoy the convenience of the Concierge service. These dedicated events and logistics pros can source any extras you need for your event, including extra equipment, decorations, catering, etc. Next, we'll discuss where to rent commercial kitchen space by the hour, how to go about doing so, and the types available to you.
Why rent commercial kitchen space by the hour?
Renting commercial kitchen space by the hour can help save money and time by having everything you need without the extra baggage. If you're a small business or independent chef, it can be hard to find a customizable space in terms of time slots and amenities.
Hourly commercial kitchen space helps resolve this problem by giving you various options in size and availability throughout your city. Plus, many commercial kitchen spaces include dining plates, tables, chairs, cutlery, multiple stoves and ovens, and even an on-site event manager to make sure everything runs seamlessly.
Catering teams will also rent commercial kitchen space by the hour to fulfill large orders when needed. Whether you're making pastries or full courses, there's a Peerspace commercial kitchen that will fit your needs. Commercial kitchen rentals are also ideal for productions, corporate needs, and workshops.
The primary uses for the commercial kitchen spaces include:
A birthday party for someone who loves to cook (or needs to learn how to cook) — gather your friends and family and try to make grandma's classic dish. Or, bring in a professional chef to teach a class for the group.
Pop-up experiences for brands or restaurants that want to demo their product in a fresh market.
Hosting a photoshoot for a new product or service.
Filming a scene for a production that takes place in, you guessed it, a kitchen space. 
Wondering how much it costs to rent a commercial kitchen on Peerspace? It may be less than you think:
Answered
Commercial kitchen spaces on Peerspace cost an average of $95 per hour.
How to rent commercial kitchen space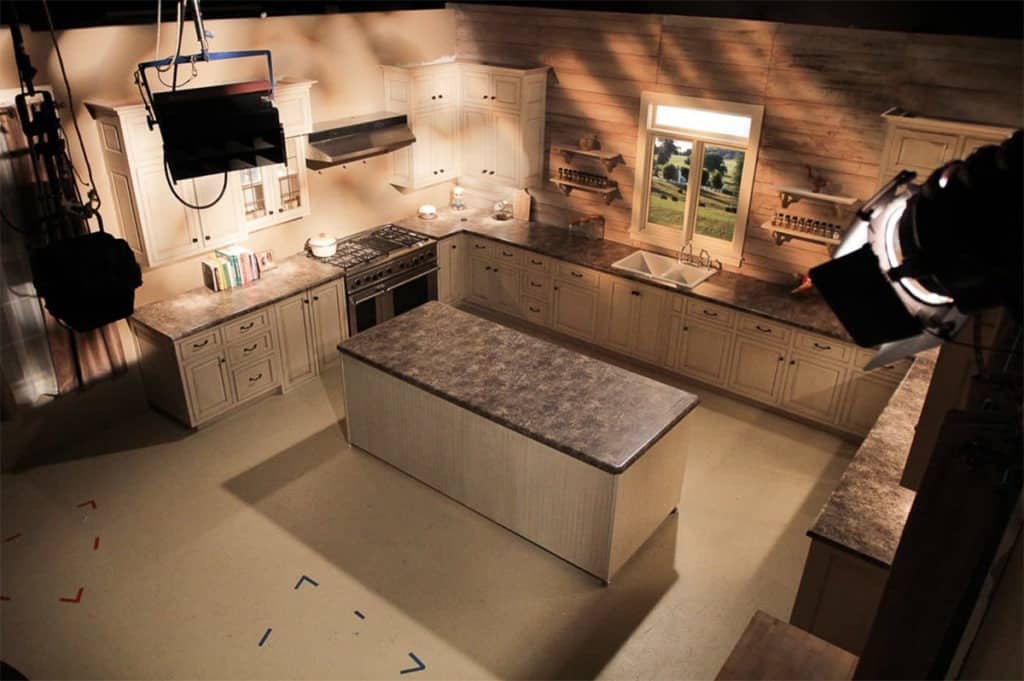 Finding commercial kitchen space by the hour isn't always as simple as it should be. Many venues complicate the rental process and force renters to choose from full or half-day rentals. They may even charge monthly memberships for kitchen rights. As a small business or independent chef, it's hard to know in advance when you'll need kitchen space and where you'll need it. 
But with Peerspace, you can rent a commercial kitchen space by the hour easily. Peerspace has plenty of fantastic kitchens to choose from in major cities in the United States and across the globe.
Plus, you'll get to see high-quality photos and read real reviews before you rent the space. It's important to know that you're getting the best value and amenities in a commercial kitchen rental — and Peerspace is here to guide you along the way. 
All you need to do is type in your city and needs (in this case, a kitchen). Dozens of results will then be listed in an organized way with a map to help make a choice easy. You can even filter by features like a bar, cafe, or patio. Or, type in an amenity you need, like a deep freezer or frier. Narrowing down the options has never been so painless.
Now, let's see what types of commercial kitchen spaces are out there for hourly rental. 
Need your kitchen space for longer? Then read how and where to rent a kitchen for the day here!
Types of commercial kitchen space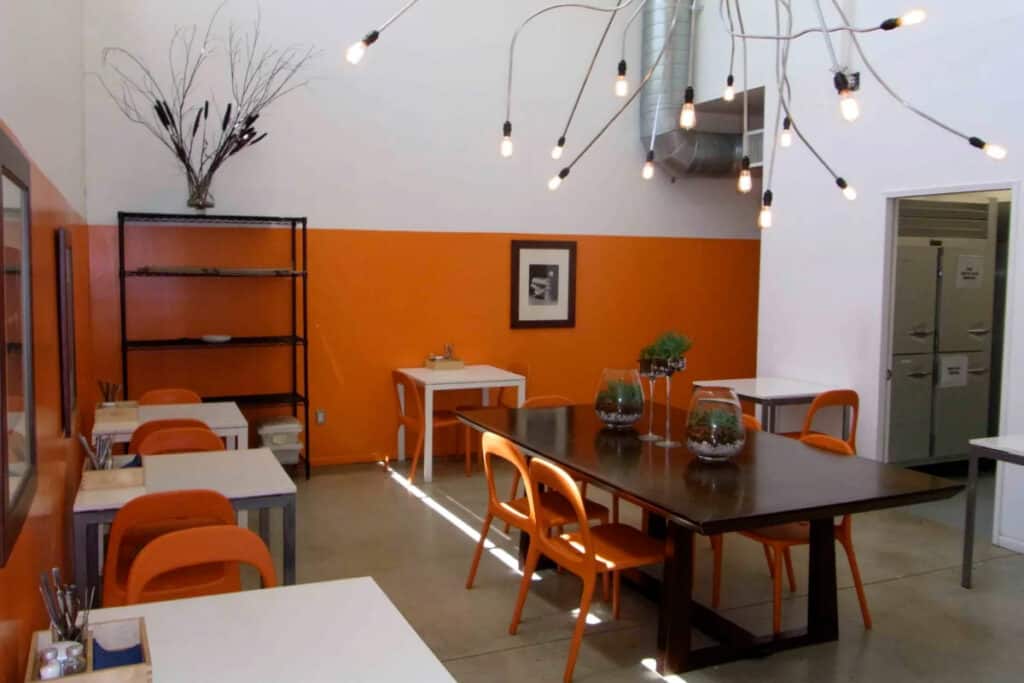 Commercial kitchen space on Peerspace varies from a small cafe kitchen to a large industrial space that has all of the newest equipment. You can book a space that is specifically used as a commercial kitchen space, like in a cooking school. Many people opt to book a home or loft with a full kitchen to host intimate dinner parties with friends. Or, if you also need a dose of ambiance and plenty of seating, you can rent a restaurant or cafe as well.
For example, this space in Los Angeles (pictured above) is perfect for cooking demos or group events. With industrial ranges, deep fryers, a double convection oven, and plenty of prep area, this commercial kitchen has it all. The kitchen's capacity is flexible. At about 2,000 square feet, the space has had events for as many as 125 guests standing for a wine-and-appetizers evening and as few as two for a private cooking class.
There are tables and dinner seating available for 30 guests in the event space, as well as prep tables for up to 16 people to be actively working at once on each side of the kitchen.
And according to one of many satisfied renters of this space:
"AMAZING space, with all of the amenities!!! It couldn't have been any easier to work with Cheryl! If needed, I'd rent this space again without hesitation…"
Cafes and restaurants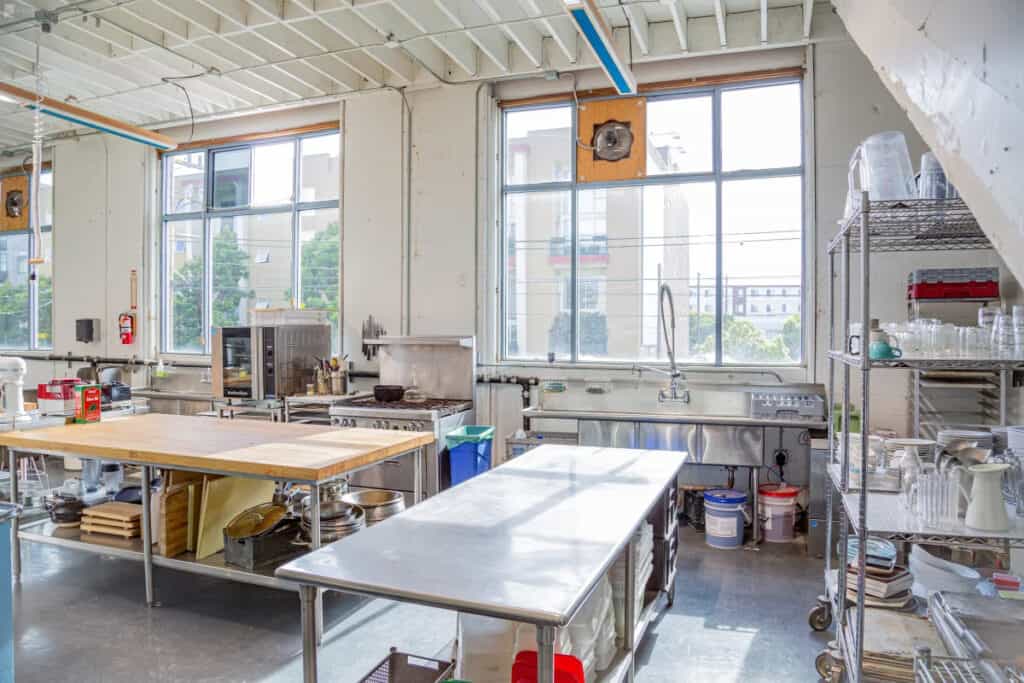 Renting a cafe or restaurant by the hour is also a viable option for events or catering prep. This spacious cafe and event space in San Francisco (pictured above) includes tables, chairs, and bright, stylish decor — as well as a commercial kitchen. Some of its kitchen amenities include a six-burner stove, an oven, a griddle, a grill, refrigeration, dinnerware, and kitchenware. 
What's great about this type of venue is its versatility. Sure, it has a commercial kitchen. But it also offers the lighting, the space, and the style for cooking demo productions, art gallery exhibits, and corporate events.
We all look at the reviews for products, clothes, and other items —  so why not rental spaces? Here are reviews from a couple of satisfied renters who used the space for separate video shoots: 
"Great space and great host, thank you for having us there!"
"Beautiful space and accommodating host!"
Homes and outdoor spaces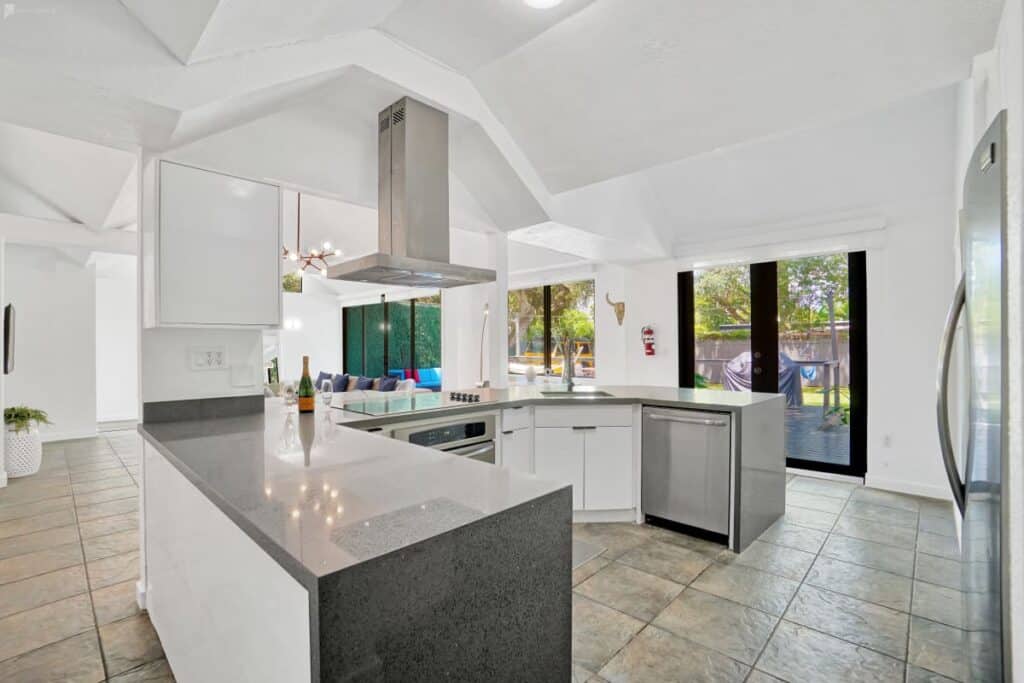 Homes or apartments can fulfill some kitchen needs by offering incredibly stylish and useful kitchen spaces. Take a look at this lux home near Miami (pictured above) that has a large backyard and, of course, a gorgeous kitchen filled with high-end European appliances. This kitchen is great for hosting parties that bring in caterers or have cooking as one of the main activities for guests.
The space has ample room for eating and socializing. The backyard boasts unique seating areas like daybeds, rugs with poufs, comfy couches, benches, and handmade wood tables perfect for a community dining experience. 
And according to one happy Peerspace reviewer: "The space was absolutely beautiful! Luis was so helpful and responsive. Our group had the best time!"
Here's another commercial-grade kitchen in Los Angeles that includes an outdoor patio and front yard. This large multi-use kitchen boasts polished black granite floors, stainless steel cabinets and countertop, a full-wall tile backsplash, and large glass doors and windows that flood the space with natural light.
The stunning space is ideal for cooking classes or creative cooking demonstrations, providing plenty of space for participants or a cooking team to spread out. 
Photo studios and production sets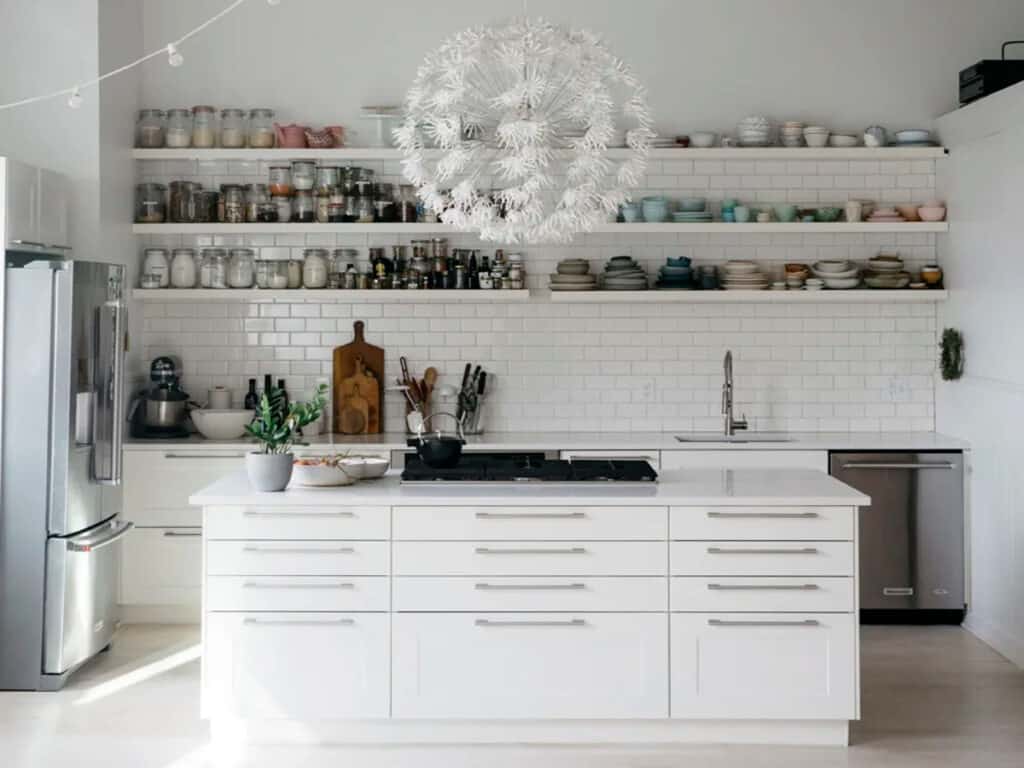 If you're looking to rent commercial kitchen space by the hour for a video or photoshoot, Peerspace makes that possible, too. All you have to do is click the link, enter your location, and see what's available. For example, this daylight studio in the heart of Seattle is steps away from Pike Place Market (home to the best local ingredients!) and has a complete suite of commercial kitchen appliances.
This venue has many rave reviews from Peerspace users! Here's one example: "The space was lovely and very easy to work in. Parking and access was very easy and the freight elevator was awesome given all the lighting and video equipment that we had to haul. The natural light was great and enhanced the diversity of styled shots we could take, while the black out blinds were perfect for our light controlled video. All the kitchen equipment worked great and we appreciated the bounty of dishes, platters, glasses, cutlery, etc for our cooking videos and still shots."
Quite a ways down the Pacific coastline from Seattle comes a kitchen on the other end of the aesthetic spectrum. We also love this shades of pink kitchen in Los Angeles! It boasts all-pink decor, a vibrant color palette, and a one-of-a-kind style that has made it famous in editorials and for influencers alike. While it's great for photos and video shoots, it is definitely more for fun and play rather than serious cooking.
In the words of a creative director who booked this pink kitchen for her photoshoot: "AMAZING experience 💕 the space was absolutely wonderful! I would certainly recommend it & I encourage you to go in and have fun. Creating memories here was the best! Thank you again Kitten 💞"
What to look for in a commercial kitchen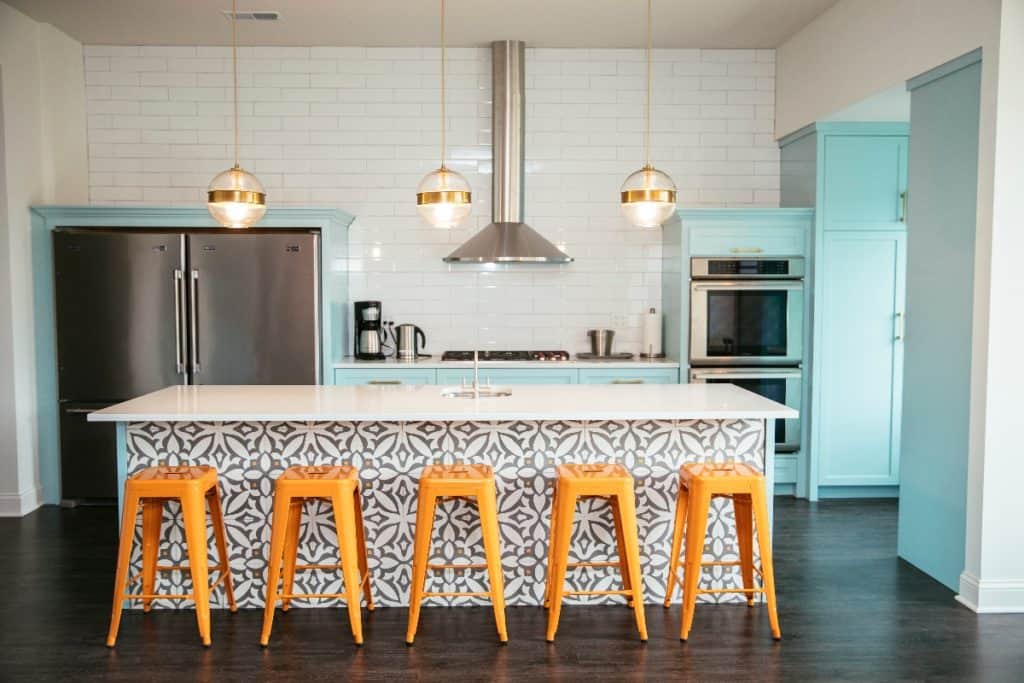 Before booking a space, there are several things to keep in mind.
First of all, what are you using the space for? If it's a grand social event with many attendees, the bigger the space, the better. Luckily, Peerspace commercial kitchen listings always include the size of the space and its ideal capacity.
If you're throwing a small cooking demo with a couple of friends, a large commercial kitchen with lots of stylish break-out space may not be necessary. Conversely, productions will likely prefer a large commercial kitchen with lots of stylish features and space.
And while a stylish, luxury home or penthouse may be ideal for certain events, they may not be ideal for massive gatherings. By perusing the listing information the host provides, as well as photos and reviews, you should be able to have a clear picture of whether your event will work out there or not.
How much does it cost to rent a commercial kitchen? We break it all down here!
Rent commercial kitchen space by the hour with ease on Peerspace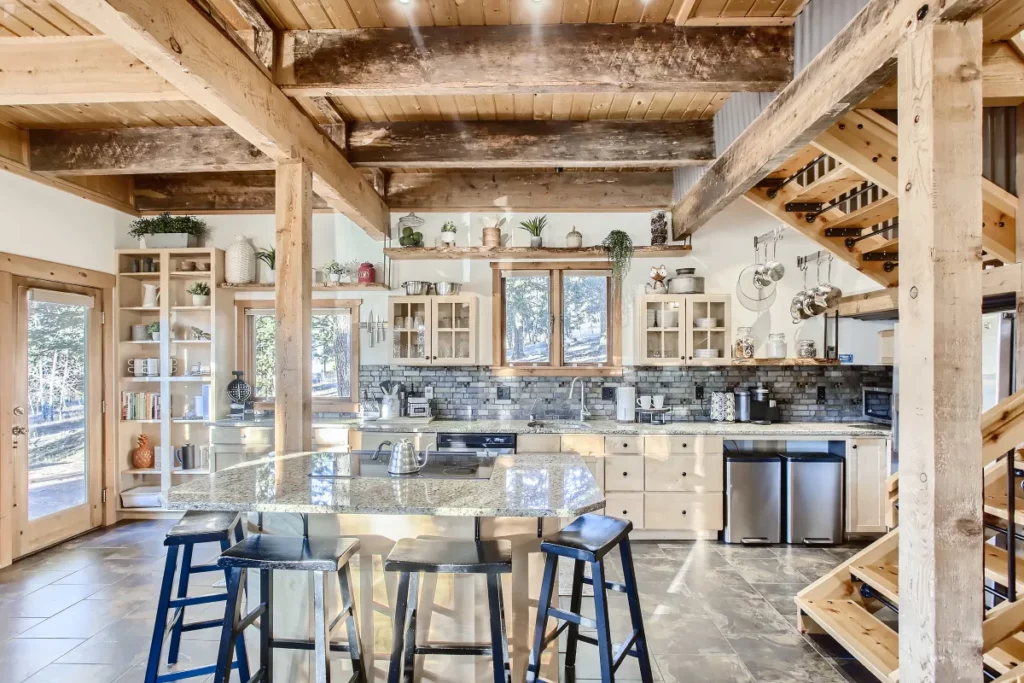 Hopefully by now, you can see that renting commercial kitchen space by the hour doesn't have to be expensive or challenging. Click the link to see what Peerspace has in your location or destination. Browse all of the stunning options until you find the perfect kitchen space for your event, production, or business needs. Each listing provides you with a detailed description, high-res photos, reviews from past renters like yourself, and upfront pricing, so you always know what you'll get before you book.
Plus, there's the Concierge service to make figuring out every detail a breeze. Consider them your sous chef and direct any requests their way. They'll ensure you have everything you need for your personal or professional event.
No matter why you want to rent commercial kitchen space by the hour, do so with Peerspace. You'll enjoy instant access to the most diverse options, flexible rules, and affordable rates.