Looking to rent a pool near San Francisco? San Francisco is one of the most desirable cities to live in in the United States (and possibly the whole world!). From its thriving economy and great weather, to its strong LGBT community, to its lovely architecture and nearby access to natural beauty, the city has tons to offer. So it's no wonder anyone would want to live there.
If you happen to live in or near San Francisco, renting a pool in the area is a great way to make the most of living in this fabulous location, whether that's with a birthday party, a creative project like a photoshoot, a bachelorette party, or a non-traditional poolside baby shower. Whatever you're planning, Peerspace can help you out with the why, the where, and the how. At the end of this article, we'll also provide you with a few examples of pools available for rent by the hour near San Francisco. So just keep reading for our helpful advice!
Reasons to rent a pool near San Francisco
Maybe you're on the fence and haven't fully decided yet whether your idea to rent a pool near San Francisco actually makes sense. In that case, we'll help you understand why you might want to do so.
For starters, when it's warm in the summer, a pool is an easy and enjoyable way to stay cool and turns doing so into a fun social activity. A pool can be the center of a party (that's why "pool parties" are a thing!). Just add the guests, some delicious food and drink, and good music, and that's all you really need for a memorable gathering with people you care about.
For those who don't enjoy swimming, a pool party can still be fun, because there are few activities more relaxing than stretching out in a lounge chair under an umbrella and sipping a refreshing beverage or taking a leisurely nap.
In addition to using pools for social gatherings, they're also a great backdrop for creative projects like films, music videos, and photoshoots. Think about it and get those creative juices flowing, because the sky's the limit when you add the visual dynamism of water to your art.
If after having read these reasons to rent a pool, you're interested, keep reading. We'll describe where you should go to rent a pool by the hour (rather than the more unaffordable and inefficient daily rental) and how you can easily do so.
How and where to rent a pool near San Francisco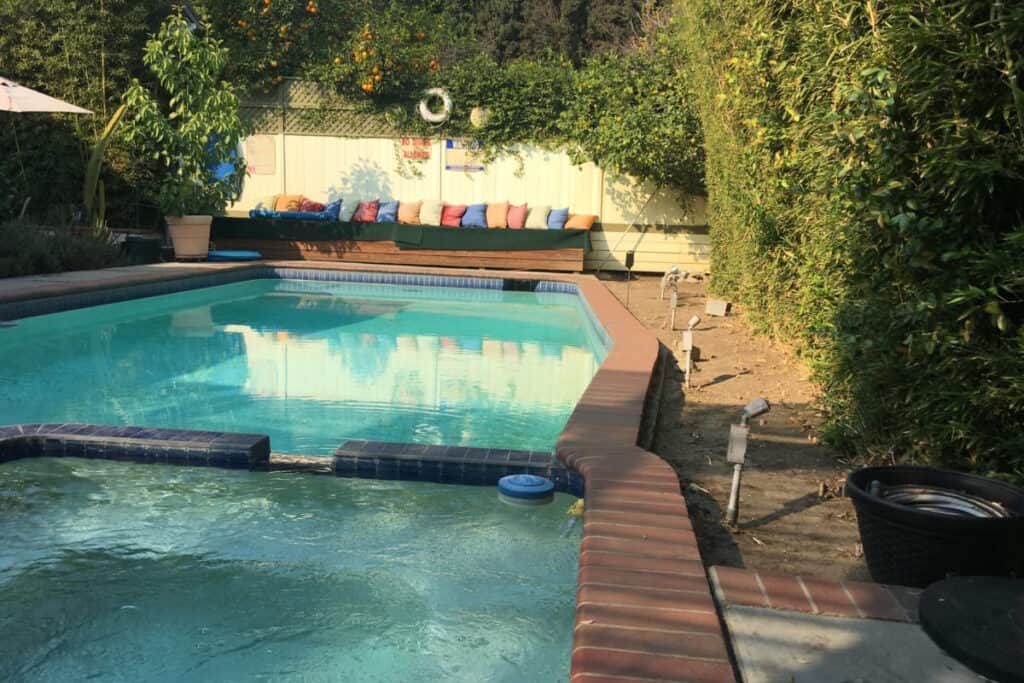 By far the easiest, most efficient, and most effective way to rent a pool near San Francisco is using Peerspace. It's the web's most extensive marketplace for hourly event venue rentals, including but not at all limited to spaces that have pools.
Peerspace provides its users with access to thousands of hourly rental listings throughout hundreds of cities. Not just San Francisco, of course, but also cities across the United States, Canada, the UK, and even beyond. And because the rentals on Peerspace are hourly, rather than by the day, you only pay for exactly as much time as you plan on using, which makes it the most affordable option as well.
What makes Peerspace even better is the fact that it's really easy to browse its very large selection of listings! This is thanks to the site's ultra-intuitive search tool, which we'll explain but frankly hardly needs explaining because it's made to be inherently easy to understand.
How to use Peerspace to find San Francisco pools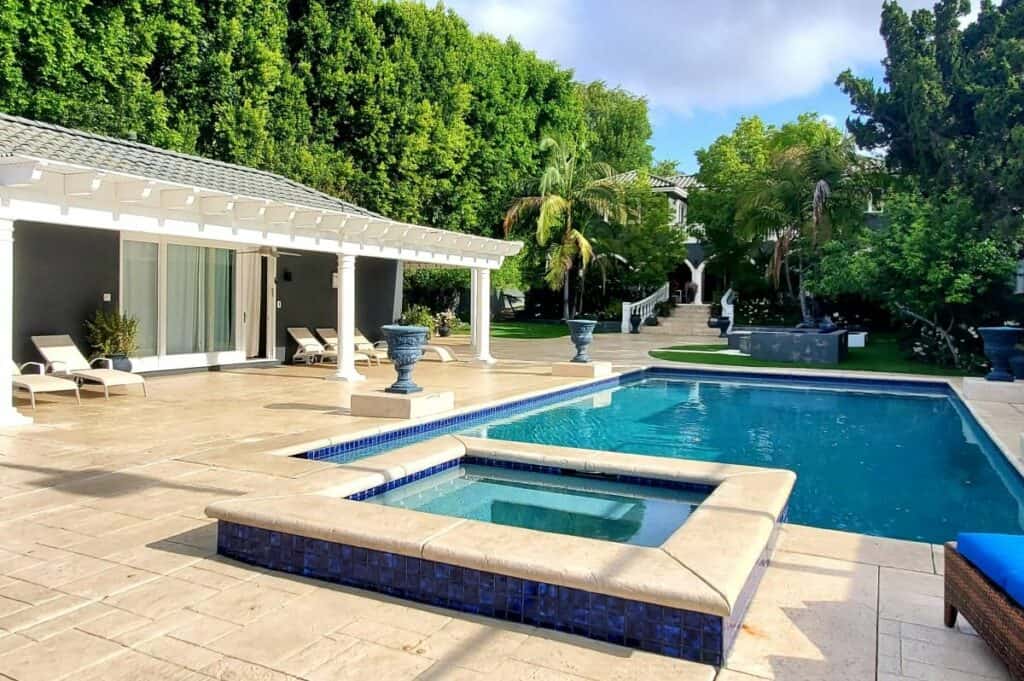 Start by heading to the Peerspace homepage and entering the type of event you're planning (Party? Photoshoot? Etc.) the location of said event (we're thinking San Francisco, but you might expand it to the larger Bay Area if you'd prefer). If you happen to already know when you want to have the event, include the date you're planning on having it.
This will bring up a ton of listings, but don't be daunted! Your next step is to ensure that all your search results actually have pools. To do that, scroll up to "More filters," go to the "Outdoor Spaces" section of the "Filters" box, and check off "Pool" under that category, then submit your modified search. If this still isn't enough and you want to narrow your search down even more, you'll see that there are a ton of other criteria you can filter your search by, including:
Hourly price of the rental
Number of attendees
Keywords
Interior spaces
Production equipment
Style
Space type
Availability for instant booking
Amenities
And more!
At this point, once you've made your search as specific as you need it to be, it's time to browse through specific listings and pick out the one that would work best for you. Luckily, each and every Peerspace listing has an in-depth description and high-resolution photos of the space, and quite a few listings also include genuine reviews from past renters that will give you an even clearer idea of what renting the space would be like.
You can also reach out directly to a Peerspace host through their space's listing and ask them questions or make any requests you might have. Finally, once you've decided on the perfect space, booking is easy with the click of a button.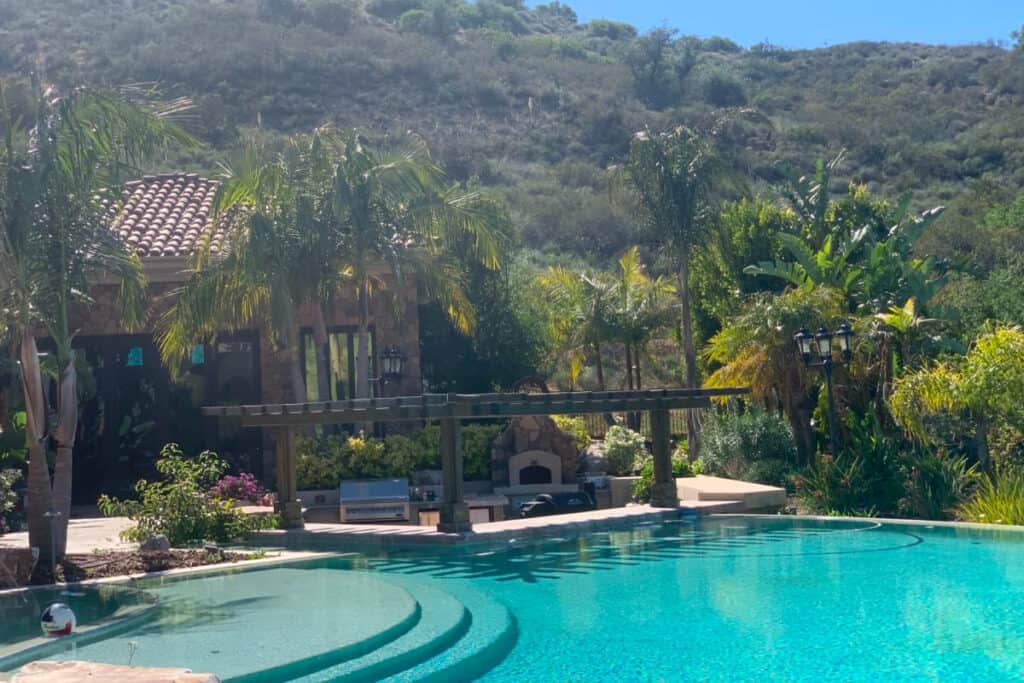 Here are a couple of our favorite Bayside pool rentals.
This one has tons of unique San Francisco charm and character. "Fun and funky, we're a 1950s motor lodge turned fab in the Marina District. 57 colorful rooms and suites surround a heated pool that lies at the center of our outdoor courtyard and is perfect for a private party. Book all the rooms and have the whole property to yourself!"
Talk about luxury! This mid-century estate sits on an "over 1 acre property with extreme privacy, extensive and unobstructed ocean and bridge views surrounded by lush gardens and grounds to wander through. Large pool, jacuzzi, ample lawn, outdoor shower and furnished terraces". All this just 20 minutes from San Francisco!