Looking to rent a pool near Los Angeles? Excellent! That's exactly what we at Peerspace will explain how to do ahead. After all, who doesn't want to enjoy summer in LA with swimming pools and movie stars? You'll have to recruit the movie stars. But we can help you out with the swimming pool. 
As one of the largest online venue marketplaces in the world, Peerspace is home to countless rentable venues across LA – including some of the most incredible pools in the country. No matter what kind of poolside event you're planning, we can help you find the perfect spot to host. 
Keep reading to discover how easy it is to rent a pool in Los Angeles with Peerspace.
There are a ton of reasons why you might want to rent a pool in Los Angeles. By renting a pool, you can enjoy more privacy or more luxurious amenities than you'd find at a public pool. Private pools can also make photogenic backdrops for photo or video shoots. There's no better way to make designer swimwear pop or to capture chill vibes while adrift on an inflatable. 
Pools are amazing for hosting events, such as: 
Birthday parties
Baby showers or gender reveals
Bachelor/ette parties
Barbecues or outdoor dinner parties
Film and video shoots
Company retreats
Tons more
Any reason is a great reason to enjoy some poolside fun in the California sunshine. And luckily, we know an awesome way to find rentable pools in LA without any hassle. 
Where can you rent a pool in Los Angeles?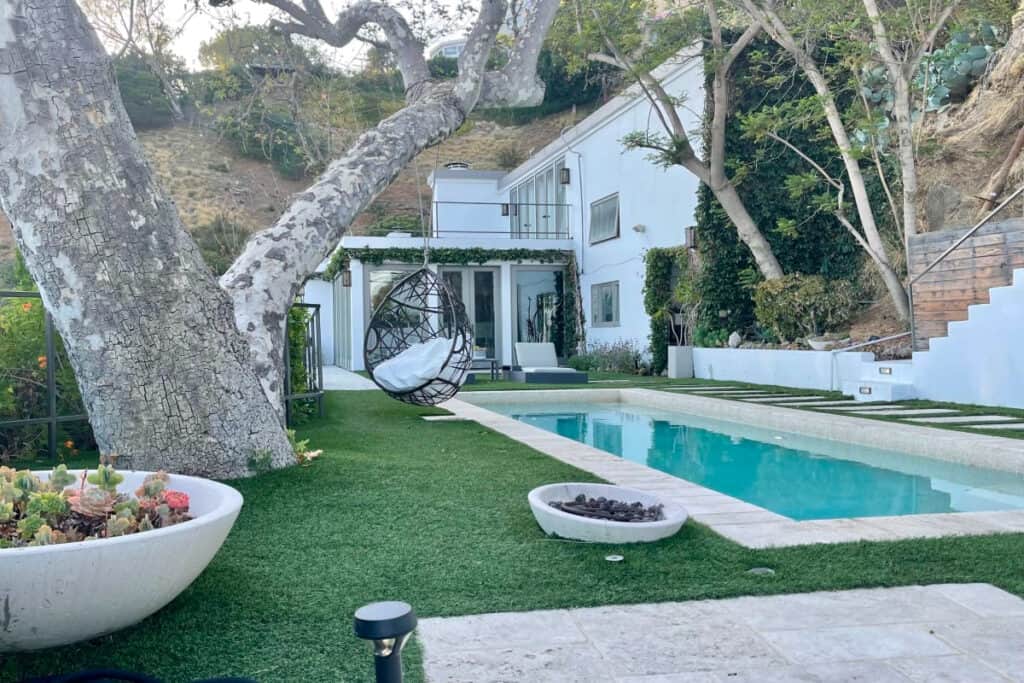 Thanks to its year-round sunny weather, there are a ton of pools in LA. But with the sheer number of options available, it can be tough to narrow down your choices. Allow us to shed a light on one of the easiest ways to rent a pool in Los Angeles – Peerspace. 
Unlike other venue rental platforms that rent by the night, Peerspace lets you rent spaces by the hour. This allows you to host your event at a pool without committing to an overnight stay. You can book a pool for as many hours as you need, no more, no less. 
And if you need anything to make your event go smoothly, like extra tables and chairs, or catering, Peerspace's Concierge service can deliver just about anything you need to your pool beforehand. It's like having your own personal event planner!
How to use Peerspace to find rentable pools in Los Angeles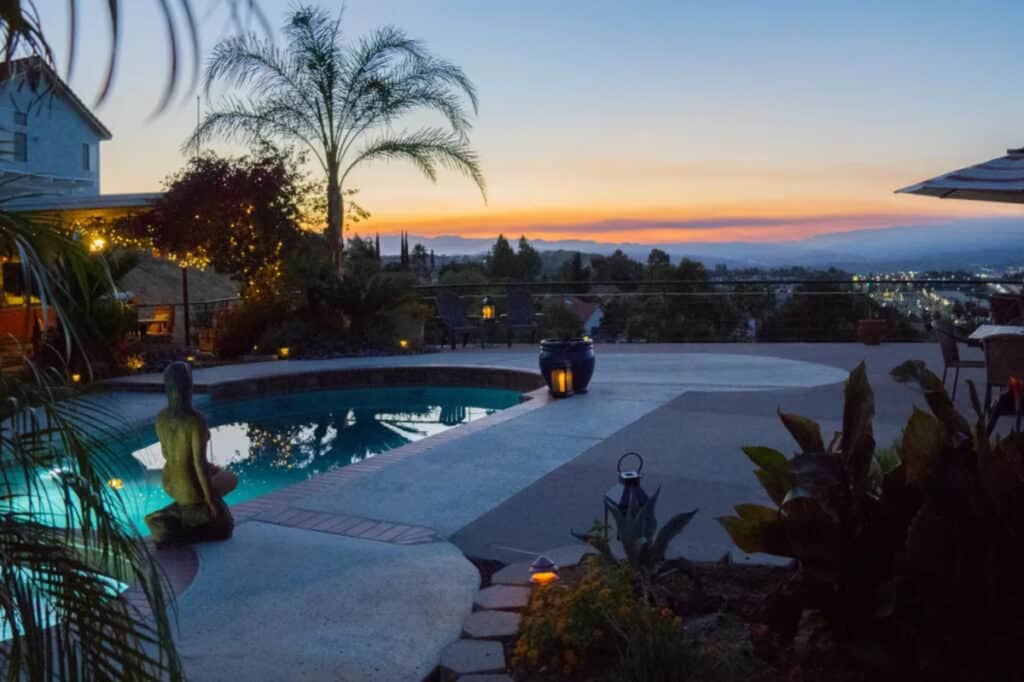 Here's how easy it is to find a rentable pool in Los Angeles with Peerspace. 
First, input your event type and your metro of choice. You can choose Los Angeles, CA, or a specific neighborhood, like Downtown LA. You can also input your event date. But if you're just browsing, you can skip this step. 
LA is one of our most popular metros. Once you search, you'll likely get hundreds or even thousands of rentable spaces in your results. But not all of them will have pools or even outdoor spaces. To only see spaces with a pool, go to "more filters", "outdoor spaces", and select "pool". 
Still need to narrow down your results even further? You can filter listings by the price, the number of attendees, amenities, and even the style. 
If you want a spacious deck where you can lounge with your friends, a fire pit where you can unwind, or a grill where you can cook up some delicious poolside snacks – you can filter for those, too. 
You can be as specific or general as you want. This is your chance to find your dream pool for the day! 
What kind of pools can I rent in Los Angeles?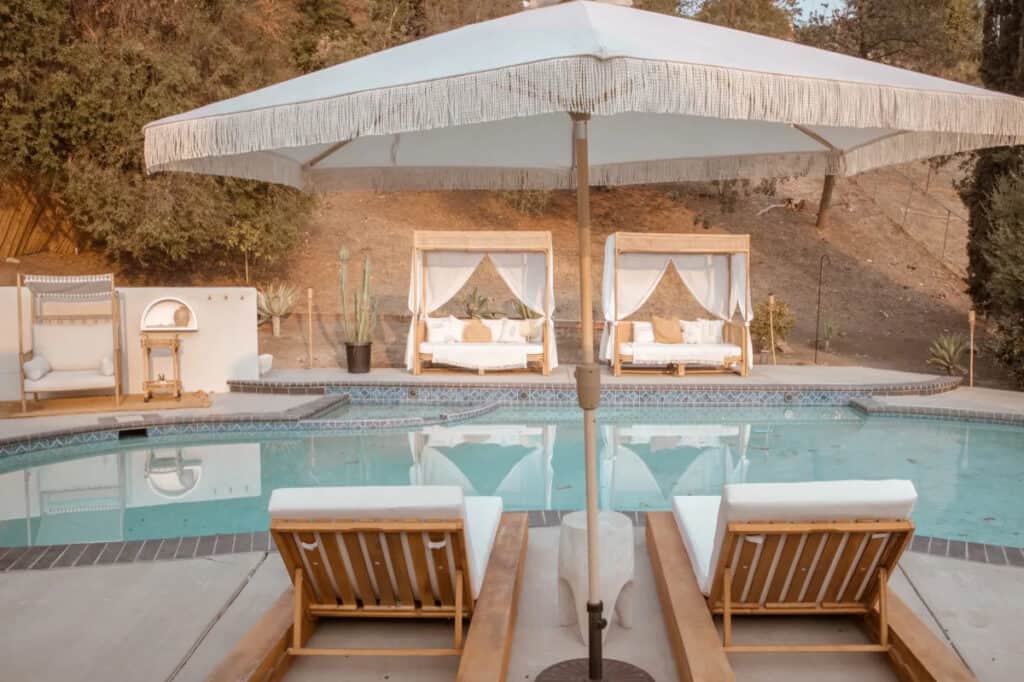 To help make your search even easier, here are a handful of our favorite rentable pools in LA:
Camper and pool with breathtaking Hollywood views
Nestled in the Hollywood Hills, you'll find an incredible Peerspace pool with views unlike any other. 
The pool sits above Universal Studios and boasts incredible views of the mountains and valley. You couldn't ask for a better backdrop for luxurious editorial photoshoots. And if you want to take a pool party to the next level, this is an amazing place to do it. Just ask Peerspace reviewer Brooke E: 
"I rented this venue for my 25th birthday celebration and all I can [say] is that the experience was a 10/10… We celebrated from daytime to nighttime and golden hour was absolutely stunning! My guests were blown away by the space when they arrived. It is hands down one of my favorite venues. I'm excited to book again in the future."
North Hollywood pool and Tiki bar
Located in North Hollywood, this adorable pool and tiki bar were built with parties in mind. 
Colorful cardboard cutouts and decorations line the 40-foot in-ground pool, making it festive for kids' birthdays or baby showers. There's also a fully functioning Tiki Bar on-site to treat adult partiers. The pool is also an amazing spot to shoot photo or video productions. Companies like Lifetime and Warner Bros have filmed here. So have musical artists like Snoop Dog and TLC.
It's a private, laid-back paradise ideal for all kinds of poolside events. 
Still want more options? Here are a few more gems for you to look over:
Where to rent a pool in Los Angeles: conclusion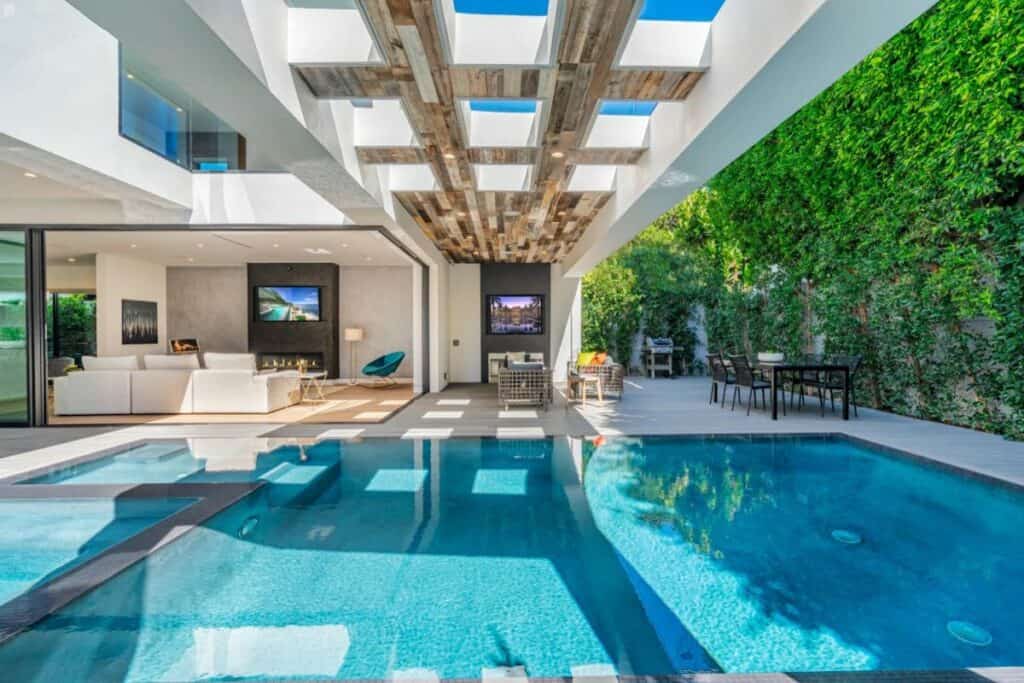 Peerspace makes it simple to find and rent amazing pools in Los Angeles for nearly any occasion. Of course, we're not just limited to pools. If you want to rent other amazing spaces in LA for parties or productions, such as private homes or professional studios, Peerspace can help you with that, too. 
Give it a try next time you're planning some special fun in one of the sunniest cities in the world.