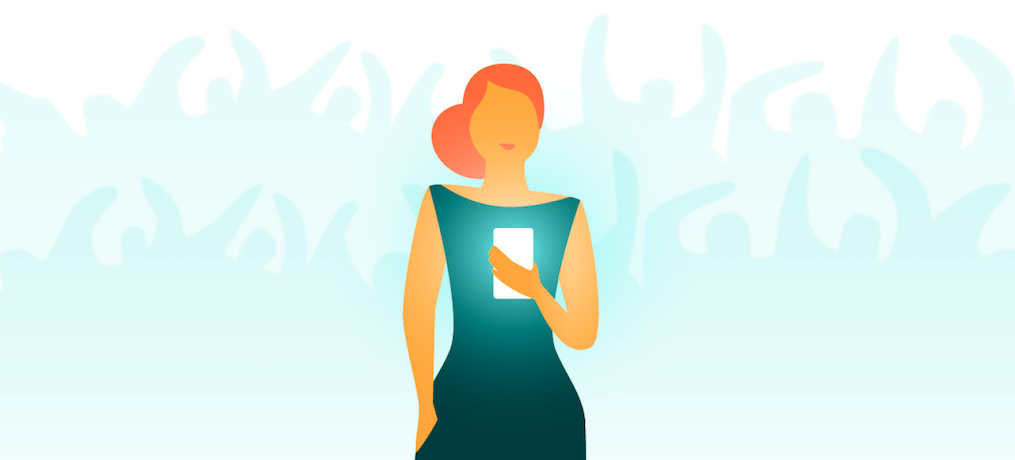 Selling every last ticket is both a goal and a big stress factor for event organisers. If you've already tried every promotional tactic in your playbook, it's time to get clever. Here are some creative event promotion ideas to help boost your tickets sales.
1. Take advantage of event discovery sites
Eventbrite research shows that over half of urban event-goers find events on their local town or city guides. Reach them by promoting your event on the many online guides and apps that exist today.
Discovery sites like Goldstar, Bandsintown, Eventful, Spotify, and Facebook Events attract people with specific types of events in mind. (Hint: Placement is much easier if you're using an event ticketing platform like Eventbrite that partners with the best discovery sites.)
2. Enable native checkout
Once your event is on event discovery sites, make it easy for people to buy tickets without leaving the page. This will streamline the customer experience for your event-goers. This, in turn, eliminates the risk of ticket-buyers getting distracted during checkout or getting frustrated with the loading time of other sites.
In fact, events that sell tickets directly on Facebook drive twice the sales and free registrations on average than events that redirect to a ticketing page.
3. Play the long game with your content marketing
When it comes to your content — website copy, blog posts, social media posts — it's easy to focus on just one thing: search engine optimisation. But stuffing your copy with keywords isn't the long game, for SEO or for your attendance.
Instead, create thoughtful content that positions your event brand as a thought leader, a place people turn to for insightful information. The more people trust your brand, the more likely they are to share and buy.
4. Create an infographic
One of the most effective ways to get your content shared across the web? Visually alluring infographics that combine information with entertainment.
The more people share your content, the more event-goers will discover your event. Which is great news, because 10-20% of ticket sales typically come through social media.
5. Launch a YouTube channel
Speaking of search, did you know YouTube is the second-biggest search engine in the world (after Google, which incidentally owns YouTube)?
Via YouTube Live or Facebook Live, you can take advantage of the current craze for live video broadcasting in real-time to your audience. But what to film? There are so many creative event promotion ideas for video: sneak peeks, introductions to speakers and sponsors, insight into what participants will gain, or practical tips on how to make the most of the event.
6. Embrace podcasting
Another creative event promotion idea that people don't always think of is podcasting. A recent study found that 37% of Irish people had listened to a podcast in the previous month. Launch your own podcast with a theme that's relevant to your event. Or, for less effort, become a sponsor or guest speaker on an existing podcast that has a similar target audience.
7. Step up your email game
If you're just firing off emails to your entire mailing list every time you announce an event or book a performer, you might be missing the mark.
Instead, split your email lists into categories: people who have bought tickets in the past versus those who haven't, or different demographics within your target audience. Then create email campaigns that speak to those smaller groups with specific messages. This is called email targeting, and it's made easier with the use of email marketing platforms like MailChimp or Emma.
8. Amplify your online advertising
To make advertising work for you, it's about more than just getting a bigger advertising budget. Get strategic with tools like Boostable or ToneDen that help you zone in on the right audience. Using algorithms and A/B testing, these tools constantly hone and refine your social media and Google ads so you're making the most impact with your ad budget.
9. Consider ad retargeting
You might not know the term, but you're definitely familiar with the technology. You look something up online, and days later, you're seeing ads for it on a completely different site.
People who weren't ready to make a ticket purchase the first time are often grateful for the reminder to sign up before it sells out. Eventbrite organisers have seen an average of a six times return on investment using ad retargeting.
10. Invest in professional photography
Eventbrite data shows that the top two online spots people bounce to from an event page are YouTube and Google Images. Are they going to like what they see?
Photographs set the tone and answer event-goer's questions about your event's atmosphere. Take well-lit photos that appropriately capture the ambience and illustrate what people can expect at your event. Photography is also crucial for making the other techniques on this list — from advertising to email — more effective.
11. Empower your grassroots marketers with badges
Your attendees are your biggest fans. So when someone buys a ticket or registers for your event, send them a badge or icon they can display on their site or post to social media. Build HTML into these graphics, and viewers can link right back to your event page.
12. Zone in on a bona fide social influencer
Your fans are your biggest advocates, indeed. And within those ranks, you might find one or two that are extra influential. Find those people, and motivate them to help you spread the word online. You can use technology tools like SocialLadder to find, manage, and capitalise on social influencers in your sphere.
13. Hire a brand ambassador
The highest echelon of "influencer marketing" is the paid brand ambassador. Look for people with online influence — celebrities, subject-matter experts, popular bloggers, YouTube stars. Enlist them (typically with financial compensation) to create strategic and timely posts about your event.
14. Shift the focus from promotional to conversational
Move away from strict marketing messages with your social media posts. Instead, engage potential ticket-buyers in thoughtful conversations. A good balance is the "4:1:1 Rule": for every promotional post you make, retweet or share a relevant post, and then post four pieces of content written by other people or brands.
You should think of it as giving your followers useful content. "Hey guys, did you hear about this?" Build their trust, and they'll respect your event brand.
15. Tell stories with social media
With Stories features now a mainstay of both Snapchat and Instagram, and live video huge on Facebook and YouTube, instant storytelling is hot. As you prepare for your event, and throughout the event itself, engage your social audiences with in-the-moment insider stories. This is an intimate way to make people feel connected to your event and more inspired to attend it.
16. Encourage widespread sharing at your event
Make it easy and enticing for attendees to share photos and videos from your event with their friends at home — the people who could be attendees at your next event.
Snapchat geofilters are a playful way to layer a branded illustration over photos. Instagram photo booths can automatically post pictures to Instagram for your attendees. A Twitter wall displayed on a big screen encourages participants to tweet using your custom event hashtag.
17. Look for lookalike audiences
You have a solid list of people who've purchased tickets to your events in the past. You want to find more people just like that.
Facebook, Twitter, and Pinterest all have the technology to help you find these lookalike audiences — people who match your buyer profile in terms of demographics, geography, stated interests, and online behaviour. Using their algorithms and automated tools, create ads targeted to those exact people.
18. Orchestrate a social media ticket giveaway
This might be as simple as your basic enter-to-win sweepstakes, or something more unique and playful: a judged Snapchat drawing contest or a tag-a-friend contest ("Who would you bring?"). People love to share chances to win with their friends. Just make sure you study the rules and regulations each social media platform upholds around contests.
19. Network at similar events
You're organising a brand new technology tradeshow and hoping to entice some of the crowd that's usually at Web Summit. Why not purchase a booth at Web Summit? Or sponsor a happy hour?
Find events with the same demographics — but that aren't necessarily direct competitors — and team up with them to promote your upcoming event.
20. Invitation-only sessions
An effective way to attract VIPs who might not otherwise attend your events is to offer an elite, invitation-only session. You can piggyback this with free event entry to encourage them to mix and mingle. Having VIP presence at your events boosts the cachet of your audience and amplifies your online promotion, too.
You likely don't have the marketing bandwidth or budget to work on all of these creative event promotion ideas at once. So pick a few and be sure to measure your results, so you can prioritise those that drive the most sales.
For more perspective on how to promote your event and lots more event promotion ideas, download The 10 Best Ways to Promote Your Event Online.