Looking for some fun and inspiring Aladdin party ideas? We get it! You don't have to be a 90s kid to appreciate the golden age of entertainment in the 90s — especially the so-called "Disney Renaissance" when Aladdin made its theatrical debut.
Since the original Aladdin is turning 30 this year, we at Peerspace think that calls for a celebration. So, here are 12 unique Aladdin party ideas ideal for kids-at-heart of any age.
1. Find a place to host
Before you can put these Aladdin party ideas to the test, you need a venue to bring your ideas to life.
Enter, Peerspace.
With Peerspace, it's easy and simple to find party venues appropriate for any theme, including luxurious Arabian-style lounges, exotic backyard tents (pictured above), or even cozy Moroccan dining palaces. All you have to do is input your event type and city, and you can open yourself up to a whole new world of possibilities. 
2. Have a taste of Agrabah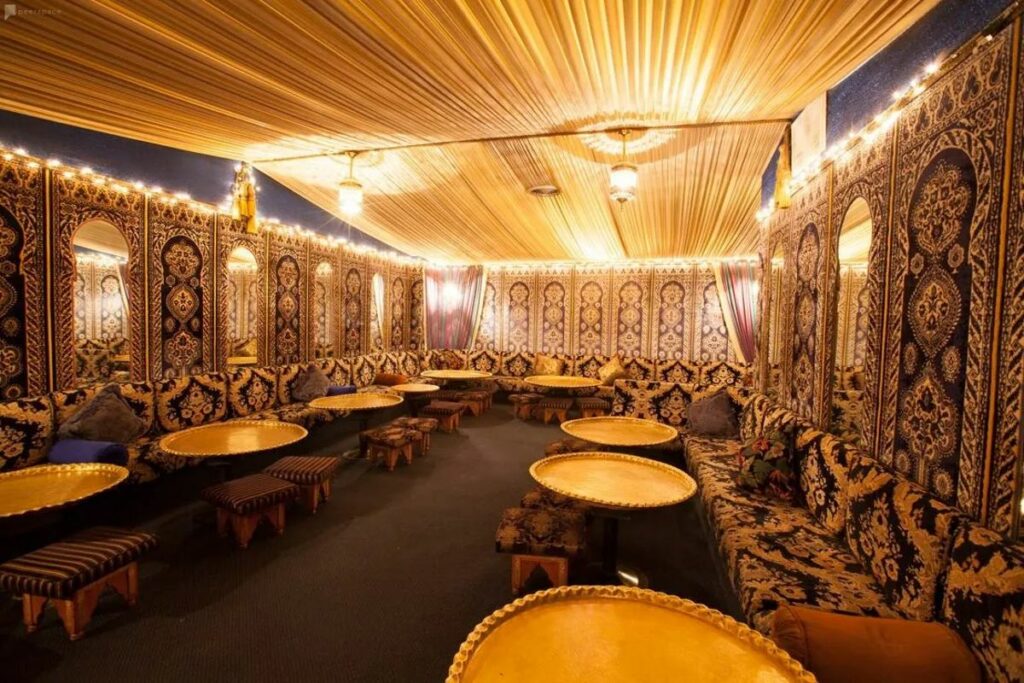 Agrabah might not be a real place, but that doesn't mean you can't taste it. Aladdin, and by extension Agrabah, were inspired by Middle Eastern folk tales. So, why not put a middle-eastern spin on your party food?
Foods like hummus or baba ghanoush make perfect party dips, or if you feel like firing up the grill, some middle eastern lamb kebabs might be in order. It's by far one of our tastiest Aladdin party ideas.
And if you don't feel like cooking yourself, ask the Peerspace concierge to put you in touch with a caterer who can provide a Middle Eastern menu. 
3. Magical sweets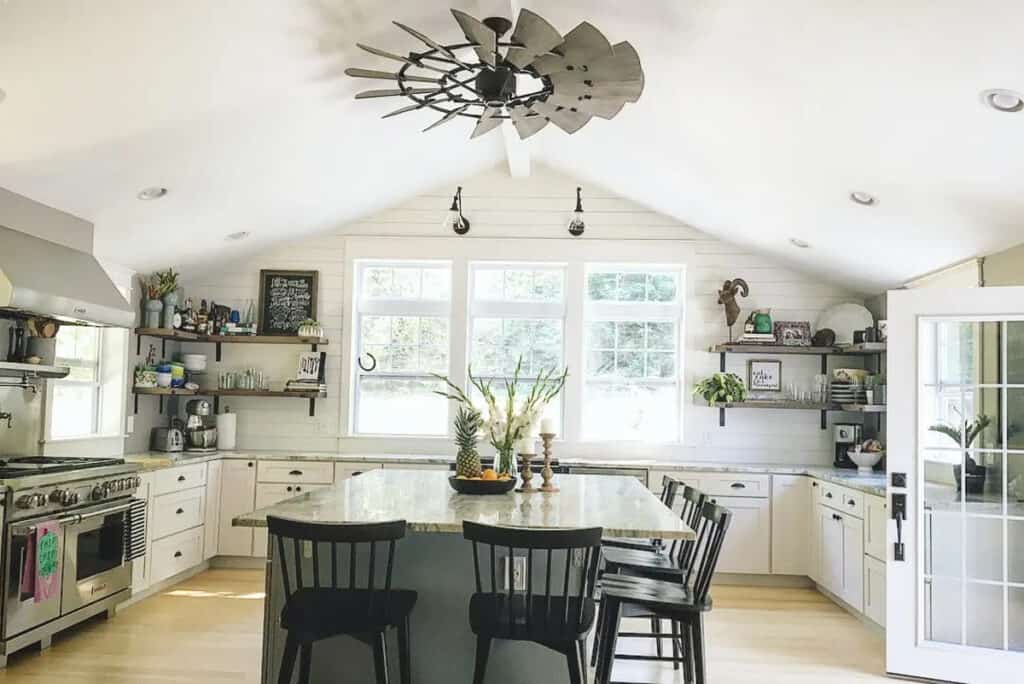 A party isn't a party without something sweet. Instead of serving up a traditional cake, you could try putting an international spin on your sweets with Middle Eastern-inspired sweets, like baklava or Turkish delight. Our mouths are watering just thinking about this Aladdin party idea! 
Thinking of tying the knot? We answer the question: "can I get married at Disneyland?" here!
4. Aladdin-inspired drinks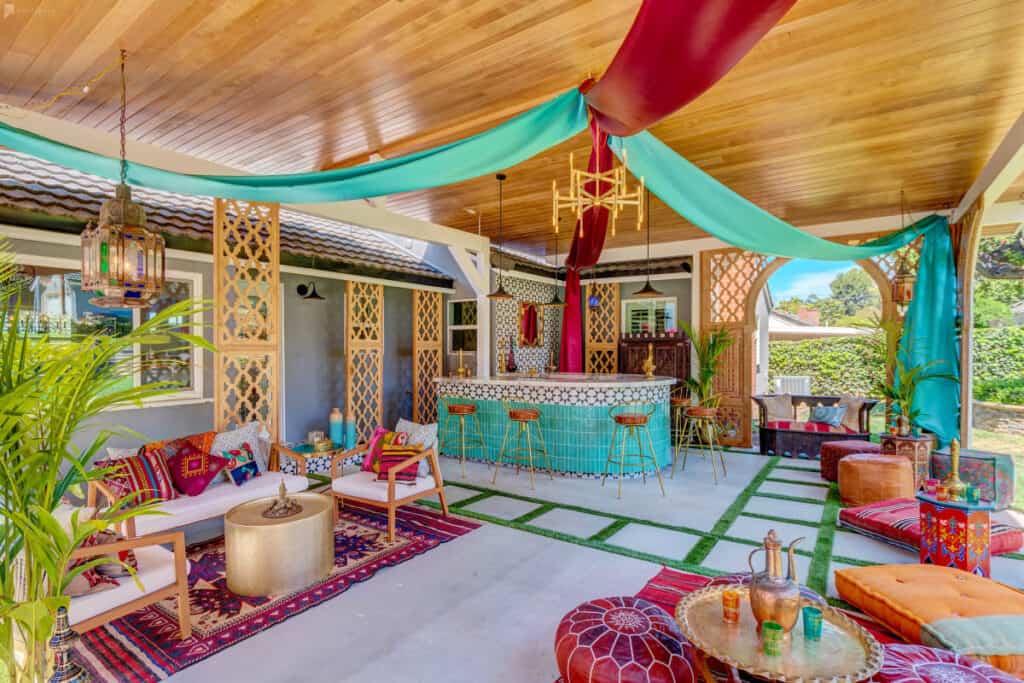 Of course, you're going to need some refreshments while you're indulging in your Aladdin-themed party. Keeping up with the theme, limonana is a classic Middle Eastern drink that's kind of like minty lemonade. It's simple and delicious as a non-alcoholic drink, but it's easy to spike with a little rum and transform it into a cocktail.
We can totally see Aladdin or Jasmine sipping this drink on an arid Arabian night. 
5. Arabian Nights party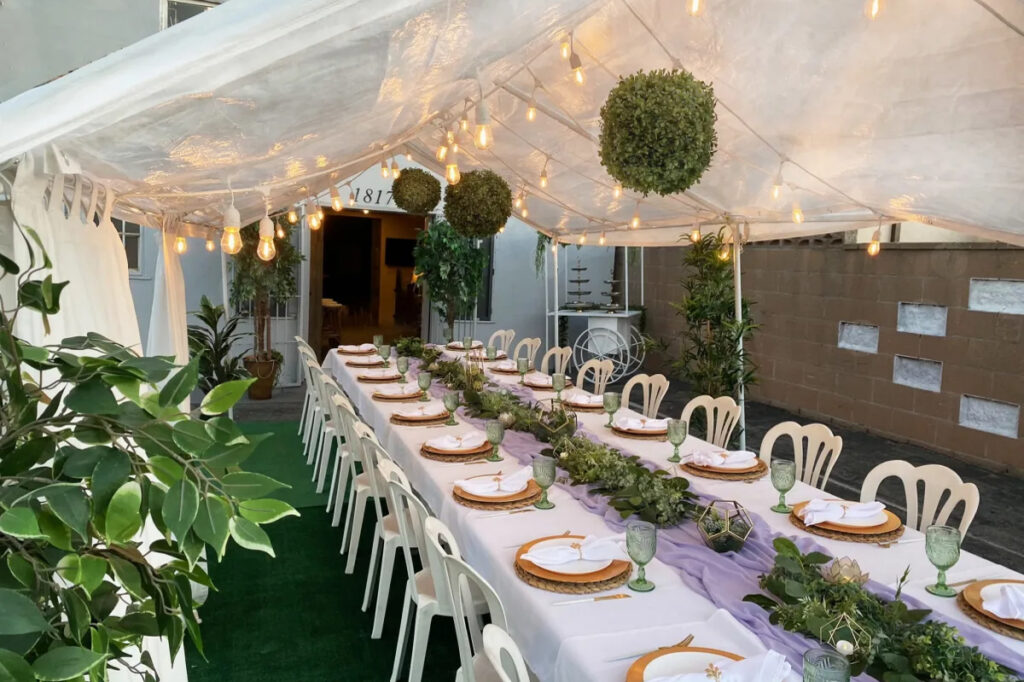 Speaking of Arabian nights, the original Aladdin story can trace its roots back to the book of folk tales, One Thousand and One Arabian Nights. So, why not lend an Aladdin flair to an Arabian Nights party? Try decorating your venue with jewel-toned fabric or even pitching a tent to create a magical atmosphere.
Better yet, keep an eye out for Peerspace venues that already come complete with a tent, like this airy outdoor venue in Burbank, CA. The palette is neutral, making it easy to transform with Aladdin-themed delights. 
6. Aladdin karaoke fest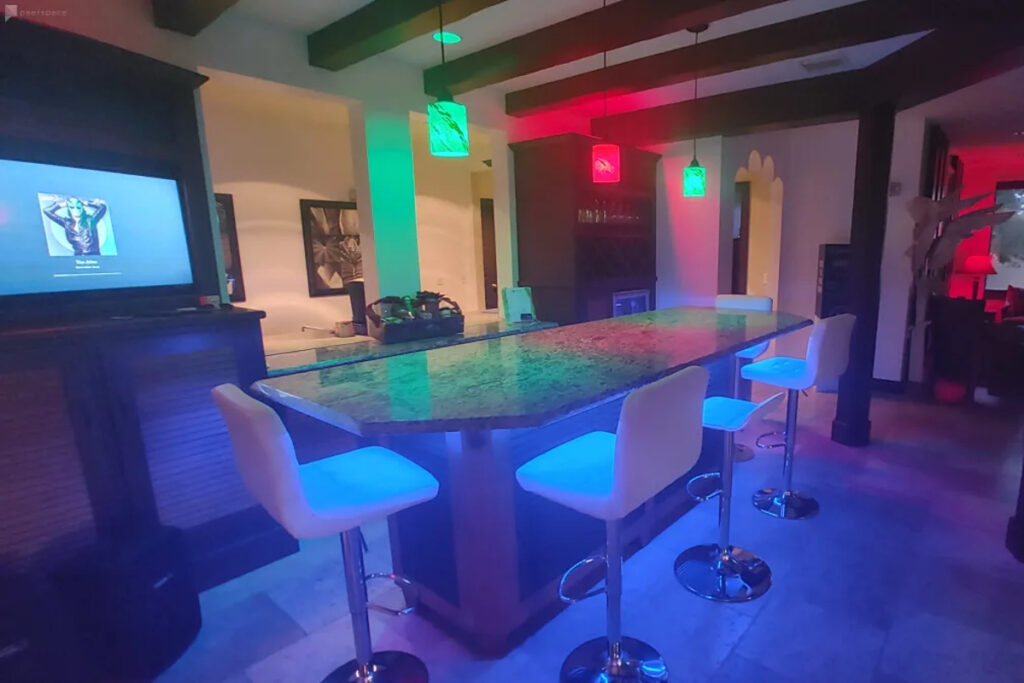 If you're anything like us, you can probably sing the entirety of Aladdin's soundtrack from memory. If you want to test those skills, try hosting an Aladdin-inspired karaoke party. There's something special about singing A Whole New World with a group that's honestly kind of spiritual.
To make that moment even more special, consider hosting at a Peerspace karaoke bar, like this swank karaoke space in Florida. 
7. Decorate with magic carpets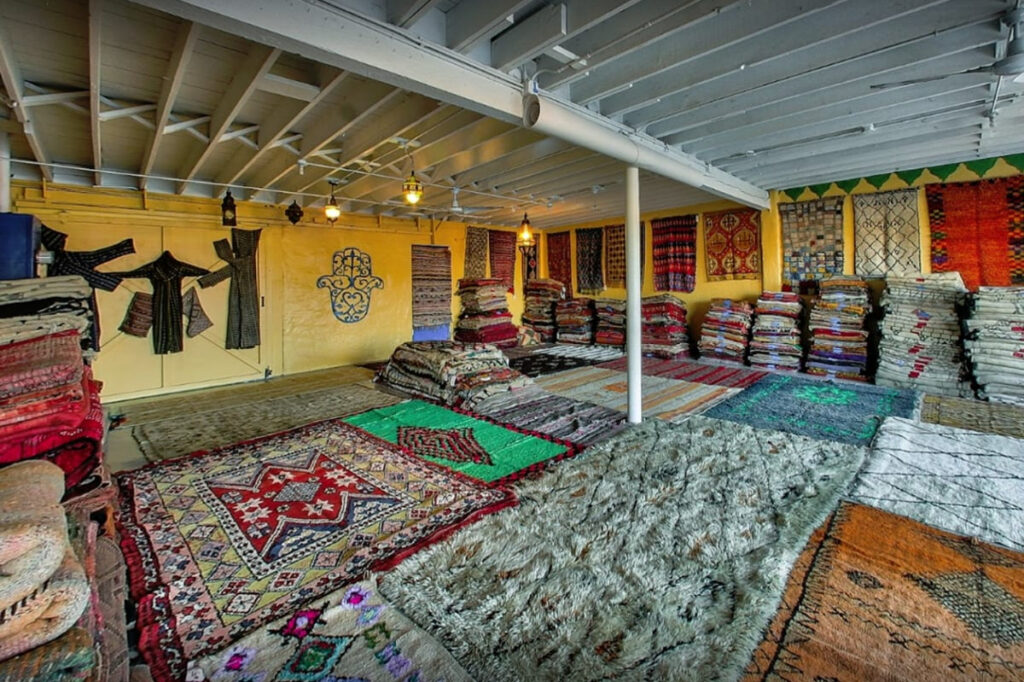 It might be a little tough securing a magic carpet at the last minute. But you can still capture a magical vibe at your Aladdin-themed party by decorating with Middle Eastern-inspired carpets. You can find colorful rugs and carpets to spread out online.
Or, to make things easier, try searching for a Peerspace venue where rugs come with the territory, like this Moroccan studio louange with more carpets than a Sultan's palace. 
8. Aladdin dress-up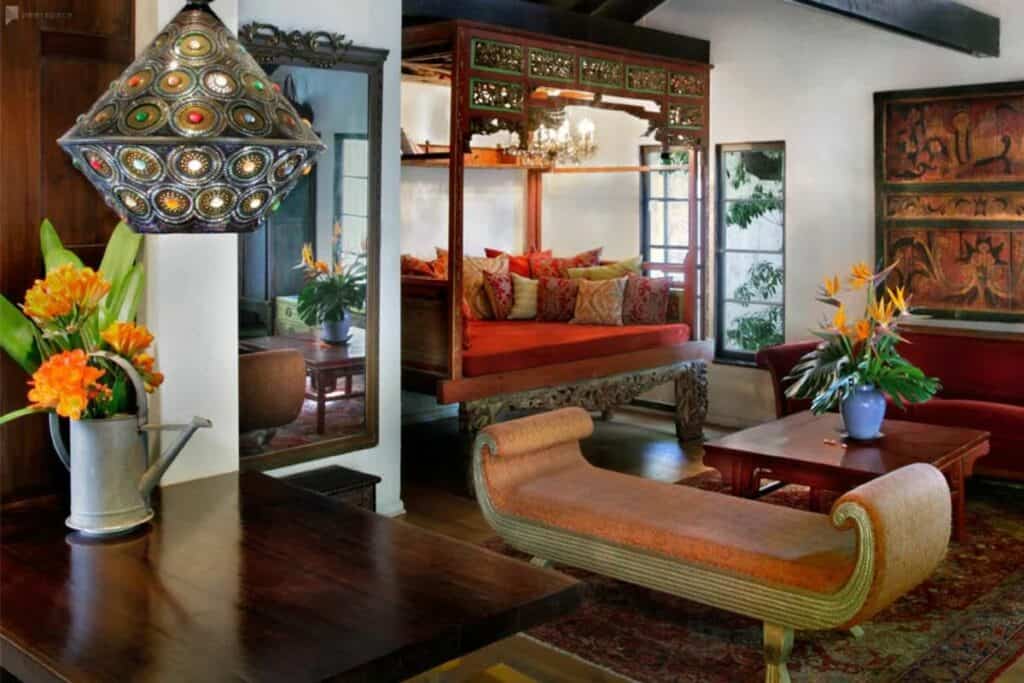 Encourage your guests to dress in Aladdin or Jasmine-inspired attire to set the mood. Instead of outright copying the character's looks with costumes, wearing Disneybound-inspired outfits can provide a fun middle ground and a fun opportunity for guests to flex their creativity. 
9. Aladdin movie-watch party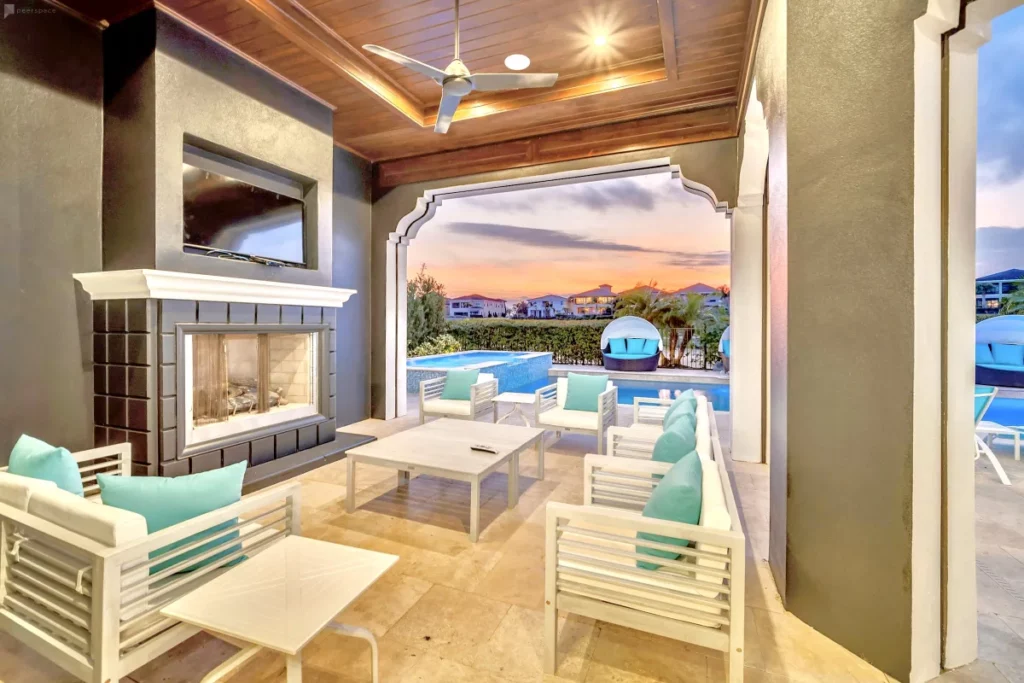 You might've seen the original Aladdin a thousand times, but what's a thousand and one more? Movies are always more fun when you watch them with friends! Host an Aladdin movie-watching party where you can rewatch the film in all its classic animated glory.
If you want to recreate the nostalgia of seeing it in the theater, try hosting your party at a Peerspace movie theater, like this luxurious home complete with a cozy outdoor movie gazebo. 
Our desert photoshoot ideas may just inspire some friendly posing competition at your Aladdin party!
10. Make it a little Twisted 
This Aladdin party idea is for the adult fans out there. In 2013, musical theater group Starkid gave Aladdin the Wicked treatment by telling the story from Ja'far's point of view. The result was Twisted, a cult classic parody musical that still holds up today.
So, why not put a Twisted spin on your Aladdin party? You could watch the musical with your friends or even sing along to the karaoke soundtrack, which you can find on iTunes. Not only will you get to indulge your inner theater kid, but you'll also get to expose more of your friends to Starkid. Sounds like a win to us! 
11. Name your 3 wishes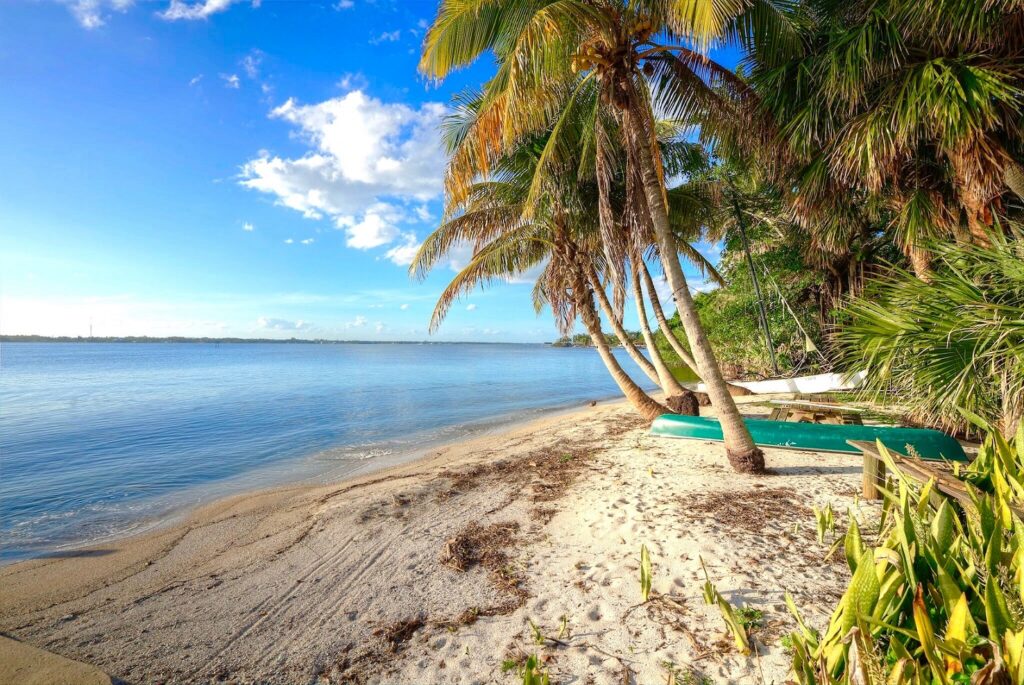 This Aladdin party idea puts a twist on the party game, desert island. Instead of asking your friends what 3 items they'd bring on a desert island, ask them what their 3 wishes would be if they found a magic lamp, like Aladdin.
If you want to make the game more interesting, have your other guests corrupt the wish. For example, if one guest wishes for the ability to fly, another guest could specify that they have to wear a chicken suit every time they take to the sky. It's a fun party game that's sure to lead to laughs! 
12. Head to an Aladdin escape room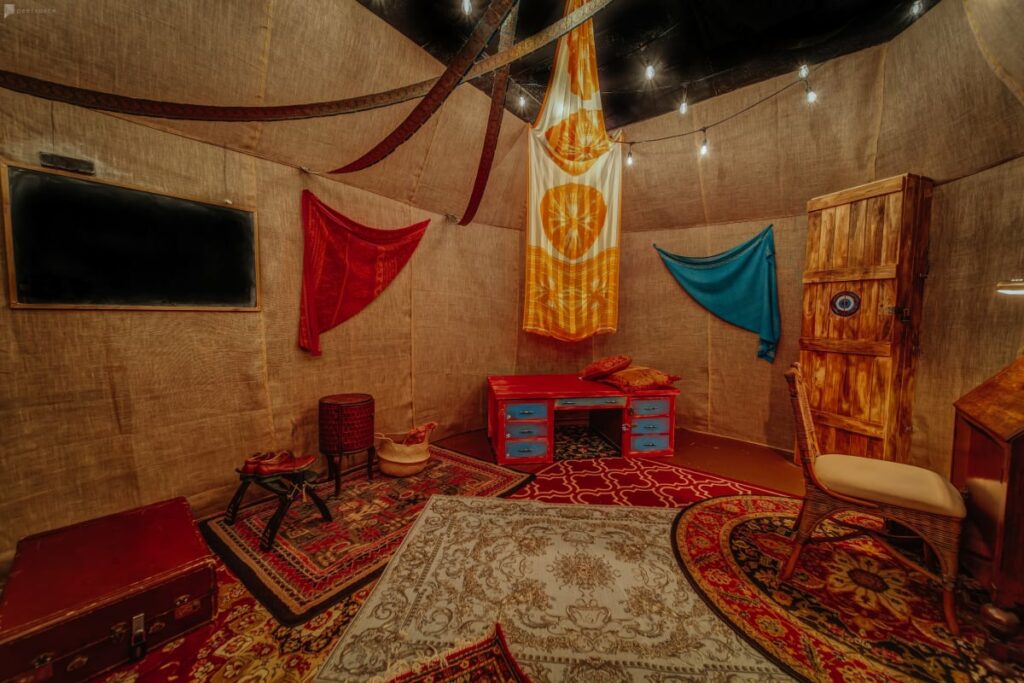 Aladdin used his wits to escape from the Cave of a Thousand Wonders with the Genie in tow. So, why not put your wits to the test by competing in an Aladdin-inspired escape room?
This Immersive escape room in Marietta, GA features a Middle-eastern-themed adventure tent, perfect for hosting an Aladdin-inspired party that challenges you and your friends.