Looking for December baby show ideas? In the season of cold and frost, you're preparing to welcome a new life. December is a month full of wintery goodness and holiday cheer. Amid all the celebrations, what better time to plan and celebrate a baby shower?
To help spark your creativity, here are 12 adorable December baby ideas to celebrate in the bleak midwinter. 
1. Find a cozy venue 
When the weather outside is frightful, you'll need a cozy indoor space to gather friends and family. Lucky for you, we've got an awesome resource to find just the spot. 
Peerspace makes it easy and quick to find and book baby shower venues in your city. You can find rentable spots in cities from London to LA. There are options available for any size and budget — and they're totally aesthetic, too. 
How do you find them? It's easy. Just head to Peerspace.com, input your event type (baby shower), then your city. You can also add dates, but if you don't have those pinned down yet, you can skip that step. Celebrate all of your December baby shower ideas in a beautiful venue that will bring out your merry side! 
2. Set up a Christmas tree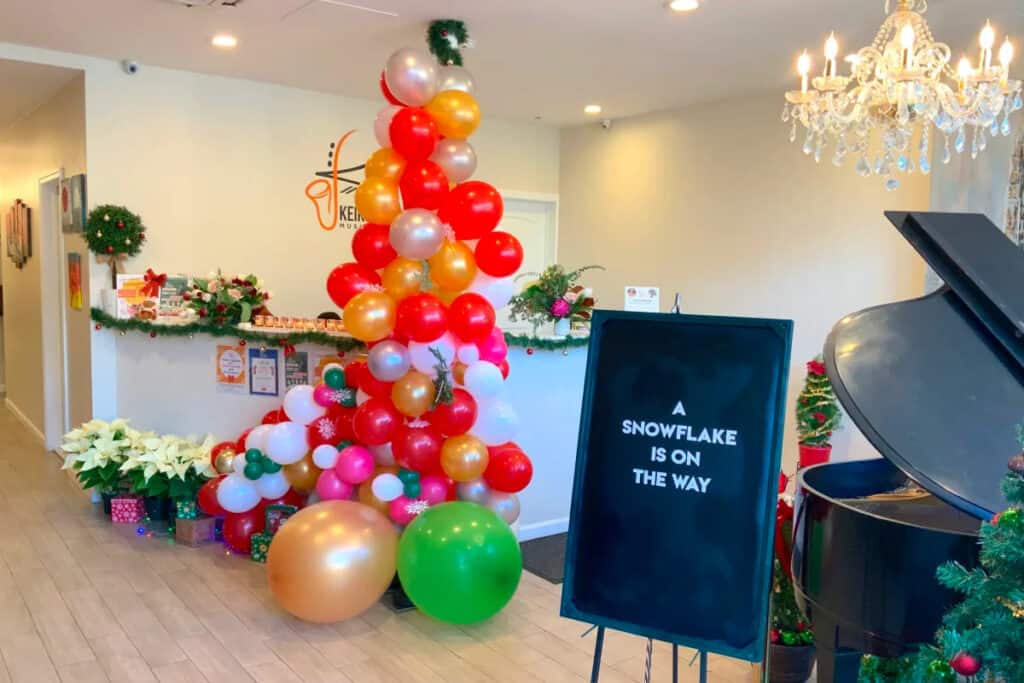 In December, the holiday season is in full swing. So, why not use the festive atmosphere to your advantage and set up some Christmas trees at your venue?  
Instead of using actual trees, you could put a twist on the classic decoration by making a balloon tree. How cute would that be? 
3. Add a dash of spring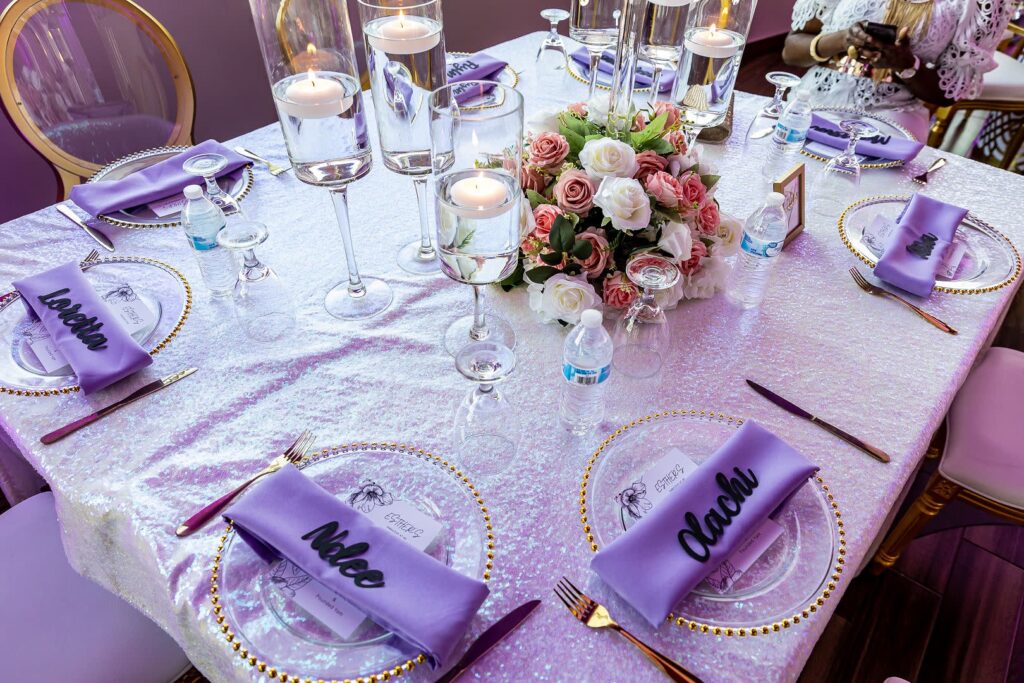 The weather outside might be frightful. But depending on the baby's due date, it might be delightful once they arrive. Instead of leaning into the winter theme, why not bring a breath of spring into your baby shower? 
You can do this in several ways — by setting out springy flowers (or faux flowers), decorating with bright and pastel colors, or hosting at a venue with a warm and springy vibe. It's an awesome December baby shower idea for those who can't wait for the thaw. 
4. Hang up snowflakes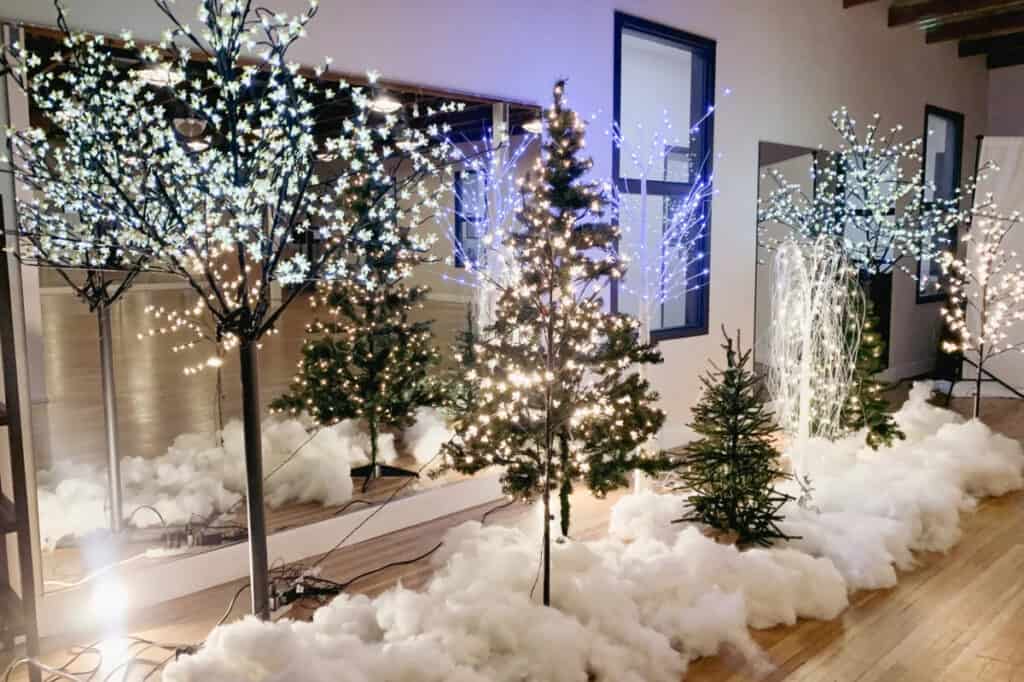 Paper snowflakes are an easy and classic crafting project – and they look adorable when combined with twinkle lights. Break out the scissors and put your crafting skills to work by making paper snowflakes and then hanging them up at your party venue. It's a fun and wintery alternative to traditional banners and streamers – and an easy DIY December baby shower idea. 
5. Make it a pajama party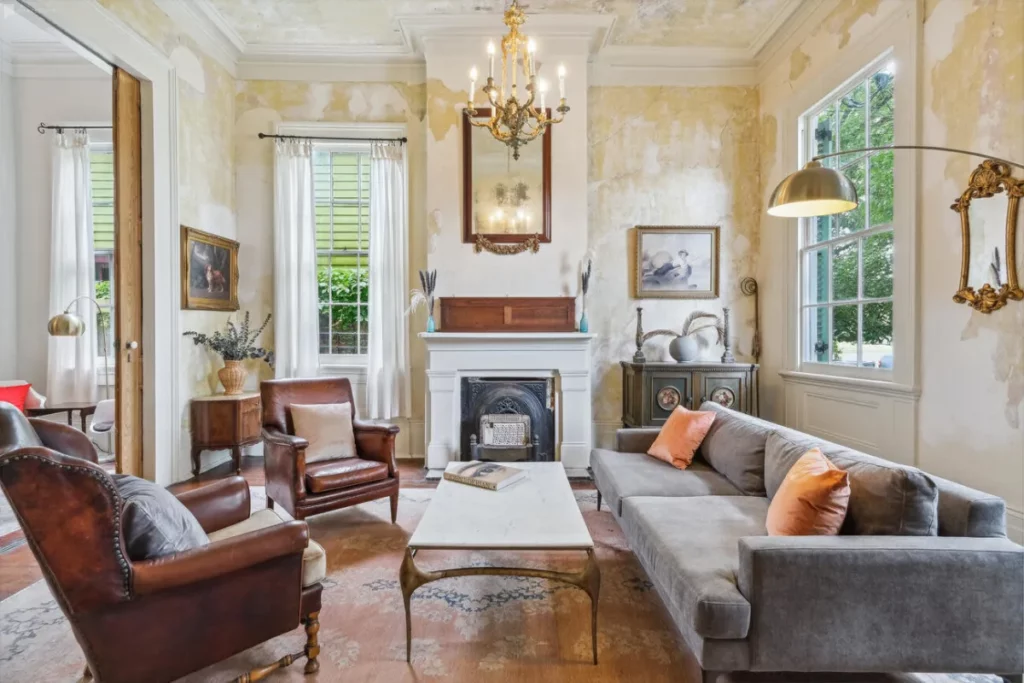 One of the best parts of cold and chilly weather is wearing your pajamas around the house. So, why not bring that sense of fun to your baby shower by transforming it into a pajama party? This makes for some super adorable photoshoots and creates a casual and laid-back atmosphere. 
If you like, you could even ask guests to bring a pajama onesie as a gift. Not only does everyone get to enjoy chilling in their PJs, but the baby will also have a full closet of cozy sleepwear. Win-win! 
6. Warm up at a hot cocoa bar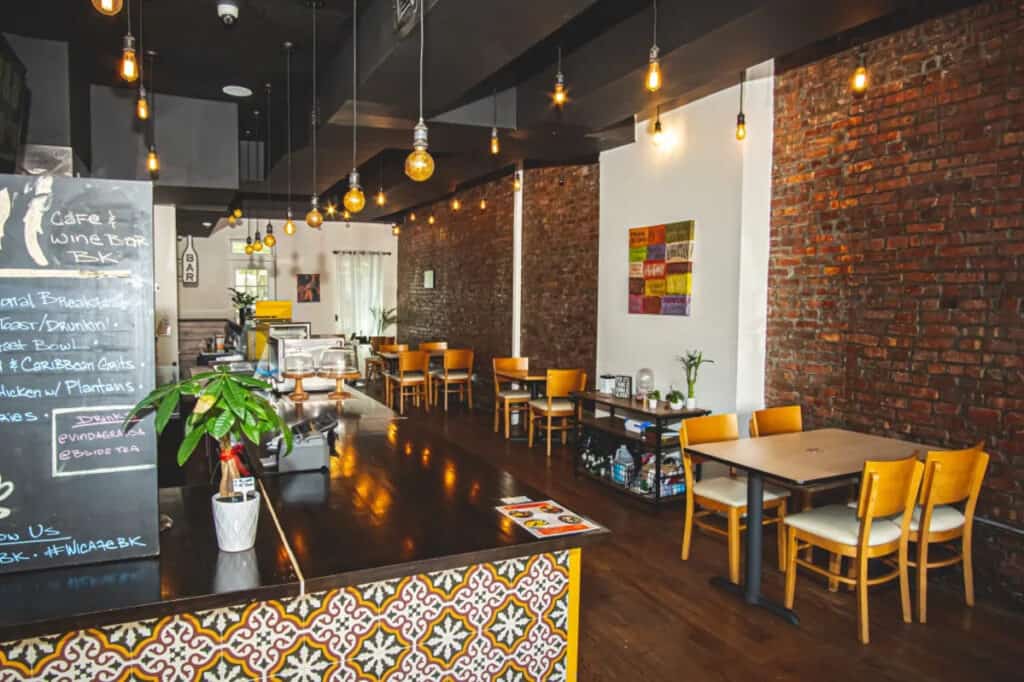 Hot cocoa is the ultimate winter drink. So, why not arrange a hot cocoa bar for your December baby shower? 
Set out a spread where guests can customize their ultimate cup of hot cocoa. Fun toppings and additions you could offer include: 
Mini marshmallows
Peppermints or candy canes
Pirouette cookies
Chocolate chips
Toffee bits
Sea salt
Set out your favorite cozy mugs, and you're good to go. It's by far one of our tastiest December baby shower ideas! 
7. Make a snowman diaper cake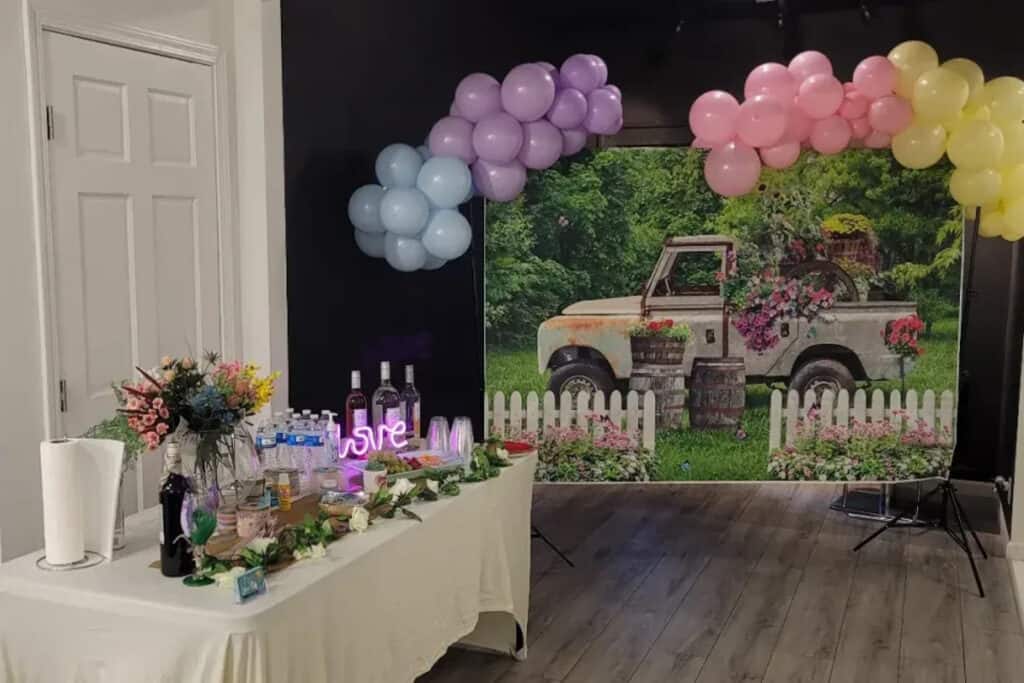 Diaper cakes are an adorable addition to any baby shower display. So, why not put a wintery spin on yours by transforming it into a snowman? All you need is a mini scarf, beanie, and some extra decorations to make your snowman's face and arms. It would look totally adorable beside your real cake. 
8. Snack on snowman cake pops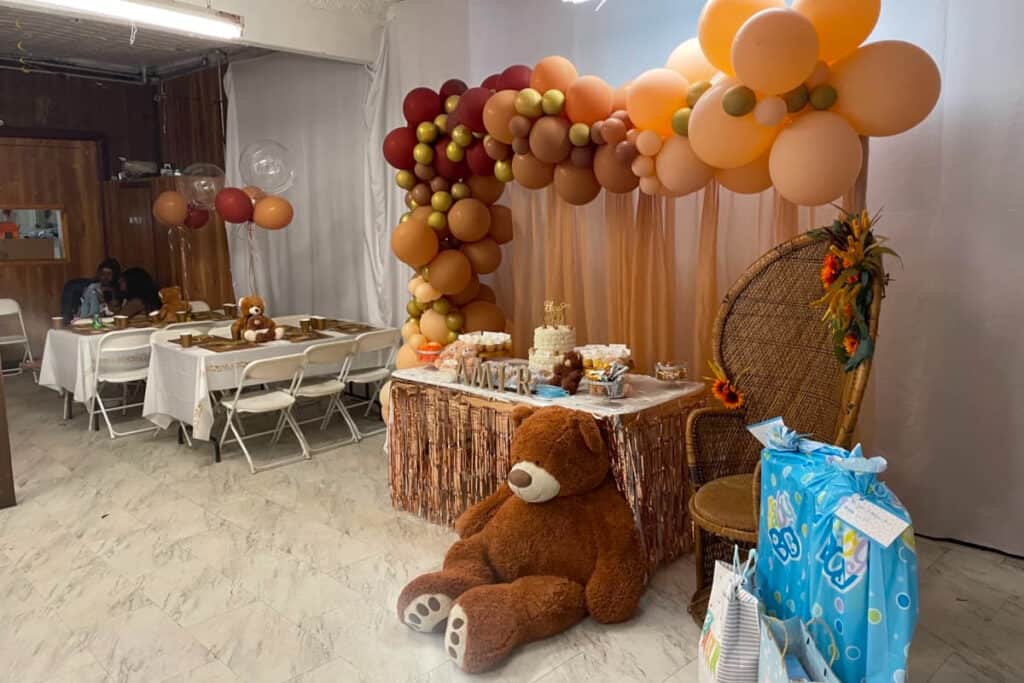 Speaking of snowmen, here's a fun December baby shower idea to satisfy your sweet tooth. 
instead of traditional cakes or cupcakes, set out snowman cake pops as party treats for your guests. Not only will it go perfectly with your hot cocoa, but it's also a super cute way to get your cake fix at a winter baby shower. 
9. Assemble a gingerbread house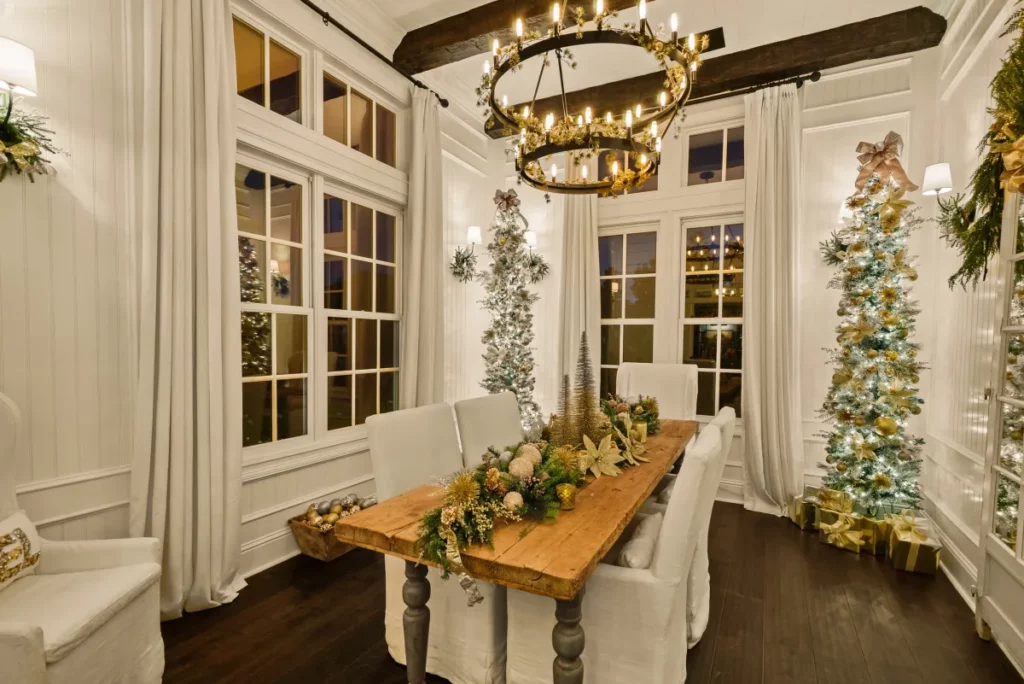 Every baby shower needs some fun and games. So, why not turn to a time-tested December activity — assembling a gingerbread house. 
The group could assemble a larger project together, then take pics with your new creation afterward. Alternatively, you could make it a competition by challenging others to make their own unique gingerbread designs and allowing the expectant parents to choose the winner. It's an awesome way to put your crafting spirit to the test!
10. Craft "baby's first Christmas" ornaments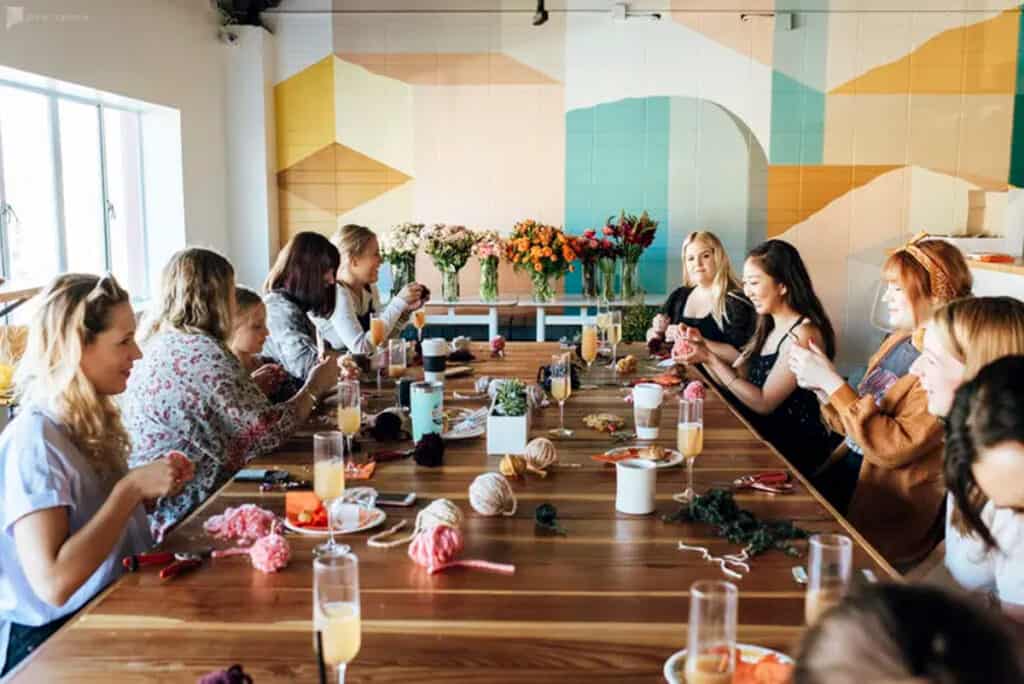 Depending on the baby's due date, they might not arrive until next Christmas. That gives you and the other guests plenty of time to craft "baby's first Christmas" ornaments at your shower.
Gather your guests together, pass out some DIY supplies, and work on crafting baby's first Christmas ornaments side by side. The expectant parents will surely appreciate all the love from these handmade ornaments. And you'll have a fun time making them. 
11. Unwrap gifts by the fire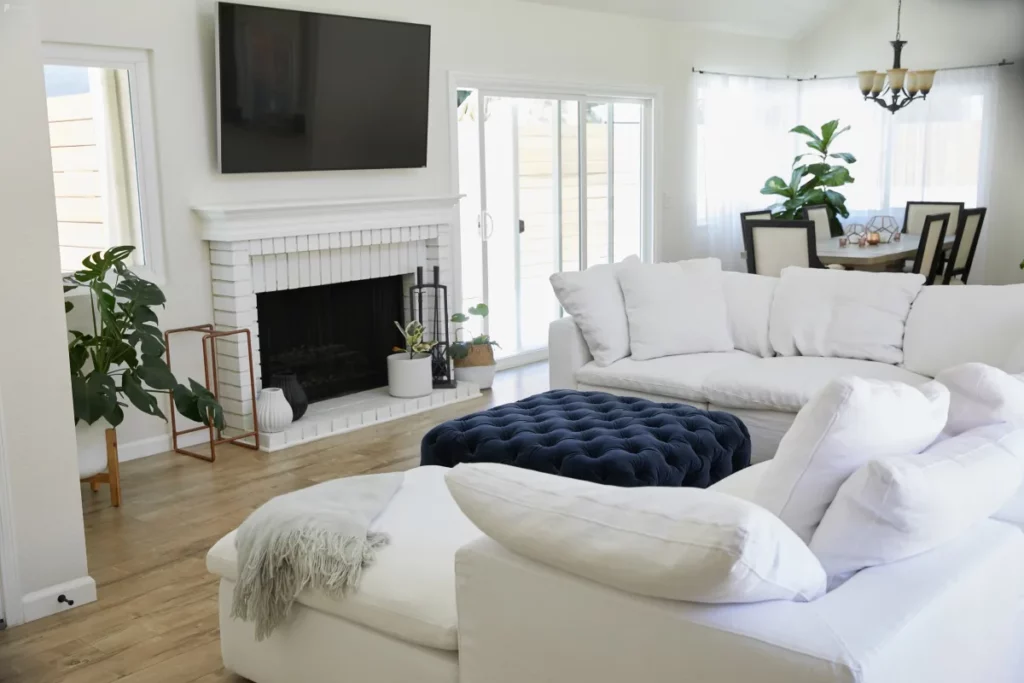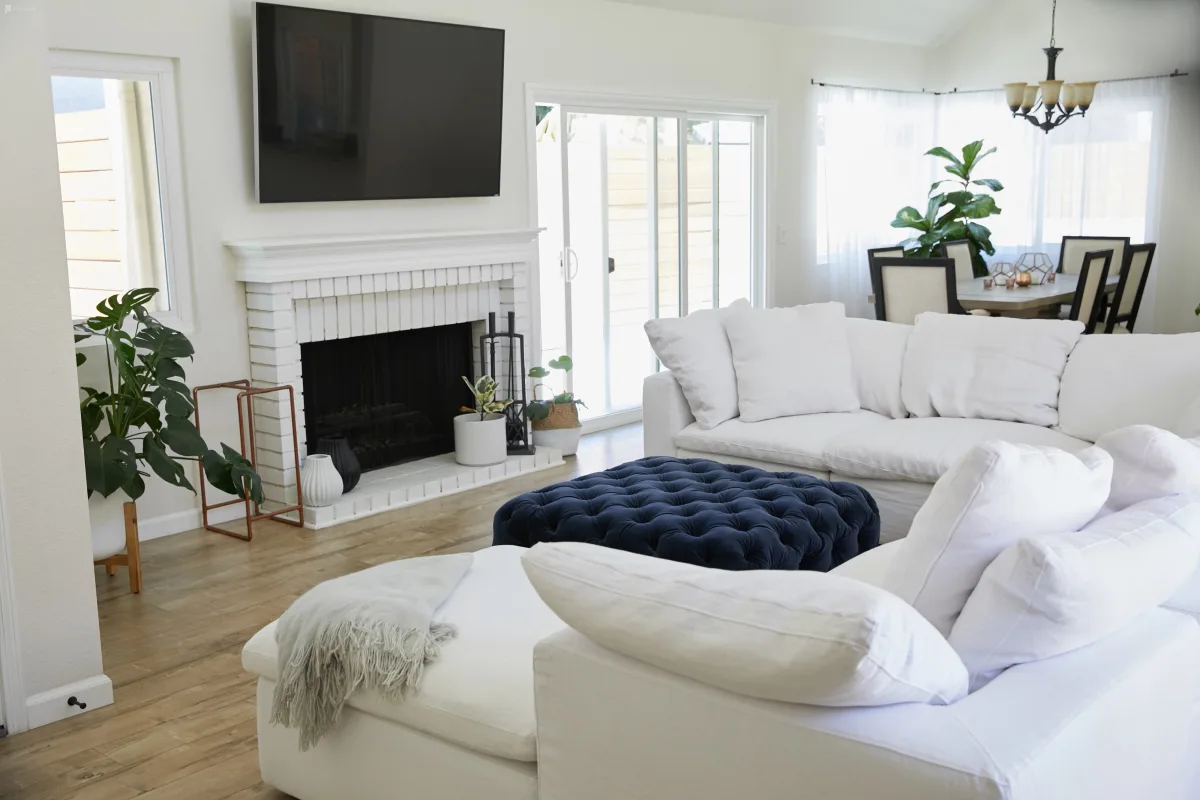 When it's finally time to unwrap the baby shower gifts, there's no better spot than beside a roaring fire. 
If your venue has a fireplace like this cozy California Peerspace home, take full advantage of it and let the expectant parents unwrap gifts beside its warm glow. The fireplace also makes a gorgeous photo backdrop to capture memories of the day. 
12. Hand out favors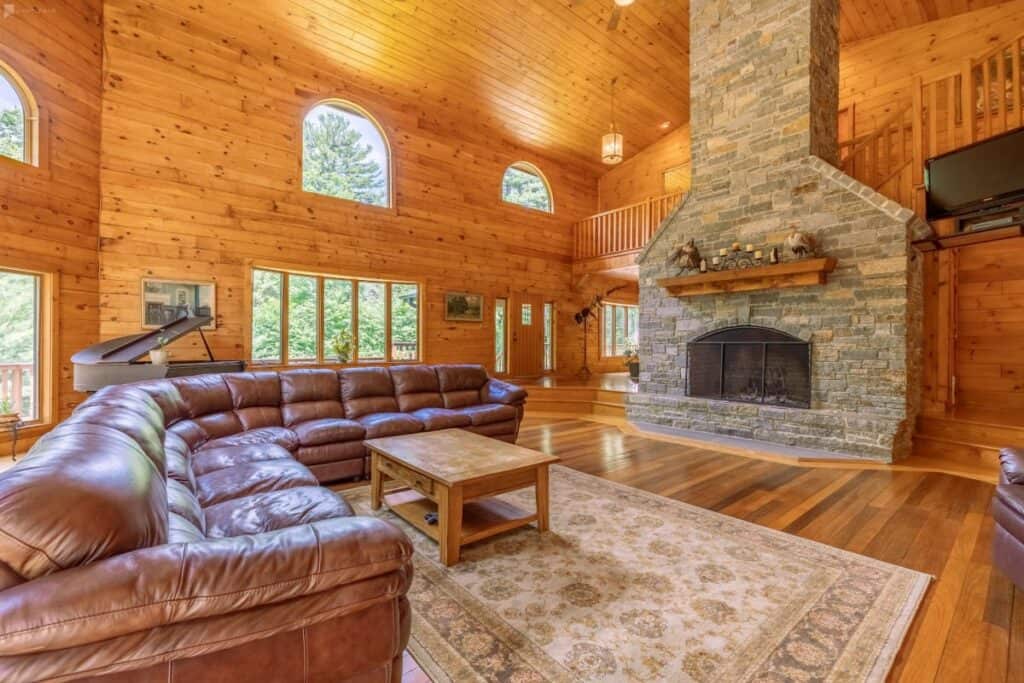 Once the gifts are unwrapped and everyone's eaten, drank, and made merry, it's time to say goodbye. You can thank your guests for coming with some special baby shower favors. 
Favors perfect for a December shower include: 
Hot chocolate kits
Snowflake or snowman-shaped soaps
Peppermint candies
Customized Christmas ornaments
Wintery scented candles
Additionally, if you have any leftover food or hot chocolate, you could pass it out to your guests as a thank-you gift. It's a thoughtful December baby shower idea that spreads gratitude during the season of giving.