Looking for unique 70s theme party decoration ideas? We're glad to hear it since Peerspace can help you get in the groove.
The 70s were one of the most iconic decades in recent history. Think funky color schemes, shag carpeting, and sleek mid-century flair. You could draw on this wealth of funky inspiration to curate your unique retro party decor – or better yet, head to a 70's-inspired Peerspace venue and let the space itself be your decor.
Peerspace is the largest online marketplace for hourly venue rentals, with local hosts decorating their party pads to the max and listing them on our platform for guests like you to enjoy. With the perfect Peerspace, your guests will feel totally transported in time, and you won't have to go all-out decorating yourself.
Sound groovy to you? Cool! Here are our favorite retro 70s theme party decoration ideas to elevate your next throwback party.
Bright, sunny colors and floral patterns were hallmark designs in the 1970s. So why not bring those uplifting vibes into your party decor? Decorate with shades of yellow, orange, and chartreuse to give your party a groovy effect.
Take a hint from this sunny home in Los Angeles, which is bursting with a warm and welcoming retro style. It's a 700-square-foot home with wall-to-wall 70s decor. Its oversized floral wallpapers, shower curtain, blankets, and dining tabletop make it the perfect spot to celebrate 70s flower decor.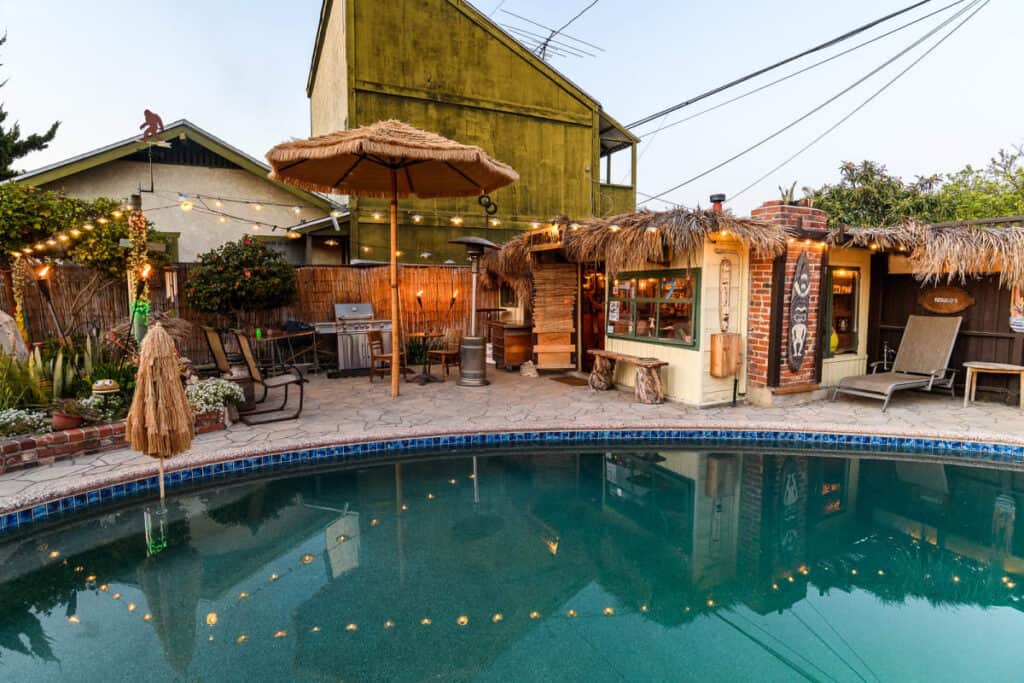 Want your guests to feel transported to a tropical Hawaiian vacation, 70s style? Then set up a tiki bar at your party space, complete with tiki torches, thatched patio umbrellas, and rattan chairs. Love the idea but are not crazy about all the decorating that this idea necessitates?
No worries! With Peerspace, you can book a private tiki bar in cities across the globe. One of our favorites is this vintage tiki backyard setup in Long Beach, CA. It boasts a fun tiki bar shed, alongside a groovy pool, atmospheric lighting, and more 70s party decor must-haves.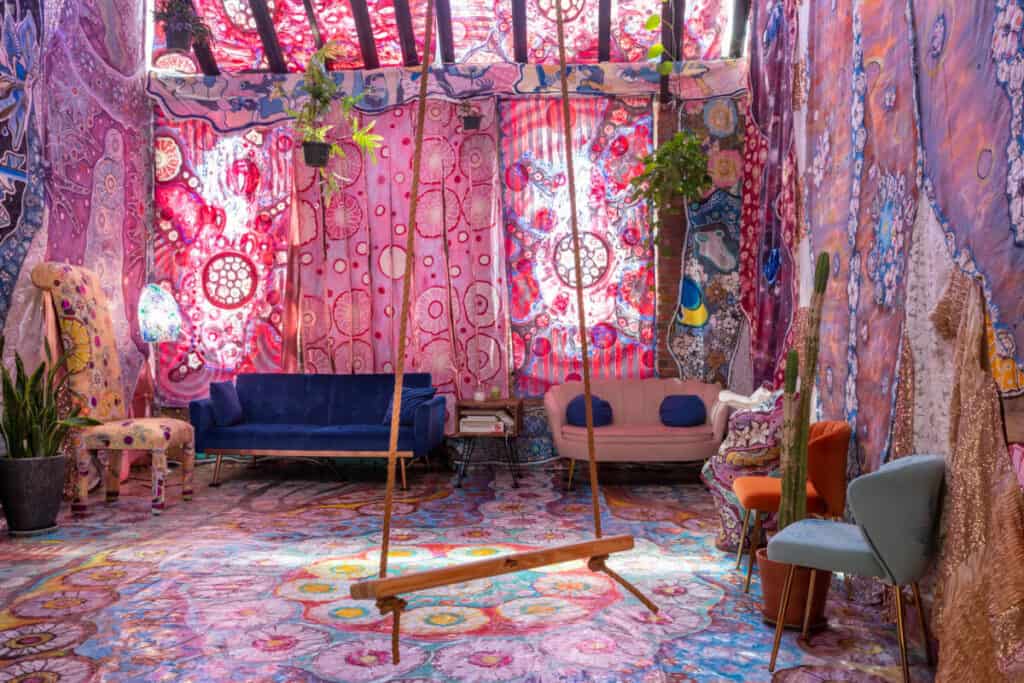 Here's a psychedelic 1970s party decor idea to set the vibe in any space!
Grab some retro-patterned blankets or tapestries, then hang them on the walls to create a psychedelic space. This colorful art installation in LA has immersive decor down pat. The way the sunlight shines through the tapestries is totally magical. It's like stepping into a 70s dreamland!
And check out this insightful Peerspace review left by a past renter: "Great space & an even better host! Laurie was so generous and extremely helpful with whatever we needed during our time at her space. Her cat, Peach was a great host as well lol. All in all, a wonderful space that any creative would love to be in."
Now that you have the decor, discover our 10 retro 70s party ideas here!