Experience the best natural views in Atlanta with a stroll along the Kendeda Canopy Walk. This is one of the best creative date night ideas in Atlanta just because of the unique perspective you'll get while walking along the 40 foot high, 12 foot wide bridge. Just make sure your date isn't afraid of heights before you go!
Don't have a pool in your own backyard to hang out in during date night? Not to worry — Peerspace can help! On Peerspace, you can rent gorgeous venues that come with stunning pools and poolsides.
For example, check out this garden oasis and pool for rent in Chosewood Park. You and your date can enjoy this space with a Hibachi-style grill station, sexy pool lighting, hot tub, and more all to yourself on date night. It's the perfect way to relax and unwind with your special someone!
Check out how this Peerspace user took a date here to a whole new level: "Le'Chosewood Oasis helped me propose to my fiancée in a beautiful, coordinated, seamless manner. I came to Erika and Debra with general ideas for the proposal and decor. They took my limited notes for the event and transformed it into a backyard poolside landscape of floral arrangements, soft decorations, and mementos encapsulating our relationship throughout the years."
If you and your date have already bonded over your love of music, then surprise them with tickets to a Variety Playhouse show! This converted movie theater is now an intimate way to see an amazing concert with a date. This is specially if you can catch a show with one of your favorite bands performing!. Keep an eye on their events calendar and start planning for one of the most classic date night ideas in Atlanta.
When the weather is warm, there is no better way to enjoy the Atlanta sunset than on a comfy blanket in Westside Park! The park plays host to regular cultural events, and also offers stunning views of the resevoir and the city skyline.
Don't forget to bring some tasty treats to snack on as you enjoy each other's company, the beautiful surroundings, and the beautiful setting sun.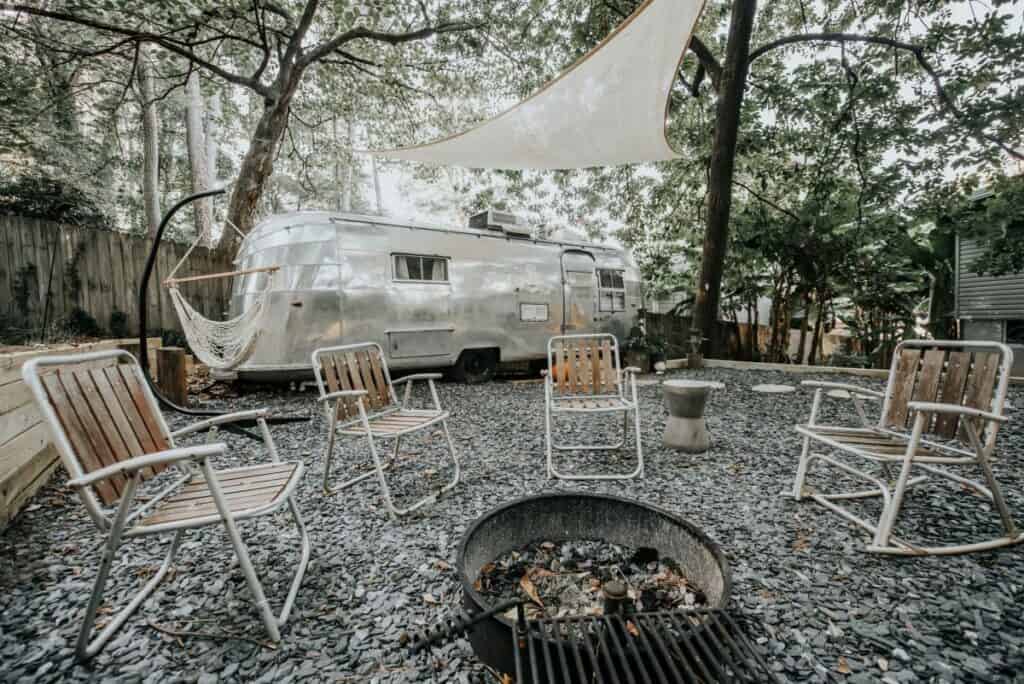 Don't think camping is up your alley? You might be surprised when you give glamping a shot! Rather than planning an overnight glamping trip, ease into the experience by just renting a super cool Airstream like this one for an hour or two for date night. The property around this rare 1956 Airstream also boasts a fire pit, banana trees, and plenty of camping themed date night ideas in Atlanta to enjoy. By the end of the night, we bet you'll have changed your tune about camping trips!
"Great booking," shares a Peerspace reviewer. "Had to find a location last minute location and the host was very accommodating to our booking. Space was great and creative!"
Once the sun sets, the golf course closes — but you can still work on your putting game with your date at the Puttshack for date night! Puttshack is in the Interlock building and offers some of the most creative mini-golf holes we've ever seen. The beer pong and the half-pipe-inspired holes are just a few of the stand-out ones you'll find on this course. And with tasty fod and drink options served on-site, you and your date don't have to venue jump to experience a full evening of fun.
Wondering where and how to rent a pool in Atlanta? Find out here!