Whether you're a regular poker player or totally new to the game, there's nothing quite like the high of winning big on poker night. If you're looking for unique ideas to elevate your next poker night to a whole new level, Peerspace has you covered. All bets are off with these unique poker night ideas! 
1. Find the perfect venue for your private casino with Peerspace
If you've been gathering together in a basement or spare bedroom, this is your chance to enjoy a change of scenery. You can find tons of amazing spaces for playing card games on Peerspace. As the largest online marketplace for hourly venue rentals, Peerspace makes it easy to book unique venues for your private gatherings.
Meet up in an underground speakeasy (pictured above), a sultry burlesque venue, or a Victorian lounge. If you need poker tables and chairs, or even catering and bar services, ask Peerspace Concierge to set it up at your venue beforehand. This team is dedicated to making your poker night go off without a hitch.
2. Shake up your poker night with a James Bond theme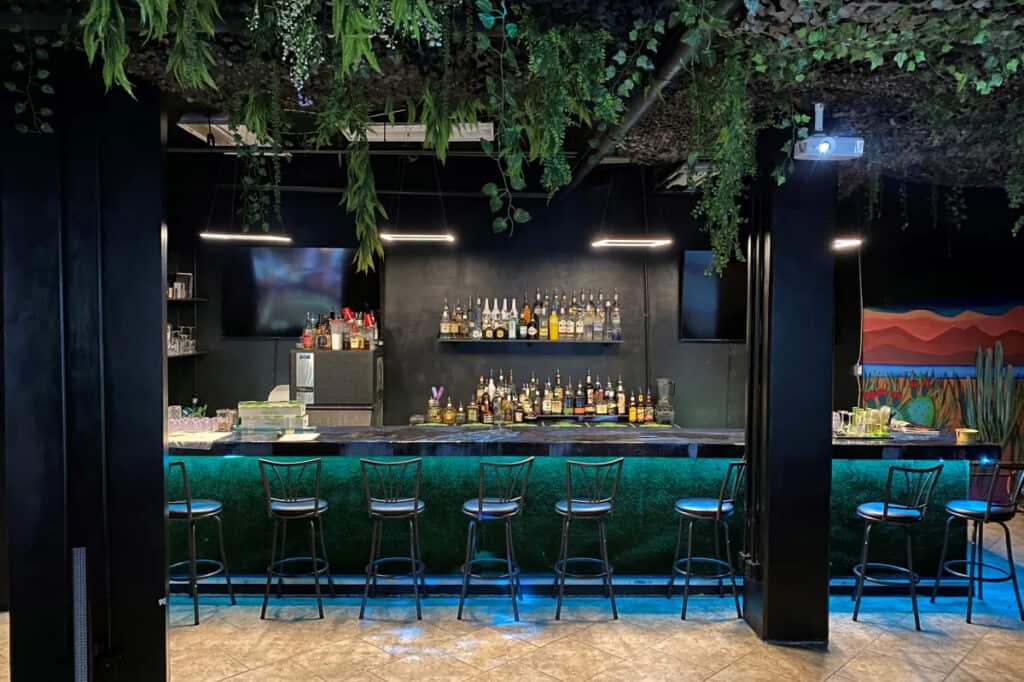 Texas Hold-em played a key role in the 2008 spy thriller Casino Royale, which featured Daniel Craig's debut as Bond, James Bond. You can channel this moody and mysterious atmosphere for your next poker night with a little ingenuity. Turn the lights down low, turn up a playlist of classic Bond music, and serve up martinis for your guests. Shaken, not stirred, of course. 
3. Head outside for a barbecue poker night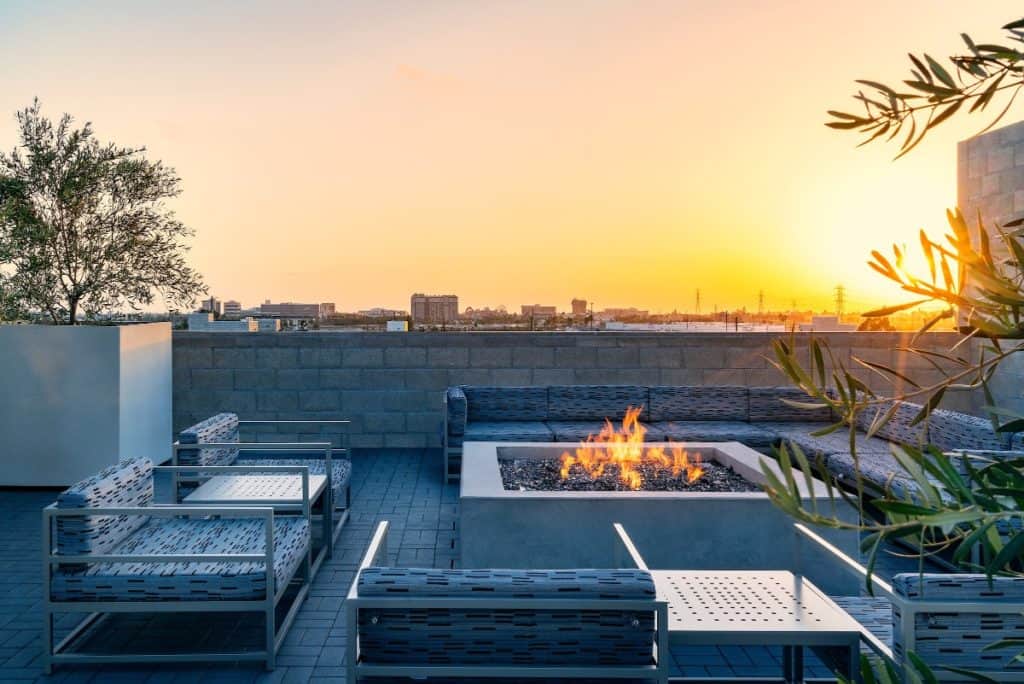 Looking for poker night ideas that are more casual and relaxed? Fire up the grill and cook up some delicious Texas-style barbeque to snack on while you play Texas Hold-em. Serve up mouth-watering ribs, brisket, or chicken, and dress them up with sides like corn and slaw. Don't have a grilling space all your own? Don't worry; Peerspace can help with that, too! Simply look for outdoor venues near you equipped with grills and book away.
It's a laid-back poker night idea that's perfect for friend groups looking to take things easy. Just bring plenty of napkins — you don't want barbeque sauce on the poker chips. 
4. Win big at a classic Vegas poker night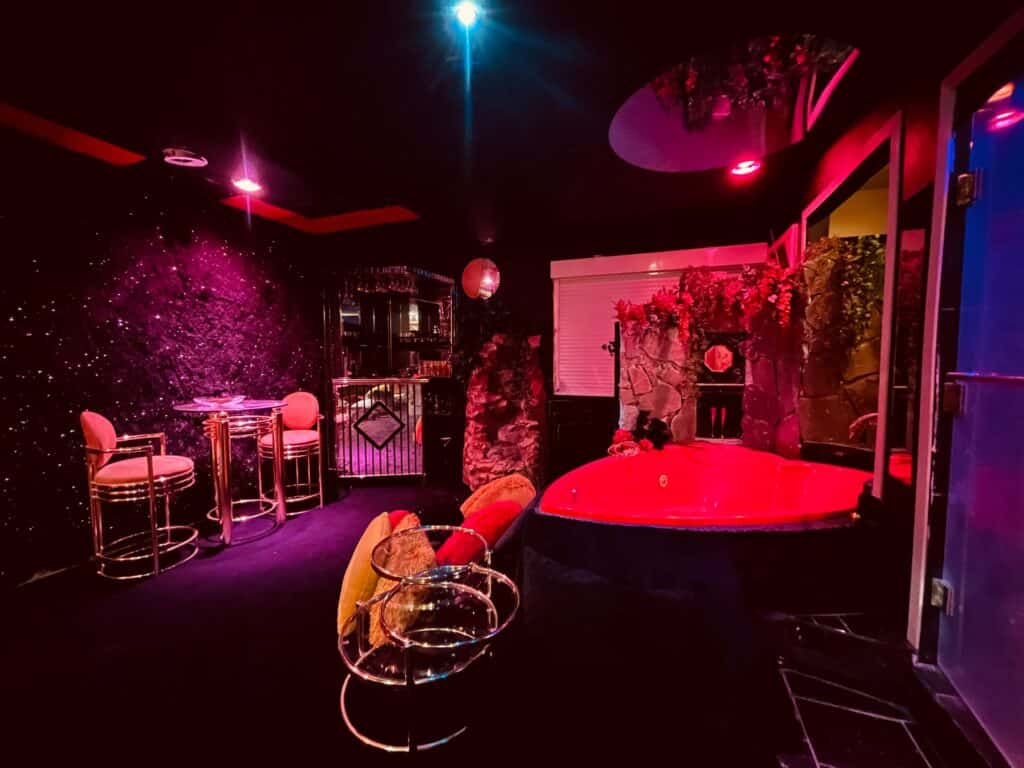 Want to bring the thrill of a Las Vegas poker tournament to your next poker night? Go all out with red and black Vegas-inspired decorations, channeling the vibes of a high-end casino. Neon lights are welcome to help set the scene! For food and drinks, serve up a Vegas-inspired buffet with cocktails for your guests to sip on. It's perfect for those who want to bring a high-end touch to their next big game. 
5. Go down the rabbit hole with a Wonderland poker night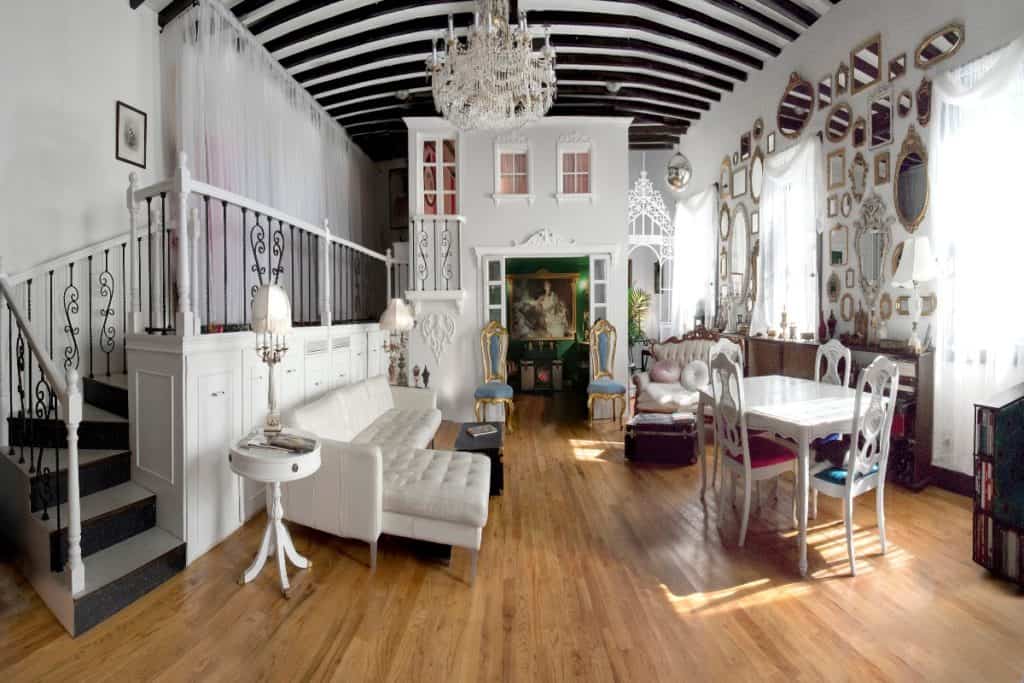 Want to add a touch of whimsy to your poker night? Head over to wonderland with this fun poker night idea. Make your venue burst with red by stringing up whimsical decorations inspired by the Queen of Hearts' signature aesthetic. Think tons of bursting red with checkerboard accents. Eccentric set pieces, like life-size playing cards and oversized teapots, are welcome. This is your chance to go a little mad, so don't waste it. 
Check out our Alice in Wonderland party ideas for more decor and venue suggestions!
6. Host an Arabian Nights-inspired poker night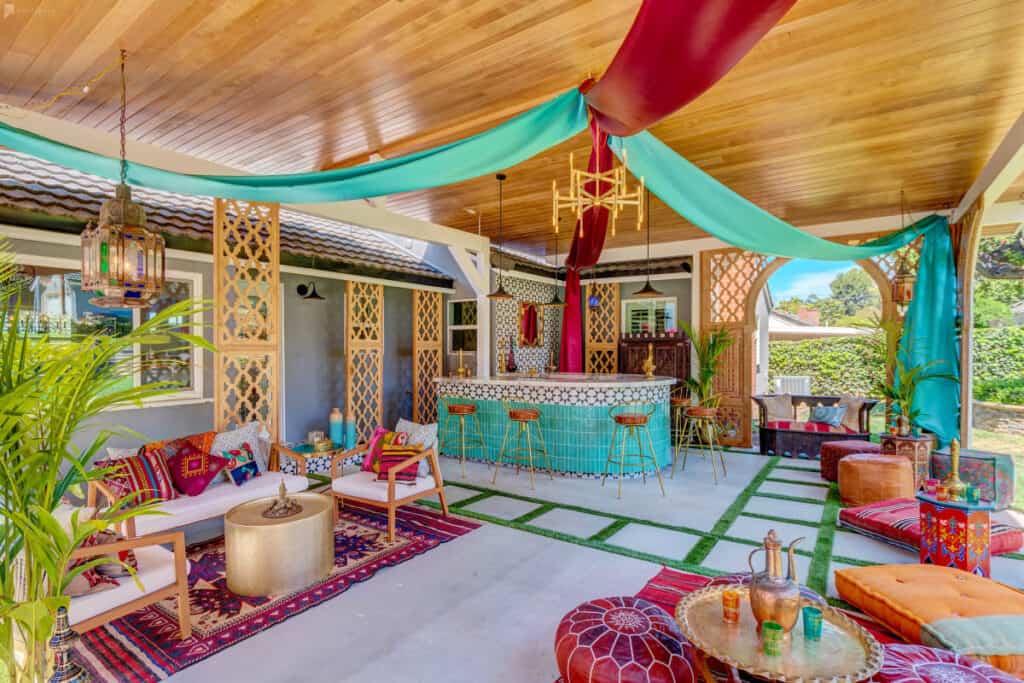 Channel the vibes of a Moroccan casino with this cool poker night idea. If you've always loved the mysterious aesthetic of Arabian Nights parties, why not bring that amazing style to your next poker night? Hang lush fabrics from the ceiling, decorate with vibrant colors, and serve savory Moroccan dishes like Couscous or Harissa. If you want to go the extra mile, you can even set up some cozy cushions on the floor and play your poker game on a Moroccan low table. 
Of course, you can book a themed Peerspace venue and just show up and enjoy. For instance, this Moroccan-inspired venue in DTLA is a fully decorated loft ready and able to host your themed poker night!
7. Head back to the roaring '20s with a Gatsby poker night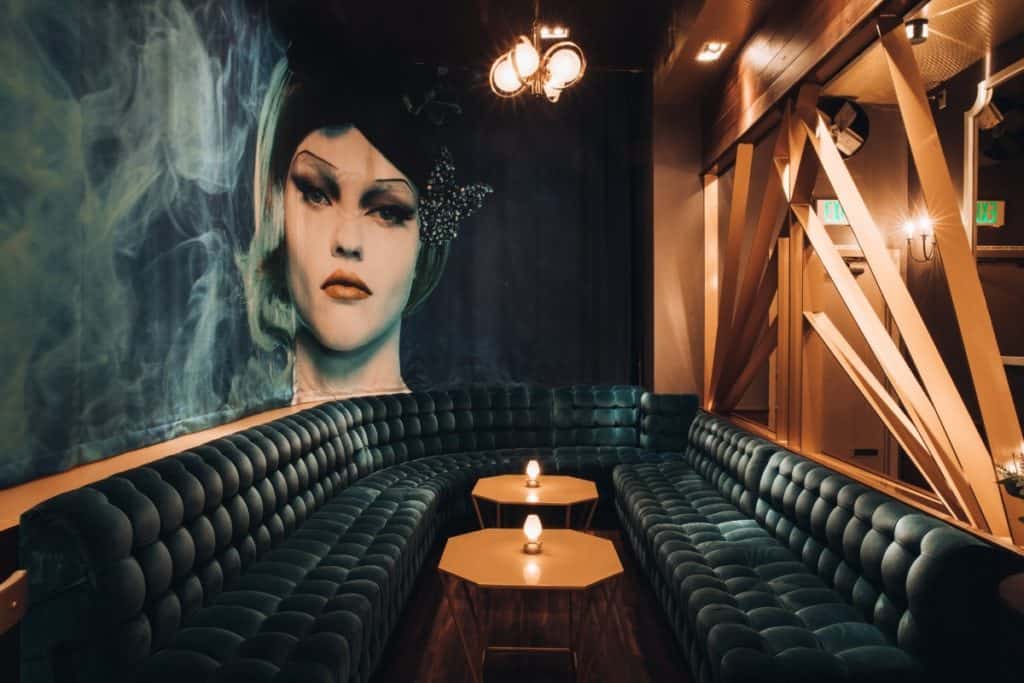 The roaring 20s were an era of glitz, glamour, and impeccable dapper style. Bing those vibes to your next poker night by hosting a Great Gatsby-themed soiree. Play plenty of swinging jazz, decorate with feathery table centerpieces, and make sure the champagne flows freely. Ask your guests to dress the part too, with flapper dresses and tuxes. In fact, the more extravagant, the better!
This is definitely the perfect poker night idea for those who want to bring a touch of opulence to their next game. 
Find the perfect venue using our epic Roaring 20s party ideas guide!
8. Play for charity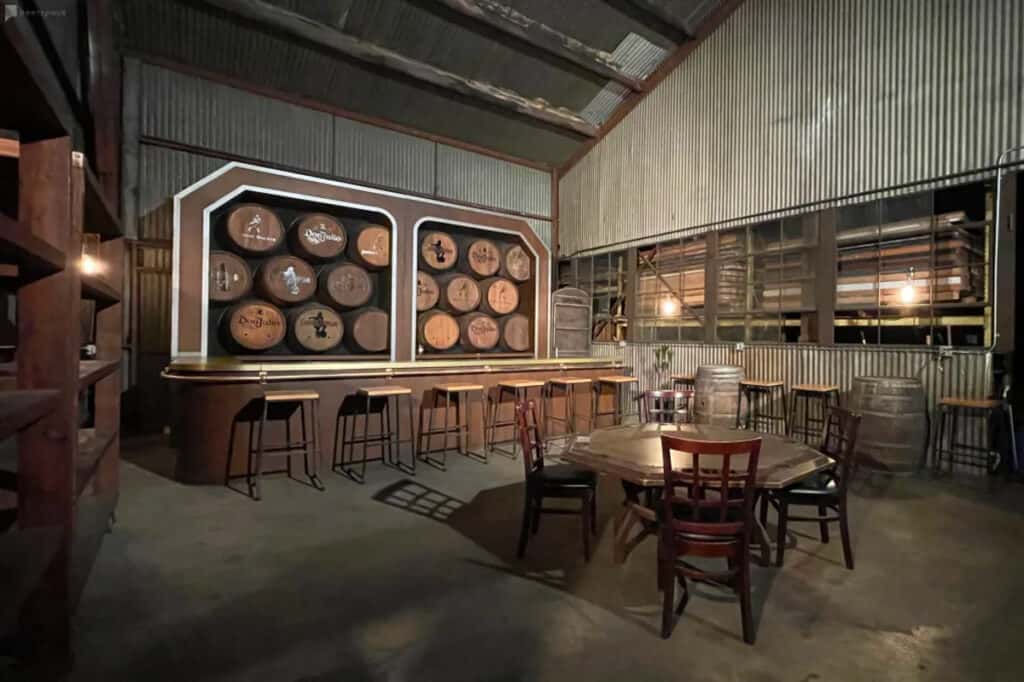 Instead of playing for bragging rights or the jackpot against your friends, why not play for a good cause instead? Pick out a charity where the big winner will donate their prize, then play the game like you normally would.
This is a great poker night idea for corporations or businesses looking to treat their employees while still serving a good cause. Playing for charity can also encourage players to go all-in more often, making for a more interesting game. 
9. Hire a professional dealer to up the ante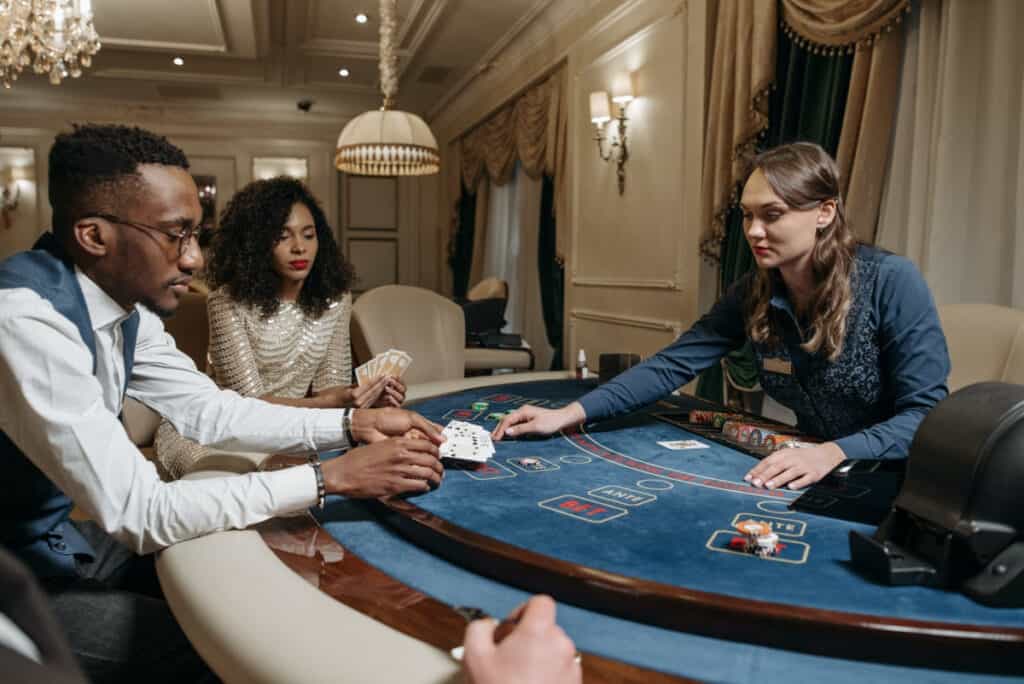 While you can have a ton of fun dealing by yourselves, why not elevate the night by hiring a professional dealer? Dealers can bring an extra level of formality and sophistication to your poker night. You can find and hire professional dealers for your party via local party rental services. Also, ask around on social media to see if anyone knows of a good party service in your area.
Or better yet, see if the Peerspace concierge can put you in touch with a good vendor! 
10. Switch up your house rules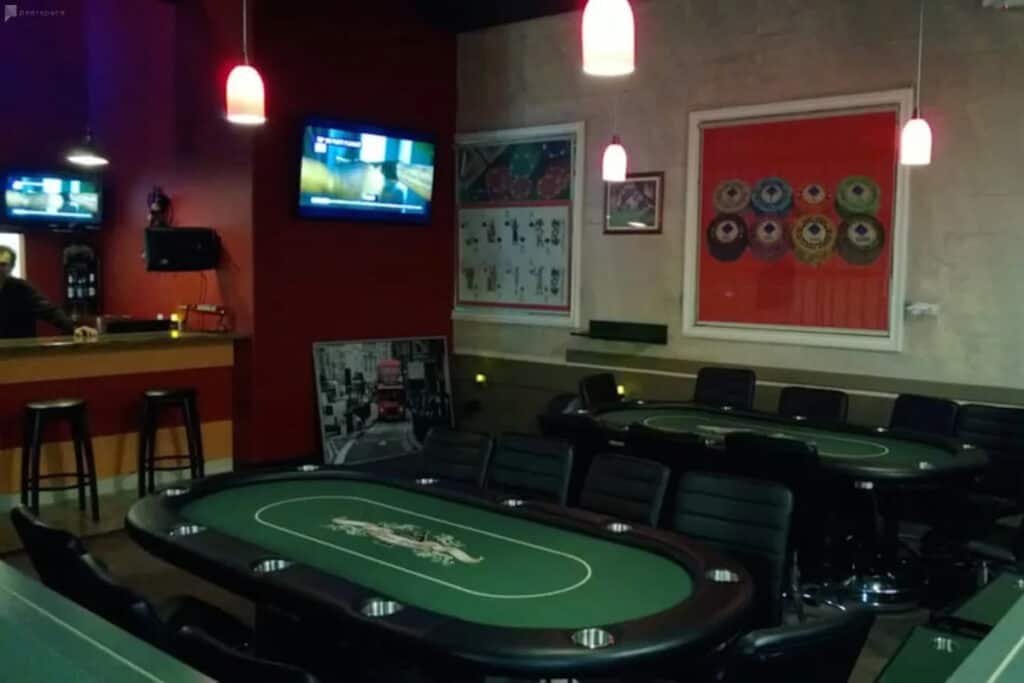 If poker nights are a regular get-together for your friend group, then this is an excellent opportunity to mix things up a little. There are dozens of unique poker variants out there to try your luck at, like 7-card stud, 5-card draw, or 2-7 Triple Draw.
There might be a bit of a learning curve while you're trying a new variant. But it's a fun way to exercise your mind and put a new spin on an old classic! 
11. Play virtual poker for an online get-together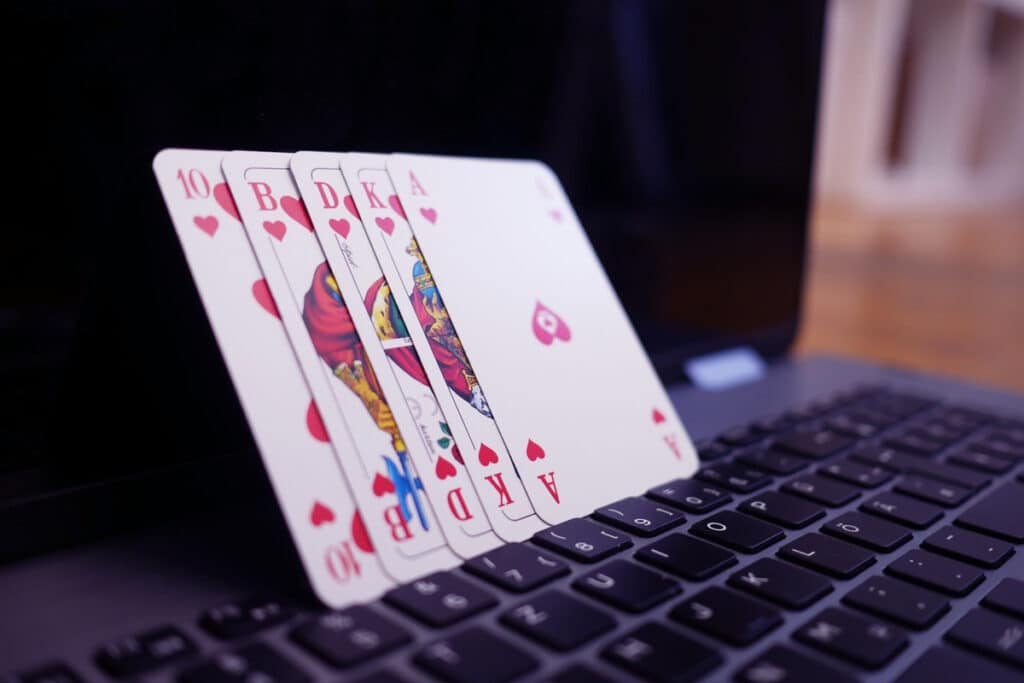 Can someone in your group not make it to poker night? Or maybe you're all in different cities or countries? You can still host an amazing poker night together, thanks to online poker! Online apps like Pokerstars allow you to create private tables just for you and your friends.
You can even bet money just like you could in person. With voice and video chat, it'll be like you're all in the room together! 
Bonus: Pop art poker night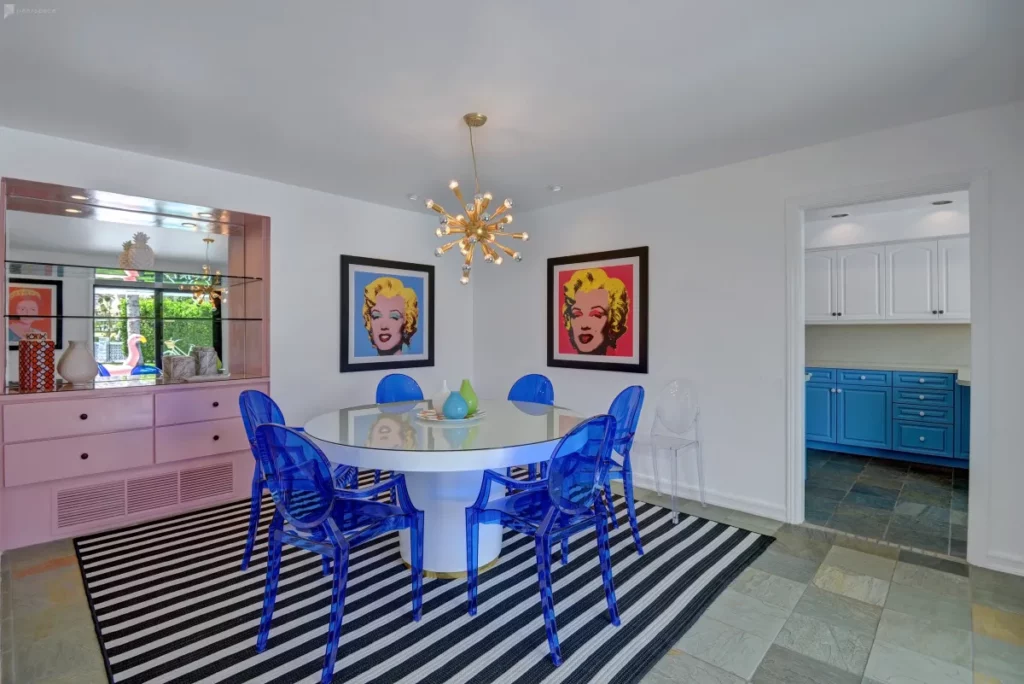 If you and your friends play poker regularly, you no doubt appreciate a change of scenery and maybe even a theme from time to time. Earlier, we mentioned James Bond, Gatsby, and Arabian Nights. But how about a Pop Art poker tourney? This is a more unexpected theme that can be a play on poker chips colors. Since the chips are most likely the most colorful thing at the table, why not replicate that in your surroundings? When you book a Peerspace pop art venue, you do just that with ease.
For instance, this Palm Springs MCM desert gem (pictured above) has a dining area perfect for playing. And let's not forget this DTLA pop culture penthouse adorned with colorful kitsch. They sure beat a smoky basement any day!
Poker night ideas: conclusion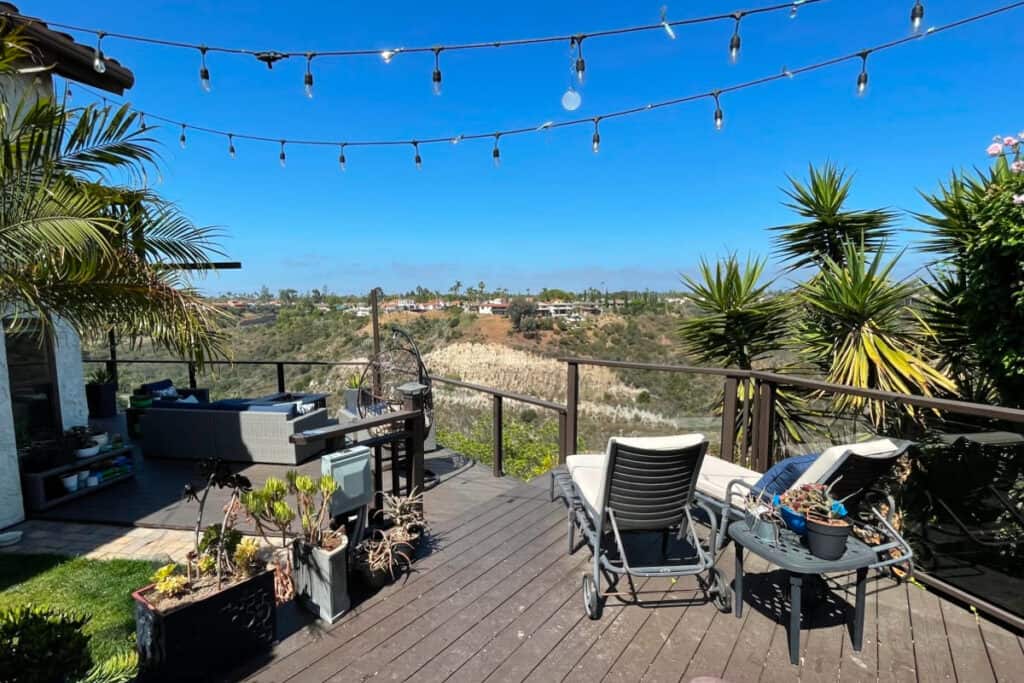 We hope this post has inspired you and your friends to try new poker night ideas and spaces! And when you rely on Peerspace to set the scene for your next poker night, you can be certain you'll be playing in a setting that suits your mood and your group's needs. Check us out today to see all the coll spaces available to you this and every poker night!