Kids are the hardest to impress because they are so honest. So when it comes to 10-year-old birthday party ideas, if it's not amazing, they will let you know. But planning the perfect birthday party doesn't have to be so difficult.
Often it may seem a mountainous task trying to narrow down a plethora of ideas and activities. We all have memories of awesome children's parties we attended when we were younger. But as a parent, we have lost our sense of wonderment that comes with youthful eyes.
So let Peerspace help ease the stress of planning by sharing some great 10-year-old birthday party ideas and conquering the quest for the perfect party. As the largest online marketplace for hourly venue rentals, we not only bring you amazing party ideas, but we also offer you access to amazing party venues. You can use our simple platform to discover and book a sensational kid-friendly space near you that your 10-year-old will love.
After browsing the list, don't forget to take it to your 10 years old for approval. Tailoring the venue and idea to your little one's dream will give them all their Christmases at once!
1. Book a party location with Peerspace
The beauty of Peerspace is that you can incorporate any of the below ideas into a unique and magical venue. From a pool party in an NYC mansion to a scavenger hunt through a Californian estate, it's available to book here.
Peerspace lets you customize the venue to tailor it to your little one's preference. A water gun fight can be enjoyable in a city backyard, but it would be more enjoyable on a beach resort or in a lush forest. Taking a mundane idea and creating something magical is what Peerspace is all about. No need to travel to the nearest Disney World for that youthful wonderment.
Plus, when you book a Peerspace, you can consult the venue's friendly host and see if they can help you round up all the party-perfecting extras. All Peerspace hosts are dedicated to ensuring your time at their property is amazing and can often source and deliver any additional goodies you request, be it catering, a performer, costumes; you name it. It's an easy way to eliminate a lot of the party-planning stress that comes with crafting the perfect 10-year-old birthday party.
2. Pool party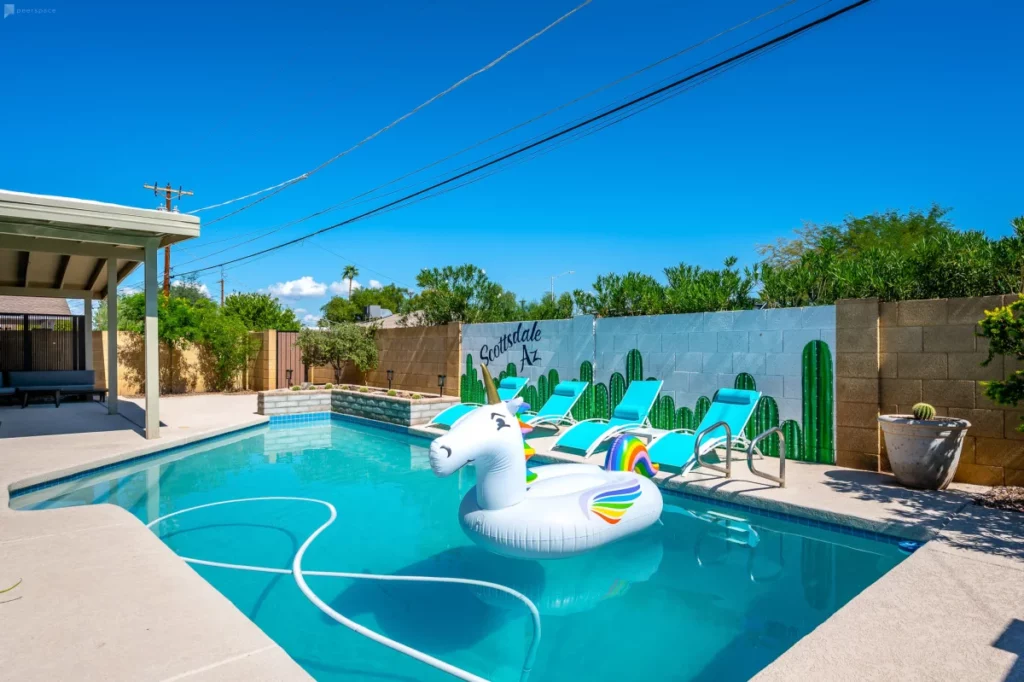 Pool parties are what summer, hot climates, and 10-year-old birthday party ideas are all about. And it's not just for spring breakers. Children enjoy playing with water toys, so pool parties bring a child's creativity to life. To kids, floating toys aren't just boring floating toys. They're pirates on a pirate ship set to conquest and explore the seven seas.
As a location for your 10-year-old birthday party idea, the pool can be fun for the children and relaxing for the parents. But that again depends on the chosen venue. After all, relaxing by a private pool overlooking the Miami beaches isn't the most stressful environment. And you can elevate the choice of venue by booking it through Peerspace.
Need a hand getting started? No problem!
Here are a few of our favorite kid-friendly pool rentals in cities across the globe:
And believe us, this is only a tiny glimpse of all the amazing pool rentals available to you through Peerspace! To search for the perfect pool to enhance your party, click the link and start searching.
With pool venues in cities across the globe to suit every style and budget, this is one of those 10-year-old birthday party ideas perfect for any kid!
Take this idea to the next level with our 13 fun-filled pool party ideas for kids!
3. Movie party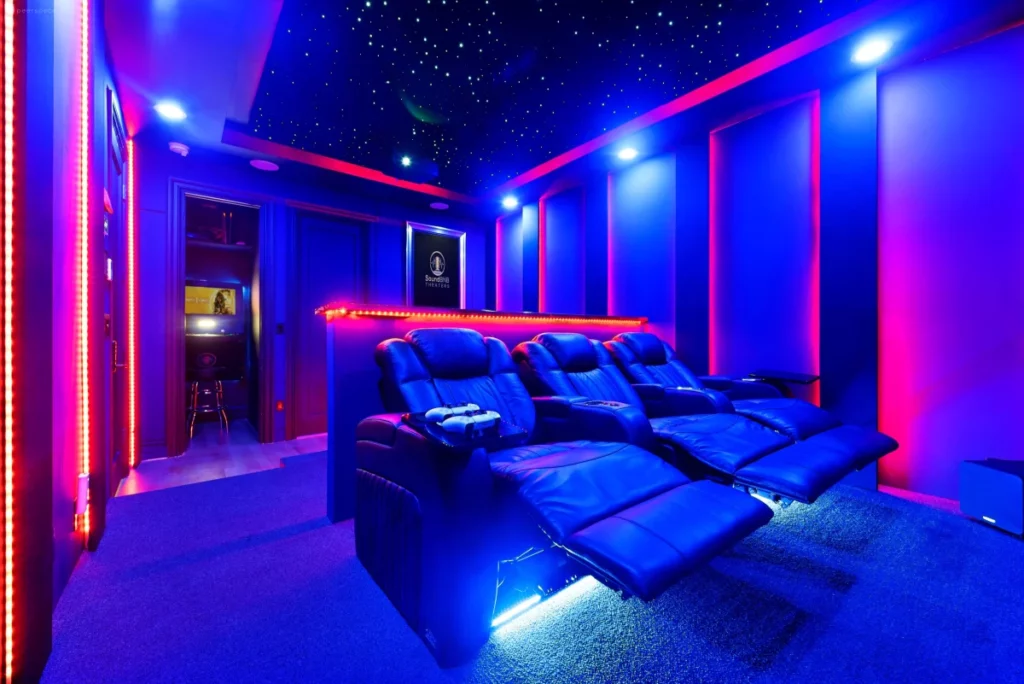 TV is the ultimate distractor for children. They enjoy the colors, the story, and the interaction. For a 10-year-old child, what is better than watching your favorite superhero swinging from the screen in a film fest? Transporting your children to a Disney theme park while sitting in your living room is something magical.
However, you may have to keep up with all the snacks and drinks required to feed those mouths. But at least you'll be able to corral them all in one safe, distracting space!
To make the most of this idea, you can rent this epic Sugar Hill starlit luxury home movie theater. This amazing home theater has room for 15, a 100″ screen, Dolby Digital surround sound, an Xbox Series X, a PS5, and an arcade cabinet. It's an amazing environment and can put the "magic" back in movie magic!
Don't forget to check out our movie birthday party ideas for more cinema inspiration!