This year, Energetiks is proud to have formed a new initiative, 'the Next Steps project', which encourages change and assists causes that impact the dance community. The first chapter of the Next Steps project has seen Energetiks focus our efforts on supporting The Rekindling Youth Program and Bangarra's Regional Workshops which has been crafted for the purpose of sharing and learning traditional stories, song and dance.
As part of this process, Energetiks are honoured to collaborate with contemporary First Nations artist Clara Trindall of Krubi Creative, a proud descendant of the Burra Burra and Burragorang clan groups of the Gundungurra nation. Her stunning artwork features as one of two designs offered on our limited edition Energetiks charity bags, currently available instore and online. 100% of the profits of all bag sales will be donated to the Rekindling Youth Program and Bangarra's Regional Workshops. We recently spoke with Clara to gain more of an insight into her art, process and experience as a proud descendant of the Burra Burra and Burragorang clan groups of the Gundungurra nation.
Energetiks: Tell us about yourself and your current artwork.
Clara Trindall: Hey Everyone, my name is Clara Trindall. I'm a proud descendant of the Burra Burra and Burragorang clan groups of the Gundungurra nation. I'm a part business owner of Krubi Creative along with my two sisters. We are contemporary First Nation artists. We started this business to become more connected to our culture and to share with others our rich and much-loved heritage!!
E: What is your first memory of painting/making art?
CT: My first memory of painting is in high school. I was in year 8 and was asked to enter an Indigenous art competition for my school, I ended up winning the competition and my art was put on a poster for NSW hospitals. This gave me a lot of confidence in furthering my natural creative gifts. There my teacher taught me about Aboriginal art and its importance to our culture. From there I changed to drawing/sketching and majored in Art in year 12. I've always had a creative side, I kept drawing and doing art as a hobby after I had completed school. Then I stoped it all and became a nurse. I started painting aboriginal art again about two years ago for my own enjoyment and to learn more about my culture.
E: We love that Krubi Creative combines the artwork of you and your two sisters, Emily and Sharon, Energetiks was also started by two sisters and their childhood best friend. Can you tell us a little about how Krubi Creative was formed and what it's like working alongside each other?
CT: First of all, it's incredible that I get to work alongside my beautiful sisters. We are a very close family! Growing up was great, there are 5 of us siblings so we had our own little tribe! We all just hung out with each other playing on the farm, bush walking and camping! It was great fun! Interestingly enough Krubi creative was never planned to be exclusively selling our art and art prints. We had always wanted to start an Indigenous-owned business, that would share our culture with others, but we never thought we would sell our original paintings. Our original plan was to paint our artwork then digitize and print it onto products such as clothes. When we started showing people our art, they loved it! People started asking us how they could purchase it. I truly never saw myself as someone whose art would be hanging on people's walls. That was it, we got so busy painting artworks that we haven't been able to make any other products yet.
E: What inspires your creativity and influences the artwork you create?
CT: We love learning of our Songlines, dreaming stories and even just the stories our family has passed down to us. These stories keep our culture strong and are present in many of our artworks in forms that take on our personal understanding of them. We love the sacredness art holds for our people and respect that it is a form of knowledge preservation, when we create art it is meaningful and carefully thought out. We are all drawn to nature and love incorporating significant elements that were and still are incredibly important to our people. This includes landmarks, plants, waterways, and even the sky and stars. I truly feel most at peace when I'm on a bush walk or camping in the sticks. I find most of my motivation comes from nature. There is always something to learn, and whenever we can we sit and learn from our elders, they teach us our culture and traditions.
E: You've said 'Wattamolla' depicts "the joy and sacredness found in the river systems and water, and the life it gave to our people." Could you share a little about the significance of water systems within the Gundungarra tribe?
CT: Our nation is incredible! It's part of the blue mountains region in NSW. It's scattered with beautiful waterfalls, rivers, waterholes and the Jenolan caves. Our peoples' survival was based around these waters. Waterways provided a stable food source, firstly by food within it and also from the many berries and plants that grew nearby it. Water provided hydration, and was used for bathing, washing, cleansing, healing and birthing. The Jenolan caves were a place of healing for our ancestors, many people would come to heal ailments through the mineral-rich healing waters "Nudyung" within the Gundungurra nation. Our oldest dreaming story even holds information on the waterways. It's the creation story of the waterways and some landscapes of our nation "Gurangatch and Mirragang" they were two large spirit creatures that fought throughout the land, creating both the waterways, valleys and significant landmarks as they went. This is a cherished, ancient story, that holds a huge amount of identity and belonging for our clan groups.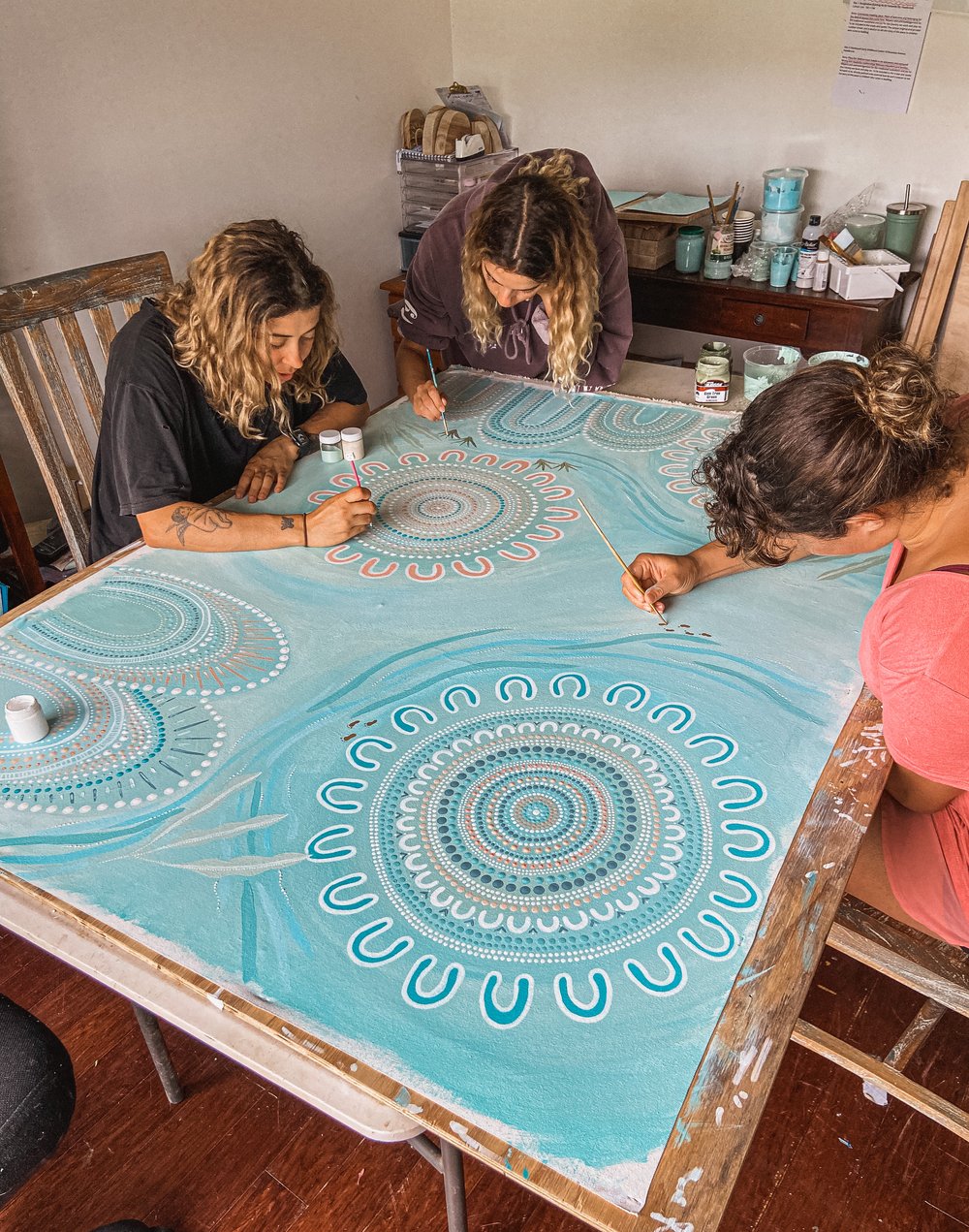 E: As dancers we're moved to tell stories with our bodies, similarly your artwork captures and reflects the stories of your culture, passed down through countless generations; what do you love about the medium of art/painting as a means of sharing your heritage and history?
CT: I really love using art as a form of teaching others and expressing my own emotions and feelings. It's an easy way to relate and captivate others and grow understanding and admiration for Indigenous culture. Art also acts as a physical reference to our stories and culture, lasting many years and viewed by many, it continues to tell its story, hopefully for many generations to come. I feel blessed that as a young Indigenous woman I get to share my culture and history through my art!
E: How can people support your work?
CT: People can support us by sharing our art with others or purchasing our artwork via our website. All our artworks come with an explanation about the artwork and it's meaning, this is to help educate others on our culture.
We are so excited to be able to help support Bangarra's Rekindling Youth Program and Regional Workshops with the proceeds from these bags, and we are honoured to be able to share your incredible artwork 'Wattamolla' as part of this, thank you.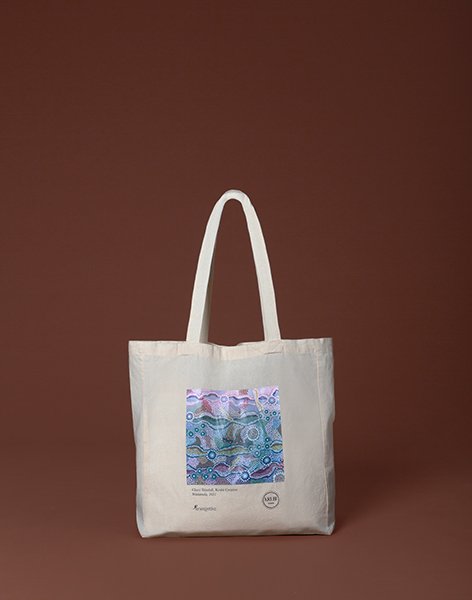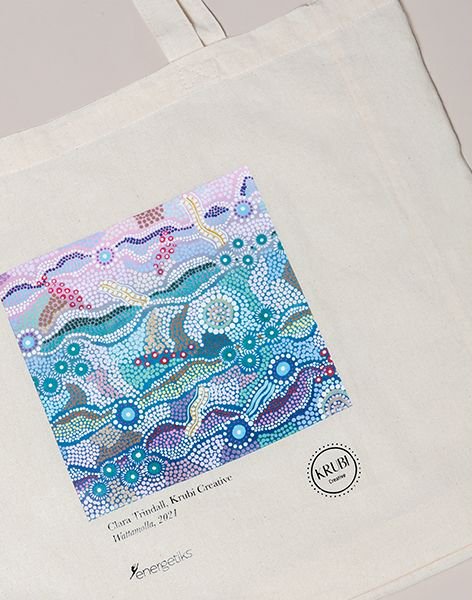 Purchase Clara's Next Steps Charity bag


Learn more about the next steps project here

Acknowledgement of Country
Energetiks acknowledges the Traditional Owners of the land on which we operate, the Wurundjeri People of the Kulin Nation. We recognise their continuing connection to country and pay our respects to their Elders past, present and emerging.
Article by: Lara Divitcos
Photography: Additional images by Energetiks
Read More: