Image Source: Getty / Elisabetta A. Villa
Laura Dern may have another whodunnit series under her belt. The seasoned actor is rumored to potentially appear in "The White Lotus" season two following her brief voice cameo in the premiere — as if the cast wasn't already stacked enough.
For viewers who may have missed her cameo in the Oct. 30 episode, allow us to refresh your memory. About 20 minutes into the HBO show's second installment, Dominic Di Grasso (Michael Imperioli) hops on a phone call with his estranged wife, Abby, who opted out of their family vacation to Sicily following his latest act of infidelity. Though Abby remains off screen for the conversation, Dern's voice is instantly recognizable during her character's profanity-laced tirade as she tells Dominic, "I'm honest, I don't keep f*cking secrets from my family. You should try it sometime." Each F-bomb is more piercing than the last as she refuses his apologies and warns him to never call again.
Although the voice performance remains uncredited on Dern's IMDb page, there are several signs she could wind up physically appearing in one of the next five episodes. For starters, Imperioli seemed to tease an in-person appearance while praising Dern's acting abilities on Instagram: "the absolutely magnificent LAURA DERN plays my wife in the new season of THE WHITE LOTUS," the "Goodfellas" actor wrote. "Although (so far) she has only been heard on the phone and not seen, her performance is a standout among many great ones in the 'White Lotus' troupe. LaDern can do more with voice alone than most can do with everything else. She's genius." Is it just us, or does his inclusion of "(so far)" seem to hint we haven't seen the last of Abby quite yet?
Plus, it bears mentioning that Dern has worked with "The White Lotus" writer Mike White before. In addition to cocreating the HBO series "Enlightened" with him, she also starred in his 2007 film, "Year of the Dog," so yep, they've got history.
If Abby does show up to the Sicilian White Lotus resort, we have some ideas of how it might play out. She could have a change of heart and decide she deserves a European getaway on her husband's dime to make him pay for cheating on her yet again. Abby certainly sounds vengeful on the phone, and racking up a hefty bill for poolside Aperol spritzes would be the sweetest retribution. Another possible theory: Abby arrives and kills Dominic after catching wind of his fling with local sex worker Lucia (Simona Tabasco). It'd certainly explain one of the mysterious deaths teased in the premiere. Or — and we're just spitballing here — Lucia could kill Abby after she shows up to mirror the legend of the Testa di Moro statue heads that are heavily referenced in the first episode.
An unannounced Dern cameo wouldn't be entirely out of left field following Molly Shannon's surprise appearance as Shane Patton's (Jake Lacy) mom in season one. Dern has yet to publicly address her role in the show, and HBO declined to confirm or deny the speculation about any possible future appearance when POPSUGAR reached out for comment. If she does waltz into the resort as Abby, clad in extravagant beachwear à la Renata Klein in "Big Little Lies," you better believe this will be Dominic's reaction: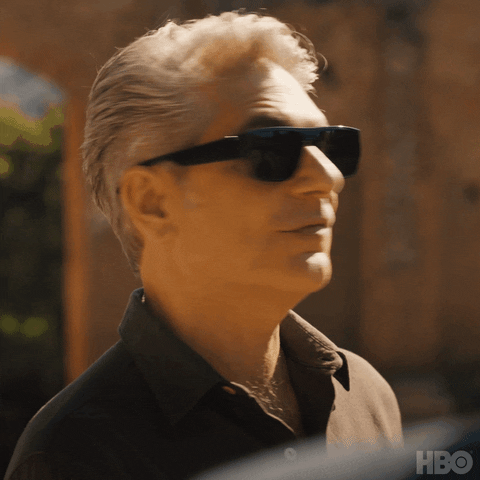 Image Source: HBO via Giphy