Image Source: HBO Max
Kat Hernandez fans are finally getting some closure nine months after Barbie Ferreira announced her exit from "Euphoria" after two seasons. Ferreira previously shared in August of last year that she would not be returning for the show's third season. Speaking with Dax Shepard more recently on the April 3 episode of his "Armchair Expert" podcast, Ferreira addressed subsequent rumors that she and showrunner Sam Levinson had experienced a falling out that caused her to walk off set.
"I actually did not walk off set," she told Shepard. "I did sprain my ankle once and had to go get an X-ray. Maybe that's what they mean." According to Ferreira, the rumored feud took on a life of its own, leading fans who encountered her in person to treat her like a victim of the season two story arc. "I'm always like, 'No, it's OK, promise. It's good,'" she said.
Ferreira added that the fan theories began to get out of hand, which is why she chose not to comment on her exit from the show sooner. "I kind of got sucked into this drama that I never asked to be in and that I've never talked about it," she said. "I'm of the mindset that if it doesn't exist I'm not going to address it because then I'm adding fuel to it." Speaking to fans, Ferreira added, "Don't believe everything you read."
"I kind of got sucked into this drama that I never asked to be in."
Instead, Ferreira revealed she left the series because she and Levinson struggled to align on
Kat's trajectory as a character. "I think there were places she could have gone," she said. "I just don't think it would have fit into the show. I don't know if it was going to do her justice, and I think both parties knew that. I really wanted to be able to not be the fat best friend. I don't want to play that, and I think they didn't want that either. I would've played her for as long as I was asked to depending on what the material was."
Looking back, Ferreira said it "felt good" to let Kat go. When she shared her announcement last year, the actor wrote a heartfelt farewell to her "Euphoria" character. "After four years of getting to embody the most special and enigmatic character kat, I'm having to say a very teary eyed goodbye," Ferreira captioned a photo of Hunter Schafer's Kat fan art on Instagram Stories. "i hope many of you could see yourself in her like i did and that she brought you joy to see her journey into the character she is today. i put all my care and love into her and i hope you guys could feel it. love you katherine hernandez."
With the "Euphoria" season three release date projected to be sometime in 2024, we can't help but wonder what the series will be like without Kat's badass energy, body-positive attitude, and the unique sense of power that she radiated each season.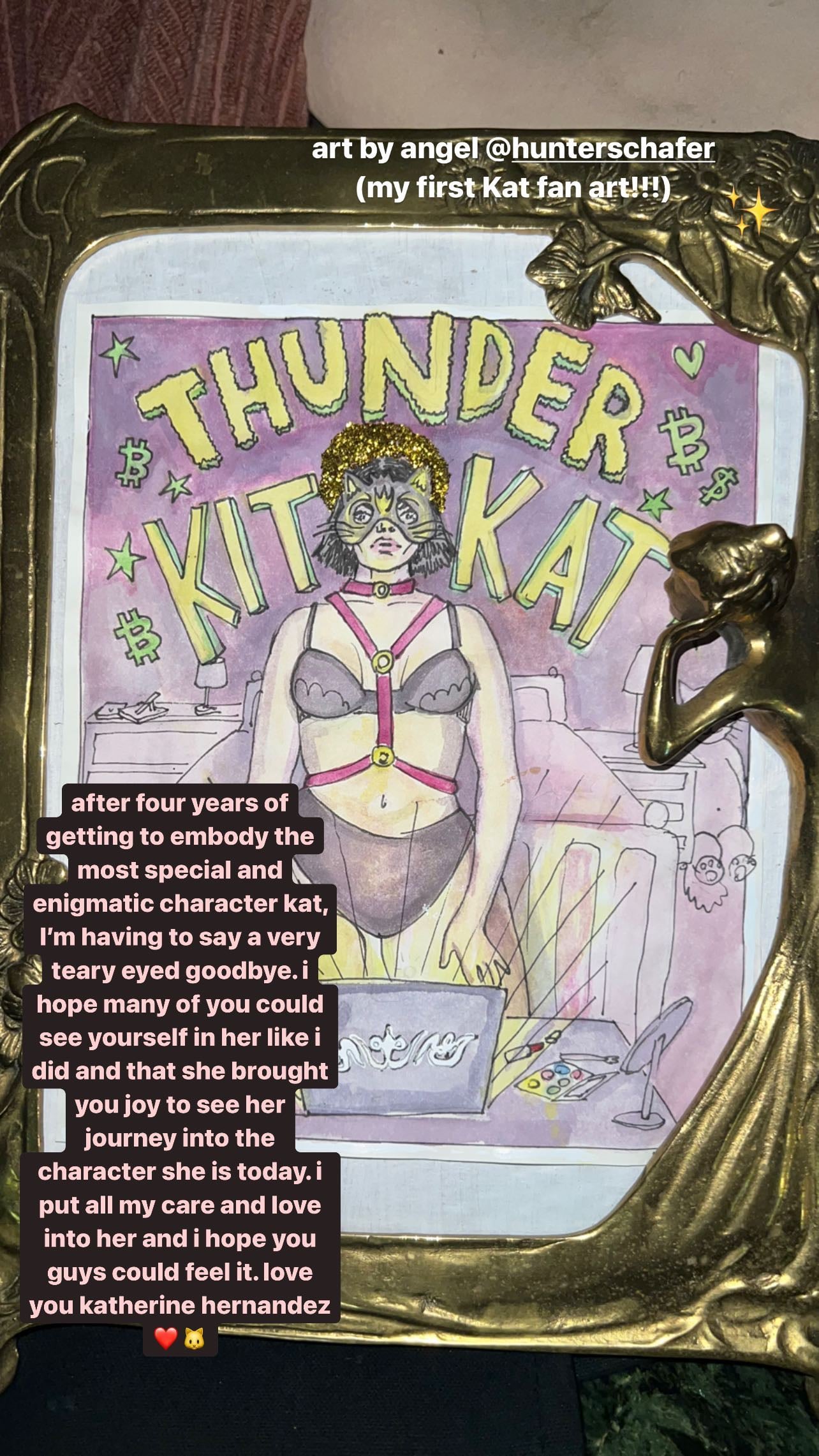 Image Source: Instagram user barbieferreira
During her two-season run on "Euphoria," Ferreira's character broke the traditional stereotypes, adding a depth and complexity to Kat that made Ferreira one of the show's standout actors. As Kat explored her sexuality and self-confidence, viewers were entranced by her tenacity. While Kat was still finding her way in the world, Ferreira managed to deliver a curvy character with style, confidence, and nuance.
Since wrapping her role on the Emmy-winning HBO series, Ferreira has been focusing on her modeling career and expanding her résumé. In 2022, the actor made a cameo in Jordan Peele's "Nope" alongside Keke Palmer and Daniel Kaluuya. Adding to her repertoire of horror movies, Ferreira is also set to star alongside Ariana DeBose and Arian Moayed in "House of Spoils," a supernatural horror film.