As Disney+ releases the six episodes of "Ms. Marvel" this summer, POPSUGAR has exclusive interviews with the cast and creators about making the show come to life. This week, director Sharmeen Obaid-Chinoy chats with POPSUGAR about episode four, "Seeing Red."
It was serendipitous: Sharmeen Obaid-Chinoy already had two Academy Awards under her belt — from 2012 and 2016, for her documentary shorts — and was thinking about moving into narrative work when her agents told her Marvel was looking for "Ms. Marvel" directors. Both her daughters were fans of the comics, and she thought it would be a great fit.
"I've been creating films and telling stories from around the world about women who have extraordinary abilities like working in healthcare and education and climate change in their communities," she tells POPSUGAR. "And I just think of them as superheroes without capes."
"Partition and the 1947 story is so ingrained in all of our lives. It's this big historical moment that we read about in our textbooks, but we've never seen it picturized in the manner that we are doing it in 'Ms. Marvel.'"
That approach to storytelling has lent well to Kamala Khan's journey in "Ms. Marvel." In early episodes of the series, fans learned that the origin of Kamala's (Iman Vellani) powers — which were activated by a bangle she believed to be a family heirloom — leads back to her great-grandmother Aisha (Mehwish Hayat) and the partition of India and Pakistan in 1947. Kamala's grandma Sana (Samina Ahmad) was separated from her father during a rush at a train station, but a trail of stars led her back to him.
Kamala learns more about her grandmother's experience in episode four. "The relationship between Kamala and her grandmother is so special," Obaid-Chinoy explains. "I've grown up with that exact same storytelling with my own grandmother."
"Partition and the 1947 story is so ingrained in all of our lives. It's this big historical moment that we read about in our textbooks, but we've never seen it picturized in the manner that we are doing it in 'Ms. Marvel,'" she says, pointing out that it remains one of the largest mass migrations in history.
Saving and elevating accounts of partition — which displaced millions — is something that's incredibly important to Obaid-Chinoy, who started an oral history project 15 years ago, collecting stories from people who lived through it. "Their identities are fractured because a part of them grew up in another country that they no longer have a connection to. And Kamala's generation does not have that same connection because they don't see that world," she explains.
Obaid-Chinoy wanted to use "Ms. Marvel" to tell the story of partition in a "personal way." She drew extensively from the oral-history archive, sitting down with the rest of the creative team to make sure they were telling the stories authentically.
She says that the heads at Marvel were totally on board with exploring this massive historical trauma through Kamala's story. "They've trusted the entire team," she explains. "Because Marvel brought so many authentic storytellers through the mix, not just in front of the camera, but also behind the camera and everyone who worked on location, through design, through costumes, [they] drew from their experiences that were very diverse. It really shows because this story is being told in the most authentic way that it could have been told."
"They were very supportive of telling the story in the manner that it deserves to be told," she says, explaining that Marvel agreed the story — which she calls "the first time when a major franchise visualizes partition" — needed "scope."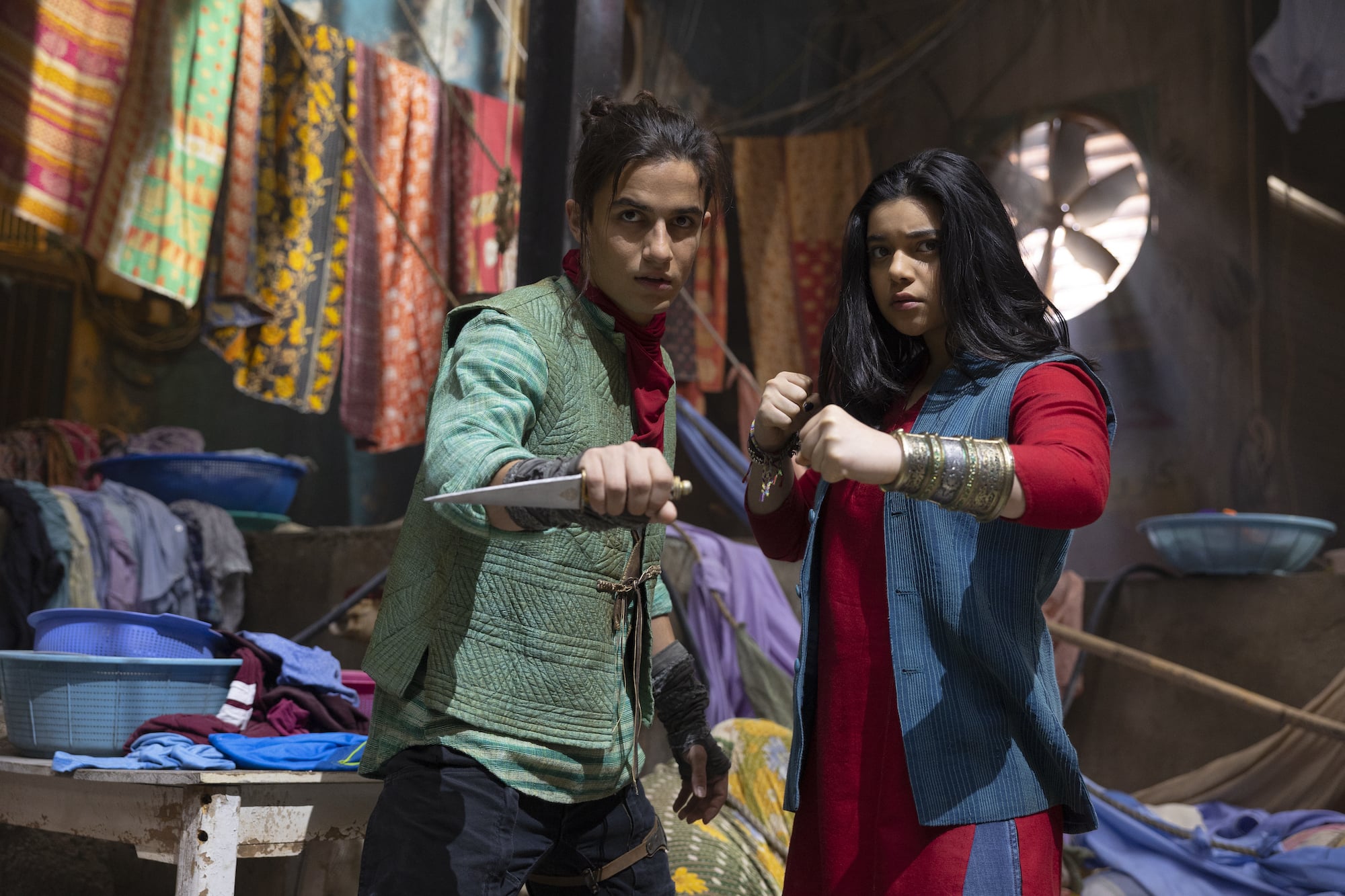 And scope is what viewers get at the end of the fourth episode, when Kamala seemingly time travels to 1947, to a train station where friends, families, and loved ones are separating for the final time due to partition. Obaid-Chinoy says viewers will have to wait until episode five, which she also directed, for specifics on how Kamala is visiting the time period, but the emotional weight of the moment anchors the end of the episode.
Obaid-Chinoy knew exactly how she wanted the scene to play out, and it's what ended up on screen. "She is walking on the platform. And there are these snatches of conversation that are taking her right back into that time period so that [viewers] can feel the anguish that people were feeling, the uncertainty they were feeling and what the mood was," she says.
"I love to throw myself in there. I love the challenge. I love the fact that we were going to a brand new country and that I had to rebuild the world."
"I wanted to take audiences into that as if they could understand what the father and son, the mother and the daughter, the two friends hugging [are going through]," she explains. "And I wanted to shoot it in a way where Kamala is walking and watching and the camera is going around and going around all of these conversations that then ends with her wanting to actually see what else is going on."
At the end of the sequence, Kamala climbs on top of a train, where she gets a look at the massive station, which is simply overrun by desperate people. The episode concludes with that last, heartbreaking visual. "It is how I would've wanted it to be ingrained in our historical pop culture," Obaid-Chinoy says of the sequence.
Episode four, of course, doesn't just serve as a history lesson. It also moves the story from Jersey City, New Jersey, to Karachi, leaving behind the settings and many of the secondary characters fans fell in love with in the first three installments. "I love to throw myself in there. I love the challenge. I love the fact that we were going to a brand new country and that I had to rebuild the world," Obaid-Chinoy says. "It did kick my ass, I have to say. I was working all the time. I loved it though."
The majority of the scenes were filmed in Thailand, though they did film some in actual Karachi. Obaid-Chinoy wanted to have the audience experience an authentic Pakistan through Kamala's eyes — the bright buses, the loud and colorful airport, the food she tastes, the things she buys on the street.
The episode also hones in on Kamala's relationships with her mom (Zenobia Shroff) and her grandmother. "At the heart of Kamala's story is the story of this family," Obaid-Chinoy says. In the earlier episodes, Kamala's mom was so hard on her for being creative and imaginative instead of grounded, and we find out why in episode four.
"I wanted it to be that Kamala's grandmother is quirky and she's eccentric, and Kamala's inherited part of that quirkiness and eccentricity," she explains. "Her mother, on the other hand, it seems to have skipped the generation." There is the moment where one of Kamala's mom's friends points out that she used to be the rebellious one, and Obaid-Chinoy teases that viewers will learn more about the background of that comment in coming episodes.
Kamala also meets the Red Daggers, a group of superheroes in Karachi. She connects with Kareem (Aramis Knight), a hero her own age. Obaid-Chinoy loves that Kareem is someone Kamala can relate to on every level, because their experiences are so similar. "She can just be a normal teenager," she explains. "And so they go to the beach together and they have this funny sort of banter that's going back and forth. She found an ally for the first time who really understood her, which is very different from what her relationship had been with Bruno or Kamran."
All of this is a lot to unpack for Kamala in the last two episodes, and viewers will have to wait until next week to see how it all plays out.
New episodes of "Ms. Marvel" stream Wednesdays on Disney+.