In our Q&A series POPSUGAR Crush, we get to know some of our favorite celebs' more intimate details — from their first celebrity crush to their best love advice. This month, we're crushing on "The Chi" star Jacob Latimore.
For the last five-plus years, "The Chi" has been a mainstay in Jacob Latimore's life. Truth be told, the 27-year-old singer and actor had a feeling the show would be a massive success from the very first table read with his castmates. "We were definitely like, it is possible," he tells POPSUGAR. "I feel like when you got a great group of actors . . . you're in good company with people who want to bring the best out in themselves, which brings the best out of you."
Latimore stars as Emmett in the South Side of Chicago–set coming-of-age series. As many viewers know, his character has had quite the journey over the last six seasons — from his cheating ways and baby-mama drama to now being a business owner and committed boyfriend and father. In season six, though, Latimore says "the stakes are a lot higher" for Emmett as he tries to balance out his business, family, and emotions.
"I'm learning a lot more. I'm still a growing young man."
"It's probably the most grown we've ever seen him," the actor notes. "He's really dealing with the most grown man stuff that he's ever experienced. And he may find himself isolated where he can't really go talk about everything to his girlfriend or his mother or his father . . . So we see him dealing with a lot and trying to maintain this empire he's trying to build."
Portraying such a complex and trouble-ridden character, Latimore says, has enlightened him in many ways in real life. "It's definitely taught me a lot about what type of relationships I want," he shares. "What my dos and don'ts [are], what are my real boundaries, what's my real edge in a relationship, what am I not going for . . . When I read the script I'm like, 'OK, yeah, actually Emmett is different from Jacob with this one right here.' It's been a lot of those moments, but it only challenged me to be a better actor because it just shuts down my ego. . . . I'm learning a lot more. I'm still a growing young man."
Being part of "The Chi" has been a pretty fulfilling experience for Latimore. He says his castmates, whom he calls family, "try to hang out as much as possible" even when they're not working. "Me, Luke [James], Rolando [Boyce], Joel [Steingold], Curtis [Cook], we all got a little fitness group chat. . . . We keep this camaraderie of pushing each other to keep going and get better in our personal lives,' he explains, adding that that bond gets a special spotlight in season six, which premiered on Aug. 4. "There's some scenes that we'll see in season six that allow all of us to express those emotions, and we were able to do that in our personal lives in between filming."
Latimore says the cast found ways to have fun while they're out filming in Chicago, too, like having nerf-gun fights on set: "We bought some Nerf guns, and everybody was around the trailers in between scenes just having Nerf wars. That was cool."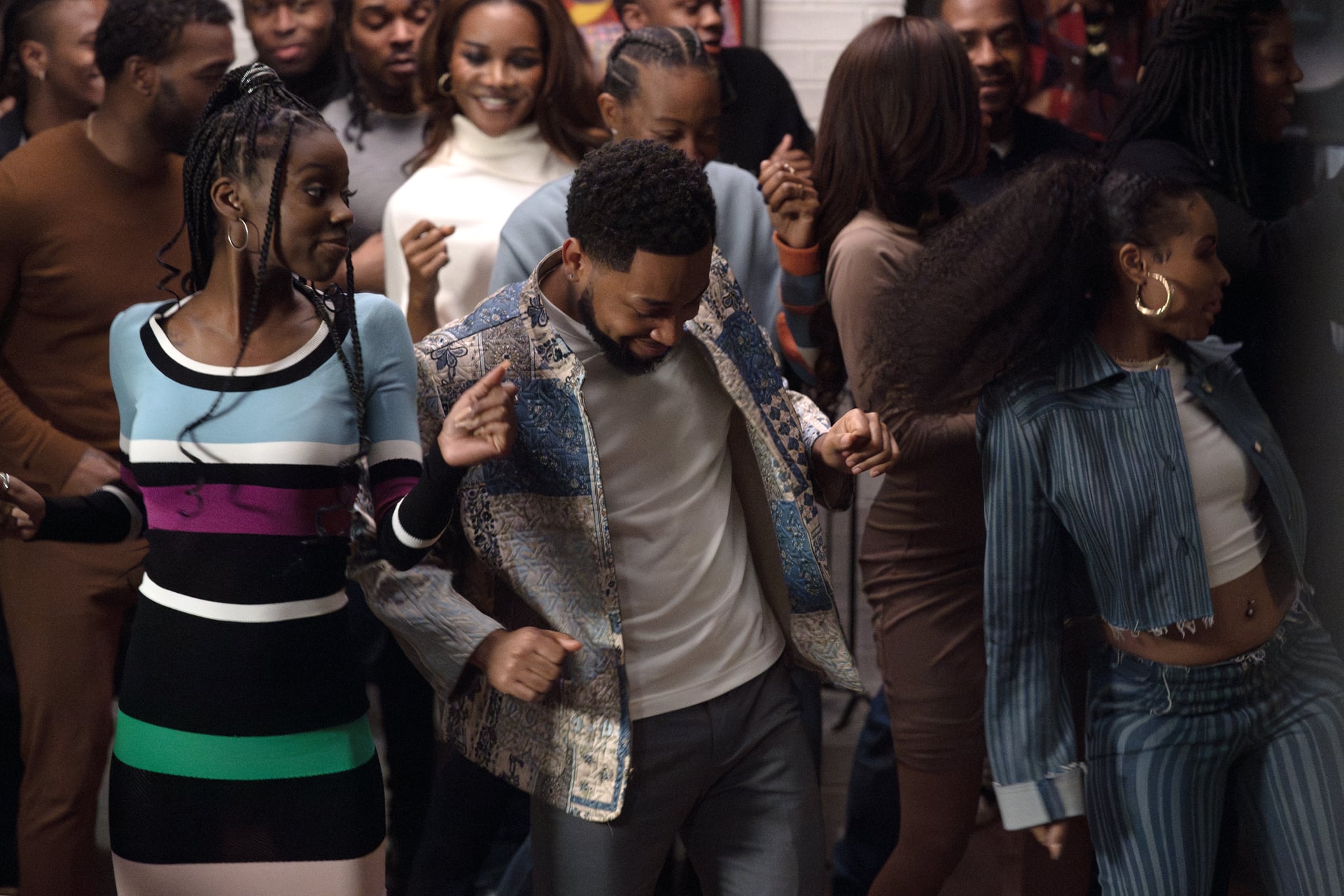 Though Latimore's Showtime series may pause the back half of its 16-episode season due to the ongoing WGA and SAG-AFTRA strikes, the actor says he plans to keep busy with other projects, like new music. "I got something in the vault," says Latimore. "I want to put out really great music with great visuals and just literally disappear right after. I want to show myself that I still got that in my abilities." He says he's made pivots to other endeavors, too, like entrepreneurship: "I think this is a great time for a lot of young actors to start thinking about the other avenues in their career while this [strike] is happening."
For now, though, "The Chi" fans can keep tuning in to season six to keep up with Latimore, as he says the show gets "a little bit more grittier" this time around. Keep reading to check out the rest of Latimore's POPSUGAR Crush interview.
Who was your first celebrity crush?
It was between Christina Milan and Meagan Good as a kid. I remember watching "Love Don't Cost a Thing" like a thousand times and "Roll Bounce" a bunch of times, too. It's weird to say that now because I know Meagan and I met Christina. It's just different. I'm an adult. I don't even think the same, but that's definitely how I was as a child.
What's your signature scent?
Mahogany Teakwood.
What's your go-to drink?
A cool pineapple juice. And if we get lit, we add some tequila to it later.
What are your dating red flags and green flags?
Hygiene is huge for me. I look at teeth, feet. I like a very girly-girl — nails done, flossing, skin right. So if it ain't there, that's a red flag for me. The green flag would be god-fearing, for sure.
What's your idea of a perfect date?
Honestly, it don't really even matter where we go. I think it's really all about conversation and good energy. But the first thing that comes to my mind would be a dine-in movie theater. Something where we could eat, drink, watch a film, have a little conversation.
What's your go-to movie-night movie?
Marvel or DC, maybe "The Dark Knight."
When you're not working, what do you do for self-care?
I love to go to the gym. Just sit down and stretch a little bit. I love to bump some meditation music throughout the house, put down my phone, and sit in the quiet for a little bit. I love being home. Home is vacation. Just being [there] is self-care in itself 'cause I think we feel like we got to be out and about, we're missing out on this, but ain't nothing like the crib.
Three things you can't live without?
My phone, my house, and my daily devotional book.
What's the most romantic thing you've ever done or that somebody has done for you?
Most romantic thing I've ever done is rent out a skating rink and had our friends and family there. It was for a birthday. And then the most romantic thing that's ever been done for me, coming back home and it was rose petals and bags.
What's the best love advice you've ever received?
It's all been very different along the way, but I guess I've heard to make sure you always continue to love yourself, whether you are in a relationship or you're single, because I think that's going to push you forward.
This interview was conducted before the SAG-AFTRA strike began on July 14.