In our Q&A series Last Call, we get down to the bottom of every last thing with some of our favorite celebs — from the last time they were starstruck to the last song they listened to. This week, it's Fin Argus.
For Fin Argus, one of the best parts of filming the recently released "Queer as Folk" reboot was spending time in New Orleans, where the show takes place. "It's the coolest queer scene I've ever been a part of, and people are so expressive there," they tell POPSUGAR. "It's an environment where weirdness is encouraged. And that, for me, is really exciting because I've always been a bit of an off-kilter person, and so I felt, like, I immediately fit in there, which was a brand new experience for me."
"While it was still the South and I was running into homophobia and transphobia basically every day, I also felt this sense of safety in the fact that I knew I had queer people or allies all around," they explain. "New Orleans is a really progressive and beautiful place. It's a beacon of queerness in the middle of Louisiana."
"I love a challenge, and I got to researching and immediately when I got to New Orleans, I was welcomed with open arms by the drag community there."
In the new "Queer as Folk," now streaming on Peacock, the show moves from Pittsburgh (where the original American series was set) to the Big Easy, and the city's LGBTQ+ culture shines through the screen. Argus plays Mingus, a nonbinary teen who's still figuring things out. In the first episode, Mingus has a debut performance in drag, but the moment of glory is interrupted by a shooter who attacks the gay bar. The rest of the series focuses on the characters as they cope with the grief and trauma in the aftermath.
Argus says series creator Stephen Dunn told them about this plot point immediately: "It's really important to him bringing light to that storyline and watching how people unpack their respective PTSD and heal and build community after a tragedy like that," they say. "A big part of why this show's being reimagined is to bring light to the harsh reality that queer people face, and that reality is oftentimes aggression and violence, especially in more conservative areas."
"What this show does is it gives you a chance to look past that inciting incident and see the humanity in all of these beautiful and human characters," Argus says. "We laugh our way through pain a lot of the time and cry our way and hug our way."
Argus actually heard about the show straight from Dunn. They'd watched a movie he directed, "Closet Monster," and fell in love with it. "I decided to reach out to him on Instagram, not even realizing that I knew him already and we were actually neighbors," they say. "I was like, 'This is the guy who walks his adorable little chihuahua past my house every morning.'"
They started to hang out, and Argus showed Dunn some music and videos they had made. Dunn felt the vibe was perfect for Mingus and asked them to read for the role.
Argus says drag wasn't on their radar before they booked the part. "I was like, 'Wow, this character is so fun. Will I be able to pull off a drag performance?'" they explain. "But I love a challenge, and I got to researching and immediately when I got to New Orleans, I was welcomed with open arms by the drag community there. Laveau Contraire, Virginia SlimJim, Visqueen, Hugo Gyrl — there are a bunch of queens that really embraced us as a production, and then me specifically as this booger drag queen just trying to learn the ropes." On the show, Mingus develops as a performer, and Argus says they were on a parallel process. They actually started performing in drag off-set as well. "And I am now in love with drag, and I'm still doing it," they say.
The trauma of the shooting and the joy of drag performance came together for Argus — and Mingus — in a final drag performance for the character. "It's this really climactic and cathartic moment for Mingus," Argus explains. "Basically, it all culminates in this one moment where they give this house down drag performance, and it ends with them sobbing on the floor."
"That was really difficult to play and it was exhausting, but I'm really proud of it. And it was also just so much fun, because it ends in this moment of uninterrupted joy," they explain. "The performance ends, and everyone starts dancing with each other and smiling." Argus gets emotional just thinking about it, tearing up. "That's the joy that all queer people deserve."
The show spends one episode following the cast during a Mardi Gras parade, and Argus got to experience the joy of New Orleans Mardi Gras in real life, too. "I didn't think I was going to like Mardi Gras because I don't really usually like partying that much," they say. But they were surprised it was less of a go-hard, drinking atmosphere and more of a community moment of celebration. "Everyone is dressed in these fun costumes, and everyone just wants to give each other a hug. It was so nice. I loved Mardi Gras. What a magical day," they say.
One of their favorite moments came a few days before Mardi Gras. "There's one day that is the House of Barkus, which is basically just a dog parade, and it was the most heavenly experience of my life," they say. "I walked out to get my coffee in the morning, and there were adorable dogs everywhere."
Keep reading to see what else Argus has to say about their "Queer As Folk" costars, their reading list, and more.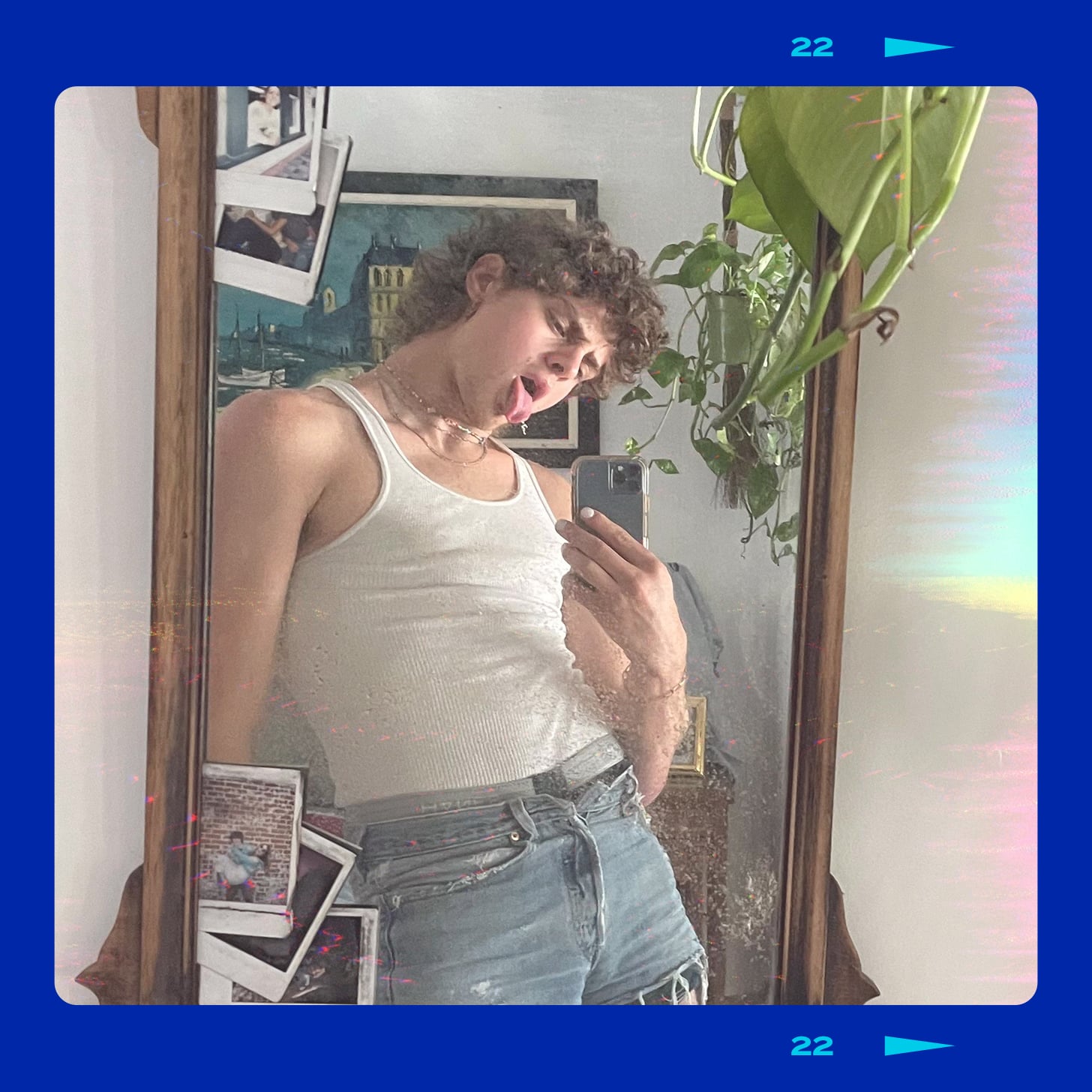 What was the last day on the "Queer as Folk" set like?
The last day we were all filming together, it was this scene where we're all walking into Babylon in the last episode. . . . We were just blubbering messes. We were all sobbing, snot-nosed. We took a bunch of adorable photos. It was very exciting. And it was a long shoot, too, so it represented a lot. I feel like every single one of us changed so much and learned so much about ourselves through the process of filming. Not only was it exciting to wrap the show, but we were also just feeling all these personal journeys getting tied up. It was a special, special day.
Who was the last "Queer as Folk" costar you texted?
Probably Chris. Chris Renfro plays Daddius, and they are my best friend. We became super close during filming, and they're still my best friend.
When was the last time you were starstruck?
I was recently at the GLAAD Awards a couple weeks ago, and I've been binge-watching "Drag Race" like nobody's business. I had just finished watching the season where Yvie Oddly won. I was walking the red carpet, and then she walks past me, and I literally was like, "You're so cool." And she said, "Thanks." She's very nice. Very nice. But I was genuinely starstruck.
What is the last photo in your camera roll?
The last photo on my camera roll is of me and Ryan [O'Connell] doing press.
What was the last show you binge-watched?
"Drag Race." Like I said, obsessive. But I've also been watching "Summer Camp Island," which is this cartoon on HBO Max, and it is so calming and wholesome, and it's just the best color palette.
What was the last movie you watched?
"The Cat in the Hat." That movie is amazing, and I'm not even kidding. Not even in an ironic way. It is just straight up good.
What was the last book you read?
Right now I'm reading "Just by Looking at Him" by Ryan O'Connell. But I just started that. The last book that I read from start to finish was "On Earth We're Briefly Gorgeous" by Ocean Vuong.
"Queer as Folk" is streaming now on Peacock.
Image Source: Courtesy of Fin Argus