It feels like you're constantly on the move. Whether you're carting the kids around on the school run, buying groceries to feed your family for the week, or transporting the tools of your trade back and forth between jobs, it's very easy to reach for the car keys out of habit. 
Yet you're also stuck in traffic, or struggling to find a parking space. You're regularly reminded that our climate is changing, that we're driving too much, and you're encouraged to use active travel as an alternative. You know there are plenty of arguments in favour of getting around by bike these days, but the practicality of it can feel like a barrier. While you may want to do more by bike, you've got things to carry, so how can that really work?
Ditch the car for shorter trips
That's where a cargo bike like the Raleigh Stride comes in. Designed to be practical and sturdy, it lends itself well to almost everything your family needs. Doing the school run by bike not only allows you to explore the traffic-free routes around your neighbourhood, but it's fun for the kids too. You can deviate from the main roads, cut through the park, get some fresh air and reconnect with nature.
The large cargo space can carry up to 80kg and is generous enough in size to fit two children, plus the weekly shop. It's compatible with Raleigh's Stride Toddler Bike Seat too, so your littlest one can be perfectly safe, and you can also get a rain cover for when the British weather strikes.
With a 500Wh Bosch battery and the capability of travelling up to 40 miles on a single charge, you can make multiple short journeys throughout the week on the Raleigh Stride, while still having plenty left in the tank. That means in addition to the school run and shopping for groceries, there are plenty of other jobs it can help you do, whether that's running small errands or visiting your allotment, to bigger things like taking your musical instrument to band practice, carrying the tools of your trade, or even cycling your BMX to the pump track. The possibilities are endless.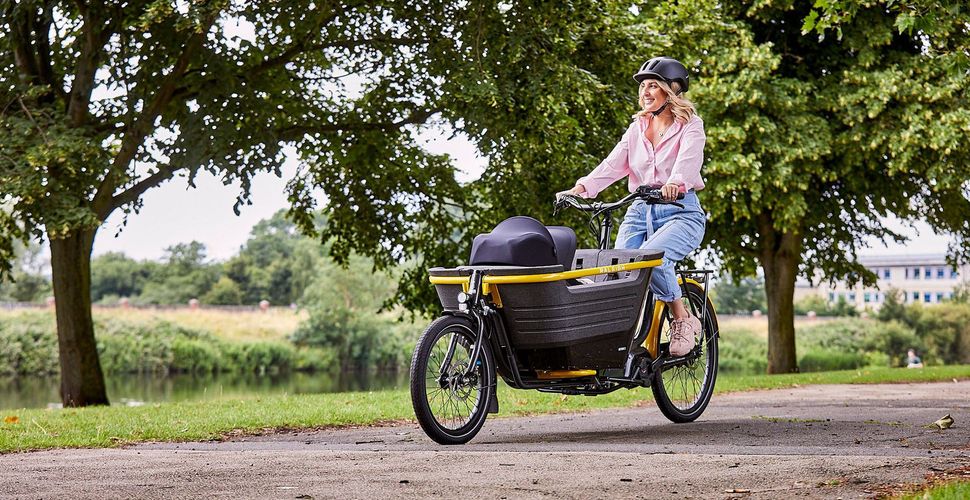 Pedal away the stress of rush hour
There are many reasons to take up more cycling, even swapping out your car (or second car) for a cargo bike. In the UK alone, over the past 50 years the number of households with two cars has increased by 25 per cent, and that number is likely to keep growing. On top of that, 55 per cent of British journeys under five miles are made by car or van. With more motor vehicles on the road, the amount of time you're likely to spend sitting in traffic and searching for parking is also on the up, so why not opt for the alternative?
Swapping out your car for a cargo bike like the Raleigh Stride is easier than you think, and offers you more opportunities to exercise, improving your health, extending your life expectancy, helping to support the NHS. The weekly recommendation for physical activity is 150 minutes of moderate exercise per week, which works out at around 30 minutes over five days. This is really achievable if you're doing the school run by bike, for example. 
The Raleigh Stride comes with a Bosch motor to provide electric assistance, so while you'll still need to pedal to operate it, you can also get a boost when you need it. Don't let a challenging hill stop you, and even when you're fully loaded, that electric motor will help you get moving quickly, without feeling the true weight of what you're carrying.
In addition to physical wellbeing, cycling has been proven to be great for mental health, namely because it gets us outside and helps us to reconnect with our natural surroundings, while the physical activity can be an excellent stress-buster and mood-lifter.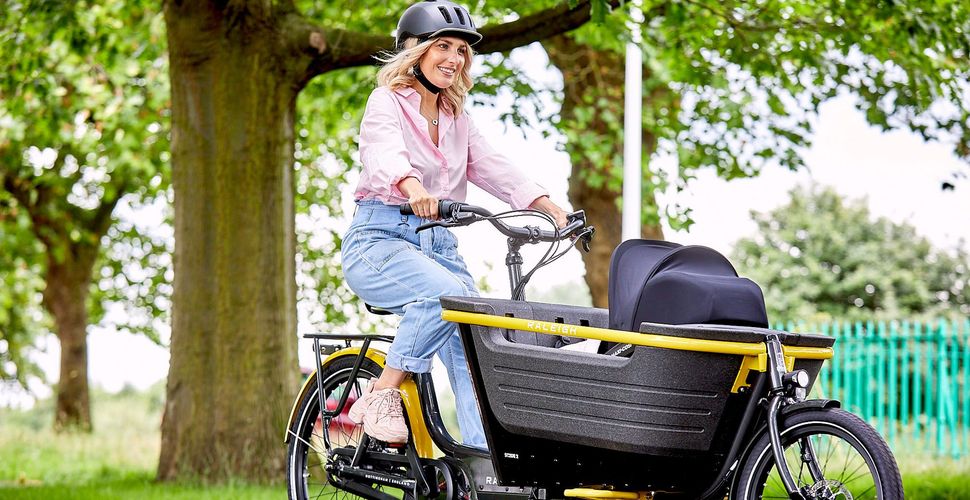 Saving money and the earth
According to the RAC, the average cost of running a car these days is rocketing. In addition to the recent spike in fuel prices, drivers are experiencing a 50-plus per cent rise in the cost of insurance, maintenance and parking.
So if soaring costs are a concern for you, making the switch to two wheels could be your saving grace. Cycling UK has provided a huge amount of information about how to save money by cycling, from the upfront costs associated with buying a car versus a bike, to ongoing maintenance, fuel and insurance.
In terms of money, another benefit to cycling instead of driving is that our journeys will be more likely to stay close to home, which is great for the local economy. Loading up your Raleigh Stride with groceries bought from your nearest high street will directly support small, independent businesses and keep your money in the local area.
It's not just the local economy that benefits either, but the planet as a whole. We're all well aware of the effects of climate change, so if there's a way to help cut carbon emissions while still getting from A to B, it should be a no-brainer.
Choosing active travel over driving reduces the amount of harmful emissions that contribute to pollution, making our air more breathable, our streets cleaner and less noisy, and the outdoors a much nicer place to be for kids and grown ups alike.
 Why the Raleigh Stride is the ideal second vehicle 
If you've been thinking about getting a second vehicle for your household, look no further than the Raleigh Stride cargo bike. On top of its 40-mile range, 500Wh battery and powerful electric assist, it's got a whole suite of well-considered features.
The Bosch Performance CX Cargo Line motor is specifically designed to work with heavier loads and adapts accordingly to the weight it's carrying. This means even with a fully loaded front, it's easy to get going from a standstill.
The low-step frame makes it easy to mount and dismount for most able-bodied riders, even those with limited mobility, while the Raleigh Comfort grips and Selle Royal Orbis Zonder saddle offer a smooth and comfortable ride.
Built-in lights mean you never have to worry about being caught out after dark, as you'll not only remain visible in traffic, but also be able to light up your way. The Stride also comes with mudguards, an essential accessory for the British weather, as they'll help you to stay dry when the roads are wet. Meanwhile, there's a pre-installed rear rack for extra carrying capacity, an integrated kickstand to keep the bike sturdy and upright while loading and unloading, and a built-in rear wheel lock for added security.
Finally, the Stride comes with hub gearing, which means it's low-maintenance, while Magura disc brakes will provide ample stopping power.
The Raleigh Stride 2 family cargo bike costs £4,395 and is compatible with a range of accessories so you can customise it to suit your needs. Purchase directly from Raleigh.