Borders were just starting to creak open in Australia in 2022 for international cycling, but Blake Quick still managed to make a big mark as he charged to the overall victory at the Bay Crits with a clean sweep of both stages. He also swooped to victories at the Australian National Championships U23 road race and the criterium and added a sprint stage win at the Santos Festival of Cycling. 
There was no doubt the Queenslander was fast. It was speed that transferred from the track to criteriums, and with that national title, Quick also proved he had staying power on the climbs. 
From that January, it seemed clear he would be turning professional, the only real question remaining being with who? 
That question was answered in July when Jayco-AlUla announced it had snapped up the Brisbane-born rider, who will slot into lead-out duties for Dylan Groenewegen. As a sign of the team's respect for Quick's abilities, they were talking about him as an option to lead the team's "B" sprint group as well before he had even had a single race with the team. 
Cyclingnews caught up with Quick while he was racing in Australia this season, turning himself inside-out to deliver teammate Brenton Jones a pre-retirement victory at Citroën Bay Crits and then coming second in the criterium at the National Championships behind fellow Jayco-AlUla rider Kelland O'Brien. The 22-year-old then headed off to a team camp to prepare for his first European race with Jayco-AlUla, the five-stage Volta a Comunitat Valenciana, which started Wednesday. 
Cyclingnews: Where did cycling start for you?
Blake Quick: I actually started in triathlon. My coach was a cycling coach as well. He kind of pushed me in the direction of cycling, he said, 'look, you're pretty good at this'. And then he put me in contact with some of the guys from the QAS (Queensland Academy of Sports), and then we got on the track a bit and then a bit more of the crits, and it all started there.
CN: When did you decide this was the sport for you?
BQ: I was probably about 13 or 14 when I started cycling, and then yeah, I wasn't serious until I was about 16. The track was where I initially started to excel. I had really good support there from the QAS, and all my old coaches from the QAS really did a great job with me, to push me along. And then on the road, it didn't really start until my first year under-23 when I got picked up by St George (an Australian-based Continental cycling team).
CN: So then you did quite a bit of international racing and pulled in some seriously decent results given you had just started.
BQ: I started off with a bang, really. My first UCI race was New Zealand Cycle Classic, and I got third place there (on stage 2). And then, I went to Langkawi, which was my first HC back then. I think I got two third places there, which was massive for me [ed – he actually undersold his achievement, it was two second places]. And that's where it all started.
CN: How did the COVID pandemic change your plans, with everything shutting down after being on such a high in 2019?
BQ: It did put a big dent in my morale. I really wanted to have a good mid-year 2020 in Europe, and I had quite a slow start to 2020 and then COVID kicked in and it all shut down again. Then I took a step back towards the track because it was kind of what we could manage after everything started open back up and there was no international racing on.
CN: You managed to squeeze in more international racing than most during that period, were you really at a point where you thought you needed to keep pushing hard despite the degree of difficulty?
BQ: The thing that made me believe was when I saw one of my best mates, Luke Plapp, make that shift up to that next level and, and once I saw him do it – we are obviously very close and he's one of my best mates – so I thought if he can do it, I can do it. And then I had this blistering summer last year, a few decent results in Europe but I had a fair bit of bad luck with races being cancelled, illness injury and all that good stuff but yeah, I still manage to get a few good results.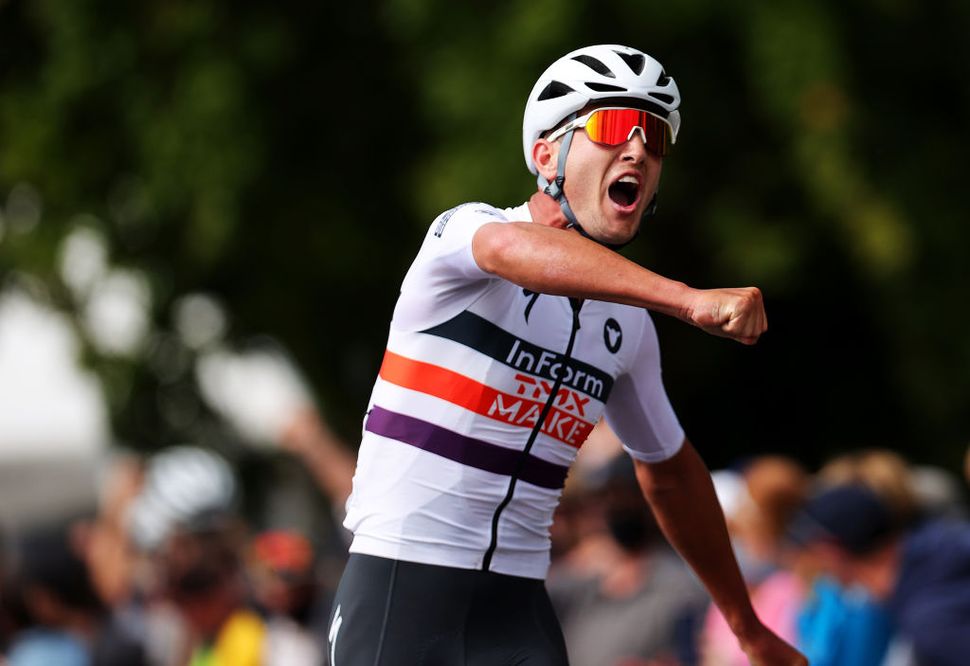 CN: What does it mean to now have that contract and will be lining up with Jayco-AlUla?
BQ: To me, personally, it's massive. It takes an extraordinary amount of effort and sacrifice to get there, and to have done it, which a lot of great bike riders haven't, means a lot. And for me personally, I think I'll fit in quite well – the Australian team with that other lead-out train, the 'B' sprint team, and I'll go to a few races with them as the main lead sprinter. And I think this year will be mainly about development and getting in tune with the team, and working out how to execute everything. The move to Europe complicates things as well, you have to change a lot to be able to make it work over there, so that's what this year will be about. 
CN: How much of a confidence boost was it to have the team talking about giving that sprint opportunity straight away?
BQ: That's a huge confidence booster for me. Obviously, you kind of go in feeling like the small guy and the underdog, but for the team to say, we want to send you to races and give you the opportunity, it does mean a lot, especially when there's a lot of really good bike riders on the team. 
CN: What would you like to be able to say you've achieved when you look back on this year?
BQ: I would love to win a race, at least one, hopefully, more than one… But I guess the bottom end of a successful year would just be to have settled in, had a really good consistent year and ticked all the boxes the team has wanted me to tick along the way.