From the Tour de France and Paris-Roubaix to the GP Kranj and Tour of Estonia, every bike race around the world has one thing in common – the feed zone.
Positioned along the course of every race in professional cycling, the feed zone is a key point of the race often overlooked by fans – it's not a high-mountain climb or a steep hill where riders can make a difference, but its unseen effects still have a large influence on the action.
Team soigneurs race away from the start to position themselves at designated points during the route, ready to hand out drinks, energy gels, food, and snacks for their riders so they can stay fuelled throughout the hardships lying ahead on the course. With Grand Tour riders burning through up to 8,000 calories per day, it's no surprise that the feed zone is such an important part of the course.
The process, on its surface a calm handover of nutritional and energy-giving snacks to the riders, is in reality a short sector of organised chaos during the race. Handing over packed musettes to riders speeding along in the peloton comes with its own potential pitfalls including missed feeds, or in the worst-case scenario, crashes.
It's a place that can make or break a rider's performance on the day, though it's a far cry from the very early years of cycling when musettes and soigneurs at the side of the road weren't a thing. Thankfully, riders don't have to stop at cafes along the route or carry their food from the start of stages anymore.
Today's feed zones can be a chaotic and hectic place, with soigneurs battling to get food, gels and drink to their riders. After setting up in the feed zone – in a slightly uphill section of road and with a minimum of 50 metres allocated per team, per UCI regulations – team staff fill dozens of bottles and musettes ready to hand over.
All staff must wear team kit in order to be easily identifiable to their riders, though with several modern team kits looking so similar, some teams choose to switch up the colours of their musettes – Ineos Grenadiers' brightly colours musettes in recent years are a memorable example.
Those handing out food and drink to riders have to stay on one side of the road, a maximum of a metre from the side of the road, a couple of ways to keep the feed zones predictable for all riders in the race.
Despite that, disaster can still strike at the feed zone. During stage 8 of last year's Tour de France, Groupama-FDJ rider Thibaut Pinot was hit in the face after riding into the outstretched arm of a Trek-Segafredo soigneur. He was visibly shaken but got going again.
At the 2018 race, EF rider Lawson Craddock suffered a fractured scapula and a deep cut above his eye after crashing in the feed zone on the first day of the race. He famously battled on to Paris in last place, raising money for charity along the way.
During the race, his directeur sportif Charly Wegelius called feed zones "one of the most dangerous parts of the race." He added, "It's kind of amazing that these incidents don't actually happen more often."
Thankfully they don't, and incidents like Craddock's and Pinot's are few and far between. Hundreds of riders navigate feed zones safely every day, while there's also the option of dropping back to the team car to take on bottles and gels, too.
What's in a feed zone musette?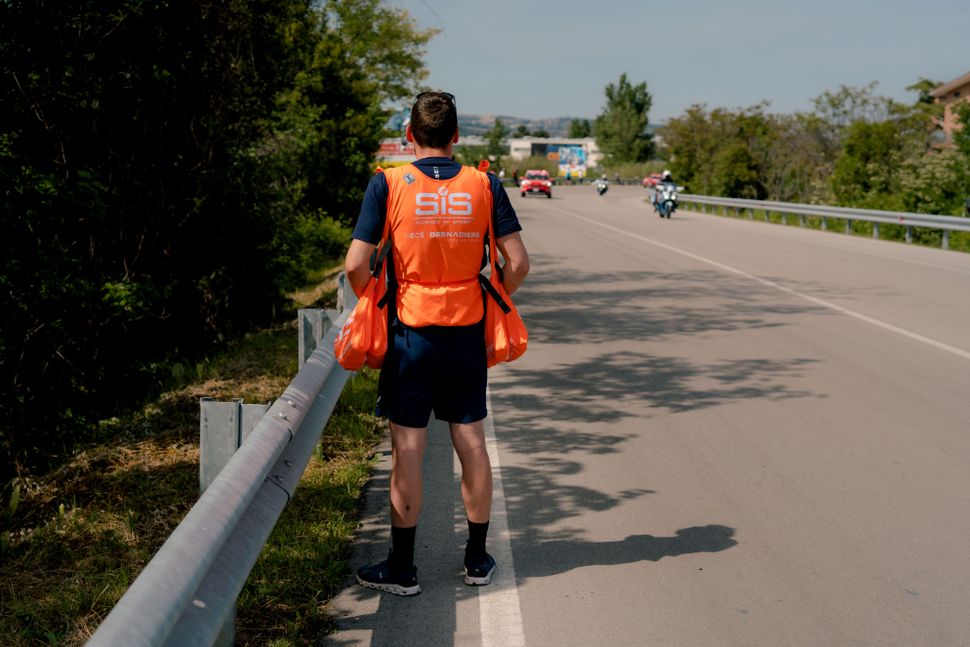 With the advances in science and nutrition over recent decades, the contents of a musette differ greatly from the sandwiches and cakes of years gone by. In the modern peloton, all riders across the peloton will receive a very similar mix of snacks and drinks, regardless of their team.
In addition to the countless bidons handed out from team cars and ferried through the peloton by domestiques, feed zone musettes usually contain two bidons, mostly filled with a carbohydrate-rich energy drink mixture.
Riders also get a good number of energy gels and energy bars to help fuel them throughout the day and grab a burst of energy ahead of key points on the route. At Ineos Grenadiers, for example, riders can choose from a smorgasbord of flavoured gels (orange, pineapple, grapefruit, and more) and bars (including banana fudge, strawberry, and tiramisu) from nutrition partners Science in Sport.
Rice cakes made up by team chefs are also widely used throughout the peloton. They're packed with carbs, too, and neatly fit in jersey pockets along with the bars and gels.
Riders haven't always received the ideal mix of nutritious snacks and gels, though. During Wednesday's stage 11 of the Giro d'Italia, Eurosport commentators and former riders Dan Lloyd, Robbie McEwan, and Adam Blythe named the oddest meals they've been served up during their racing careers.
Former Cervelo racer Lloyd said that his old Flanders squad often handed him Special K breakfast cereal bars, noting that they "boasted about the lack of calories" – not ideal for pro bikes racers.
McEwen, who won 24 Grand Tour stages during his career, noted that he was once handed a hamburger, a pickle on the side, and a packet of crisps at the 1995 Tour DuPont, a meal "for the director in the team car, but I got it and it was great."
Blythe's feed zone treat, meanwhile, was something of a mixed bag. The former BMC, Lotto and GreenEdge sprinter said he had traditional British pork pies at one edition of the Tour of Britain, saying "it was a lovely treat, but it didn't digest too well."