Refresh
CRASH IN THE BUNCH
A few riders have come off in the early part of the sector. No word on who is involved yet. 
SECTOR 5 – SAN MARTINO IN GRANIA (9.5KM)
Onto the white gravel, and it's pretty much uphill all the way to the end of the sector. 
The breakaway are giving it their all, but it may be short lived.
We're nearly at the entrance to the San Martino sector and the gap has shrunk – less than 30 seconds now. The peloton are ready to race this difficult stretch of gravel.
71KM TO GO
The leaders have around 50 seconds advantage now. It's all winding up towards the San Martino sector. 
The gravel is where this race is made, but it's certainly easier to attack on the tarmac, which is what these breakaway riders did. 
Sounds like the quartet have a small gap, around 40 seconds. 
Being all from Continental teams, the bunch may be happy to let them go, at least for a while.
BREAKAWAY ATTEMPT
We've had an attack! 
Between sectors, Silvia Zanardi (Bepink), Iurani Blanco (Laboral Kutxa Fundación Euskadi), Alessia Vigilia (Top Girls Fassa Bortolo) and Morgane Coston (Cofidis) have escaped the bunch.
Here's how the peloton are looking on the gravel. As you can see, there are groups already going out the back.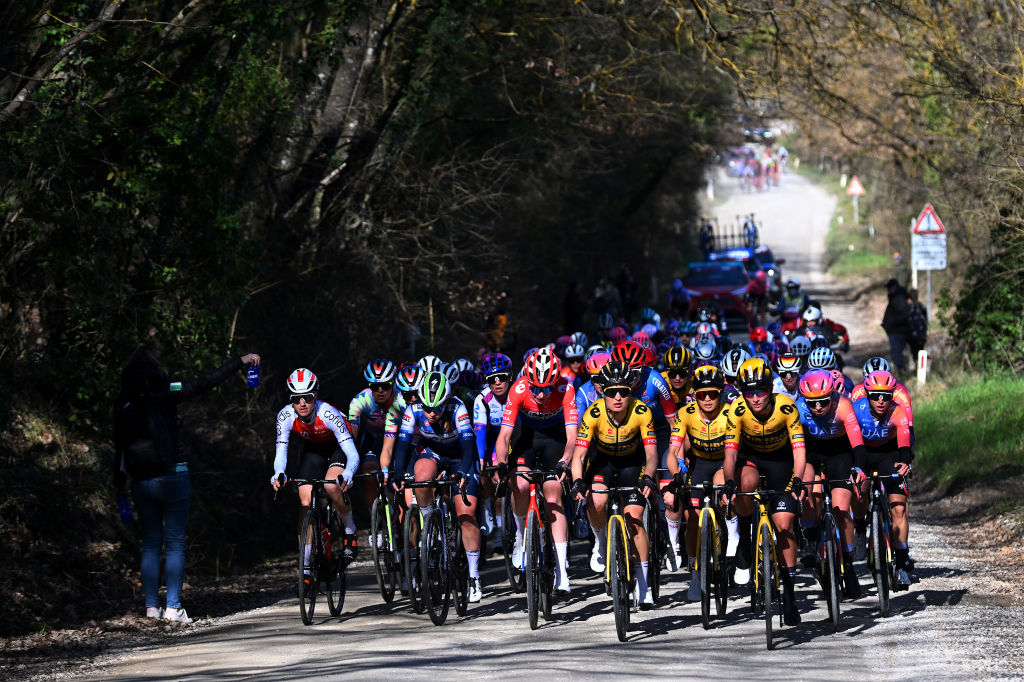 Positioning into this next sector is going to be key. As well as being rough, the strade bianche are narrow and it will be hard to move up, so riders need to be near the front if they want to follow any moves that may go. 
There's a little respite from the sectors now, but the next one is by far the hardest.
The San Martino in Grania sector – coming in about 11km – is 9.5km long, and uphill for almost all of that. 
82KM TO GO
Still no breakaway… 
Speaking of Lotte Kopecky, SD Worx have just hit the front of the peloton.
As usual, they have a strong team here: Kopecky, Demi Vollering, Niamh Fisher-Black, Mischa Bredewold, Anna Shackley and Elena Cecchini.
SECTOR 4 – LA PIANA (5.5KM)
The peloton are hitting the fourth sector now. It's a fast one, starting with a descent, but is then flat and usually not too rough. 
One of the favourites for today is defending champion and Omloop winner Lotte Kopecky (SD Worx), but she insists the pressure is off:
"Thanks to my win in Omloop Het Nieuwsblad, I will arrive at the start of Strade Bianche with no pressure," she said this week. "Winning the same race twice in a row is difficult, but I'm going to try anyway."
Those unmistakeable Tuscan views.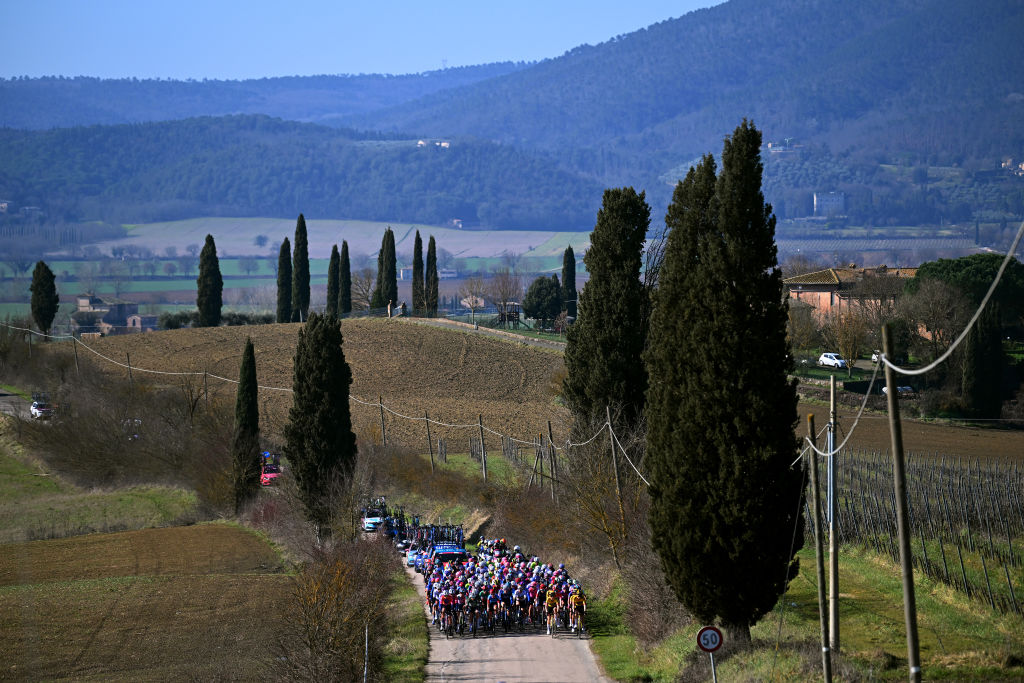 90KM TO GO
Peloton is still all together.
It's not unusual for this to happen in Strade Bianche, and things may well explode around the halfway point on the toughest and longest sector, San Martino in Grania.
The first hour of racing averaged at 36.1 km/h – that tracks with the fastest predicted schedule. 
As we wait for live images, here's what the peloton is looking like out in Tuscany: 
🎥 We're one hour and two gravel sectors into the race at @StradeBianche – and it's all together still! 🚴‍♀️🚴‍♀️🚴‍♀️🚴‍♀️🚴‍♀️🚴‍♀️🚴‍♀️Live Updates from #StradeBianche:https://t.co/71NToJZv0l pic.twitter.com/lUR08hwB2jMarch 4, 2023
See more
The peloton have just finished the sector at Radi.
Traditionally, Strade Bianche has been the opener of the Women's WorldTour, but this year we've already had four WWT races: Tour Down Under, UAE Tour, and Omloop het Nieuwsblad last weekend.
The peloton remains really strung out – surely at some point the elastic is going to snap and a group will go.
Correction: Anya Louw (AG Insurance-Soudal Quick-Step) didn't abandon earlier, in fact she did not take the start at all through sickness. 
It's a hard race but a favourite among fans and riders alike – all smiles at the start earlier! 
6️⃣ smiles at the start 😁@StradeBianche 🇮🇹 pic.twitter.com/Cj1AC8EcrNMarch 4, 2023
See more
Just because there's no break, that doesn't mean the race isn't on. The pace is high and the peloton is super stretched out. Riders may not be going off the front but they're definitely going off the back. 
It's going to be a long day for anyone dropped already…
SECTOR 3 – RADI (4.4KM)
Back onto the gravel. This one starts with a sharp rise. 
Two sectors down and we're yet to see a breakaway, but some riders have been struggling out the back of the bunch over the steep kicks, especially with the pace so high. 
Ricarda Bauernfeind (Canyon//SRAM) is taking a turn on the front of the peloton.
A graduate of Canyon's Generation development team, the young German is really exciting prospect in the professional peloton this year. 
It's still Jumbo-Visma who are controlling this race. They've finished 7th here for the last two years with Marianne Vos, though it's one race she has never won. Could they go better this year with a different leader? 
There's very little rest in this race – two sectors already under the belt, and it's less than 5km to the next stretch of gravel at Radi.
It's been a fast start this morning. It looks like the peloton are ahead of the fastest schedule.
If you notice that Fenix-Deceuninck are in green today instead of their usual navy, here's why: 
Il Verde Comodoro è tornato 😍Similar to the Alpecin-Fenix team in the 2022 @giroditalia, also the #FenixDeceuninck team will race the @GiroItaliaDonne in 'Verde Comodoro'. As a small surprise, these iconic FENIX colour will be shown Already at the @strade_bianche tomorrow! 💚 pic.twitter.com/ZrhdxaUdCTMarch 3, 2023
See more
Can't wait to see more of this today!
♀️ Un anno è sempre troppo lungo. Ci eri mancata, cara Strade Bianche @CA_Ita 🇮🇹 Segui la diretta 👉🏻 https://t.co/VK0G96EEkp♀️ One year is just too long. We have missed you, dear Strade Bianche @CA_Ita 🇬🇧 Follow the live race 👉🏻 https://t.co/FHoJaaqwDn#StradeBianche pic.twitter.com/AV7BHUsV12March 4, 2023
See more
SECTOR 2 – BAGNAIA (5.8KM)
Onto the next one! All is still together after Jumbo-Visma kept the pace high across the first sector. 
The rise in this sector could be a great opportunity for attacks to go.
That's the first bit of gravel complete – waiting to hear how it's affected the situation…
Just a few kilometres to go until the riders are back on white roads and it's a tough one: the 5.8km Bagnaia section is rougher and kicks up in the second half.
It's Jumbo-Visma who are leading the way into the first sector.
They're missing Marianne Vos, who underwent surgery last week, but have options in Coryn Labecki, Riejanne Markus and Amber Kraak.
SECTOR 1 – VIDRITTA (2.1KM)
Here we go! Strade Bianche starts here…
We're not far away from the first gravel sector now. Vidritta is perhaps the easiest in the race – it's short, the gravel is in decent condition, and it's flat – but being the first, it will be important to get through it in a good position.
Just over 10km completed and everything is still together.
Three attackers were briefly up the road, but they couldn't get away from the bunch.
We've got one DNS to report – Anya Louw (AG Insurance-Soudal Quick-Step) has hasn't started due to illness, meaning one less helper for Ashleigh Moolman Pasio.
Vidritta, 118.4km to go (2.1km)
Bagnaia, 111km to go (5.8km)
Radi, 99.1km to go (4.4km)
La Piana, 88.4km to go (5.5km) 
S.Martino in Grania, 68.5km to go (9.5km)
Monteaperti, 24.7km to go (0.8km)
Colle Pinzuto, 19km to go (2.4km)
Le Tolfe, 13km to go (1.1km)
Here are all the strade bianche sections to look out for today (length in brackets):
It's not long until the gravel starts – the first sector comes after just 17.6km, when the bunch will tackle the 2.1km sector at Vidritta.
And they're off! The official start has been given.
136km of racing including eight tough gravel sectors lie between the peloton and the iconic finish in Siena.
Here's a reminder of the start list – we've had a couple of drop-outs this week, including Elisa Longo Borghini and Marta Cavalli.
🚨 Startlist 🚨139 riders will take to the startline in Siena at 9.30 CET. Here are all of their names! #StradeBianche pic.twitter.com/ADPyf2yAmUMarch 4, 2023
See more
The race will be getting underway at 9.30 CET, and the weather looks cool but sunny and dry.
Hello and welcome to the live coverage of Strade Bianche!
I'm Matilda and I'll be here to guide you through all the action from the women's race.