This time two years ago, Remco Evenepoel dutifully talked the talk before the start of the Giro d'Italia, but deep down, he must already have known he was trying to run before he could walk. He returns to the Corsa Rosa this weekend altogether surer of his footing and brimming with quiet confidence. 
In 2021, Evenepoel's Grand Tour debut also marked his return to competition after breaking his pelvis eight months previously. Despite a bullish start, it proved to be a miracle too far even for a man who had been routinely producing marvels to that point.
Two years on, Evenepoel stands on firmer ground. He lines up for the Giro with the rainbow jersey of world champion on his back and a Vuelta a España title inscribed on his palmarès. He arrives in Italy fresh from a second straight Liège-Bastogne-Liège victory and with seamless months of preparation behind him.
In Pescara on Thursday afternoon, Evenepoel was asked in what areas he had improved since his previous, truncated Giro appearance.
"In everything," Evenepoel responded somewhat abruptly. 
"For the Giro 2021, we cannot compare the kind of rider and athlete I am now. Then I had just five weeks of training beforehand against five months now. It's a completely different world and life."
For Evenepoel, the more telling comparisons are with his approach to last year's Vuelta. Back then, he also had an extended spell at altitude in the build-up, but he came down from the mountain to deliver a solo exhibition at the Clàsica San Sebastiàn that doubled as a statement of intent for the Vuelta.
Liège-Bastogne-Liège offered a similar opportunity ahead of the Giro. Evenepoel, inevitability, seized it. Asked to rate his current form against his condition ahead of last year's Vuelta, he saw little point in playing coy.
"I think I can be honest about that," Evenepoel said. "I think I'm better than before the Vuelta, so it's only good news.
"I think I can be here only with positive feelings. This season has been very good so far. I won the UAE Tour, I was second at Catalunya by a small margin, and victory in Liège is a new big step in my career and in my life. Until here, I can have a lot of trust and belief. I think I'm here with a lot of positive vibes and good feelings for the Giro."
When Mauro Vegni unveiled the Giro route in Milan last October, it was hard to shake off the impression that it had been designed with Evenepoel's gifts in mind. On paper, at least, this Giro route presents the Belgian with an opportunity to replicate the fast start that helped him to Vuelta victory last September.
A first week bookended by time trials – Saturday's 19.6km stage to Ortona and the 35km test to Cesena on stage 9 – plays to Evenepoel's gifts as a rouleur. 
The world champion acknowledged that it was a chance to build an early advantage on his key rivals. He suggested, however, that he would be reluctant to test the waters on the early summit finishes at Lago Laceno or Gran Sasso d'Italia.
"It's quite obvious that stage 4, stage 7 and stage 8 are not easy at all, but everything will be decided in the last week," Evenepoel predicted, perhaps playing an early tactical game.  
"I'm going to put everything on the TTs and on the other stages I'll take it easy, I won't make actions myself. It's about arriving safe in the second week and third week."
Taking on Primož Roglič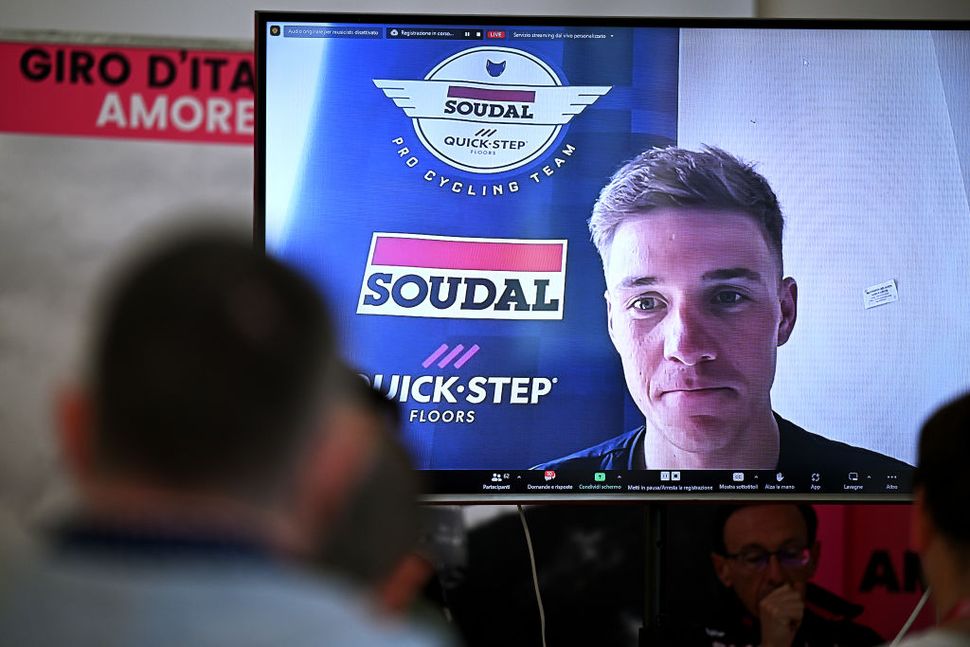 In the same breath, however, Evenepoel insisted that he had no qualms about taking possession of the pink jersey in the opening week, as he did on the Vuelta following his show of force on the mist-shrouded slopes of Pico Jano. 
From there, Evenepoel and his QuickStep team defended the maillot rojo all the way to Madrid.
"If I can take the jersey on Saturday, then why not? It's a race, you want to win stages also," Evenepoel said. 
"Last year, I won the Vuelta with the red jersey from stage 6, and I think we showed we're capable of controlling the race for a long period. But the last week is so hard and brutal: it's all about the last days, I think."
Evenepoel will be without Fausto Masnada on this Giro after the Italian was dropped from the initial selection due to illness and poor form, but the late alteration to the Soudal-QuickStep team pales in comparison to the flux in Primož Roglič's Jumbo-Visma guard, with three changes forced by COVID-19 in recent days. 
"Losing a few riders can be a message that the virus is still around, and we all need to take precautions," Evenepoel warned.
Although the world champion cited the threat posed by Geraint Thomas (Ineos Grenadiers), he knows that Roglič is his most likely rival on this Giro. 
"Are you Slovenian? Then I'm not going to answer," Evenepoel teased when faced with a question about his tactics from one of Roglič's compatriots in the Giro d'Italia press room.
Roglič and Evenepoel already duelled at last year's Vuelta, though the contest was interrupted by the Slovenian's crash in the third week. Even though Roglič edged their more recent jousting match at the Volta a Catalunya, Evenepoel insisted the race had ultimately served to reassure him.
"Last year, I still had some doubts whether I could have the same level as him in the mountains, but I think I was able to wash these doubts away after Catalunya," Evenepoel said. 
"I think we were on the very same level there when we speak about climbing.
"I hope I can be on the same level in the climbs and a better level in the TT. I think that's a good recipe to beat him, but he's the Olympic champion in TT so it's hard. But I'm at a good climbing weight, and everything should a few percentages better than it was in Catalunya."
In March, of course, there was no time trial to break the deadlock between the two. Saturday afternoon's run along the Ciclovia Adriatica coastal bike path, on the other hand, might well provide some early separation, not least due to the short climb to the finish in Ortona.
"I did already a recon in November of this time trial," Evenepoel said. 
"The first kilometre of the climb is pretty steep and then it flattens out a bit. It's not easy. It's always straight roads and there's no recovery, so you push from start to finish. That suits me. Ganna and Küng are the favourites for stage 1, but my main goal is to gain time on the GC guys."
On the opening day in Turin two years ago, Evenepoel did just that, but those confident first steps would prove an illusion. This time out, he knows he can go the full distance.
Subscribe to Cyclingnews for our full Giro d'Italia coverage.