Milan San Remo takes place this Saturday and for some British cyclists at least represents the day when it's acceptable to dust off your best summer road bike as spring approaches. Unfortunately, here in the UK, my last ride featured snow on the ground and it felt like winter was doing its level best to cling onto March. 
For that ride, I wore the Rapha Pro Team Winter bib tights, the brand's heaviest-duty offering for the worst conditions winter can throw at you, as I have for dozens of rides this past winter while testing for our best winter bib tights buyers guide. Rapha claims they are for cold weather racing and training, and I can't disagree. 
Specifications: Rapha Pro Team II bib tights
Price: £250 / $325 / €285 / AU$420
Materials:  Leg: Nylon/Elastane Bib: 92% Polyester 8% Spandex Side Panels: 53% Polyester 34% Polyamide13% Elastane
Available sizes: XS-XXL
Colours: Burgundy / Dark Lime – Navy / Black / Black-White
They sit alongside five other pairs of bib tights in the Rapha range. The Classic winter tights sit just below the Pro Team and are a touch cheaper, while the Core winter tights are £110 ($150 / AU$190 / €125) less. I recently reviewed the lighter-weight Pro Team Training bib tights and got on brilliantly with them, this is my review for their heavier-duty stablemates. 
The Pro Team bib tights carry a retail price of £250 ($325 / AU$420 / €285) and are something of a direct competitor with the MAAP Apex thermal bib tights. They come in four different colours, but I tested the black/white version in a size small. 
Design and aesthetics 
The Pro Team tights are comprised of multiple panels and a couple of different types of material. The rear of each leg has a soft brushed fleece fabric whilst the whole of the front of the legs extending up to the bib straps uses Polartec power grid fleece material. I mentioned Polartec in my Maap Thermal base layer review but to recap, the Power Grid's square-shaped material pattern aids warmth and moisture transportation. The fabric on the front also has a DWR (durable water repellant) coating which helps protect from showers and spray. 
The bib straps themselves are just over 4cm wide and are a thick, stretchy polyester. The strap width ensures they always lie flat comfortably. There is also a race radio pocket on the back of the bibs, something most amateurs won't be using but they are Pro Team by name, and pro team by design. 
The chamois is the size-specific Pro Team model, the same as can be found on the Pro Team training tights and though chamois pads are entirely personal, I found again that I got on well with it. My winter bike has a Selle Italia saddle with a cutout channel and I never found the chamois uncomfortable during my rides. 
Aesthetics-wise, I really like the style of the Pro Team bib tights. They feature large Rapha logos on each thigh. The left-hand side is in block white capitals and the right-hand side is in a silvery grey reflective material which helps aid visibility in low light when light hits it. I assume this is due to the side of the road we ride on so it faces outward into the road for traffic, I wonder if this design is different in regions where they drive / cycle on the other side of the road. 
The top of each thigh also has a reflective tab, while the rear of each calf features Rapha's hallmark of six horizontal white dashes. These also help to stand out to motorists from behind with the movement from pedalling.  
Rapha also offers free garment crash repair and a 30-day returns policy.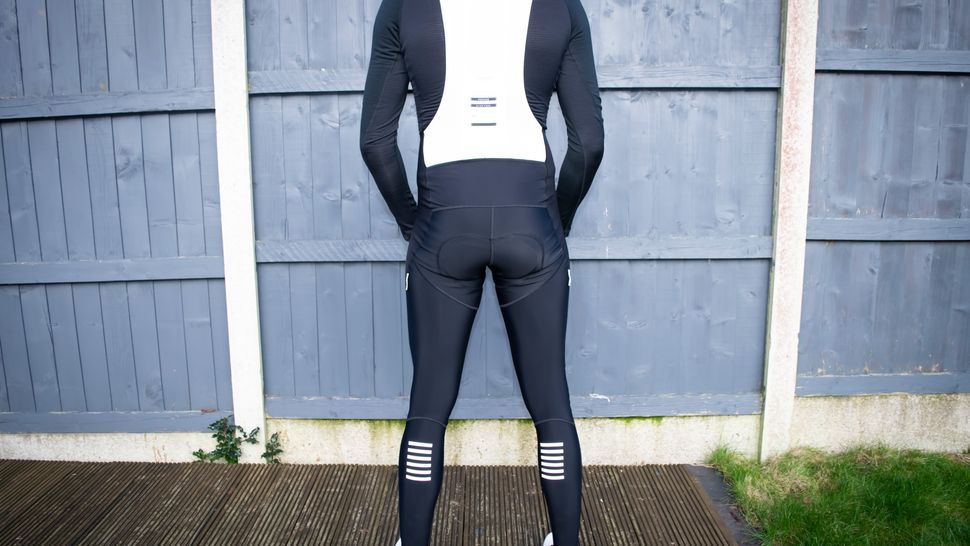 Performance 
I've worn the Pro Team tights a lot this winter in conditions ranging from around freezing with snow and sleet for over three hours to around 10C/50F and everything in between. 
The DWR-coated material does make a light rustle when you pull the tights on and this adds to the feeling of protection they give. Warmth (or the lack of it) hasn't been an issue on any ride for me. As mentioned, the tights' sternest test was over three hours with snow and sleet and they performed solidly throughout, keeping my lower half feeling warm and protected. 
My size small pair have fitted really well with no bunching or excess material. Due to the thicker nature of the material, there is a little tightness at the rear of the knee but once you are a few miles into a ride, this isn't an issue and melts away. 
They have also washed well and the large white Rapha logos and dashes haven't cracked or peeled in any way which is reassuring given the price. 
Above about 10C/50F, unless really taking it easy, I start to feel a little too warm in the tights such is their thermal efficiency. I would probably switch to the Pro Team training tights in the Rapha range at that point or perhaps even bib shorts and legwarmers for harder springtime workouts.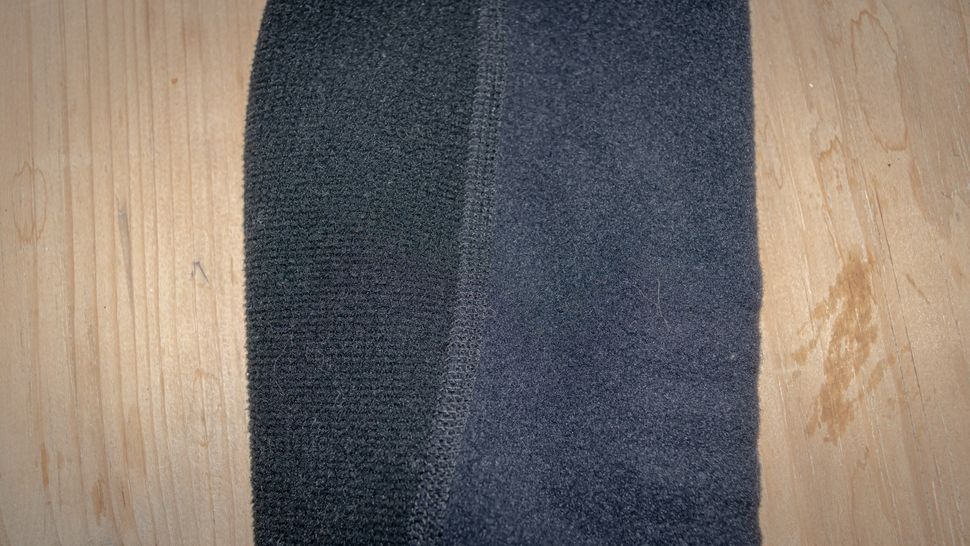 Verdict 
The Pro Team II bib tights have performed really well for me all winter. Their construction is high quality all over and they remain in the same condition as they were when fresh out of the packet. 
If you ride regularly in foul weather or down around the freezing mark, these heavy hitters from Rapha won't disappoint. I can reach for them knowing they will keep me warm and comfortable in the worst weather the British winter can throw at me and they look really stylish to boot with their classic Rapha styling. 
Swipe to scroll horizontally
Testing scorecard and notes

| | | |
| --- | --- | --- |
| Design and Aesthetics | Functional and stylish design that just works | 9/10 |
| Comfort | Comfortable over long, cold rides | 8/10 |
| Fit | No bagginess or excess material | 8/10 |
| Warmth | Warmth no issue down to freezing and below | 8/10 |
| Value | High retail price, but I think they performance justifies the cost | 8/10 |
| Overall | Row 5 – Cell 1 | 82% |