This year at the UAE Tour Luke Plapp has had his first taste of life in a race leaders' jersey and while world champion Remco Evenepoel may have moved swiftly to shift it off the Australian's shoulders and onto his own instead, Plapp's efforts to hold firm in second right through to the Jebel Hafeet finale marks a huge leap forward for the 22-year-old. 
It was, after all, just a year ago that Plapp was lining up at the race with the key aim of trying to get a feel for how the WorldTour peloton worked and what his place within it may be, as in 2022 the event marked his international professional debut as an Ineos Grenadiers neo-pro.
"UAE was a really, really nice place to have my first 'proper race you could say'. It just seemed to fit well, coming from Australia and coming from Road Nats and it was, I guess, probably the most relaxed WorldTour race you could ever start with," Plapp told Cyclingnews while reflecting on the year that had been in January in Australia.
It's not that first appearance at the UAE Tour was without its hurdles – Plapp missed the chance to deliver a strong performance  in one of his areas of strength when he crashed his time trial bike in the warm up and therefore was forced to take to the course on a road bike. However, he bounced back to deliver a strong showing on Jebel Jais, finishing 20th on the stage even after a stream of attacks while working for his then team leader Adam Yates. Then he came fifth on the final summit finish on Jebel Hafeet, securing what ended up being the best WorldTour individual stage result of Plapp's opening season.
Given that positive first experience at the UAE Tour, it perhaps isn't a surprise that Plapp headed into the event in 2023 with a big target drawn around it. The rider outlined his plans at the start of the year as to 'hit the ground running' for the Australian summer – that clearly worked as he defended his Australian road title – and continue to build form toward the UAE Tour where he looked to 'have a really good one'.
If anything he exceeded that aim.
There was no easing into the seven-stage race in the United Arab Emirates for Plapp, who stepped into a powerful position alongside Evenepoel (Soudal-QuickStep) and Pello Bilbao (Bahrain Victorious) when the trio of overall contenders distanced their rivals by making it into the pivotal break that finished 51 seconds ahead of the peloton.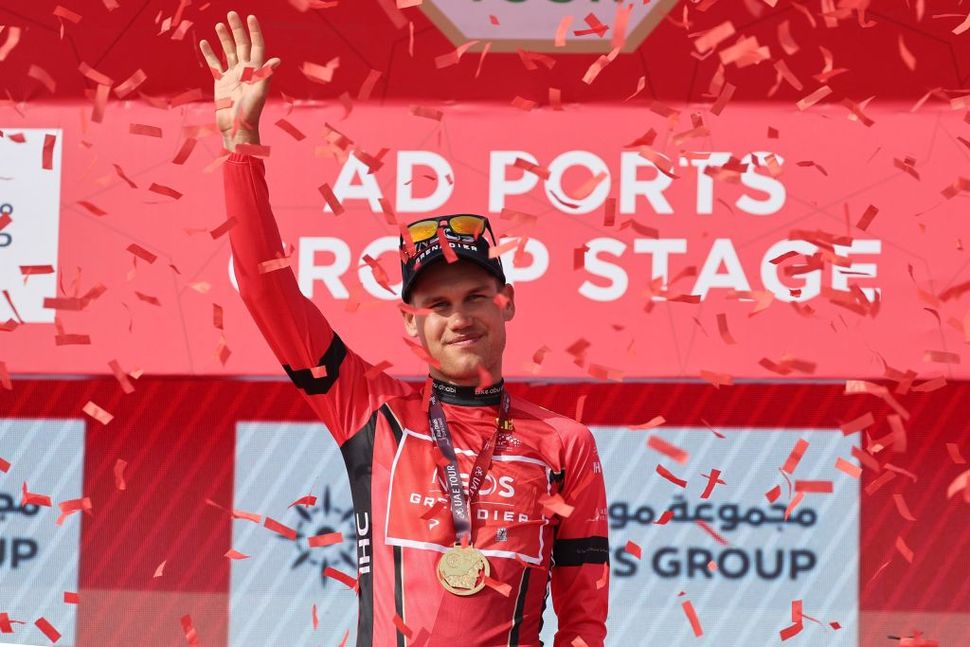 Then in the stage 2 team time trial Plapp lead out of the gates and drove the pace to the line, helping secure third place for Ineos Grenadiers, three seconds behind a victorious Soudal-QuickStep. That was enough to put Plapp into the jersey of a WorldTour race leader for the first time in his career, as he had the foresight to pick up bonus seconds while out in the lead group on stage 1.
"I learnt so much about myself last year and just how the WorldTour peloton works," said Plapp and that is something that certainly showed in the assured performance through the UAE Tour.
Even on stage 3 when Evenepoel took the red jersey of the race leader, Plapp had transformed from the impetuous rider of a year ago that had been attacking into a headwind on Jebel Jais, to a calm and strategic overall hopeful. As a result he limited the losses to a just a few seconds.
In the end every one of those counted as Plapp he held firm in that runner-up spot, passing the final test of a Jebel Hafeet summit finale by riding his own pace rather than risking blowing up as he chased wheels and losing it all. His careful pacing, as Plapp switched from an often attacking style to what was akin to time trial mode, saw him take sixth on the final stage but more important than position was the time he delivered. Plapp had ridden the climb quickly enough to keep his experienced former teammate and stage winner, Adam Yates, behind him on the overall standings  – by just one second. Bilbao, was then fourth, a further three seconds behind.
Building and getting hammered right back down again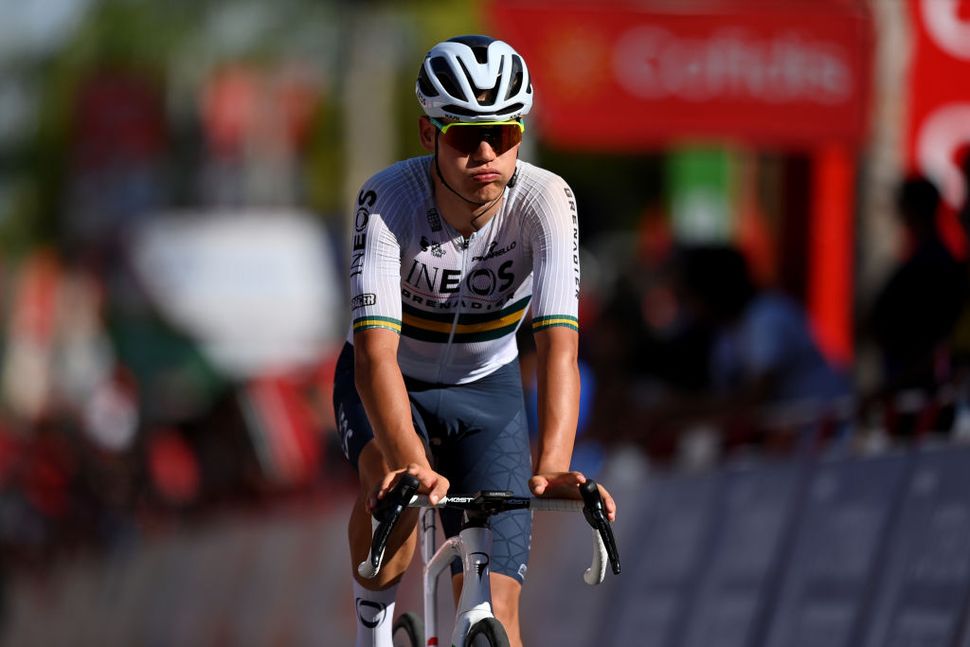 That combination of an initially attacking yet ultimately calculated approach at the UAE Tour in 2023 is a demonstration of just how much Plapp has grown as a rider in his first year on the WorldTour, which wasn't all smooth sailing despite the promising start. 
In 2022, "once I got to Europe I guess it all started, like moving, setting up a house … and then trying to mix in the first few races and it was a real shock to the system," said Plapp. "I thought after UAE it had given me a bit of a false sense of security of how I was going. Then you get to Catalunya, which was my first race over there and it was just a different sport to be honest."
During the six stage race in Spain, there were climbing days that in theory suited the Australian but instead of being within seconds of the leaders, like he was at the UAE Tour, he was minutes back. He made it through to the final day, delivering a DNF that stage, and Volta a Catalunya certainly wasn't anything like his debut WorldTour race in the Middle East.
"The weather got the better of me. I just wasn't used to the cold and it was a bit of a wake up that this was what the racing was really about in Europe," said Plapp. "I guess from there it showed me where I needed to get to and what I needed to do."
Those lessons were clearly learnt quickly by the irrepressible Australian, who carries the hallmark positivity and maturity in outlook of the current clutch of young riders emanating from the Brunswick Cycling Club and into the top tier of racing.
The results were far higher up the table through April and May starting with a sixth in the opening stage of the four-day Circuit Cycliste Sarthe – Pays de la Loire. That led into a ninth place in the general classification at the Tour de Romandie, a result completely dispelling any Catalunya inspired doubts about Plapp's ability to perform at a WorldTour race in Europe. 
After that it was a shift up to third on the overall at the 2.Pro Tour of Norway and onto the Commonwealth Games in August, where he took  bronze on the track as part of the team pursuit squad and came fifth and sixth in the time trial and road race. Then, it was time for the rider with a track background to take on his first Grand Tour at the Vuelta a España.
"I think throughout the whole year I was building up nicely and just sort of learning each race and then got to the Vuelta and sort of got hammered back down to ground zero and shown the ropes again," said Plapp.
"The Vuelta was the hardest thing I've ever done on a bike, to be honest. I just couldn't believe the level," said the rider, who added that he was in awe of how those around him backed up day after day for three weeks.
Even though he 'faded every day' Plapp still made it to the end of his first Grand Tour and then flew straight to Australia to finish his first year as a professional at a home Road World Championships in Wollongong, where he claimed bronze as part of the mixed relay team.
Learning to win
After a strong debut year it was also quite a start to 2023 for Plapp, even before his UAE Tour podium. He opened up the season with an impressive second victory in the elite road race at the Australian National Championships, playing his cards to perfection on the 16 laps of the circuit punctuated by the Mount Buninyong Road climb. It was a win that left the ever chatty Australian uttering the most uncharacteristic of phrases – "I'm speechless". He had pulled off back-to-back victories even with a stacked field and without a single teammate, something most would have deemed as a mission impossible.
His first block of racing for the new season, which started with the National Championships, also included the Tour Down Under, Cadel Evans Great Ocean Road Race and then finished with the UAE Tour. Plapp is now heading toward the start of his second European season.
It is a year where he intends to focus firmly on the road in a bid to "cement my place in the WorldTour" before integrating track again for the Olympics in 2024. Apart from that pure road focus the rider said his program is likely to be similar to last season, with one exception being that he'd like to add some one-day races. Early season expectations were also that a GrandTour would be unlikely to fit in the schedule, particularly with the World Championships being a target, though that is the direction he ultimately hopes to be able to head in. 
"While the Vuelta didn't go to plan, I would really like to be a Grand Tour rider in the future," he said.
First though, it is all about learning the ropes and the skills needed to chase and claim victory, on more than just home soil, but also in the biggest races in the world.
"I think that is just coming from Australia with not much racing, I'm still trying to work out how to win and how the racing works over there," he said.
Plapp hails from a nation with a track-centric development program that, even at the best of times, faces huge geographic boundaries but there were also international and domestic pandemic border closures through two pivotal development years for the Australian champion. That means he has had far less opportunity to hone his race-craft than most of his European contemporaries and there should be no surprises that the experience differential is particularly stark when you line it up against the likes of his UAE Tour rival, Evenepoel, whose clear talent meant he was on the fast track early. 
Plapp first lined up against Evenepoel in the U19 World Championships time trial in 2018, then coming second as well, and even at that stage the calendar of the Belgian was packed with junior versions of some of the biggest races in Europe like Gent-Wevelgem, Paris-Roubaix and Kuurne-Kuurne Juniors. Evenepoel had more than 30 days of road racing listed on First Cycling in that year where they first met, Plapp had just three – the Australian Championships, Oceania's and the Road World Championships.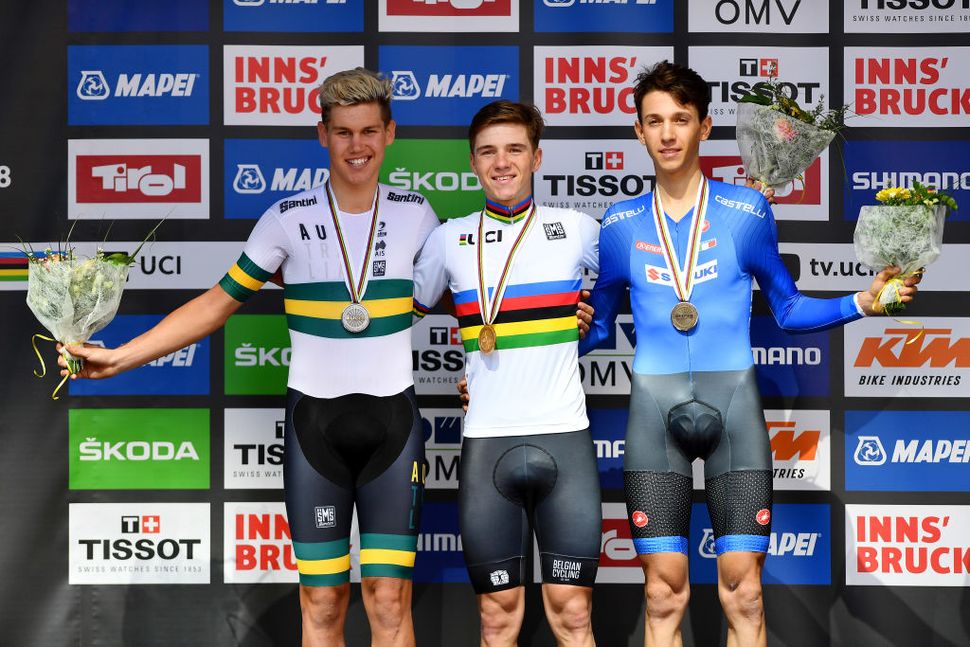 The disparity, too got even worse in the years to come, as while Evenepoel stepped up to the WorldTour in 2019, Plapp would have to wait another three years and through a considerable portion of that period even racing at a far lower level was off the table given the layering of domestic and international border closures in Australia.
That experience deficit, however, is now being addressed, and while Plapp may not have been able to quite pull off another mission impossible by challenging world champion Evenepoel for victory at the UAE Tour – although coming second and beating Adam Yates on GC comes pretty close – it's a progression that has left him more than satisfied. In fact he was "as stoked as can be". 
The rider in green and gold is well aware that carving out a successful road career for the long term is a process that will take time and this year is but another step in that journey.
"I just want to find out exactly what type of rider I am, then I can learn to win races," said Plapp as he looked ahead. "I think this year is still more about finding myself again and working out what suits me and in the year after I can go to races with a clear target to win."
After the efforts of last week, it would hardly be a surprise if the UAE Tour of 2024 is already earmarked.