"The watts are the watts," Jay Vine says with the weary air of a man who knows that not everybody sees it in quite the same way. His talent as a climber was already evident in his first professional race at the Tour of Turkey in 2021, but his unorthodox route to the professional peloton created preconceptions that weren't easily shaken off.
As a graduate of the Zwift Academy e-racing series, Vine was blessed with a professional contract at Alpecin-Deceuninck but cursed to have to replicate his power from the virtual format over and again in real conditions until everyone was fully convinced. Even when he fended off Remco Evenepoel to win atop Pico Jano on a sodden afternoon at last year's Vuelta a España – cycling's answer to producing the goods on football's proverbial cold, wet night in Stoke – the last of the doubts weren't quite allayed.
It was only when Vine repeated the feat two days later atop Colláu Fancuaya that delegations from WorldTour teams began to seek him out at stage starts and gauge his interest in a move, seemingly unaware that he had already discreetly brokered an agreement to swap Alpecin-Deceuninck for UAE Team Emirates at season's end.
"A bunch of teams came and spoke to me after stage 8, but not after stage 6," Vine tells Cyclingnews, imagining how the hesitant troupe of suitors must have viewed that mist-shrouded maiden win: "I mean it could have just been a fluke. He just teleported. Or did he actually cross the line? We don't have a photo…"
The documentary evidence is beginning to mount up now. On Tuesday, Vine claimed an upset victory ahead of Luke Durbridge (Jayco AlUla) in the elite men's time trial at the Australian National Championships, even if he was probably less surprised than anyone else. The numbers had already told him what was possible. Or, as he would put it: "It's absurd to me that there's still this thing, that it has to be done in the 'correct' competition: the watts are the watts."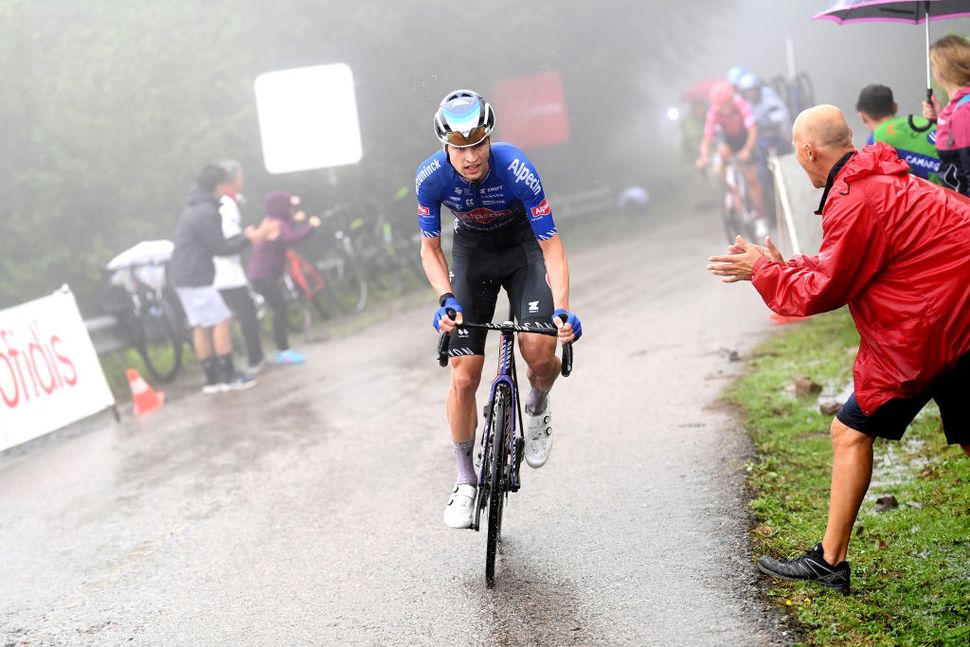 Those power numbers dominate Vine's origin story. The TL;DR synopsis is that he was plucked from his living room and dropped into the pro peloton after winning the Zwift Academy competition in December 2020, but the full version is altogether more compelling. Not everything of value in Vine's life can be measured and calibrated.
It began with a girl. Inspired by his father's military career, the teenaged Vine was a member of the Air Force Cadets youth organisation, where he met Bre, now his wife. "We both went solo in gliders and that's how we met," he explains. When they found themselves in the same school in Year 12, they began riding there together by bike every day. "It started from there," he says.
At the age of 18, when the couple moved in together, their interest in cycling had progressed tentatively from commuting to competition. At first, Vine dabbled in some mountain bike marathons, but the build-up to the 2014 Tour de France piqued his interest in taking to the road. "I saw the Tour was coming up, so I bought my magazine, and I got really into Mark Cavendish, though unfortunately he crashed on day one," he says. "But I got into it from there."
Finding his way
On leaving school, Vine went to university for two semesters, albeit with some reticence, combining his studies with a part-time job at an office supplies store. By his  own, self-deprecating telling, he learned more off campus than on. "I like to say I was pretending to go to university. First, I pretended to study IT and then I pretended to study sports physiology stuff. All the while, I was working at a place called Officeworks on basically minimum wage with a massive credit card debt," he says.
"It was back when banks were making them interest free for the first twelve months and I was like, 'It's only four grand, I'll pay that off in twelve months.' For years later, I was still paying it off, so they probably gipped me out of an extra four grand, but that's the lesson you learn."
All the while, in those years when Vine was a young man still finding his way in the world, cycling was scratching a competitive itch he only barely realised he had. In his first mountain bike marathons, the sense of achievement came simply in taking part, and he had been content to come in hours down on the winner, but as his strength grew, so did his ambition.
"I was realistically a participator at first, so coming in an hour behind the winner of the race was an achievement, but I was always trying to go fast and trying to get better," he says. "But because I knew I wasn't going to be able to win the race outright, I started doing seven-hour lap races with my wife as a mixed team to try to win a category. My wife and I were both very competitive. We were riding and racing together from early on. We just built up from there, really."
By the time the couple switched their focus more definitively towards the road, Vine had found temporary employment in the public service, even if he saw the role simply as a means to an end. "I was working with the government doing data processing, but that was boring as batshit, so I definitely would not have kept doing it," he says. "But it was the best job to sit on my arse and then get out afterwards and train."
That after-hours work would pay dividends on the Australian domestic circuit. A strong showing on the Poatina summit finish at the Tour of Tasmania in late 2018, where he came in just behind Chris Harper, offered encouragement, as did his National Championships debut a few weeks later. After placing third overall the New Zealand Cycle Classic in early 2019, Vine, now too old for the under-23 ranks, decided to go all in.
"During that race, I said, 'You know what, I really enjoy this, and I really want to pursue it,'" says Vine. He was racing for the amateur Nero outfit, who wouldn't step up to Continental level until the following year, which meant that his 2019 season ended with the southern hemisphere summer, but that didn't discourage him from becoming a full-time rider when his government contract expired in April of that year. "My wife just said, 'You don't want to die thinking maybe you could have gone further,' so we decided to throw the looking at getting another job out the window."
Bre Vine's own talent as a rider might eventually have carried her towards a full-time cycling career too, but after some discussion, the couple opted to concentrate on maximising Jay's prospects. The gender pay gap, grimly prevalent in every facet of society but especially pronounced in professional sport, played a part in the decision. Even in the most romantic of sports, pragmatism tends to prevail. 
"She didn't want to spend half her year injured for $20,000," Vine says. "We basically committed to… 'Jay you have the potential to earn ten times what my salary would be, let's focus fully on you.'"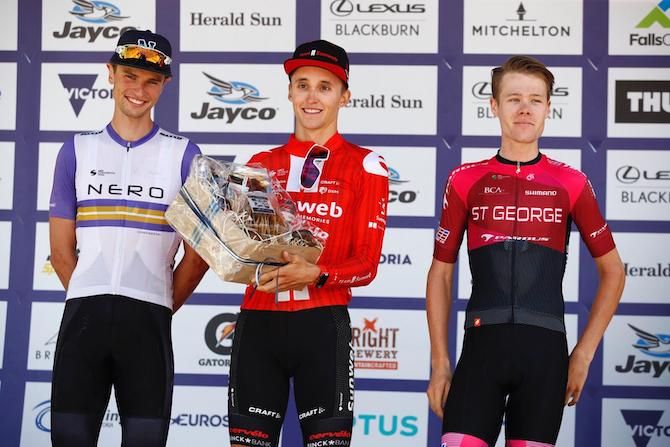 At first glance, Vine's leap through cyberspace to a professional contract reads like a purely 21st century story, or even simply as an aberration brought about by the pandemic. "Without COVID, I may have not got the opportunity," he admits.
And yet much of Vine's original working plan towards reaching the professional peloton echoes the adventuring spirit of the generations of Australian riders who went before him. Besides, even the Foreign Legion of the 1980s relied on the occasional act of providence to make it in Europe. Vine's Zwift Academy experience was less a uniquely modern deus ex machina than an update on a well-worn tale. Like Baz Luhrman's adaptation of Romeo and Juliet, the modern setting doesn't detract anything from his story's substance: have bike, will travel. 
Time was against him, but Vine was wholly determined to hit the big time, one way or another. Rather than set himself distant, hazy objectives, he gave himself a sobering deadline once he became a full-time rider midway through 2019. "I didn't really have a plan, it was more that if I hadn't started earning a cheque by a certain point, I was going to have to throw in the towel," Vine says. "I think that was going to be the end of 2021 at the absolute latest, and that was only if 2020 had gone really well but didn't have quite the impact we were after."
Doors closed but a window opens
In the event, the COVID-19 pandemic meant that 2020 barely went at all. Frustratingly, Vine had just delivered another exhibition at the Herald Sun Tour when the shutters lowered on the first lockdown. After attacking too soon at Falls Creek on stage 2 – "I made a massive mistake because the calibration on my power meter was off by 30 watts" – Vine made amends with an assured third place two days later at Mount Buller.
The winner, Jai Hindley, would tumble out of the subsequent lockdown and onto the Giro d'Italia podium, lifting his career onto a new plane. Vine, meanwhile, spent those months suspecting his chance might have passed him by altogether. The original plan had been to compete in Asia with Nero before taking on some European races in the northern hemisphere summer. He reasoned that professional teams might be more inclined to take a punt on his services if they could put a face to the power output.
Instead, Vine spent much of 2020 keeping himself fit and entertained by buying a time trial bike and picking off Strava KoMs around Canberra. Although he still cradled hopes of trying again in 2021 to race in Asia and Europe, Australia's strict quarantine rules meant that no concrete plans could be made. He was in limbo.
To his surprise, he also won an Australian Zwift series – "There were no real controls, it was just 'please don't lie' – while Bre came third in the women's event. When it was announced that the 2020 Zwift Academy event would no longer be limited to under-23 riders, he suddenly spotted a pathway. "I said, 'That's my contract: I'm one of the best climbers in Australia, and I probably am the best climber in Australia who hasn't already been signed by a WorldTour team,'" Vine says. "I prepared fully, there was nothing else to do."
Even when Vine was on the cusp of winning the Zwift Academy, he wondered if COVID restrictions would see the grand prize, the Alpecin-Deceunick contract, discreetly awarded to a European competitor instead. "I wasn't sure if they were going to take a chance on a guy who might not actually be able to rock up," he says.
They did. He was in.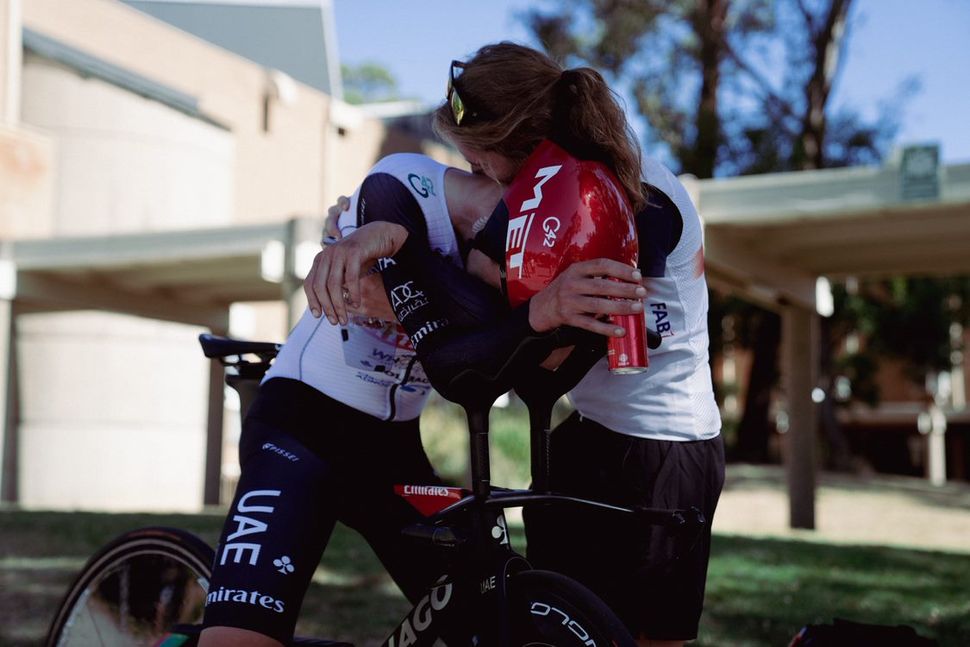 On a hotel terrace just north of Padova in mid October, there is still a little heat in the afternoon sunshine and Vine, one race from the end of his tenure at Alpecin-Deceuninck, is content to sit and talk Cyclingnews through his formative years and his first two seasons in the professional peloton. Like any neophyte, there were teething troubles, and they weren't limited to the cut and thrust of racing.
Living outside Australia for the first time in his life was a challenge, though the worst wrinkles were smoothed once Bre secured a visa to join him in Girona. In the 21st century, the Catalan town has replaced Paris or Ghent as the landing site for Australian cyclists arriving in Europe, but it can be a lonesome place all the same. Vine, solitary by nature, has felt more at home since decamping to Andorra.
"We were literally in that bubble where we didn't have friends – though we didn't really have friends in Canberra either," Vine says. "We've got a number of friends in Andorra now, but I think I did four rides with people apart from wife in the nine months I spent in Girona. I'm not a very social person, so without her it would have been very lonely, but that's sort of how I've always done things. I like doing my own thing and getting the job done."
The job didn't start in earnest until Vine made his pro debut at the Tour of Turkey in April 2021 and he made an immediate impact with second place on the Elmali summit finish. Later, he would catch the eye at Lagunas de Neila at the Vuelta a Burgos, but then riding fast uphill was never the problem. The deficiencies lay elsewhere.
"In Australia, in a bunch of say 60 guys max, there's really only five guys who are on the verge of turning pro, and they can do whatever they want in the bunch, they can go from last wheel to first, no problem. It's like putting Cancellara in a junior race, he can do whatever he wants," he says.
"Then you come over here, and you have 70 Cancellaras, so you can't just do whatever you want. You've got to work the race tactically and use your teammates. Riding in the bunch without using massive amounts of energy, that's the biggest thing. I knew I had a lot to learn."
A new contract
Vine raced sparingly in 2021, but his performances earned him a new, two-year contract from Alpecin. Selection for the Vuelta in his debut season, however, felt like a bigger landmark, and he might have capped it with victory at Pico Villuercas on stage 14 if he hadn't crashed while collecting a bottle from his team car. Still, third place behind Romain Bardet that afternoon underscored his promise, and he would confirm it when he returned to the Vuelta twelve months later.
The formal breakthrough at Pico Jano had already been foreshadowed by an earlier joust with Evenepoel at May's Tour of Norway. At Gaustatoppen, where Evenepoel recorded numbers that his manager Patrick Lefevere insisted were in the Pogacar range, Vine was the only rider to finish within half a minute of the Belgian.
"I'd done numbers like that before in training, but I put together the whole package there. There was a massive crosswind where Ineos split the race into seven pieces, and I was in front. I didn't make mistakes," he says. "The watts never entered my mind. I never thought I wasn't going to be able to do those watts. Now Remco did drop me off the wheel, but that was also because I wasn't where I needed to be. I should have been on his wheel, not Luke Plapp's."
Come the Vuelta, Vine got his retaliation in first at Pico Jano, accelerating out of the red jersey group at the base of the climb and scarcely surrendering a metre to Evenepoel once he began his own charge in the finale. That morning, Vine had planned to get in the early break only for a puncture to force a change in strategy, while the heavy rain scarcely helped his morale. In the end, he conjured up a display of startling intensity. "It confirmed for the future that there's bigger things than just winning stages," he says.
Two days later, Vine won again at Colláu Fancuaya, this time following the script by entering the break and then almost seeming to ease clear of his companions of the calibre of Thibaut Pinot on terrain he had studied intently beforehand. "I knew every climb because I had done an hour of clicking through Google Street View with my wife," he explains.
A third win might have followed at Sierra Nevada a week later if Vine hadn't expended so much energy in pursuit of king of the mountains points. He had cause to rue that endeavour when he crashed out of the race on stage 18, but he insists that the disappointment was short lived. 
"I was annoyed because I wanted to win another stage," he says. "But the positive thing about losing the jersey is that I'll learn how to live with it."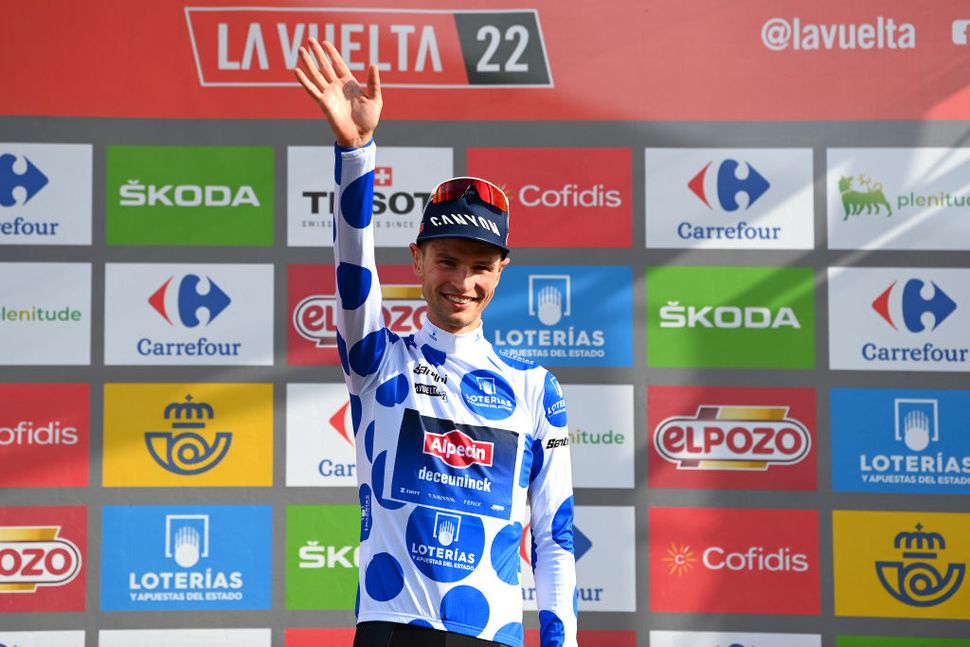 Vine starts 2023 in a different jersey altogether. His transfer to UAE Team Emirates was widely rumoured but still unconfirmed when he spoke to Cyclingnews in October, and even now, the details of the move are protected by the terms of a non-disclosure agreement. "I can say it happened before the Vuelta, so it had nothing to do with the Vuelta stages," Vine says now. "But apart from that, I'm under an NDA indefinitely."
Tadej Pogačar is, of course, the alpha and the omega of Vine's new team, but that doesn't mean the Canberran won't have opportunities. Although Vine has been coy about divulging his full race schedule, last month João Almeida let slip that the Australian would be by his side at the Giro d'Italia. Vine, too, at the Australian Championships talked of not being in top form, holding back in training because "my goals are down in May, June – you can take what you will off those dates". 
At next week's Tour Down Under, meanwhile, Vine will be targeting overall honours, and, on the back of his surprising national time trial title, the prologue shouldn't be an impediment.
In the longer term, that time trial display augurs well for Vine's prospects of eventually targeting GC at a Grand Tour, even if the 27-year-old is circumspect about the idea of racing for overall placings rather than stage wins. "I don't like to downplay people who are coming top ten," he says. "But I don't remember who came seventh in Suisse in 2015, whereas there's a photo of the guy who won stage 6."
2023 has already produced a photo of Vine in an Australian champion's jersey. He will hope for more. The man whose watts spoke for themselves didn't make the transfer just to make up the numbers. "It's clear the team hasn't just signed me to be a domestique," Vine says. "It's going to be exciting."