Huge, crazy, nice, respect, chapeau… Use whatever word you want to describe Wout van Aert and Christophe Laporte at Gent-Wevelgem, but does that performance really stand out?
I'm sorry to say it, but cycling was somehow made easy on Sunday. I'm really struggling to understand it. 
Of course, it was a crazy day with the rain and the cold, and I have respect for every rider who raced. But the weather seemed to change the brains of the riders. We saw warriors but not brains. 
This was more of a GP Eddy Merckx or Trofeo Baracchi than a Gent-Wevelgem. It was a two-up time trial and it was like everyone else was just racing for third place. There was no organisation in the chase, just looking around: 'no, you pull', 'no, you pull'. When that's happening behind you, bike races become very easy to win. 
It was a brutal day but I believe there were enough riders there to bring back Van Aert and Laporte, or to at least get close – closer than two minutes, anyway. 
UAE had Trentin, Bjerg, and Ackermann. Lotto, Bora, Bahrain, Trek, Alpecin all had multiple riders left, but no one spoke to each other and no one said 'we'll sacrifice'. 
If just three teams who have three riders had put two each to the front, that would have at least six riders pulling, then you can see what the outcome might be. You might not win but if you don't do it then you definitely won't. 
I'm questioning why there wasn't more communication. In stage races when it's sprint, teams are going to talk and discuss how many riders they'll put on the front. When you have a problem as a GC rider and your team is weak, you're going to talk to other teams. Here they didn't talk. They started to single attack, and when you single attack you go nowhere. There was a lot of individualism, and a lot of wasted efforts. 
In that respect, we didn't learn much from Gent-Wevelgem. After E3 I was curious to see some clues from some of the lesser Tour of Flanders contenders but we didn't get any, and it's hard to say much about Van Aert's own form after Friday's question marks. In fact, I'd say his performance at E3 was probably on a higher level than Gent-Wevelgem.
What's clear is that Jumbo-Visma are doing everything right at the moment – everything. I don't think they're just stronger, they're also smarter. They're doing the right things at the right time. The other teams are not. 
Van Aert's gift to Laporte was the mark of a true champion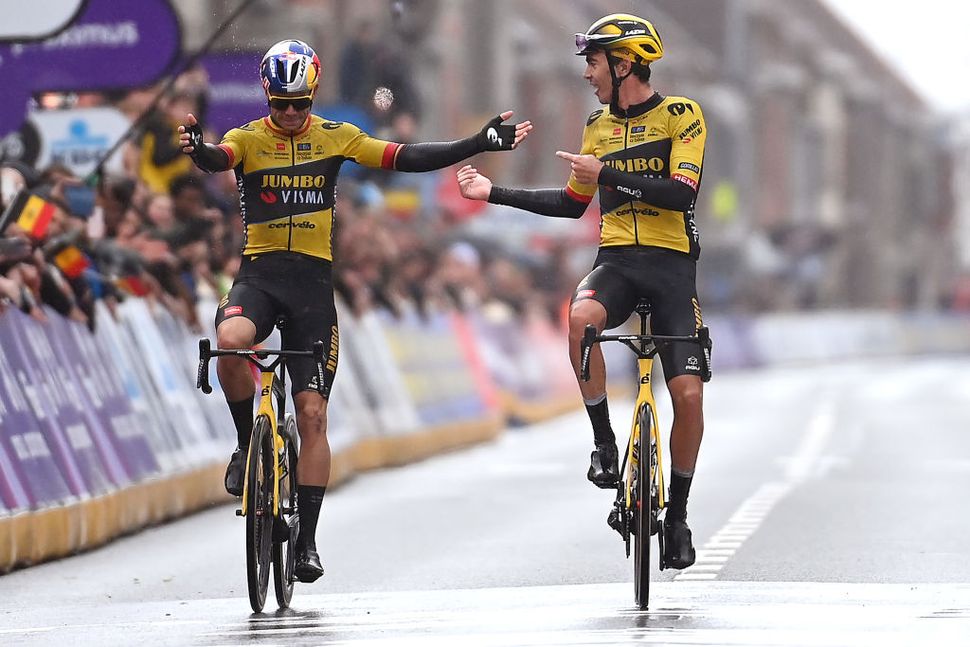 Although I feel it was too easy, I still have huge respect for the performance of Wout and Christophe, and I have even more respect for Wout after what he did at the finish. I know this will divide opinion but for me, gifting the victory to his teammate only elevated Wout van Aert as a champion. 
With that gesture he showed humility, generosity, chivalry… he showed humanity. For me, a champion is not only defined by races they win; it's also the way they win, their personality, the human touches. All these things together add up to make a champion, and if you are willing to raise someone else up, then you are extra special. 
Of course, this was not an entirely selfless deed. I'm not sure winning Gent-Wevelgem changes Wout van Aert's life. He has won it before and he won another major Classic just two days ago. What matters most is the Tour of Flanders. That's the one he wants to win above all else. It's his one big goal for the entire season – everything else comes afterwards. 
He can afford to give Gent-Wevelgem away as it serves a higher purpose. This was a team victory and it makes the team stronger. He now gets more respect from Christophe Laporte and from his teammates – not to mention the fans.
It was quite the contrast after watching the Volta a Catalunya earlier in the day and seeing what Joao Almeida was doing to Marc Soler – attacking while his teammate was in the front. He could have left it alone, Soler would have taken third place instead, which, as a Catalan rider would mean so much to him that, in another race, he would die for Almeida.
Sometimes, you don't need to win to get stronger. Sometimes, sharing takes you even further. Wout van Aert has grasped this. 
Give the man an Oscar.