Fans have been missing the annual return of the Australian peloton for the AusCycling Road National Championships over the past two seasons, but with the borders open following the COVID-19-induced international racing hiatus, the European-based riders are flocking back to Ballarat for the most fiercely contested title bouts in years.
The second sortie in the Australian summer of racing, which started with the Citroën Bay Crits, will play out in the Victorian city of Ballarat this week before WorldTour racers head off to Adelaide to the Tour Down Under and then onto the Cadel Evans Great Ocean Road Race.
A whole new layer will be added to the already tough battles that played out in 2021 and 2022, when a handful of European-based professionals dotted the fields. This year, riders like Amanda Spratt, Caleb Ewan, Michael Matthews, Chloe Hosking and Ben O'Connor are returning to the fray.
2023 AusCycling Road Championship facts
Dates: January 6-10, 2023
Location: Ballarat, Victoria
Races: Criterium, Road Race, Time Trial for elite men, elite women, U23 men
The racing will again play out in familiar territory in Ballarat and its surrounds with the repeated Mount Buninyong climb again a central feature of the road races. What has changed, however, is the order of events, with the time trials that usually open the competition now closing it. 
Cyclingnews will again be on location to cover the event, with race reports, news and interviews
Criteriums
The first national titles will be awarded in central Ballarat, when the criteriums play out on a tight 1.1km course. Club crits will start early afternoon before the competition moves into the junior ranks and then the U23 men before the evening timeslot gives way first to the combined elite/U23 women's race and finally the elite men. Although it is the middle of summer in the southern hemisphere nation, there has been some wild weather for competitors to contend with over the years as barricade blowing over summer storms have swept through, but at this stage it is looking like the riders will line up to fine and mild conditions in the city, which started as a gold rush town in the 1850's.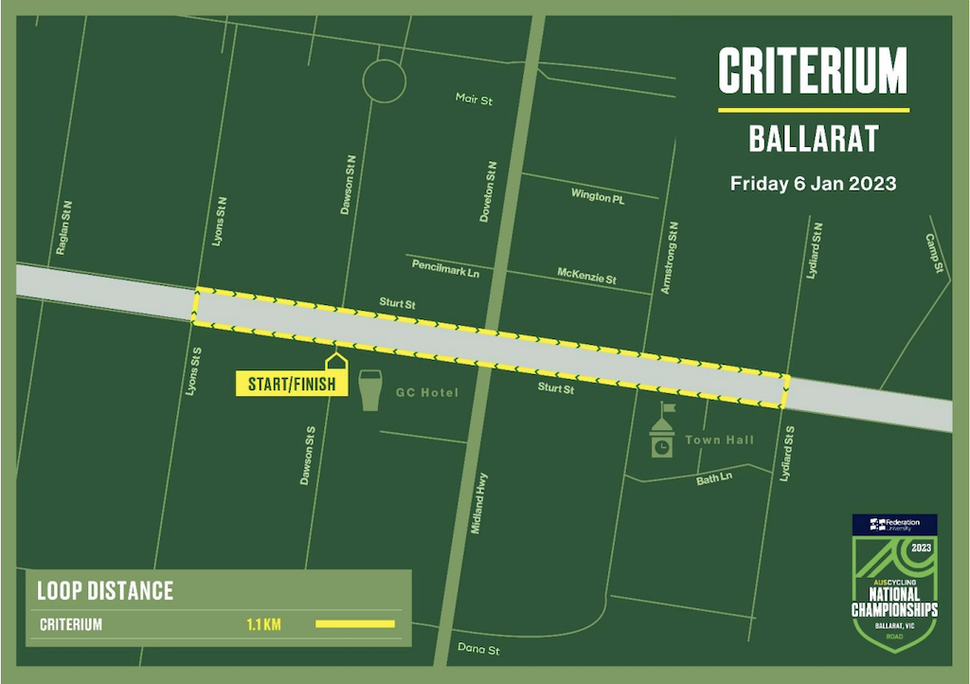 Elite/U23 Women
Start time: Friday January 6, 17:00 AEDT
Distance: 35 laps of 1.1km course
Last year Ruby Roseman-Gannon came straight off victory at the Citroën Bay Crits and rode herself into a national criterium title. The 24-year-old Jayco AlUla rider has just swept up the criterium series again and now the question is can she double up on the double as well? Of course her teammate, Alex Manly, who was pivotal in her victory last year could also be an option for the team and then there is the long list of rivals to Australia's only Women's WorldTour squad. 
Key among those, Chloe Hosking, who won the title in 2020 and after the collapse of the B&B Hotels team she had signed to for 2023 is racing with domestic team Roxsolt Liv SRAM. That has its advantage as the rider who is used to racing solo at Nationals will now have a strong group of teammates to rely on, including the fierce crit force of Peta Mullens. 
Matilda Raynolds (Black Sheep Cycling) will also be setting out with plenty of motivation, with the powerful cyclist who is fresh off a Bay Crits stage victory still searching for a team in Europe for 2023, while 20 year old Keely Bennett of the new partly crowdfunded women's squad, Team BridgeLane marked herself out as one to watch in not just the U23 category but elite as well when she claimed a second place spot on stage 2 of the Bay Crits.
Elite Men
Start time: Friday January 6, 18:30 AEDT
Distance: 40 laps of 1.1km course
Cameron Ivory (St George Continental) will be lining up to defend his title against some pretty fierce competition, with Caleb Ewan (Lotto Soudal) who won the title three years running returning from 2016-2018. 
New Jayco AlUla signing Blake Quick will be looking to make his mark as he steps up to the elite field, after his turn of speed was clearly evident at Bay Crits when he delivered a lead out for event winner Brenton Jones that gapped the rest of the field on the opening stage. Plus Quick is all in for the race, which will be his last chance to grab a result on home soil in a while, as the 2022 U23 road title winner is expecting to play a support role in the elite road race and then he'll be heading off to Europe for training with his new teammates. 
Another rider to look out for is Craig Wiggins (ARA Skip Capital), who finished second on stage 2 of Bay Crits and near the end of last season scooped up a stage of the Tour de Langkawi. Then there is also Jensen Plowright, with the rider who last year won a stage of the Flanders Tomorrow Tour also stepping up front the U23 ranks and debuting his new Alpecin-Deceuninck colours at the race.
Road Races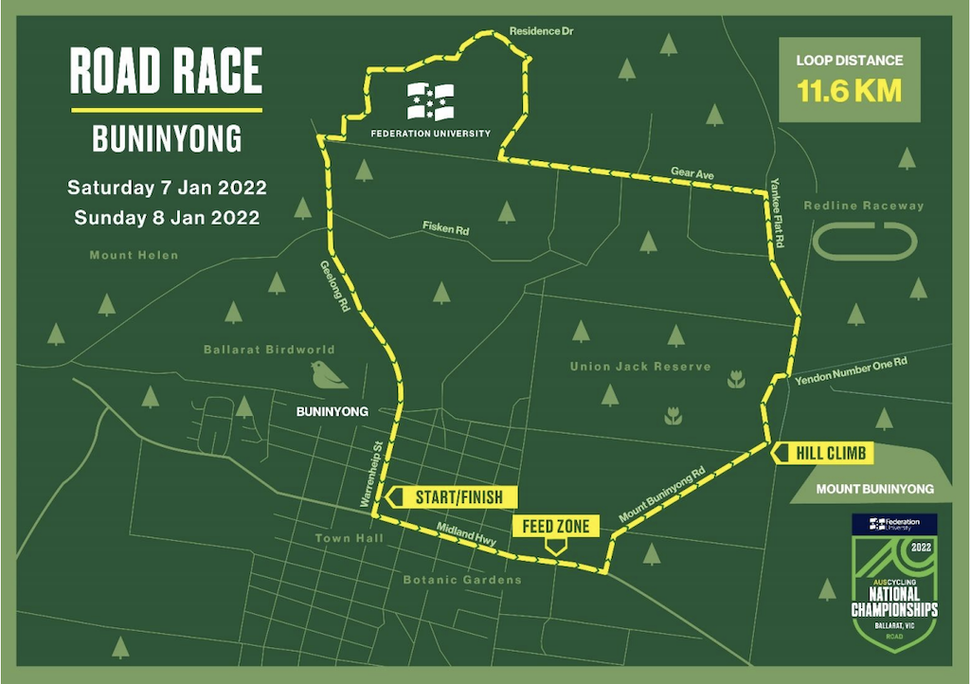 The road races this year will again unfold on the 11.6km circuit in Buninyong – although some of the Para-cycling will take place on a 10.2km circuit – with the climb of Mount Buninyong Road to wear riders down as the laps accumulate. The U19 riders, U23 men and the GranFondo cycling championships are on Saturday, while the Para-cycling is early Sunday before the elite/U23 women's race sets out on what is shaping up as a hot day of racing. The elite men are set to feel the full force of the summer blast of heat, setting out in the early afternoon.
Elite/U23 Women
Start time: Saturday January 8, 9:20 AEDT
Distance: 104.4km, 9 laps of 11.6km course
Grace Brown (FDJ-SUEZ-Futuroscope) has a habit of finding herself on the road race podium, in fact she's done it the last three years in a row with a third and two seconds, but it's just that top step placing that is missing. Could this be the year? She'll be flying solo which will not help but with her history, if anyone can find a way the 30-year-old will. 
Brown will be facing an extra layer of competition this year, with Ruby Roseman-Gannon and Alex Manly again two of the key riders to watch but this time they'll have strength in numbers with a few new Australian teammates added to the 2023 roster. 
Then there is Amanda Spratt, who is a challenger no one will be overlooking. Spratt has already won the national road race title three times, the most recent being in 2020, and although she won't have the strength in numbers she is used to after switching to Trek-Segafredo in 2023 what she will have is two extremely valuable teammates in Brodie Chapman and Lauretta Hanson.
Elite Men
Start time: Saturday January 8, 13:00 AEDT
Distance: 185.6km, 16 laps of 11.6km course
The Mount Buninyong road climb may not be Caleb Ewan's favourite – he is a sprinter after all – but the Lotto Soudal rider certainly has shown in recent seasons an enhanced ability to hold firm in the peloton when the road heads up. This year, returning to race the National Championships for the first time in four years, with allies in Harry Sweeny and Jarrad Drizners, we will get to see how that translates on the Buninyong circuit. 
With the likes of Ben O'Connor and Jay Vine lining up this year the pressure is bound to be on when the road turns up and with defending champion Luke Plapp (Ineos Grenadiers) again lining up without a single teammate, it seems likely that he may well use those impressive time trialling skills of his to try to fly solo toward victory again. 
Then of course there is Michael Matthews, who hasn't contested an Australian Road Championships since 2014. With the evolution of his profile as a rider, to more of a fast finishing break/selective group specialist than pure sprinter, and the strong team surrounding him means it is a trip that could be well be worth his while.
Time Trials
Usually the race starter, the time trials this year will wrap up proceedings at Road Nationals, a move that isn't without its critics as taking on the race against the clock just two days after the gruelling road race certainly could play on the outcome, particularly given two of the key time trial contenders – Luke Plapp and Grace Brown – also have plenty at stake on Sunday. The competition in the race against the clock starts on Monday, with the Under 19 category and club team time trials, with the elite races closing the event Tuesday.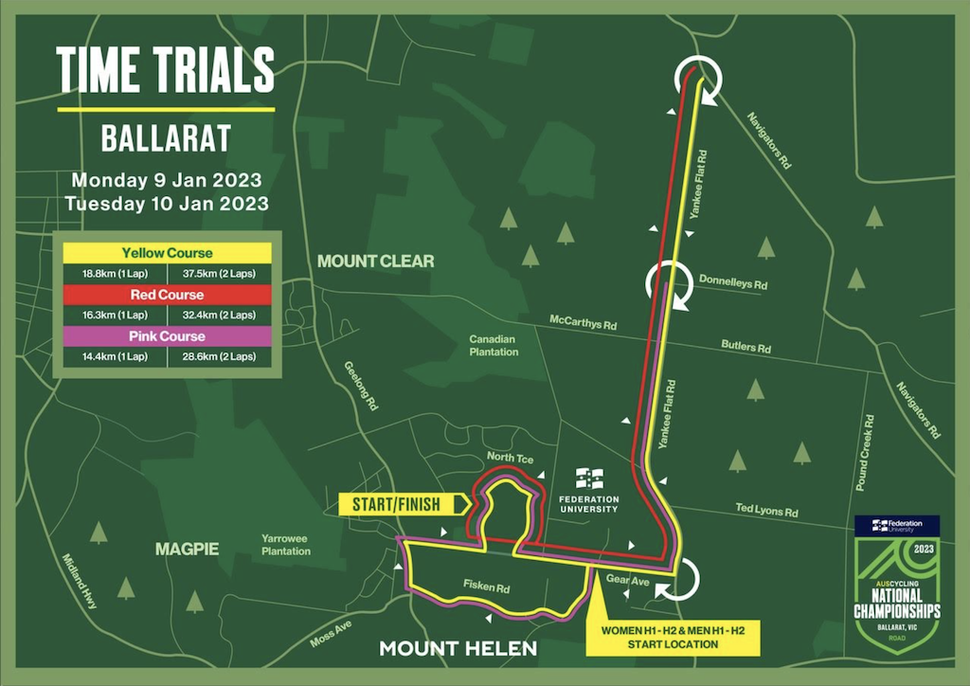 Elite/U23 Women
Start time: Tuesday January 10, 14:00
Distance: 28.6km, 2 laps
Brown may be one of the top picks in the road race, but the defending champion is the unequivocal favourite in the time trial. A rider that has finished with silver at the World Championships and in fourth place at the Olympic Games, is not to be trifled with even two days after a solo battle for a national title at a hot road race.
While 2021 winner Sarah Gigante may again not be on the start list, Georgia Baker (Jayco AlUla) has shown that she's got some serious potential in the discipline, slotting into eighth position at her Worlds debut in the discipline. A couple of her new teammates, Amber Pate and Georgia Howe, also showed their strength in the time trial with a second and fourth place finish in the Australian Championships in 2022, and now they will have access to the equipment and know-how of a WorldTour team to build on their skills.
Elite men
Start time: Tuesday January 10, 15:30 AEDT
Distance: 37.5km, 2 laps
2022 title holder Rohan Dennis may be absent but the 2021 winner Luke Plapp is back on the start list, having missed the chance to defend last year after being a close COVID-19 contact. 
Luke Durbridge is without doubt the fiercest rival, having already swept up four titles in the discipline and last year finishing second to Dennis. Jay Vine (UAE Team Emirates) is also expected to take on the time trial this year and while he is somewhat of an unknown quantity in the discipline, if his eighth place at the Etoile de Bessèges ITT last year is anything to go by he shouldn't be discounted. 
Conor Leahy (Team BridgeLane), who last year stood on the podium alongside Dennis and Durbridge, is also one to watch. 
How to watch
In Australia the elite criteriums, U23 men's road race and men's and women's elite road races will be broadcast in Australia, on SBS and SBS On Demand.