The best smart trainers on the market are available with a host of different features and technology. Smart trainers have dramatically changed the way we can cycle and complete training sessions. By attaching a bike to a trainer we can pedal and ride indoors whilst stationary. Traditionally indoor training was generally regarded as monotonous and a rather necessary evil to maintain or improve fitness levels, especially in the winter months. Smart trainers have changed this completely, today there is a wide range of trainers available with a host of different tech options and features to choose from.
The evolution of trainers and their accompanying software has dramatically improved the overall user experience and made indoor training a lot more fun as well as hugely beneficial to our overall fitness. The majority of trainers can be linked to and used with an indoor riding app or platform, one of the most widely used is Zwift but there is a large range of indoor cycling apps to choose from. If you are starting from scratch and are a little unsure about what equipment you need to start riding indoors, have a look at our comprehensive guide to indoor cycling.
Anyone who wants to enjoy great fitness gains and have fun whilst doing it can benefit from owning a smart indoor bike trainer these days. Smart trainers and the fun apps they can be used with means you can easily complete structured, engaging training sessions and plans, get involved with online eRacing or just meet up virtually and ride with friends. Being able to complete a solid, structured workout or race in a totally safe, warm environment is a huge draw for cyclists worldwide. 
At the bottom of this guide, we have outlined everything you need to think about when in investing in a smart trainer. Prior to that is a list of the best smart trainers available right now. The list covers the main types of trainers on the market their features and key differences as well as a useful comparison table. All of the trainers in the buyer's guide have been tested and reviewed by experienced cyclists who have been using turbo and smart trainers for years.
Quick smart trainer deals from the early Black Friday sales
Hello 👋 Josh here (Cyclingnews Tech Editor). Before you get into the thick of this buyer's guide, I wanted to highlight something we (the CN tech team) have noticed over the past couple of days as retailers begin gearing up for Black Friday. 
There are already plenty of deals on turbo trainers, and while the guide below prioritises links based on their price, I wanted to highlight a few specific deals, as well as other products that, while not recommended at full price, become competitive once again thanks to the sales. 
Elite Direto:
UK: 50% off at Wiggle (£769.99 £384.90) (opens in new tab)
USA: 49% off at Wiggle USA ($929.95 £468.99)
(opens in new tab)This is the original top-tier Elite trainer, with 2200w resistance, 2% power accuracy and a 4.2kg flywheel. It's probably the best price-per-spec ratio you'll get right now. 
Pinnacle HC Pro:
UK: 43% off at Evans (£699.99 £399.99) (opens in new tab)
This is very similar to the Zwift Hub, but its usual price of £699.99 means the Zwift option is the better buy. However, with the 43% discount currently applied, this becomes an appealing option to buy. 
Saris H3:
UK: 37% off at Sigma Sports (£750 £475) (opens in new tab)
USA: 45% off at Amazon USA ($1,099.99 $599.99) (opens in new tab)
The Saris H3 features below as one of the best trainers we've tested. It's quiet, it's accurate to within 2%, and it's easily storable/manoeuvrable. Saris has had its troubles lately, almost going bust, then launching the H4 (which isn't yet available to buy).
Wahoo Kickr V5:
UK: 30% off at Sigma Sports (£999.99 £699.99) (opens in new tab)
USA: 25% off at Competitive Cyclist ($1199.99 $899.99) (opens in new tab)
This is the 2020 model, and has been recently replaced by the newer V6 (2022) model. However, if you read my Wahoo Kickr review, you'll notice I said it's not the one I'd buy. That's because while the new model is indeed better than the old one, those added features aren't worth the price difference while the old model has such a hefty discount. 
Thanks for reading. If you want more deals like this, check out my guide to the Cheapest Zwift setup, where you'll find Black Friday deals and a load of advice for beginners. Otherwise, scroll on to see our picks of the best smart trainers. 
The best smart indoor trainers available today
Best top-tier direct drive turbo trainers
For direct drive turbo trainers to function, you'll need to remove your rear wheel. The turbo trainer will have a cassette fitted (although it's not always included), and you'll connect your bike to the trainer in the same way you'd fit a rear wheel. This means your pedalling turns the flywheel directly, rather than relying on friction between your tyre and a roller. 
It's important to get a turbo trainer that is compatible with the axle on your bike and ensure that the freehub body – the part that the cassette fits onto – is compatible with your groupset. You can't fit a 12-speed SRAM cassette onto an 11-speed Shimano Freehub, for example.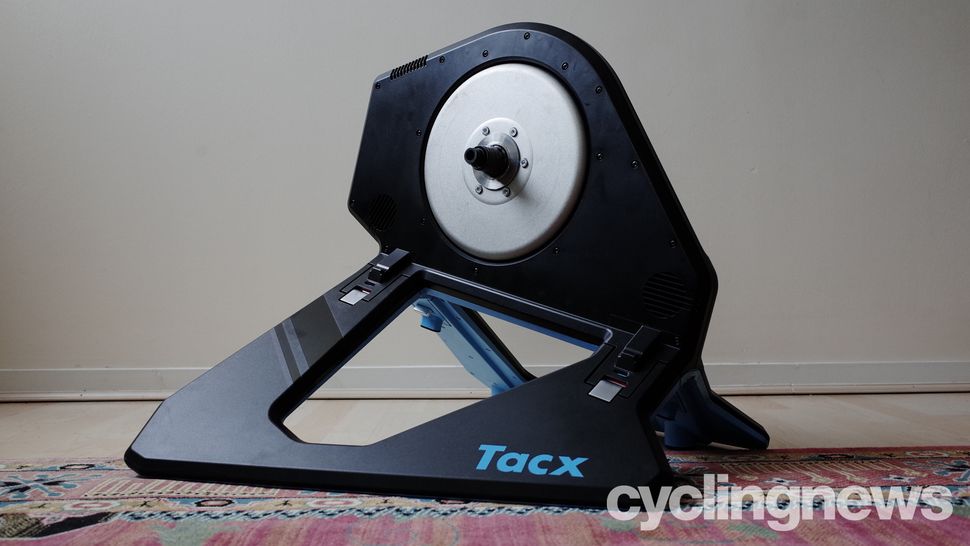 There is no trainer on this list with more features designed to offer a realistic feel. If you are riding in Zwift and you cross gravel, cobbles or features such as wooden bridges the trainer will shake in different ways to mimic the road feel. It's also the only trainer that uses a motor to accelerate the chain during descending. It doesn't do it all the time but if the situation calls for it, your freewheel could actually speed up during the descent. On top of those unique features, there's a bit of side-to-side movement built into the design and if that's not enough you can add the aftermarket Garmin Tacx NEO Motion Plates for front to back movement as well. 
Using electromagnetic resistance, Tacx says it can simulate up to a 125kg flywheel and offers 2200-watts to fight against and a max incline of 25-per cent. It's also compatible with 135×10, 142×12 and 148×12 mm axles without the need for extra adaptors. It can even be unplugged and still function meaning it's workable for your pre-race warm-up. 
Instead of using a belt to spin the freewheel as most other direct drive trainers do, the freehub Neo Smart 2 turns the flywheel, which Tacx says allows the trainer to offer power accuracy within one per cent without calibration — Tacx is so sure of this, it doesn't even provide an option to calibrate. The Neo 2T also offers advanced power metrics like left/right balance and pedal stroke analysis.
Check out our in-depth analysis in the Tacx Neo 2T review.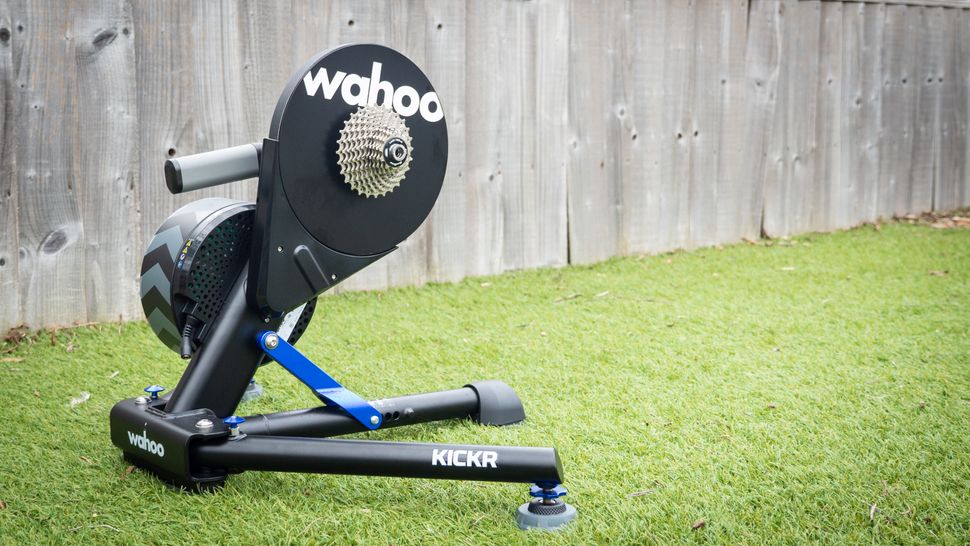 The latest Wahoo Kickr takes the already-excellent performance and easy setup of the previous iteration and adds in a few new touches. The first and most important of those is WiFi connectivity, which means your trainer can connect to your device via your home's WiFi connection instead of Bluetooth or ANT+. This is potentially game-changing for those who live in areas with high levels of radio frequency, such as apartment blocks. 
What's good is that it uses the same connection protocol as the existing Direct Connect ethernet cable, so most apps support it already. Anyone whose internet connection is patchy might want to continue using Bluetooth or ANT+ for connections but they will still benefit from automatic firmware updates and the new Erg EasyRamp feature, which allows you to restart hard intervals without the leg-sapping standing start. 
You can read more about those new additions in our Wahoo Kickr 2022 review, but know that the base level specs are still the same 2200-watt resistance, 20% gradient, 1% accuracy and five-degree left-right movement courtesy of the Axis feet, in a package that folds down for storage and will automatically calibrate itself each time you ride.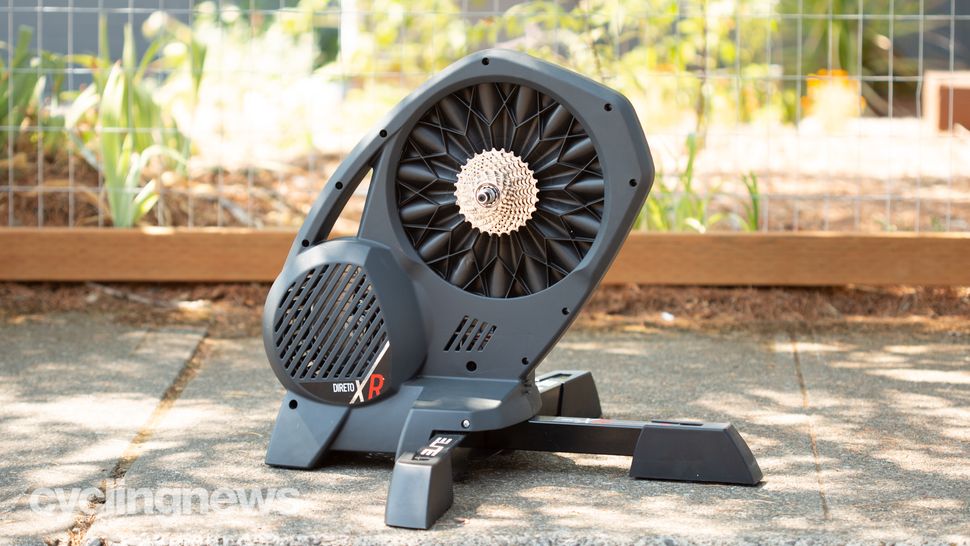 The Elite Direto XR headlines the Italian company's current range of direct-drive smart turbo trainers. The new model can now simulate gradients of up to 24 per cent, up from 18 on the Direto, while the maximum power output it can handle is 2300 watts, up from 2100. It should handle everything you can ask of a home trainer, then.
It boasts some of the best numbers out there, with the highest maximum resistance in this list. The integrated OTS (optical torque sensor) power meter measures your output with 1.5 per cent accuracy either way; a claim bettered only by the more expensive Tacx Neo 2T and Wahoo Kickr.
Ease of use is a big draw too, with Elite throwing in a pre-installed Shimano 105 (or equivalent) cassette so you can get riding right away. With our review of the Direto X seeing the lack of a cassette as one of the very few negatives about the trainer, it's a welcome improvement.
Read why the Direto XR is one of our favourites in our Elite Direto XR review.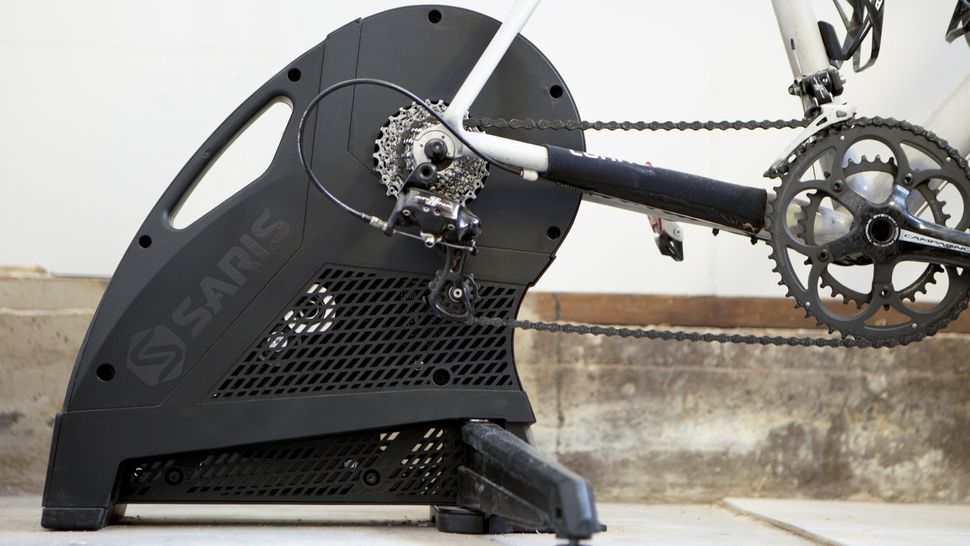 With a substantial 20lb flywheel to drive, the Saris H3 combines real-world inertia with electromagnetic resistance to offer 2000-watts of interactive resistance from your favourite training app.
The H3 sees integrated speed and cadence (and of course power) sensors and offers smooth transitions in power. The standout figure is the low noise, promising just 59 decibels at 20mph, the H3 is arguably the best turbo trainer for those looking to keep neighbours happy.
The legs fold away, and there's and carry handle so you don't throw out your back trying to move the 21.3kg unit. It comes with end caps to suit most modern rear ends (except super boost).
One of the best features you don't hear much about might be the app experience. Unlike options such as Elite, which requires the user to pay for functionality, Saris offers ERG mode for free through their app. When the winters get long and you aren't feeling motivated you can fire up the app and set a power that makes sure you are working hard. Jump over to Zwift, or a movie, and you don't have to think, all you have to do is pedal.  
Best top-tier direct drive smart trainers: At a glance
Tacx Neo 2T
Elite Direto XR
Saris H3
Wahoo Kickr
Retail price
£1,199.99 / $1,399.99 / €1.299,00 / AU$1,999.00
£829.99 / $949.99 / €809,99 / AU$1,349.95
£899.99 / $999.00 / €1,099.00 / AU$1,619.25
£1,099.99 / $1,299.99 / €1,299.99 / AU$1,799.95
Type
Direct drive
Direct drive
Direct drive
Direct drive
Can transmit power to apps
Yes
Yes
Yes
Yes
Can be controlled by apps? (ie ERG Mode)
Yes
Yes
Yes
Yes
Mains power required?
No
Yes
Yes
Yes
ANT+ FE-C
Yes
Yes
Yes
Yes
Bluetooth Smart
Yes
Yes
Yes
Yes
WiFi
No
No
No
Yes
Multiple simultaneous Bluetooth connections
1
1
1
3
Power accuracy
1%
1.50%
2%
1%
Max resistance
2,200w
2,300w
2,000w
2,200w
Max simulated gradient
25%
24%
20%
20%
Added reality features
Rumbling over rough ground
N/A
N/A
N/A
Unit weight
21.5kg / 47.4lb
15.8kg / 35lb
21.3kg / 47lb
22kg / 47lb
Flywheel weight
Virtual 125kg / 275.5lb
5.1kg / 12lbs
9kg / 20lb
7.25kg / 16lb
Carry handle?
No
Yes
Yes
Yes
Cassette included
No
Shimano 11sp
No
Shimano 11sp – 11-28t
Axle compatibility
QR, 12×142, 12×148
QR, 12×142
QR, 12×142, 12×148
QR, 12×142, 12×148
Buy
Buy the Tacx Neo 2T

(opens in new tab)

Buy the Elite Direto XR

(opens in new tab)

Buy the Saris H3

(opens in new tab)

Buy the Wahoo Kickr

(opens in new tab)
Best budget direct-drive turbo trainers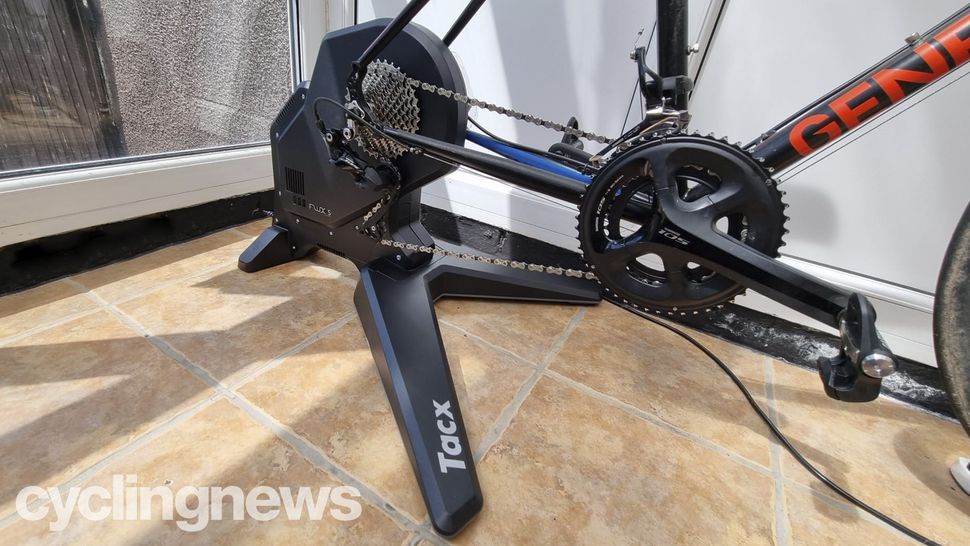 The Tacx Flux S sits in the middle of Tacx's range of smart trainers as the most affordable direct-drive smart trainer below the Flux 2 and the Neo 2T. Costing less than half the price of the latter, the Flux S represents the brand's answer to making indoor smart trainers as affordable and accessible as possible. 
With its price being its key USP — particularly in comparison to the next-level Flux 2 — the Flux S is aimed at those who are taking their indoor cycling to the next level without needing to go full-pelt, and it significantly undercuts many of its competitors like the Elite Suito and Wahoo Kickr Core.
Want to know more? Have a look at our Tacx Flux S review.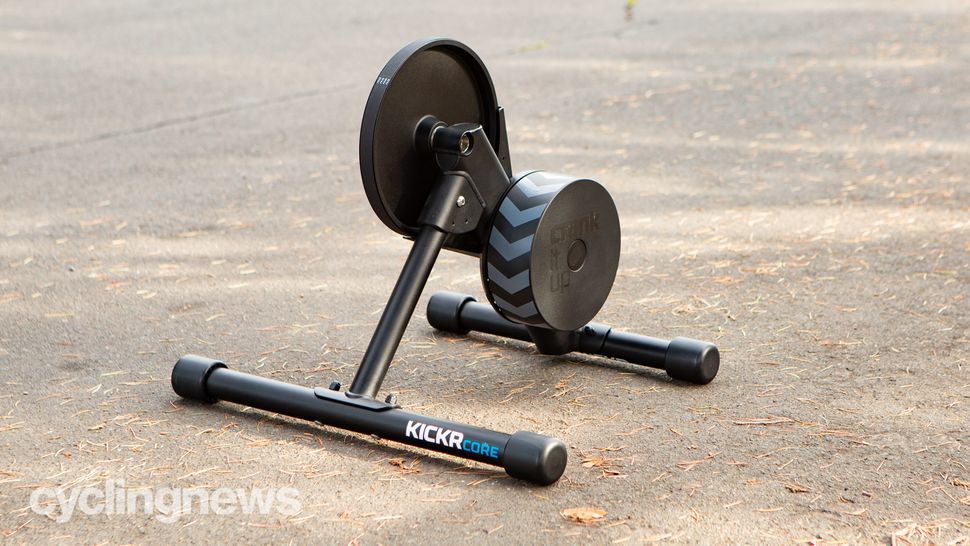 Wahoo's Kickr Core sits in the just under the brand's flagship direct-drive Kickr model. It's quite a bit cheaper and the main differences are the lack of folding legs and carry handle, height adjustment, a slightly smaller flywheel at 12lbs / 5.4kg (the same size as the 2016 and 2017 Kickr), and you'll have to supply your own cassette.
What the Kickr Core does offer is universal training app compatibility, 1800-watts of electromagnetic resistance, a simulated grade topping out at 16-per cent and claims of a +/- 2-per cent power accuracy. Once you've installed your cassette, it works with quick release, and thru-axle rear ends and offers smooth transitions in resistance and a surprisingly realistic road feel.
The Wahoo Kickr Core is one of the most popular models available for sale. The balance of price, brand recognition, and features has proven to be a winner for Wahoo. One of the things that means when considering the purchase is that a Kickr Core will hold value well when you are ready to move on. A smart trainer is a serious investment but you'll be able to sell a Kickr Core when you are ready to upgrade making the investment a little easier to swallow. 
Read our Wahoo Kickr Core review for a full rundown, and should you want to take your indoor riding to another level still, it'll work with the Kickr Climb and Kickr Headwind, too.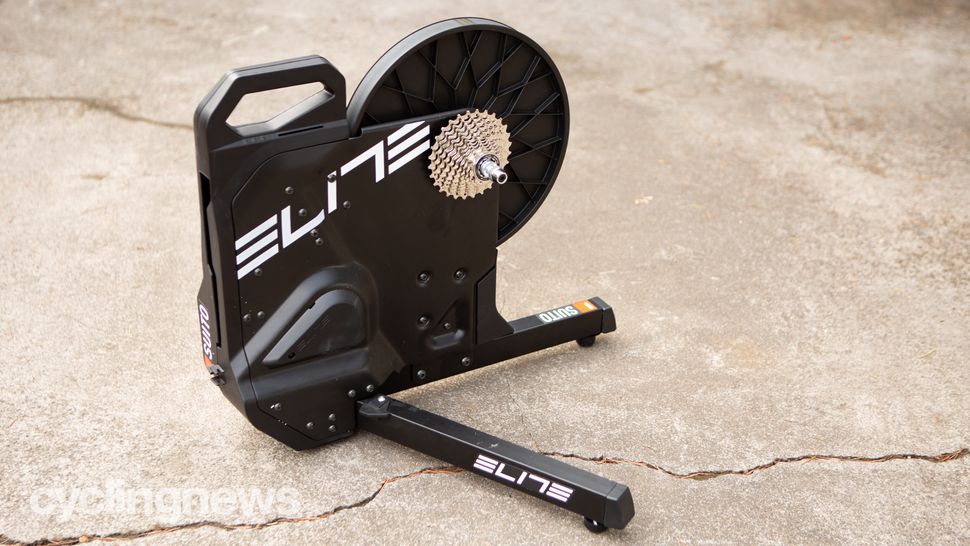 Elite's Suito is the Italian brand's second-tier turbo trainer, sitting beneath the Direto XR in the range. The Suito comes completely assembled, with the 11-speed Shimano cassette fitted, so setup is simple for anyone using an 11-speed groupset. It's also available without a cassette, marketed as the Suito-T, which will be of use to anyone running 12-speed, although don't forget to buy the aftermarket XDR driver to replace the freehub if that's a SRAM 12-speed setup. 
Once ready, the Suito is adequately quiet in operation. It provides resistance up to 1,900 watts, accurate to within 2.5 per cent, and with simulated gradients up to 15 per cent. 
It has foldable legs, with adjustable feet to stabilise on uneven ground, plus a carry handle. While its 3.5kg flywheel results in a slightly less realistic ride feel than some of the top contenders here, it's still a world apart from that 'pedalling through mud' feeling from years gone by. It also means it's lighter, making it easier to move around, should you want to put it away at the end of your ride. 
There are many who choose to leave their smart trainer ready to go all the time but not everyone. If you have to tidy up your indoor training setup on a regular basis then the Suito might be the most compact and storable direct drive trainer on our list. 
Want to know more? Have a look at our Elite Suito review.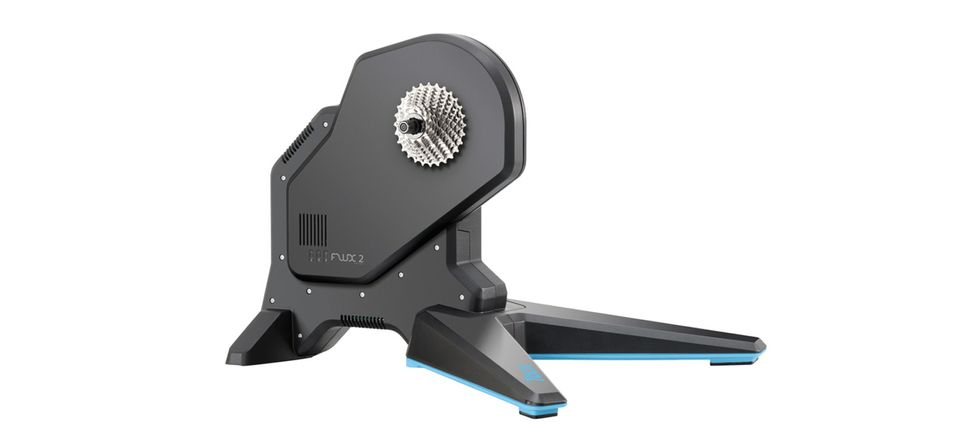 The Flux 2 is Tacx's second-tier offering, sitting beneath the all-singing Neo 2T and above the lesser-specced Flux S. 
Where the Flux 2 shines is in offering performance beyond what many are ever going to need, paring down the bells and whistles, and doing so at a price that is considerably more attainable than the four-figure-sum Neo 2T. 
It benefits from a 7.6kg flywheel, which is the third heaviest on this list, which translates to a very lifelike road feel. It will measure your power to within an accuracy of 2.5 per cent, which is more than accurate enough for most users, but do be aware that this falls outside of Zwift's latest e-sports update, which applies to pro-level competitions such as the Premier Division of the Zwift Racing League.
It can simulate gradients up to 16 per cent, which is more than steep enough for us thank you very much, and it can provide a maximum resistance of 2,000w – which is roughly what the best professional road sprinters are putting out, let alone amateurs at home. 
Wahoo Kickr Core
Elite Suito
Tacx Flux S
Tacx Flux 2
Zwift Hub
Retail price
£699.99 / $899.99 / €799.99 / AU$1,249.95
£629.99 / $799.00 / €569.00 / AU$1,189.95
£549.99 / $749.99 / €599,00 / AU$999.00
£699.99 / $899.99 / €799,00 / AU$1,199.00
£449.99 / $499.99 / €499,00 / AU$tbc
Type
Direct drive
Direct drive
Direct drive
Direct drive
Direct Drive
Can transmit power to apps
Yes
Yes
Yes
Yes
Yes
Can be controlled by apps? (ie ERG Mode)
Yes
Yes
Yes
Yes
Yes
Mains power required?
Yes
Yes
Yes
Yes
Yes
ANT+ FE-C
Yes
Yes
Yes
Yes
Yes
Bluetooth Smart
Yes
Yes
Yes
Yes
Yes
Multiple simultaneous Bluetooth connections
3
1
1
1
1
Power accuracy
2%
2.50%
3%
2.50%
2%
Max resistance
1,800w
1,900w
1,500w
2,000w
1800W
Max simulated gradient
16%
15%
10%
16%
16%
Added reality features
N/A
N/A
N/A
N/A
N/A
Unit weight
18kg / 40lb
14.5kg / 32lb
22.8kg / 50lb
23.6kg / 52lb
15kg / 33lb
Flywheel weight
5.44kg / 12.0lb
3.5kg / 7.7lb
7kg / 15lb
7.6kg / 16.7lb
4.7kg / 10.4lb
Carry handle?
No
Yes
No
No
No
Cassette included
No
Shimano 11sp
No
No
Yes, any
Axle compatibility
QR, 12×142, 12×148
QR, 12×142
QR, 12×142, 12×148
QR, 12×142, 12×148
QR, 12×142, 12×148
Buy
Buy the Wahoo Kickr Core

(opens in new tab)

Buy the Elite Suito

(opens in new tab)

Buy the Tacx Flux S

(opens in new tab)

Buy the Tacx Flux 2

(opens in new tab)

Buy the ZwiftHub
Best wheel-on turbo trainers
Like direct drive trainers, wheel-on turbo trainers hold your bike aloft via the rear axle, but they differ in that you don't remove the wheel. Instead, your rear tyre is placed against a roller so that when your pedalling input spins your rear wheel, it in-turn spins the roller. The resistance is then applied to that roller, which in turn makes it harder to pedal.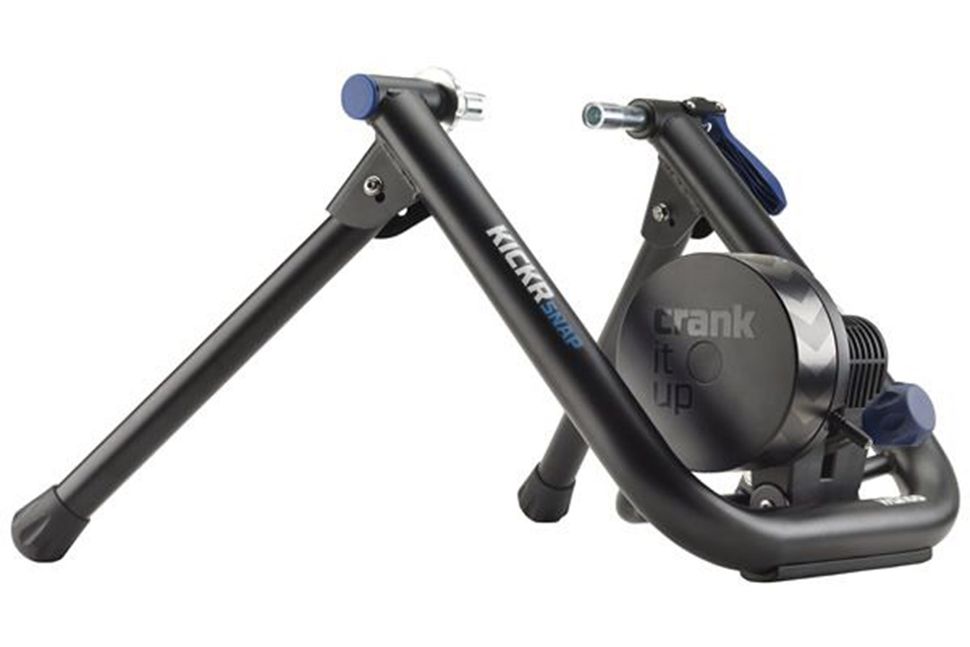 While Wahoo's Kickr direct drive turbo trainers are likely some of the first that comes to mind (for good reason), the brand's wheel-on Kickr Snap is no chump.
With both ANT+ and Bluetooth connectivity, Wahoo makes the unit compatible with basically every training app under the sun and the Kickr Snap plays nicely with iOS, Android, Windows and Mac.
At +/-3 per cent accuracy, the power measurement of the V2 edges in just above much of the competition and in the ERG mode, the Snap adjusts the resistance at the rear wheel to match what your app of choice dictates.
The frame is sturdy and doesn't feel as though you're going to tip over when the intervals get tough, but the legs are foldable for easy storage.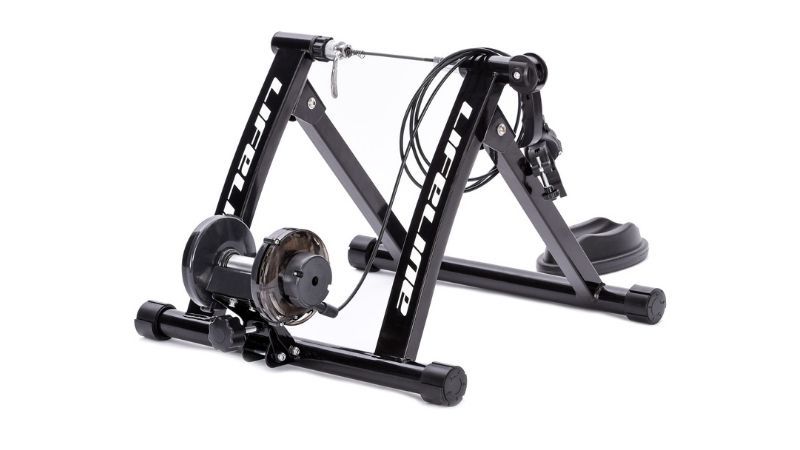 This magnetic wheel-on turbo trainer from Wiggle's inhouse brand Lifeline may lack the bells and whistles of a smart trainer, but it does offer a very budget-friendly way for anyone to get started with indoor cycling. Its wide steel construction and rubber feet create a strong and stable platform to hold your bike securely in place, while the compact folding a-frame design makes it easy to pack away or take with you to warm up before an event.
With six levels of magnetic resistance that you can adjust using an ergonomic remote lever atop your handlebars, and a promised power curve to simulate real riding conditions, it's an ideal entry-level trainer for anyone who's at the beginning stages of setting up their pain cave. It comes with a riser block for your front wheel to rest on to place you in a natural riding position, and you can combine the magnetic resistance with your bike's gears to simulate hill climbs and sprints. 
It's also compatible with multiple wheel sizes, ranging from 26-inch mountain bike wheels to 700c road wheels, and can fit both 130 and 135mm rear spacing, for road and mountain bikes respectively. This means if you've not yet invested in a road bike, you can still start training with whatever set of wheels you already have.
It's still possible to achieve an at-home virtual cycling setup with the Lifeline TT-01, if you pair it with an ANT+ or Bluetooth stick and a speed and cadence sensor. In fact, the trainer is now included in the Zwift classic trainer hardware list, which means with these additions you can take advantage of Zwift's power curve configuration to improve accuracy.
There will be a slight delay between your power output and the response on screen, but for under £100 / $150, it's definitely not something to be sniffed at.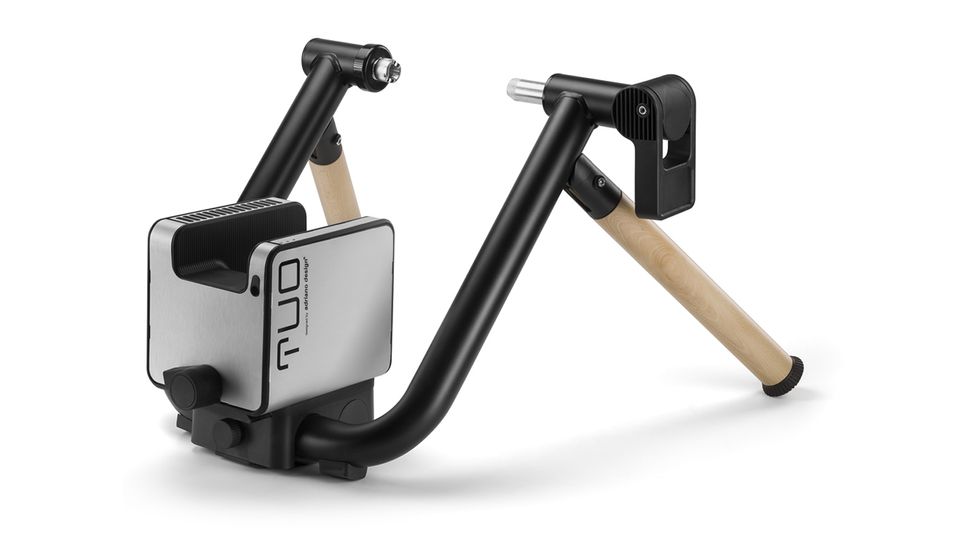 The Elite Tuo is easily the best turbo trainer for the style-conscious or those who want their turbo trainer to blend in with their home decor. 
However, it's not just a pretty face. With a claimed accuracy of +/- 3-per cent, slope simulation of 10% and a maximum resistance of 1250 watts, it holds its own as a great training tool too.
The Tuo is compatible with bikes from 130mm quick-release up to 148x12mm thru-axle. It has a large footprint for stability during high power efforts, yet if you do decide to hide it away, it folds up to a compact package.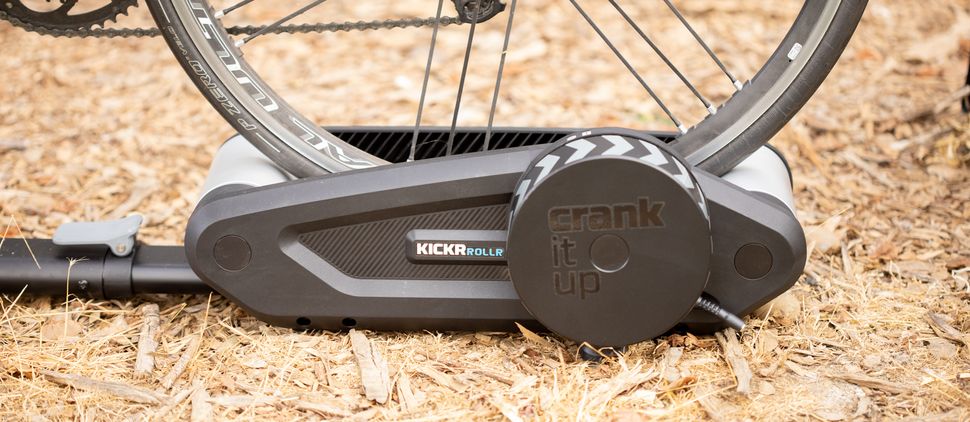 The Wahoo Kickr Rollr is technically a wheel-on smart trainer but it's unlike anything else on this list. For many years a roller system was the most natural ride quality available when riding inside. The downside though was the ability to fall off. If you weren't careful, you'd find yourself on the ground. As smart trainers rose in popularity the fact that rollers lacked a hard connection to the bike meant that it was difficult to integrate resistance and power measurement. With the Wahoo Kickr Rollr, the brand thinks they've overcome these challenges.
There's no system for bolting your bike to the trainer because all you do is set the bike onto the trainer and secure the front wheel with a hoop. The rear wheel moves just like it would on traditional rollers but there's no risk of falling so it's possible to integrate resistance. Then, sidestepping power measurement issues, you'd want to bring your own option from our list of the best power metres. 
The ease of use of the system makes it ideal for those who want a natural feel and fast bike connection. If you've got multiple bikes in the household and everyone has different groupsets and tyres it's still just as easy to put the bike on and get started riding. It's also a good choice if you prefer riding outside, already have a power metre, but sometimes need another option. 
One thing to consider though is that Zipp has specifically warned against using their wheels with the Wahoo Kickr Rollr. We will keep an eye on the news as it develops but for now at least, you'll want to swap wheels if you've got something from Zipp.
Want to know more? Have a look at our Wahoo Kickr Rollr first look. 
Lifeline TT-01 turbo trainer
Elite Tuo
Wahoo Kickr Snap
Wahoo Kickr Rollr
Retail price
£99.99 / $147.99 / €119,59 / AU$199.99
£399.00 / $580.00 / €499.00 / AU$749.99
£429.99 / $499.99 / €499.99 / AU$749.95
£699.99 / $799.99
Type
Wheel on
Wheel on
Wheel on
Wheel on
Can transmit power to apps
No
Yes
Yes
No
Can be controlled by apps? (ie ERG Mode)
No
Yes
Yes
Yes
Mains power required?
No
Yes
Yes
Yes
ANT+ FE-C
No
Yes
Yes
Yes
Bluetooth Smart
No
Yes
Yes
Yes
Multiple simultaneous Bluetooth connections
0
1
3
3
Power accuracy
N/A
5%
3%
NA
Max resistance
Approx 800w
1,250w
1,500w
1,500w
Max simulated gradient
N/A
10%
12%
10%
Added reality features
N/A
N/A
N/A
NA
Unit weight
TBC
TBC
17.2kg / 38lb
22.7kg / 50lb
Flywheel weight
TBC
2.5kg / 5.5lb
4.8kg / 10.5lb
4.8kg / 10.5lb
Carry handle?
No
No
No
No
Cassette included
No
No
No
NA
Axle compatibility
QR (Thru axle sold separately)
QR, 12×142, 12×148
QR (Thru axle sold separately)
NA
Buy
Buy the Lifeline TT-01

(opens in new tab)

Buy the Elite Tuo

(opens in new tab)

Buy the Wahoo Kickr Snap

(opens in new tab)

Buy the Wahoo Kickr Rollr

(opens in new tab)
How to choose the best turbo trainer
To the uninitiated, cycling turbo trainers can present a confusing minefield of options, but that's where we can help. 
Firstly, you'll need to decide between smart and standard. While the trend of the best turbo trainers of today definitely favours smart trainers, standard options (often called dumb trainers) are still produced and widely popular due to their budget-friendly price. 
Smart means they can connect (usually via Bluetooth or ANT+) to your electronic device (phone, laptop, tablet and most of the best cycling computers) to offer variable resistance which is controlled by apps such as Zwift or workout sessions downloaded to your cycling computer from training software such as Training Peaks.
When buying, look for connectivity specs and compatibility claims. If it has Bluetooth or ANT+ mentioned, or it claims to be compatible with Zwift, then you're looking at a smart turbo trainer. Of course, these will come at a higher price than a standard trainer. 
Standard turbo trainers forego this connectivity and are much cheaper. They either offer an upwards resistance curve (the harder you pedal, the more it resists), or a manual controller, which works in a similar way to dragging the brakes. Of course, if you have a power meter or speed sensor, you can pair those with your Zwift-running device, but the interactivity is lost (Zwift can't control the resistance automatically). For more information on this, we've put together a guide to the cheapest Zwift setup which explains what you need to ride on Zwift (and other apps) and the cheapest way to make it happen. 
Within smart turbo trainers, there are two options: wheel-on and direct drive. Just as the names suggest, wheel-on places a roller against your rear tyre to provide resistance while direct-drive connects a cassette to the trainer itself, and removes the rear wheel altogether.
The most significant factor in determining which turbo trainer is best for you will be how much you're willing to spend. Direct drive turbo trainers are definitely better, but also more expensive, the wheel-on smart variety is more budget-friendly, and standard (non-smart) turbo trainers are regularly the cheapest. 
Of course, there is a trade-off. The wheel-on trainers are usually louder and don't offer the same power-measuring accuracy as their direct drive counterparts.
How do I find a trainer that's compatible with my axle and freehub?
Bikes use a variety of axle and freehub standards these days, so it's essential to check which your bike uses and make sure the turbo trainer you buy comes with the correct adaptors. 
Axles
Most modern bikes use either a 135mm quick-release (QR) skewer or a 142x12mm thru-axle. All of the trainers above are compatible with both, but some will require an extra purchase to make it work. We've outlined the compatibility of each trainer to help you decide which is the best turbo trainer for you. 
Many mountain bikes these days use a slightly wider 148x12mm thru-axle, so if you're a mountain biker and wish to use it on the trainer, then you'll need to consider this when buying. 
If your turbo trainer of choice doesn't come with the correct adaptor to suit your bike, then it will most likely be available as an aftermarket extra purchase, but of course, this is an extra cost you may be able to do without. 
Freehubs
When it comes to direct drive trainers, you'll need to consider whether the freehub is compatible with a cassette that is compatible with the groupset on your bike.
The agreed-upon standard is for a turbo trainer to come with a freehub that's compatible with 9, 10 and 11-speed Shimano/SRAM cassettes. So if you're using a groupset of that spec, you'll probably find you have no issues with freehub compatibility. However, if you're using Campagnolo, Shimano 12-speed, or SRAM 12-speed groupsets, you'll need a different freehub, which will be an additional extra purchase to consider. 
Cassettes
If buying a direct drive turbo trainer, it's also worth considering whether or not your prospective new turbo trainer comes with a cassette or not. Some turbo trainers come with an 11-speed cassette included, which can help save money (assuming it's compatible with your bike, of course). We've made it clear for each of the turbo trainers above which, if any, cassette is included. 
Can a cycling trainer ever damage my bike?
Riding a bike on an indoor trainer can place a unique set of forces through certain parts of your frame and in particular the rear dropouts. It's first important to check that your bike is actually compatible with use on a turbo trainer. Most new bikes are, but your bike's manual should offer details, and Wahoo has its own bike compatibility (opens in new tab) chart for extra help.
Correct installation of your frame and regular checks are important to ensure nothing is ever damaged. Don't just clamp your bike onto a trainer and ride it all winter without checking things over, especially after a few hard sessions. It's also really important to protect your bike and components from corrosive sweat if you're doing a lot of riding on your indoor trainer, we like to drape a towel over the handlebars to catch the majority of the sweat, and a wipe down after each use and regular bike wash will keep everything working as it should. 
For a more detailed answer, check out our in-depth article covering whether a trainer can damage your frame.
What is ERG mode?
ERG mode is where the trainer will tailor the resistance to help you hit your target power, and is a feature of all smart turbo trainers. For example, let's say you're riding a preset workout and your target power is 200 watts, ERG mode will provide the right resistance for 200 watts regardless of whether you're pedalling at 60RPM or 150RPM.
This means you can focus more on the pedalling and less on shifting gears or ensuring you remain on target. It's also a big point of differentiation for every smart trainer. The hardware has the ability to almost instantly lock you to a specific power level but our bodies don't respond like that. Our pedalling isn't perfect and our power output vs cadence varies. The way that different manufacturers tune the software to respond to those realities changes the feeling of the ride. Some companies are faster for tighter adherence to specific power outputs. Wahoo follows this strategy. Other companies, like Elite, intentionally respond a little slower to provide a more natural feeling ride even if your intervals aren't as tight. You'll want to think about how you ride when you consider what brand of trainer is right for you.
Which apps are compatible with my smart trainer?
When it comes to communication with your device, almost every smart trainer can connect via Bluetooth Smart FTMS (the FiTness Machine Service designed specifically for Bluetooth fitness equipment) or ANT+ FE-C. Both allow your trainer to speak to and receive commands from your computer, meaning you can ride in Erg mode or have the resistance affected by the terrain in Zwift. 
ANT+ FE-C can generally accept multiple connections at once, so you can record data on multiple devices or have your trainer controlled by TrainerRoad whilst following roads in Zwift for entertainment. Bluetooth is usually limited to one concurrent connection, although Wahoo devices support up to three. 
As of around 2016, virtually every smart trainer on the market is dual-band, meaning they worked on both protocols, so no matter if you're using a Garmin cycling computer or your Bluetooth smartphone, your smart turbo trainer should be able to speak the right language. 
Remember, a standard trainer forgoes this technology, so cannot communicate with your device at all. 
Are turbo trainers worth it?
Deciding if a turbo trainer is worth purchasing is all about the kind of riding you want to do. If you want to get more serious about the riding you do then you'll find a lot of value in a trainer no matter the time of year. There is no better way to do intervals than inside on a trainer and there is no better way to get faster, or more fit, than by doing intervals. You might also want to take that newfound fitness and put it to the test in a race and that's another great reason to pick a turbo trainer.
Even if your riding isn't about speed, you could find a lot of value in a turbo trainer. There are incredibly tight communities that revolve around Zwift. Everyone gets together for group rides and chats away on headphones. You might find the best cycling community you've ever experienced is actually a group of people all over the world and you can now ride with them. Then, of course, there's weather considerations. If you don't feel like riding in the cold through the winter, you'll find a turbo trainer is worth it's weight in gold.
How do we test?
When it comes to indoor cycling we are a passionate group at Cyclingnews. One of us even had the opportunity to share our Pro Pain Cave before representing our home country in the 2022 UCI Cycling Esports World Championships. 
The first step is pulling it out of the box, noting which adaptors come included, and how easy it is to fit our bike to the trainer. Next up comes the software check, where we see how easy any accompanying app is to navigate and how stable the Bluetooth and ANT+ connections are to our various devices. 
When we test indoor cycling gear we take it through a range of different use cases. TrainerRoad is an excellent way to check the response of a trainer in ERG mode and we check that using short intervals and long. We also make sure we race in Zwift to see how the gear handles race situations and we do some free riding in Zwift, RGT or Rouvy to compare ride feel in a more relaxed situation. 
We'll also use the trainer alongside a couple of on-bike power meters to make sure the readings from the trainer are correct across various power durations, from short sprints to long steady efforts.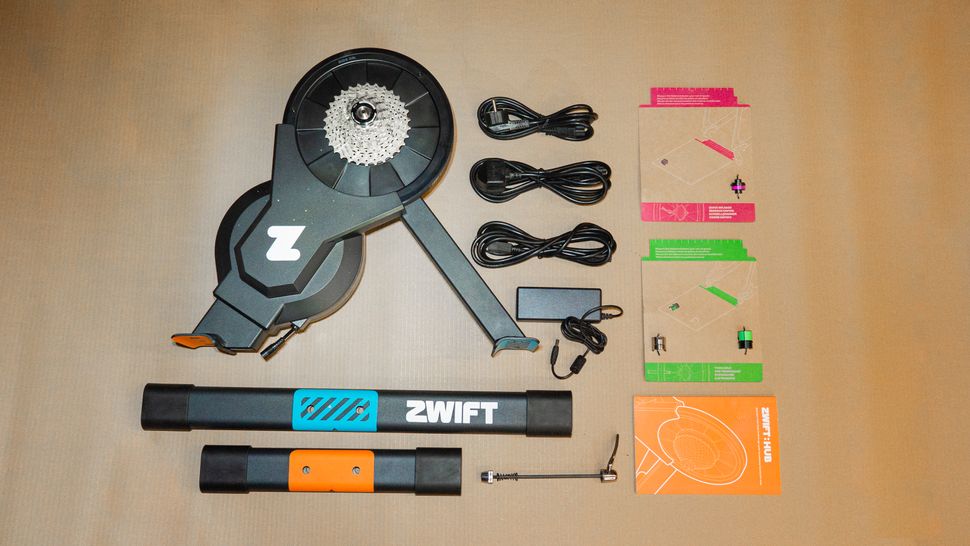 Given the dominance that Zwift has over the indoor cycling space it's no great surprise that it decided to produce its own smart trainer. While some brands go for the all-singing, all-dancing approach, Zwift has instead entered the market with a smart trainer of truly sensational value. 
The stats are entirely respectable, even for more expensive trainers, but for what is an entry-level option you couldn't ask for much more. You can even have any freehub you like and choose a cassette at the point of sale, meaning you don't have to faff about with a chain whip, and can more easily take your indoor bike outside should the mood take you.
What's more, it comes with functional packaging and is easy to set up. The ride feel may not rival that of the top-end options, but it is also not something that was ever detrimental in our testing experience. 
Want to know more? Have a look at our Zwift Hub review.