While they may not be the first thing that come to mind when you start planning your winter training, the best indoor cycling shoes are a useful addition to your cycling wardrobe for many reasons.
As we head closer to winter here in the Northern Hemisphere, the warm, dry, safe and sheltered nature of the pain cave is becoming all the more inviting, with plenty of people switching to indoor cycling. 
Indoor cycling can come in many forms, and whether you're opting for one of the cheapest Zwift setups instead of the best turbo trainers or best smart bikes, one thing all indoor cyclists will need is a pair of cycling shoes for training indoors. 
Riding inside brings with it a whole new set of rigours and, while any of the best cycling shoes for riding outside will do the job admirably, the best indoor cycling shoes come with a few added features and capabilities that make them better suited to static rides in the great indoors. 
Whether you're looking to prolong the life of your high-end kicks, or maybe you're after something a bit more forgiving as you plug away on the trainer, a second pair of shoes can improve your indoor cycling experience.
Read on for our pick of the best indoor cycling shoes, or jump to the bottom for a rundown on how to choose the best indoor cycling shoes for you.
Best indoor cycling shoes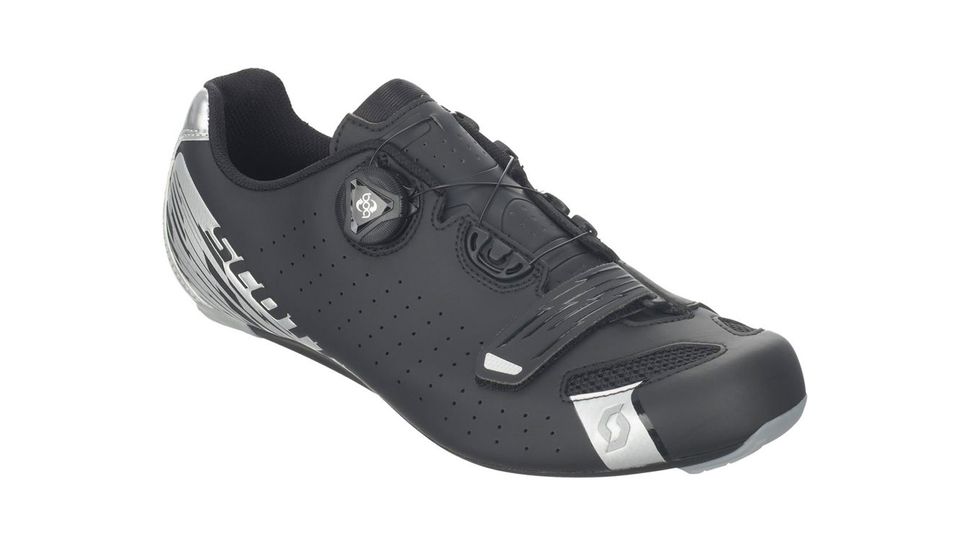 Scott's Road Comp shoes are essentially a toned-down version of the brand's RC race clogs. There might be only one Boa, a nylon sole rated 6/10 on the brand's stiffness scale, and they are a bit heavier, but the major design features are all present and correct. 
Most notable is the brand's torsion fork on the rear half of the sole, which allows for a bit of lateral flex to alleviate some of the strain on knees and ankles to stave off overuse injuries. It creates a floaty feeling as you pedal – one which we've come to appreciate in the brand's more expensive kicks. Inside the shoes, the insole has removable arch supports and a metatarsal button.
However, from our experience with the women's specific model, where this shoe really shines is its excellent ventilation. While it's designed to be worn outdoors, the extensive mesh panels around the toes and forefoot do a great job of keeping airflow where it needs to be, making them a great indoor cycling option.
For more information, read our Scott Road Comp Boa Lady shoe review.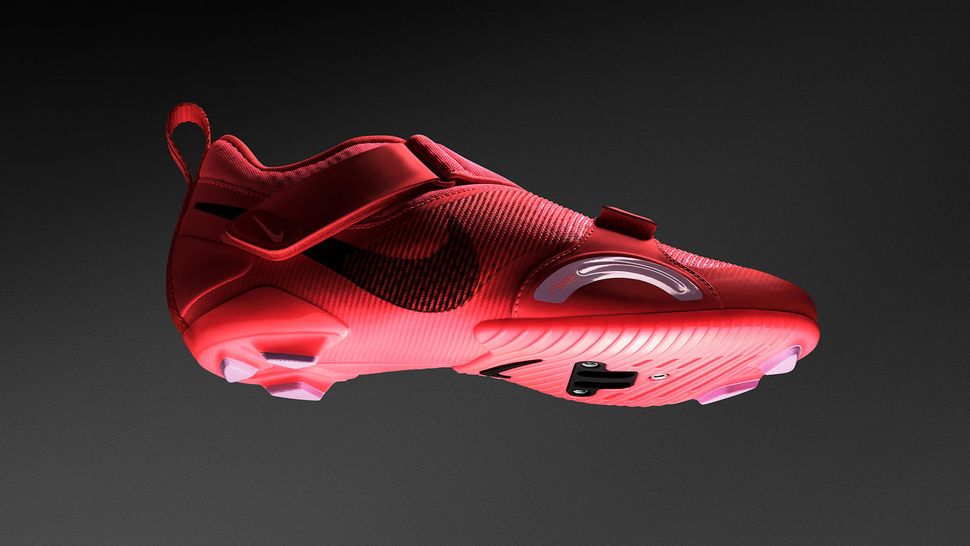 Nike, known around the world for its sports footwear, has seen an opportunity with the rising popularity of indoor cycling and has responded with the SuperRep Cycle, an indoor-specific cycling shoe. 
While it appears Nike has targeted these shoes more towards spinning and Peloton class aficionados rather than the turbo trainer branch of indoor cycling, the shoes will accept two and three-bolt cleats and use what Nike calls "translucid mesh on the upper, coupled with a perforated sock liner and vents through the bottom of the plate to enable better airflow around the toes".
The SuperRep Cycle's trump card, however, hinges more around its superlative levels of ventilation rather than outright performance. The shoes naturally feature a highly breathable, fabric mesh upper complete with venting channels in the sole. As far as performance goes there's no carbon-fibre outsole – instead, the SuperRep uses a heat-moulded nylon plastic half-sole around the forefoot area to take care of power transfer. Torsional stiffness – as expected – is lacking somewhat and the heel area flexes from side to side when manipulated by hand.
Read our Nike SuperRep Cycle review for in-depth details.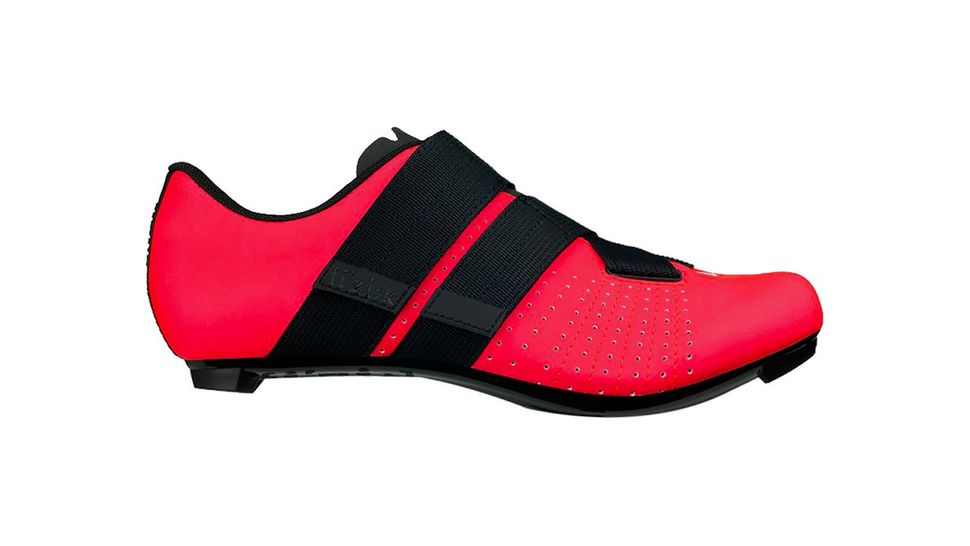 While these aren't necessarily indoor-specific, the two fat and stretchy velcro retention straps make the Fizik Tempo Powerstrap R5 one of the most comfortable you can buy. Fizik calls this closure technology the Powerstrap, and it allows the shoe to be tightened evenly around your foot, using dual straps tailor-fit around the instep and midfoot. 
The outsole is made from carbon-reinforced nylon and, inside the heel cup, silicone dots keep your foot from slipping without the need for dramatic shaping, and so eliminating any kind of pinching.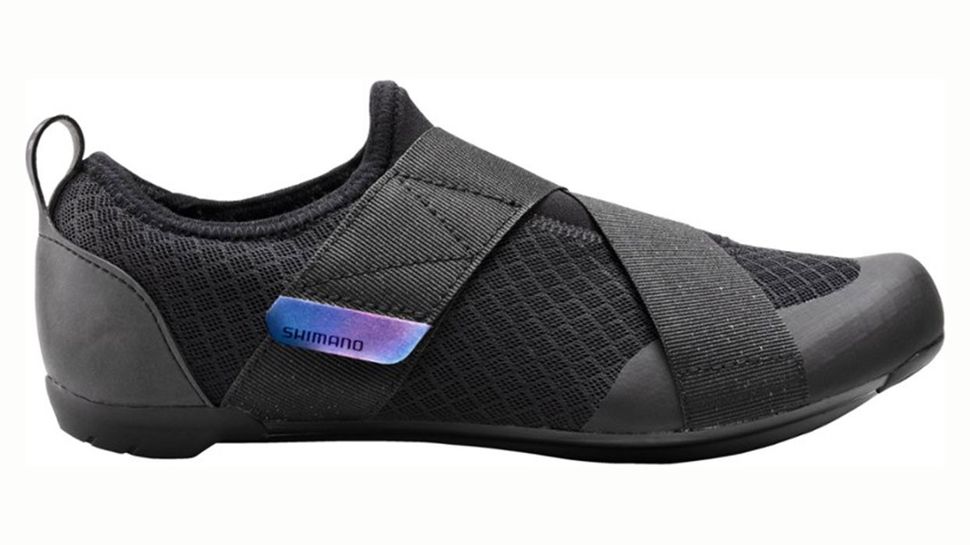 There aren't all that many shoes out there designed specifically for riding inside. However, Shimano's IC1 model is a notable exception. Shimano says it created the IC (indoor cycling) shoes to provide maximum ventilation, and just about the entire shoe is made from mesh. A single Boa L6 dial cinches the shoe closed with a synthetic leather tongue wrapping over the top of the foot, while TPU supports the cable anchors.
The sole is nylon reinforced with glass fibre, and rated six on Shimano's stiffness scale, and there are small lugs to ease walking and prevent the two-bolt SPD cleat from touching the ground. Shimano makes them in sizes from 36-49, and they maintain the brand's hallmark features like the Dynalast shape.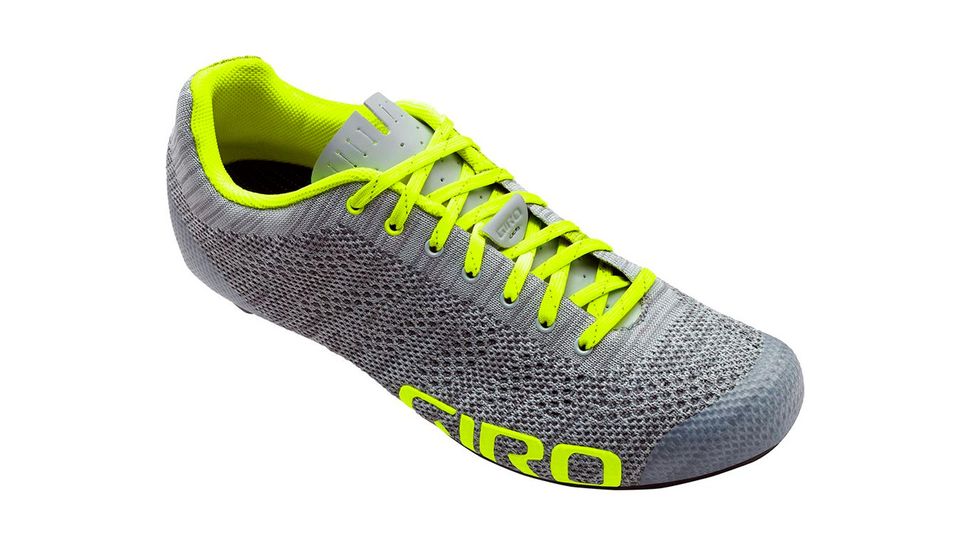 When we talk about breathability, the latest crop of knit shoes outperforms the rest when it comes to airflow and cooling – ideal considering the heat generated by indoor riding. While the Empire E70 Knit shoes are probably on the upper end of how much you may want to spend on a pair of dedicated indoor shoes, the laced closure combines with the supple Xnetic knit fabric conforms to your foot like a warm hug – or maybe a cold hug. To prevent the shoes from being about as supportive as an old sock, Giro added an internal TPU skeleton.
The sole is Giro's second-tier EC70 carbon sole, which is plenty stiff enough to stand up to even the most vicious sprint intervals but still maintains a degree of comfort for those long-haul rides. Giro also makes them in a men's and women's version.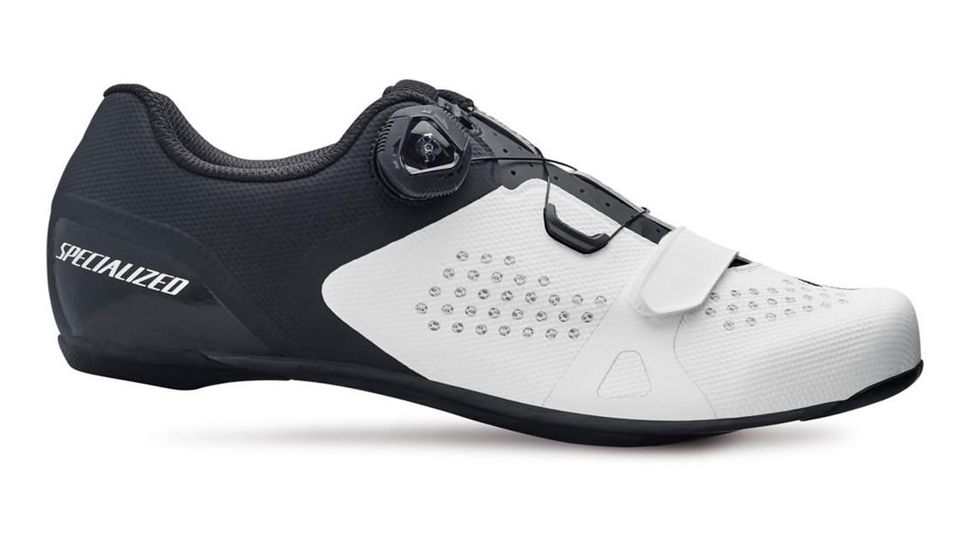 Specialized's top-end race shoes are some of the most sought-after kicks on the market for their ultra-stiff FACT carbon sole, clever use of non-stretch materials and the Body Geometry design ethos. Luckily for us, the lower-end shoes have greatly benefited from trickle-down tech, and the Torch 2.0 is one such benefactor. 
The entire shoe is made from mesh, with TPU panels providing structure while a single IP1 Boa dial and velcro strap under the toe box make for a perfect fit. Specialized has opted for a carbon sole which rates 7.0 on its own stiffness scale with a three-bolt cleat mounting plate. The sole also uses the Body Geometry construction, and so do the footbeds.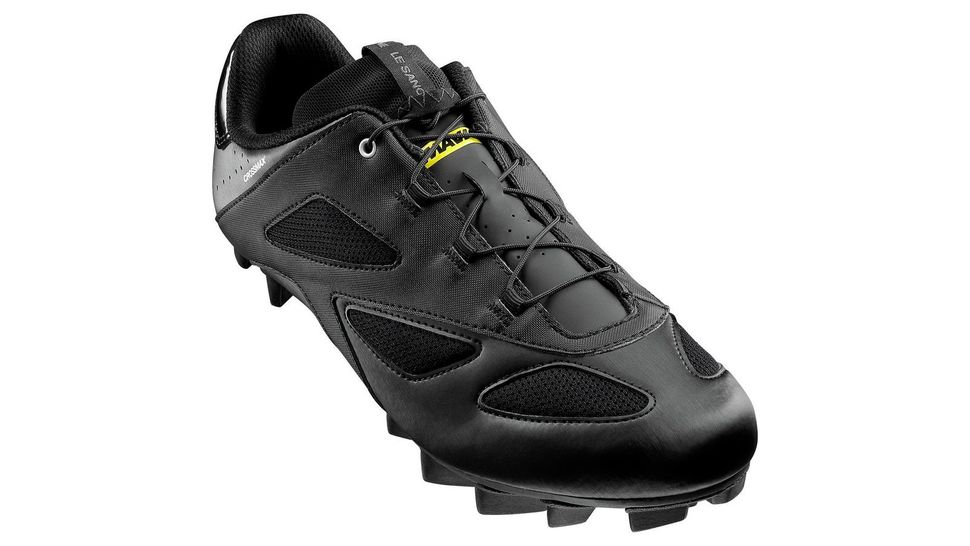 Yes, the Mavic Crossmax shoes are mountain-bike-specific, but off-road kicks are a good option for riding inside because the lugs offer a bit of extra traction as you walk through the house. Walking on tiles wearing road shoes can feel a bit like ice skating when you head to the kitchen to fill your bottles or run to the bathroom mid-workout. They also prevent the cleat from touching the ground, which is ideal if you have wood floors. 
The Crossmax uses a speedlace-style closure that cinches the shoe down with a simple pull and the Energy Grip Terra sole is plenty rigid enough to provide a stable pedalling platform. Big mesh panels throughout also allow for plenty of cooling. 
How to choose the best indoor cycling shoes for you
It may not seem like rocket science, but if you already recognise the need for indoor-specific shoes, then it only stands to reason that there are certain factors you need to consider when making your choice. Here's a breakdown of all the things you should take into consideration while making your choice.
Which type of cleat do I need?
For the most part, road shoes use a three-bolt mounting system, and mountain-bike shoes will use a two-bolt setup. If you're looking to get shoes for a spin class or something like a Peloton bike, all spin bikes have pedals that work with two-hole SPD cleats, while some will also have a Look Delta pedal on the underside. 
Your road bike will already have pedals screwed into the cranks, but if you're putting together a dedicated indoor setup, it might be worth looking at a pair of MTB shoes. With lugs designed for scampering up steep inclines, and over rocks and roots, MTB shoes have considerably more traction than road shoes; something you're likely to appreciate if you've ever tried to run to the bathroom mid-workout and hit the tiles with a bit too much speed.
Which sole material is best?
It's well established that carbon-soled shoes are stiffer and lighter than their nylon or carbon-reinforced cousins. However, when you're spinning on the trainer, weight is hardly a consideration, but comfort should be. 
The vast majority of us can't flex the board-stiff carbon plate on a top-end race shoe, and shoes that are too stiff can cause undue stress on knees and ankles – especially when the bike is essentially bolted to the floor. A small degree of flex vastly improves comfort and helps alleviate overuse injuries without sacrificing much, if any, power transfer or efficiency. 
Nylon soles on offer today are plenty rigid enough to make for efficient power transfer, but, with a bit more flex than their carbon compatriots, they can offer improved comfort and don't leave quite as big a dent in your wallet. During long indoor sessions, you're not moving around on the bike the way you do riding outside, and so some areas that otherwise wouldn't bother you can get a bit irritated – which is something less-rigid shoes can sometimes help with.
How do I stop my feet from overheating when cycling indoors?
Riding inside is a sweaty proposition at the best of times, and the airflow that keeps your feet cool as you spin down the road is, of course, gone. A shoe that relies on pin-prick perforations, therefore, is going to become a sauna.
To keep your little piggies from becoming crispy bacon, look for shoes that have lots of mesh and an open design, and then use a good strong fan to keep your body cool. The less heat your body needs to expel, the less heat it will send to your extremeties.