The best heart rate monitors are comfortable enough that you forget you're wearing them, and they aid your training by providing consistent and accurate heart rate data. Until power meters became widespread in cycling, heart rate was the gold standard for measuring training effort and recovery. It's still an important metric used by athletes – professional or amateur – worldwide. The humble heart rate monitor can provide insight into training effort, exertion, fatigue and more. 
They have been around for decades, with Finnish outfit Polar releasing the first wireless model back in the late 1970s, but technology is improving all the time. 
Now we have lightweight chest straps, optical forearm-based monitors, and small optical wristbands that track your pulse, the latter is now being integrated into fitness trackers and smartwatches at all price points. All of the best smartwatches for cycling use optical heart rate sensors.
Ranging from simple straps that will communicate with your cycling computer to advanced dual-band sensors with onboard memory and even music control, each option can map other metrics like heart rate viability, remember workout data, and even determine cadence.
But which of the myriad options is the best heart rate monitor available today? The answer will depend on factors such as your needs, wants and budget constraints. Skip to the bottom for a detailed buyer's guide on how to choose the best heart rate monitor for you, or scroll down to view our roundup of our top-rated heart rate monitors. 
Best heart rate monitors for cycling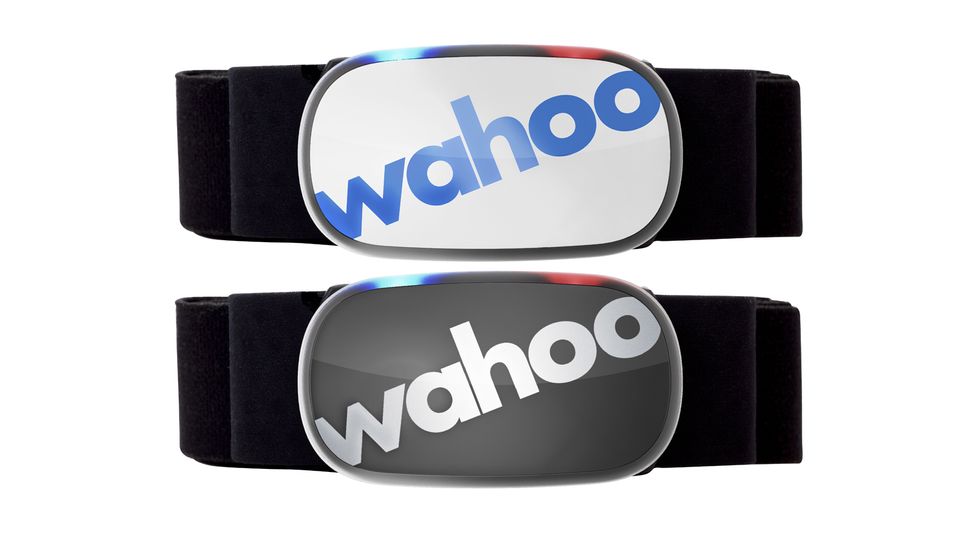 Wahoo's Tickr is a basic dual-band Bluetooth and ANT+ heart rate chest strap that has recently received a refresh. Wahoo has reduced the size of the unit for a better fit and increased the battery life by nearly 50 percent, which gives a claimed 500 hours of use on a single battery. For ease of use, the Tickr range can simultaneously connect to three devices, which is particularly useful for indoor cycling, as it enables you to control your headwind fan whilst riding on Zwift via your laptop, or track your heart rate via a cycling computer and a phone at the same time.  
It is powered by a standard CR2032 battery that should last about a year. The cover of which is easily removable (a simple dinner knife works best), and the sensor has a water- and dust-resistance rating of IPX7, and Wahoo says it will survive at a depth of 5ft. 
The gen 2 Tickr has had its glitches since launch, but Wahoo's support is generally brilliant, so you can rest assured that you'll get consistent and accurate data. 
It's basic in function; it doesn't have music control or onboard memory, but this does make it one of the cheaper options available. 
Check out our Wahoo Fitness range overview for more like this.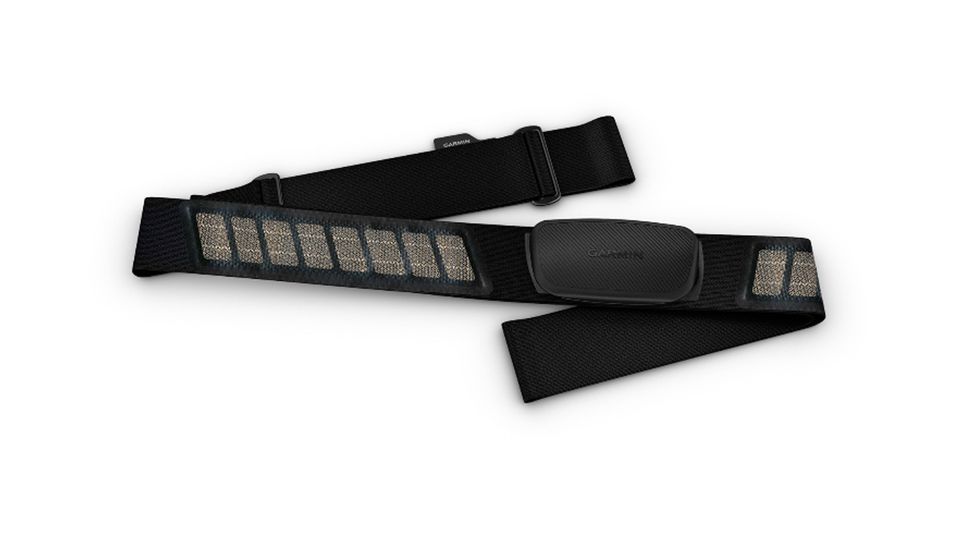 Even though Garmin owns the ANT+ protocol, it has finally – perhaps begrudgingly -opened its products up to transmitting via Bluetooth, which makes the HRM Dual perfect for anyone wanting to pair their heart rate monitor with a smartphone or tablet, instead of a cycling computer. 
The HRM Dual is a reasonably basic heart rate monitor, so it doesn't come with the bells and whistles such as onboard memory and swim/run dynamics. However, it can track HRV, making it a very affordable step into the world of HRV tracking when paired with an appropriate app. 
However, without all of these extra sensors and things to keep track of, it's another affordable option that does the basics well, and Garmin says that the battery will last 3.5 years, with the usage at around one hour per day. That adds up to 1095 hours of use – twice that of the Wahoo Tickr. Lucky, since the battery removal is a much more involved process, requiring the removal of four small Philips-head screws.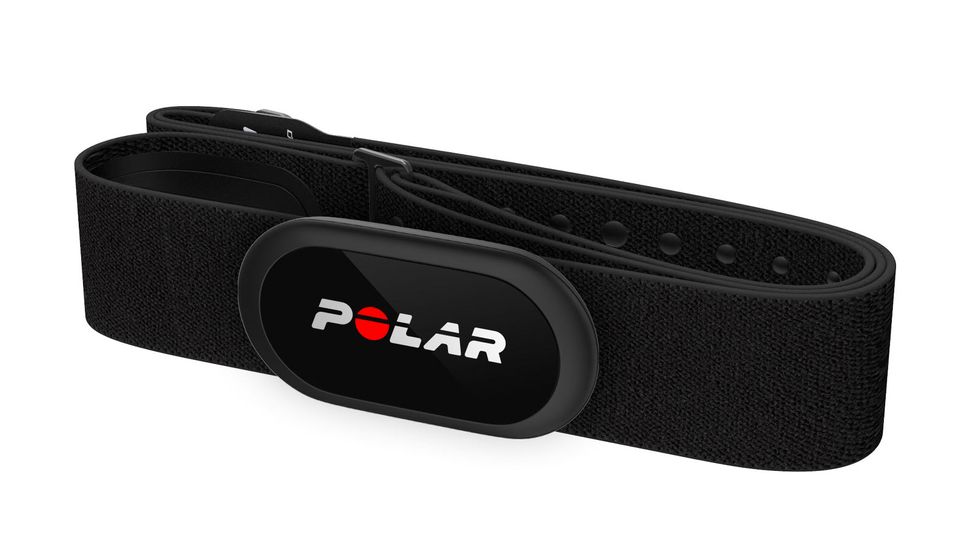 Polar invented the wireless heart rate monitor and, when it launched the H10 strap a few years ago, it claimed it to be the most accurate on the market. By using a third electrode on the strap, silicone grippers to prevent it from sliding around and a new algorithm, the brand says the new strap is accurate to +/- one millisecond.
The H10 is entirely waterproof, can be worn while swimming and also record your heart rate variability — though you'll need to use it in combination with one of the brand's smartwatches to take advantage. It broadcasts in both ANT+ and Bluetooth, and, unlike the Garmin, it can connect to two concurrent devices with Bluetooth.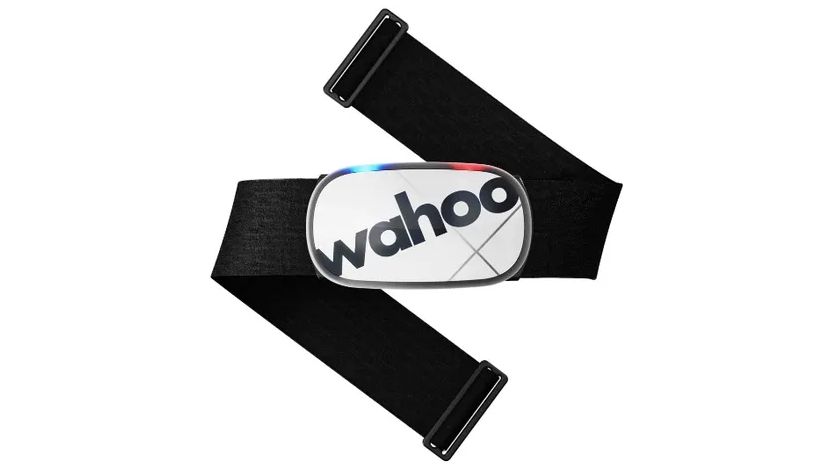 Taking the standard Tickr and raising the game, the Wahoo Tickr X can also manage three Bluetooth connections simultaneously, but it adds in a host of extras that make the Tickr X a great choice for cyclists and non-cyclists alike. 
With an onboard memory that can store up to 50 hours of heart rate and calorie data, the Tickr X allows you to train device-free, should you wish to head out for a run/ride without your phone or cycling computer. As well as heart rate and calories, the Wahoo Tickr X can also provide running analytics and even track your indoor cycling cadence thanks to inbuilt accelerometers. 
The music control adds a level of interactivity for exercise in warm weather (or indoor cycling), but it proves unhelpful when worn beneath three layers of winterproof clothing. 
It's built to be a little slimmer than its forebear, which improves upon the already excellent comfort, yet this doesn't take away from the durability. Like the Tickr, it's had its glitches since launch, but Wahoo's customer support is genuinely great.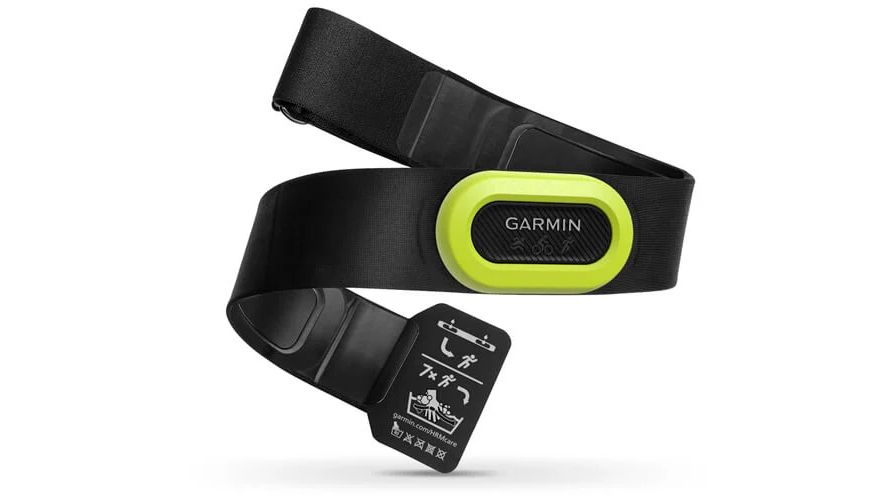 The HRM Pro is the top tier of Garmin's latest range of heart rate monitors with both ANT+ and (unlike the brand's HRM Run, Tri or Swim) Bluetooth compatibility. 
The HRM Pro features onboard memory, meaning it can store swim data and then push it immediately to your device when back in the locker room afterwards. It can also track running metrics such as ground contact time, stride length and more. For cyclists, it'll easily pair with your Zwift device or your Garmin cycling computer. 
Like many others here, the battery is a coin cell and Garmin claims it will last around 12 months, with an hour's use per day, which equates to 365 hours of training time between changes. Like the HRM Dual, the battery change is fiddly, requiring the removal of four small screws, and an o-ring that's easily misplaced or damaged if you're not careful. 
The HRM Pro's pod cannot be removed from the strap, which means washing needs to be done by hand, rather than through the washing machine, and according to Garmin, that's necessary after seven triathlon-based events or after every pool swim. 
For those planning on swimming a lot, the HRM Swim does come with a wider strap, which helps it stay put better, especially useful for those not wearing a wetsuit, swimsuit or triathlon vest over the top.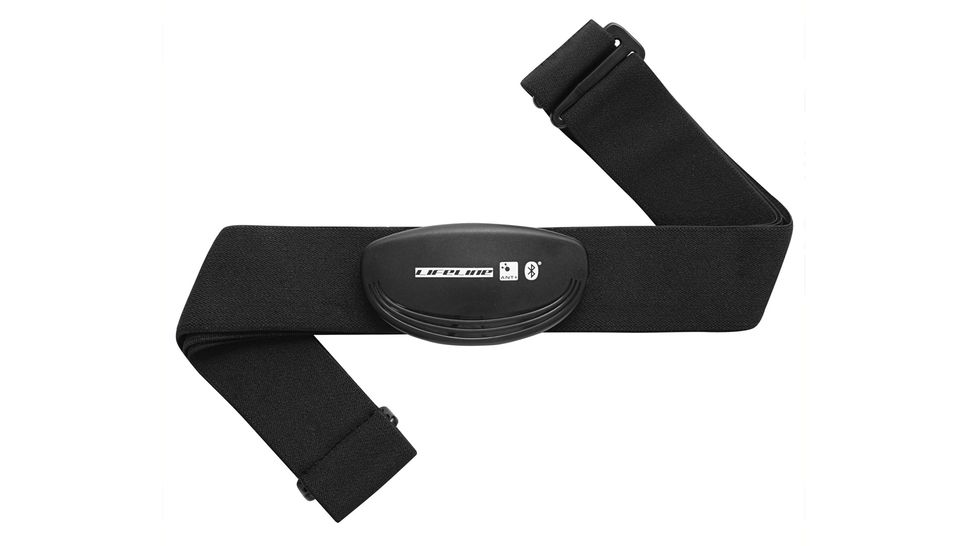 Heart rate monitors can get surprisingly expensive, and if you're trying to train on a budget, the Lifeline Heart Rate transmitter is the option for you. 
It's a basic chest strap that supports both Bluetooth Low Energy and ANT+ connections, and while multiple Bluetooth connections aren't possible, it can transmit over Bluetooth and ANT+ simultaneously (all others here can do this too).
The transmitter pod is removable with metal press studs, and the strap is machine washable for simplicity. The claimed battery is 900 hours, making it one of the better performers here, and we've had one on the go for in excess of a year without needing to change. However, when the time does come it's useful to know it's a simple twist-to-open like the Wahoo models, rather than needing to remove fiddly screws. 
It's waterproof down to 30 metres, according to the brand. Of course, it does miss out on the advanced metrics like running smoothness or swim metrics, but it makes up for it with its decent price.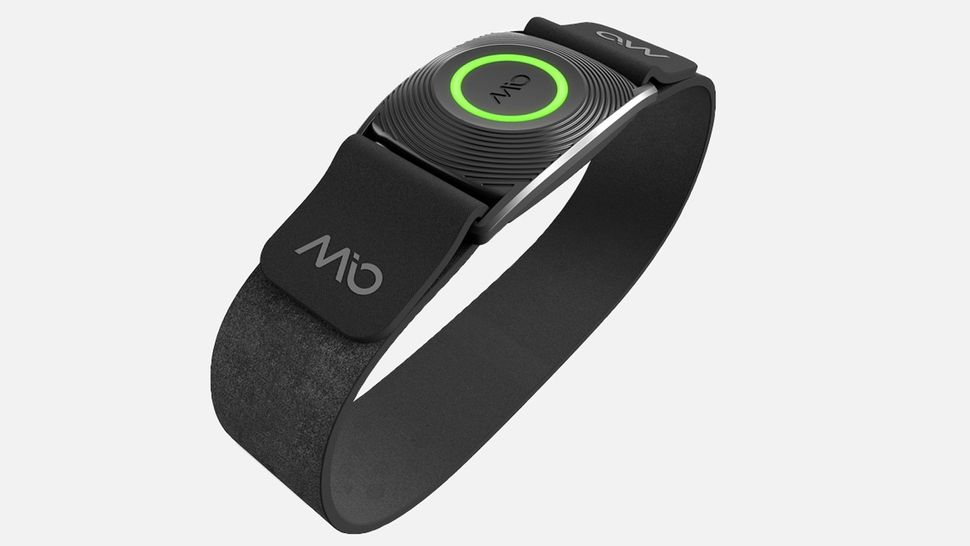 The Mio mioPod works on its own with Zwift but the included app adds value. Use the app to set training zones and the band will give haptic feedback while riding. Even though heart rate is easy to see on Zwift, having haptic feedback is a great way to make sure you stick to the training zones you are targeting. The app also gives training and recovery insight.
Bluetooth and ANT+ connections can work at the same time but only one Bluetooth connection is possible. Up to 30 hours of workout memory helps maximize the limited connections by syncing later. NFC connection also makes the mioPod a good option if you regularly run in a gym.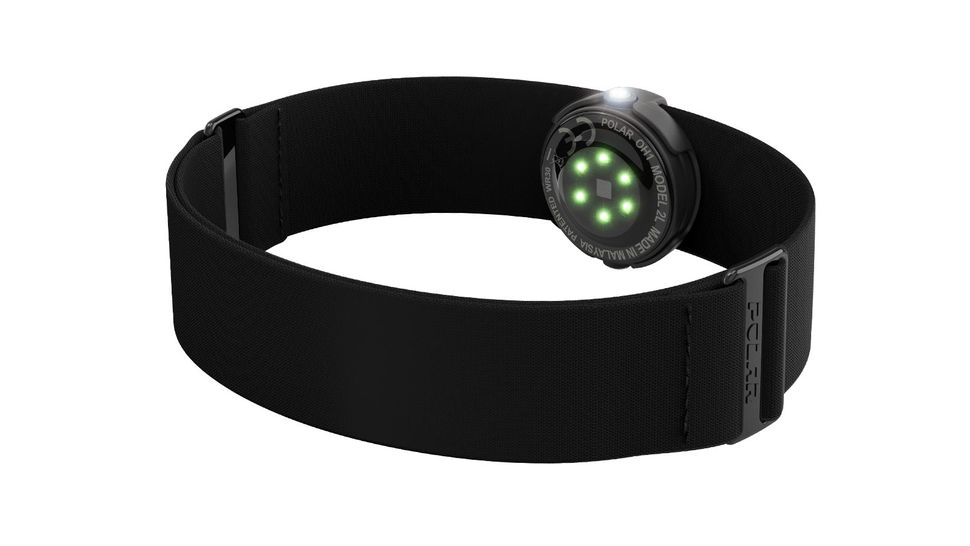 If you only want to purchase one heart rate strap and use it for multiple sports it's worth considering the relative strengths. The Polar OH1 continues to focus on accuracy, like the H10 but includes a clip for swim goggles. If swimming is an important sport for you then the comfort of clipping the OH1 to your goggles might be a deciding factor.
Like the mioPod, and the H10, the OH1 can record an activity without another device then upload it later. This is even more important given that the OH1 can only connect one device at a time. Use the Polar Beat app to analyse the data later and help shape your training.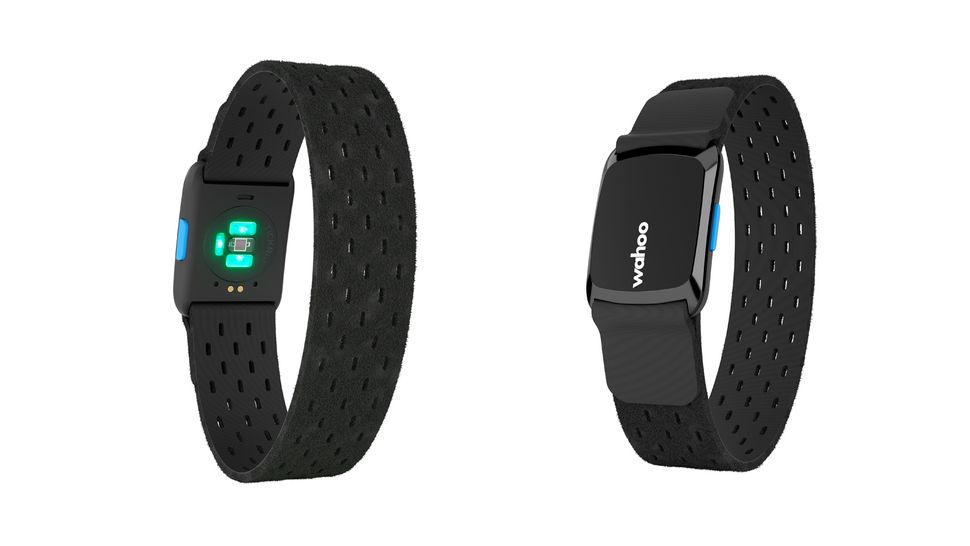 The Tickr Fit is an optical heart rate sensor designed to be worn on your arm utilising green LEDs to read the blood flow beneath your skin. It's designed to be worn on the forearm or upper arm and comes with two straps to fit all sizes.
The reason we like the Tickr Fit is the status light on the backside; flashing blue when all is well, or red when something isn't — like the sensor not being fit properly. 
Like the Tickr chest strap, it's dual-band (Bluetooth and ANT+), it pairs seamlessly to a range of devices and it has a built-in USB rechargeable battery. The downside comes when you add sleeves, as it's not slim enough to comfortably fit underneath arm warmers and the like.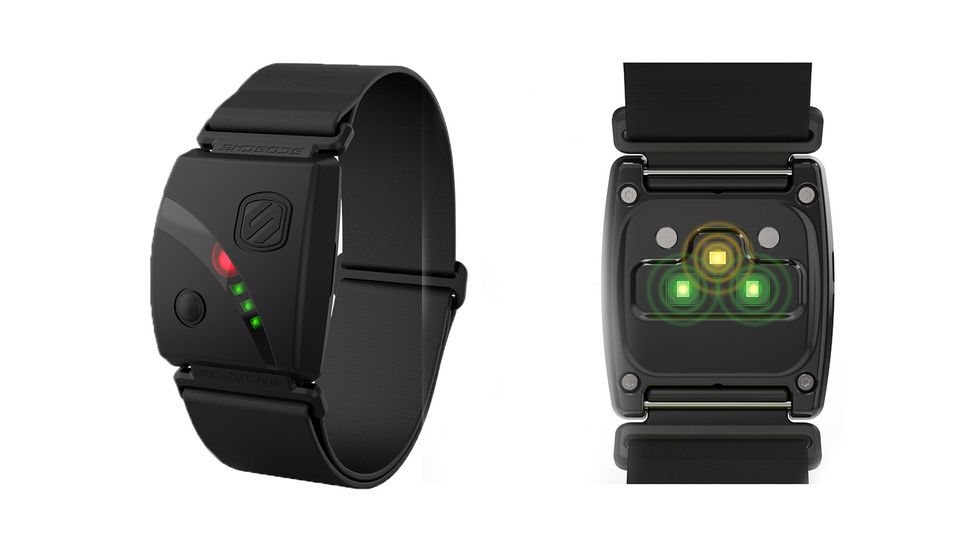 The Scosche Rhythm is an ANT+ and Bluetooth enabled optical heart rate monitor that is almost universally compatible with apps and devices. The sensor has built-in memory and can record up to 16 hours of data and the battery will last 33 hours before it needs a top-up. 
Scosche also offers a heap of different band options so the sensor can be customised to match your kit.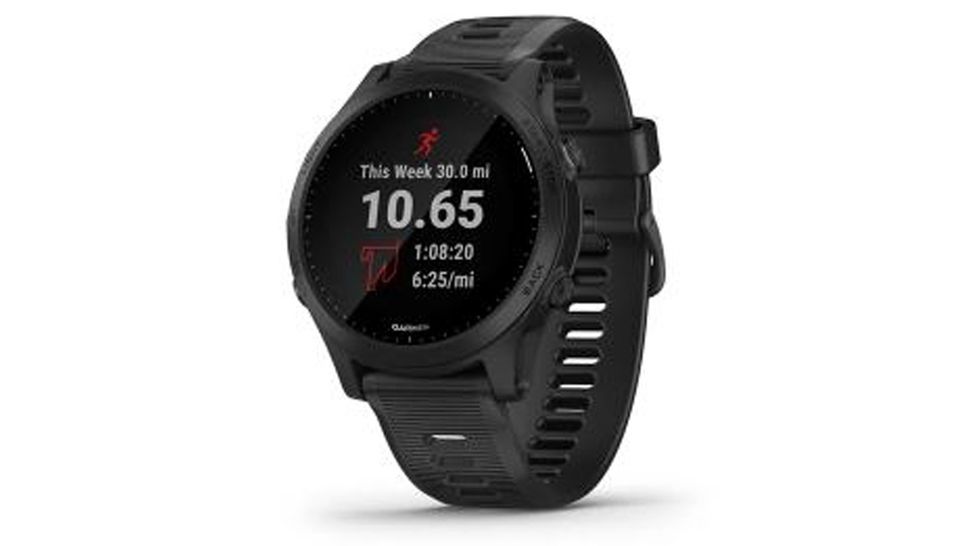 Once you start using Garmin to track everything in your life you might decide you'd rather not miss out on tracking during a ride. Spend some time in the Garmin connect app and you can see training advice, sleep tracking data, and lots of data related to how tired your body is. A lot of that data comes from near constant heart rate tracking so it makes sense that you don't want to miss out on recording while riding in Zwift.
If a smartwatch seems like the right solution for your life then the Forerunner 945 could mean buying less stuff. The Garmin Forerunner 945 can broadcast its heart rate sensor reading via Bluetooth and ANT+ saving the need for a separate heart rate strap. It can also pair seamlessly with your Garmin computer if you have one.
Read more about the best cycling computers for more.
How to choose a heart rate monitor
What's the difference between ECG and optical heart rate sensors?
The classic heart rate chest strap uses sensors pressed up against your skin to measure the electrical impulses that control the contraction and expansion of the muscles in your heart (ECG). In contrast, optical sensors shine light through your skin (LED) and measure the variance in blood flow.
Even with significant advances in technology, the classic ECG-based chest strap still reigns supreme in terms of accuracy.
Optical sensors need to maintain consistent contact with your skin for an accurate reading, but bumps, jumps, and even muscle tension from gripping your handlebars can stymie the sensor. With the contact required, optical sensors come with precise fit instructions; constant shaking on your arm from road imperfections and sweaty sunscreen-covered skin can cause them to slide around enough to impede accuracy. 
In our experience, a chest strap offers far superior point-to-point accuracy, however, the optical sensors are still pretty good at determining trends in heart rate. 
Most of today's smartwatches have a built-in optical sensor, and some can even connect to your head unit to serve as a sensor. If you're not sure which to go for, read our wrist vs chest strap heart rate monitor feature, and head over to our round-up of the best smartwatches for cycling if that's what you decide upon.
Do I need an ANT+ connected heart rate monitor?
As with speed/cadence sensors and power meters, heart rate sensors can connect to devices with ANT+ or Bluetooth, with most options now doing both. Choosing which is best for you largely depends on the devices you'll be connecting. 
With a dual-band heart rate monitor, you can connect seamlessly to your ANT+ enabled cycling computer at the same time as your Bluetooth enabled laptop, phone or tablet without needing an ANT+ dongle or a second sensor. Luckily, all of the best heart rate monitors are dual-band, meaning they can speak both Bluetooth and ANT+, which does simplify things a little. 
Another consideration to make is that some Bluetooth devices can only communicate with one other device at a time, some do offer multiple simultaneous Bluetooth connections, but ANT+ can broadcast to an unlimited amount. If you're one to ride on Zwift but record the ride on your head unit or watch, it's something to keep in mind. 
What should I look for in a heart rate monitor?
Are you a triathlete or do you incorporate running or swimming into your training? Some heart rate sensors offer running metrics such as vertical oscillation and cadence, while others are waterproof and can be worn in the pool and only record some data.
If you're looking for a strap, it may also require a tiny bit of maintenance. Usually, the sensor clips onto the strap with a pair of metal press studs which will be exposed to quite a lot of sweat over their lifecycle and, these do occasionally succumb to corrosion. You can prolong the life of your HR strap with regular washing (some are machine washable while others aren't, refer to the tag for instructions) and a small dab of dielectric grease can help if you're an extremely salty person.
Also, some straps hold your chosen length indefinitely, while others have a tendency to loosen over time. For us, Garmin's straps are the best in this regard and offer easy adjustment when necessary. Wahoo straps hold securely too, but the initial adjustment can take a little more finesse.
What is the best heart rate monitor for Zwift?
This is a question that comes up a lot. Although most heart rate monitors feature ANT+ and Bluetooth connectivity, and technically that's the only prerequisite for connecting a heart rate sensor to Zwift, there are other factors that should be taken into account when choosing.
The fact is, indoor cycling is a different experience entirely, and even with some of the best fan setups, you're still likely to sweat a lot more on the best turbo trainer than you are out on the road. 
With all that sweat, it's important to choose a heart rate monitor that's made from non-corrosive materials so it's not likely to be badly affected by your body's waterworks. It's also worth considering what material the strap is made from, and how it can handle sweat and moisture, and how easy it is to wash. 
On top of this, having multiple connections available to you is an important thing to consider, so although technically all the heart rate sensors on this list are Zwift compatible, some will be more suitable than others.