The best bike lights will include options to illuminate your way and also to up your visibility to oncoming traffic in the case of front lights and vehicles approaching from behind for rear lights. At the same time, they should increase your side-on visibility with good oblique angle illumination.
Even if summer is coming where you are, the best bike lights will help ensure that you're seen, with daytime running and high-intensity flashing modes. 
Somewhere in the world nights are always getting longer though, so it's never a bad time to think about bike lights to pair with the best road bikes, the best commuter bikes or the best gravel bikes. You'll have different lighting needs depending on your style of riding and where you ride.
In most countries, you can use whatever lights you like. But with the best high-end bike lights often providing similar levels of illumination to car headlights, it's easy to dazzle oncoming drivers. With this in mind, Germany has its own regulations, called StVZO, about beam patterns to make sure that the light's illumination is focussed downwards on the road surface. We've selected a couple of lights that meet these regs, and we've also got an explainer of StVZO at the bottom of the page, along with the answers to any questions you might have.
Best front bike lights
Best bike lights to see with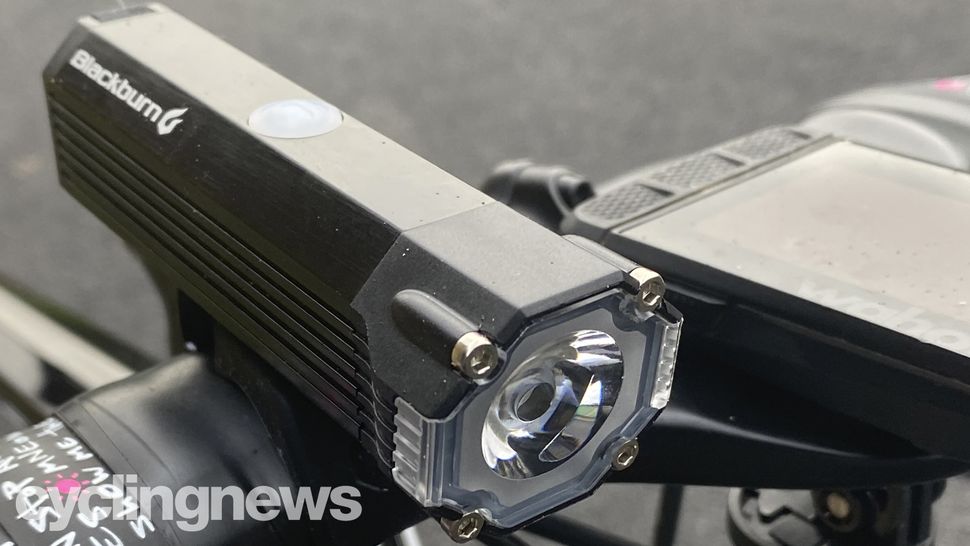 If you like what the Blackburn Dayblazer offers but want a different power rating, they have options. For this list though, we've included the Blackburn Dayblazer 800. 800 lumens is right at the sweet spot where you can use it for whatever you want. On well lit city streets you could power down and avoid charging after every ride. If you decide to head out of the city then bump up to max power and, while the runtime will be short, you will at least be able to see.
If you ever find yourself ending a long day on the bike just a little after dark this would do the trick perfectly. The other good reason to take a look at the Dayblazer 800 as one of the best bike lights is because it's 'AK47 tough', as our reviewer Guy Kesteven described it. The smaller battery means less runtime but it also means less weight. That makes for a convenient light that comes with a low price and should last for a long time.
Read our full review of the Blackburn Dayblazer 800 for more.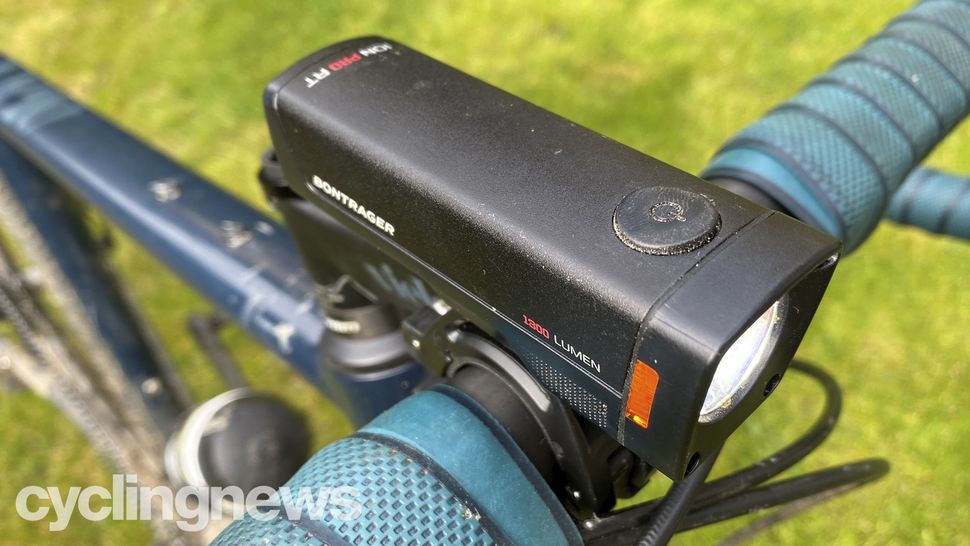 The Bontrager Ion Pro RT 1300 is where this list starts to seriously change from options for commuting to options for adventuring. For fast road riding, on dark roads, a front bike light around 800 lumens is where things feel safe and easy. You can certainly go brighter, but going dimmer will hold you back. 
With the Bontrager Ion Pro RT 1300 you get a light that will cover 3 hours of runtime at a comfortable brightness. There are brighter lights with longer runtimes but the Bontrager is less expensive and the smaller size is easier to mount. The lights around the power button change colours to let you know available battery life, and you can connect it to one of the best cycling computers for a more exact battery readout. Although the double press to turn on control scheme does a good job keeping it off when in a bag, when tired it can be difficult  to remember. This light would also benefit from an update to USB-C fast charging as the charge time is quite long.  
Read our Bontrager Ion Pro RT 1300 review to find out why we awarded it 4.5 stars.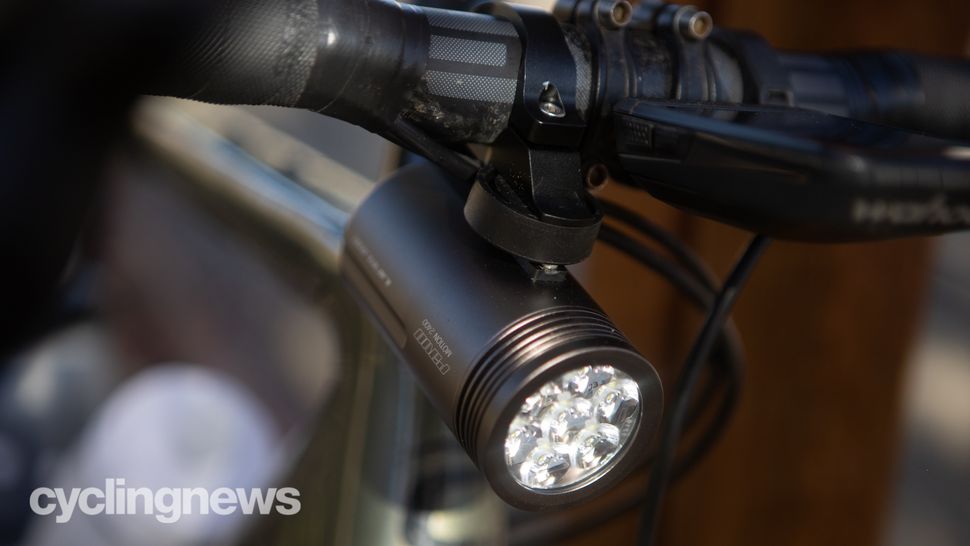 At this point in the list we are firmly passed what you need for riding through the city. With 2,400 lumens, the Lifeline Pavo Motion 2400 is an extremely bright front light, ideal for night riding in unlit country lanes. In terms of design, it's a stripped-down light that prioritises high power output, long battery life and low cost, at the expense of extra features. 
What it offers is plenty of illumination to see where you're headed. The one more advanced feature it does have onboard is a Motion Control mode. In this setting, a gyroscope senses when you stop and halves the power output. Depending on your riding it's unlikely to save a ton of battery but it's the kind of thing that makes using a light more convenient. In terms of battery life, you'll get around 1h 50mins at 2,000 lumens, and more than 16 hours on flashing mode. 
What's likely to be most useful though is the 1000 lumen setting that will get you a full 3hr 30mins with more light than the Bontrager Ion Pro RT 1300 can manage for three hours. This light can also be topped up on the go using a power bank which makes it an option for ultra-distance riders soldiering through the night.
For more in-depth information, be sure to check out our Lifeline Pavo Motion 2400 front light review.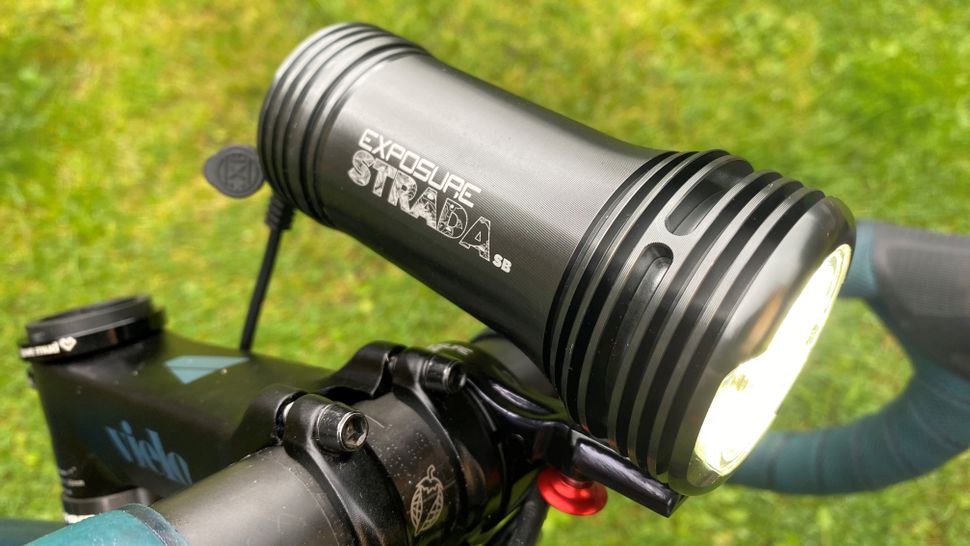 The Exposure Strada MK10 SB isn't the most powerful light on our list and it is expensive. The reason it makes an appearance is that it's got a bomb-proof casing, high quality button, and giant battery. The max lumens is only 1,500-lumen output but our reviewer likes the way it puts those lumens to use and the 8700 mAh Li ion battery is big for the light output. 
At max power that's two hours of light but power it down to a comfortable 750 lumens and you can get four hours without needing an external charge. Typically, for road bikes, the reason you'd want an ultra-bright light is because that's the only way to get a bigger battery. Most of the time you'll power down the light, same in this case as well, and take advantage of greater runtime. Exposure puts together the best pairing for long-distance riding and they also add an LCD to make it easy to understand how much life is left and what mode you are in. 
Speaking of the modes, that's another big plus when it comes to Exposure lights. There are tons of programs available but each one only contains three modes. Since the program is sticky through power cycling, you get lots of options but when riding you'll never have to switch between more than three. 
The biggest thing we'd like to see them change is that they use an AC/DC connection for charging. That's not proprietary but it's unusual enough that it almost acts like it is. USB-C charging would make for a better experience. 
Check out our review of the Exposure Strada MK10 SB for more details. 
StVZO Compliant lights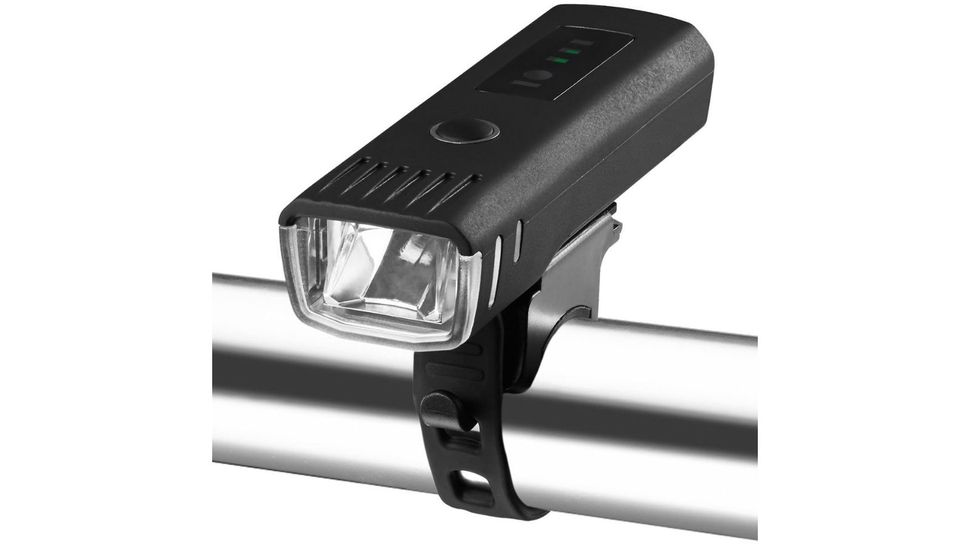 Gemini doesn't have a huge range of lights, but what it does have, we really rate. The only StVZO-certified light in the company's range is this 500 lumens front light. With a low RRP, but often available online for even less, it's a superb value proposition considering its light output, ease of use and run times.
As we already mentioned, the 500 lumens light is plenty powerful for road use, with a lower 250 lumens output and a pulsing 500 lumens option if you really want to stand out in the day (though we found it a bit too much in use). Changing between modes is straightforward thanks to a single button press, and you can keep track of the battery level via the green LEDs on the top.
There's also a slightly clever ambient mode, that automatically switches between the 500 lumens and 250 lumens steady mode, or turns off completely, depending on whether it's daylight, night time, or there's a lot of street lighting.
The light spread is quite generously spread on the near, far and periphery, rather than being tightly focused on one spot. If you only occasionally cycle on unlit lanes or cycle paths it's a decent option, but you might be better off with something a little more powerful if you do that sort of riding regularly.
The Atlas 500 is compact and fairly lightweight, and it has good run times too – about 3 hours in high mode, 5 hours in flashing mode and 7 hours in the lower power steady mode. Charging via the Micro USB port takes less than a couple of hours. The use of a notched silicone band to secure the mount makes it straightforward to attach to your bars, and the quick-release mount on the top means you can quickly remove the light when you need to.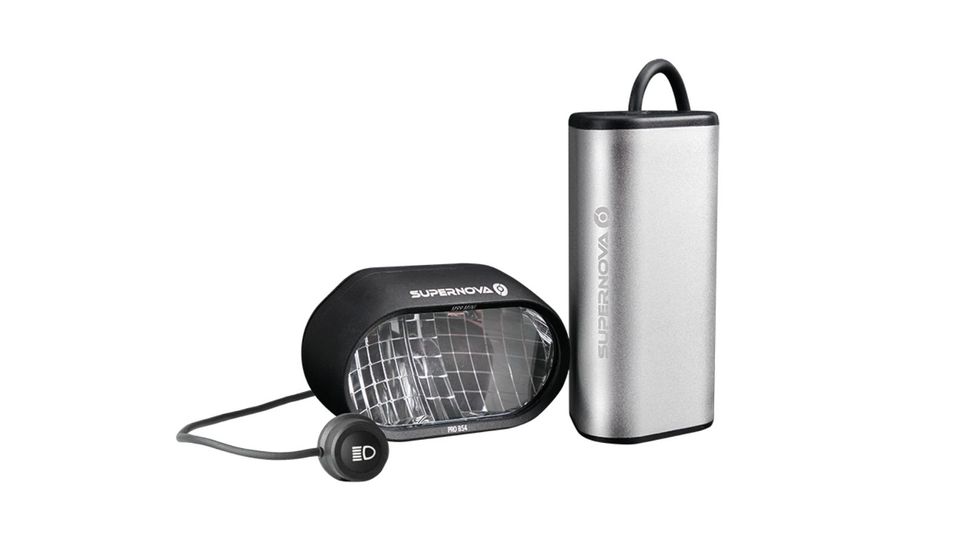 At the top of Supernova's road lighting tree is the M99 Mini Pro B54. It's a bit of a brute, more akin to the light you might find on a motorcycle with 1,600 lumens output in high beam mode, though there are several outputs beneath this depending on which mode you're in (Max, Standard or Eco). There's a low beam mode for regular riding, offering a still-impressive 450 lumens when you want to conserve battery life.
Output, as you would imagine, is stellar, lighting up a swath of the road in front of you and to the sides, and high beam projects very far into the distance, which is great for fast night rides. Switching between low beam and high beam just takes a press of the light switch.
In the highest mode you get about 2hrs 30mins, while in the lowest you get up to 50 hours, which is pretty hard to beat.
The B54 uses an external battery which needs to be strapped to the frame and weighs 300g, while the light unit is 130g. Obviously, it's more suited to gravel, MTB or bikepacking, where weight and mounting the battery isn't such an issue.
There's no wireless remote with the B54, so instead you have to make do with a wired remote, which is slightly more fiddly to install, but not really that big of a deal. There are several optional brackets available to allow you to choose how and where you mount it on your bars.
The Supernova includes a smart app, that allows you to adjust the settings via your phone, or your smartwatch. You can also check the battery status for each setting, so you can choose the one that works for your riding.
There are some clever features here. The first of these is a built-in light sensor that automatically turns on the low beam when darkness falls. Second is the backup light, which gives you two hours of eco mode low beam lighting, even after the normal lighting time has run out.
Be-seen front lights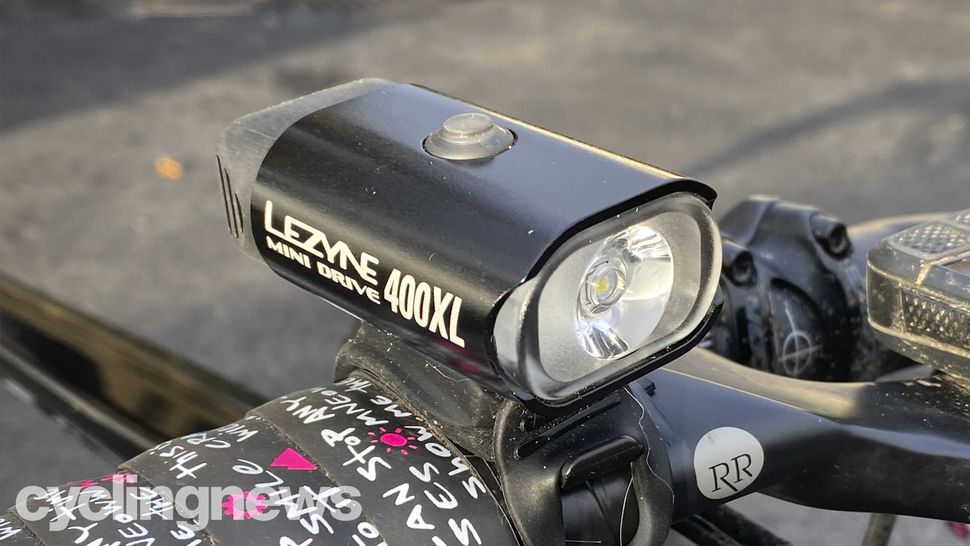 For country lanes and long rides you'll want something a little larger, but if you want an inexpensive light to commute home, this is a great option. The Lezyne Mini Drive 400XL packs in a very compact unit. As is often the case, the magic is the lens. Lezyne uses what it calls a MOR (Maximum Optical Reflection) lens to focus every lumen into the best possible beam pattern. 
You can decide how to put those lumens to use with seven available light modes, and the choice will remain the default after recharging. For mounting, Lezyne keeps it simple with a silicone strap. 
Another unique feature is the ease of charging for this unit. Instead of a charging cable, the Mini Drive 400 XL has a built-in USB stick. It plugs directly into your computer or wall plug and a charge indicator lets you know how much battery the light has. 
For the full rundown, check out our review of the Lezyne Mini Drive 400XL.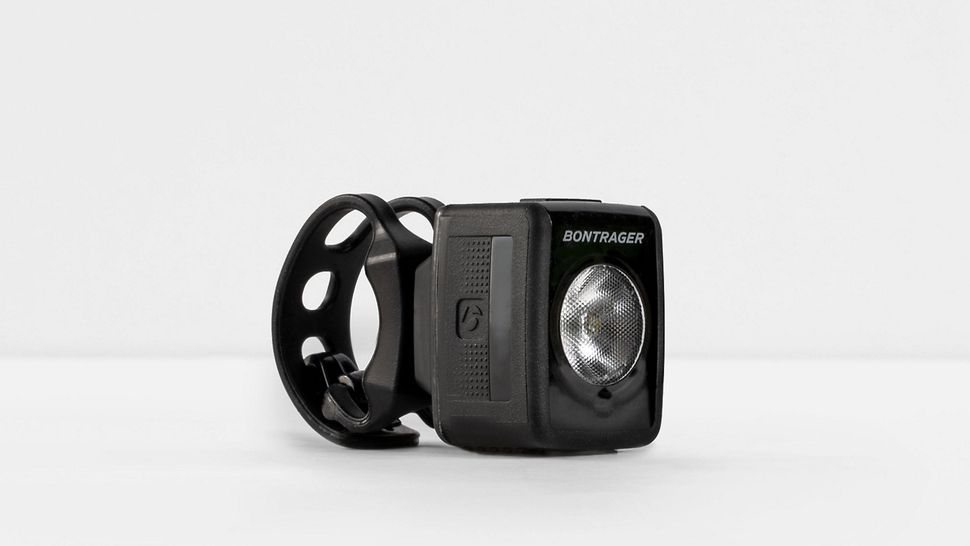 With this light we step away from front lights designed for seeing where you are going. Trek, and Bontrager, are at the forefront of the science behind what it takes to make cyclists visible both day and night. The Ion 200 RT is the front half of a system they've designed to make sure cars see you. 
The trick to how it works is a combination of a clever lens design that focuses a minimal 200 lumens and makes it visible from up to 2km away and a very specific flash pattern. Keeping the lumens low means Bontrager is able to keep the light ultra-small while still providing up to 30-hours of night time flashing (12 hours for daytime flash mode). 
That tiny packaging also makes it comfortable if you want to utilise the Blendr mounting system to put the light on a helmet such as the Bontrager Circuit Wavecel Helmet. Even if you decide not to go that route though, the silicone strap allows for tons of mounting options. There is a continuous light mode that would get you home, in the city, in a pinch but really the best use is for making yourself visible.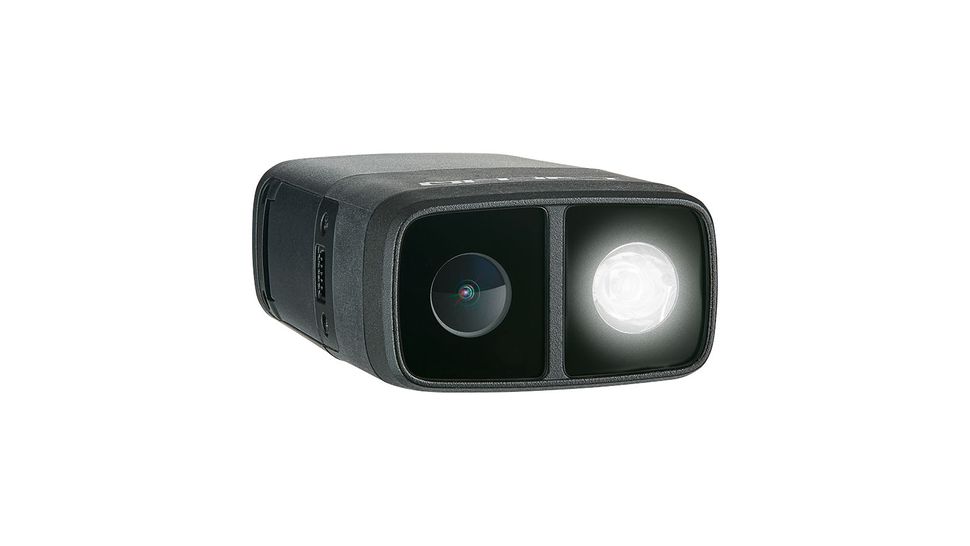 This is another light that steps out and does something a little different. The max lumens is 600 and if you want to see where you are going you'll want that turned all the way up and you'll have a max of 2 hours of light. What this light is really about though is the camera. If you like the idea of keeping a camera running in case of an accident, that's what the Cycliq Fly12 brings to the table. 
Day, or night, you get a full 1080p looping video recording with 6-axis Electronic Image Stabilisation. If a car hits you, the licence plate will be recognizable and you will know what happened even if the other party leaves the scene. The light helps keep the video usable even at night and as a bonus it will allow you to see where you are going.  
Best rear bike lights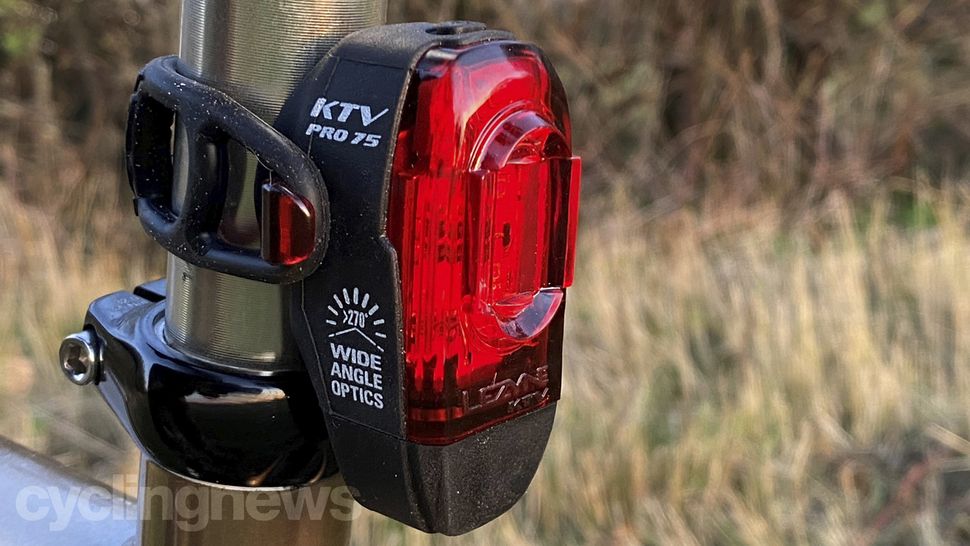 The Lezyne KTV Pro Drive 75 is the light you want to grab if you just want to get the job done. The feature set doesn't include any kind of trick detail that really helps it stand out from the crowd. Instead, it's a quality light that doesn't cost a whole lot. That's not to say it's lacking in features though. 
The KTV Pro Drive 75 boasts a 75-lumen maximum output, a near-universal rubber strap mount, immense waterproofing, and an integrated USB charging tongue that means you'll never need to remember your charge cable again. The light it outputs is spread through a wide 270-degree angle, so side-angle visibility is improved, and the four-hour run time is ample for most riders' evening rides, however, bear in mind that result was achieved in a lower (20-lumen) steady setting in our testing. 
Find out more with our review of the Lezyne KTV Pro Drive 75.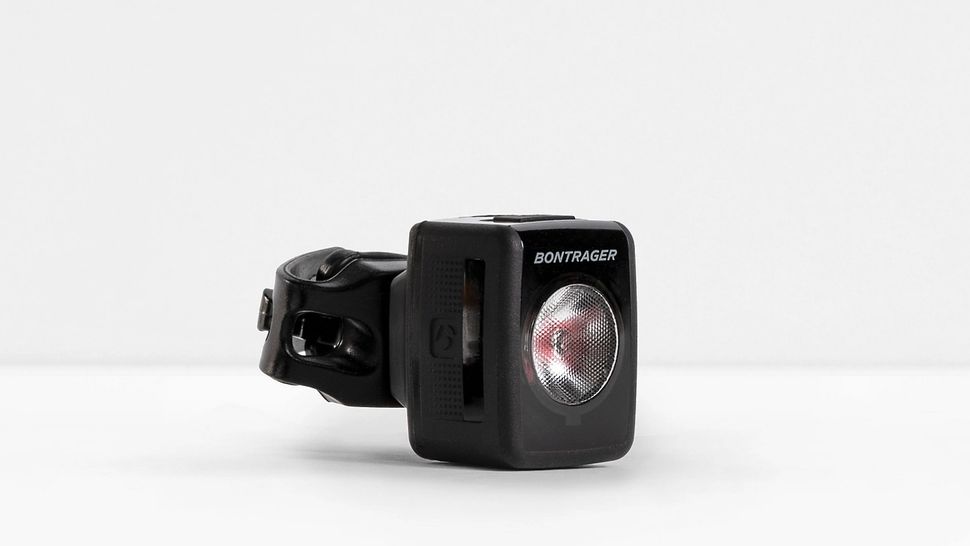 Like the matching front light, the Ion 200 RT, the Bontrager Flare RT rear light is all about visibility day or night. Bontrager partnered up with Clemson university to figure out what actually helped drivers to see cyclists. Instead of creating an ultra-bright light Bontrager created a highly efficient lens and an innovative pattern of irregular flashes. 
The result is a tiny light that's super easy to mount anyway, with a full 12 hours of usable runtime, that will get you seen. It works as well during the day as it does at night so that no matter what the situation you will be visible up to 2km away. If Bontrager only updated the charging port this would be perfect.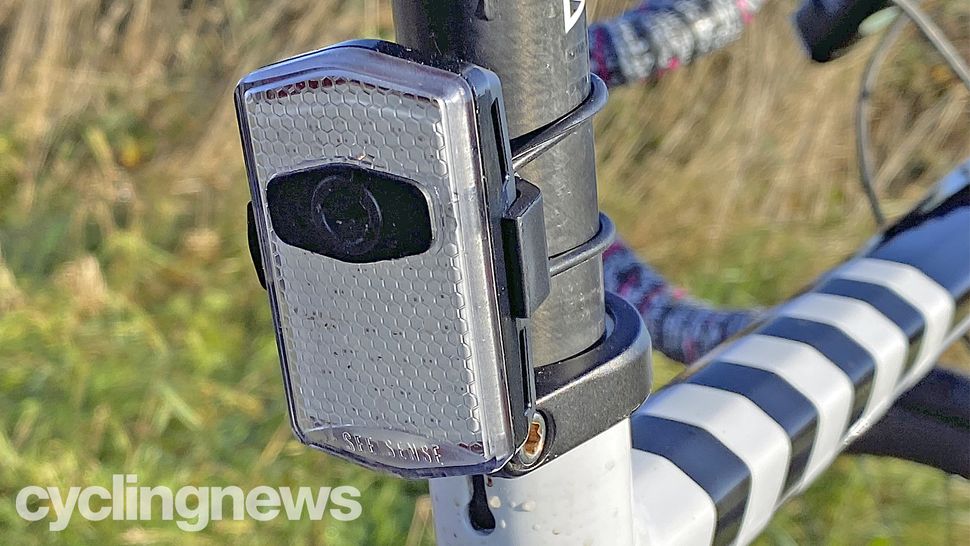 See.Sense is known for its smart lights and the Ace rear light does more than just put out 125 lumens of red light: It automatically turns on when you start moving, thanks to in-built sensors, and pairs with the See.Sense app to give you an array of smart features. You can control and customise the brightness and flash pattern, receive battery life alerts, report road issues and share ride insights for road planners to make necessary upgrades, all in an eye-catching, compact, waterproof and easy-to-use package.
In addition to this, the Ace will detect an impact and notify your designated emergency contact, and it also collects ride stats for you, including how far you've travelled, the number of calories burned, the fuel you've saved by riding your bike, and other interesting facts about your rides.
For a full breakdown of what we like about this light, read our See.Sense Ace rear light review.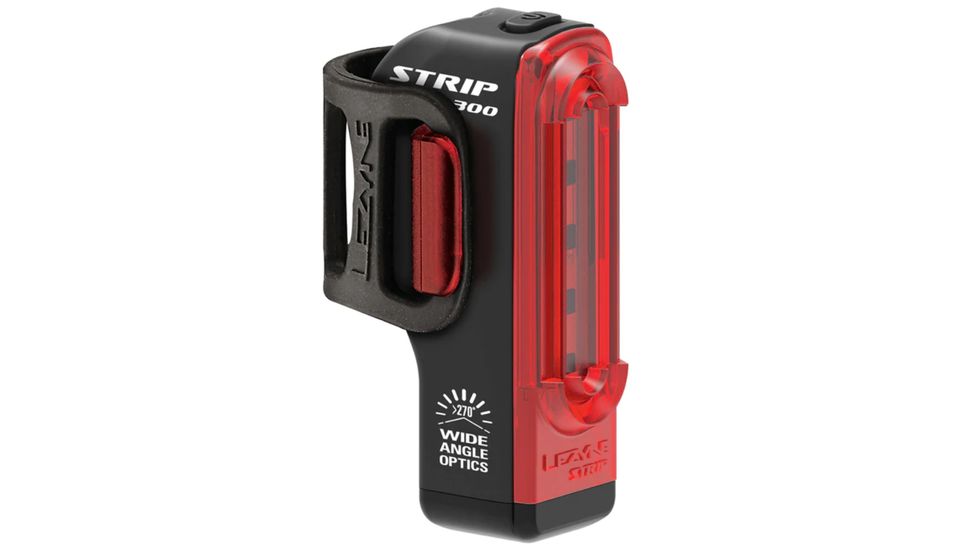 As the company's flagship rear bike light, the Lezyne Strip Drive Pro boasts some impressive features including a 300-lumen daytime flashing mode. You don't have to run the 300-lumen option, there are a total of 11-modes, but that's what makes this unit from Lezyne unique in this lineup. 
We took a look at the Lezyne Strip Drive previously but unlike the non-pro version, this one does away with the integrated USB adapter and instead charges with a micro USB cable. It's that charging feature that we'd love to see improved with a USB-C port and a way to remove the light without removing the mounting but if you want the absolute brightest light in the rear, this is the one.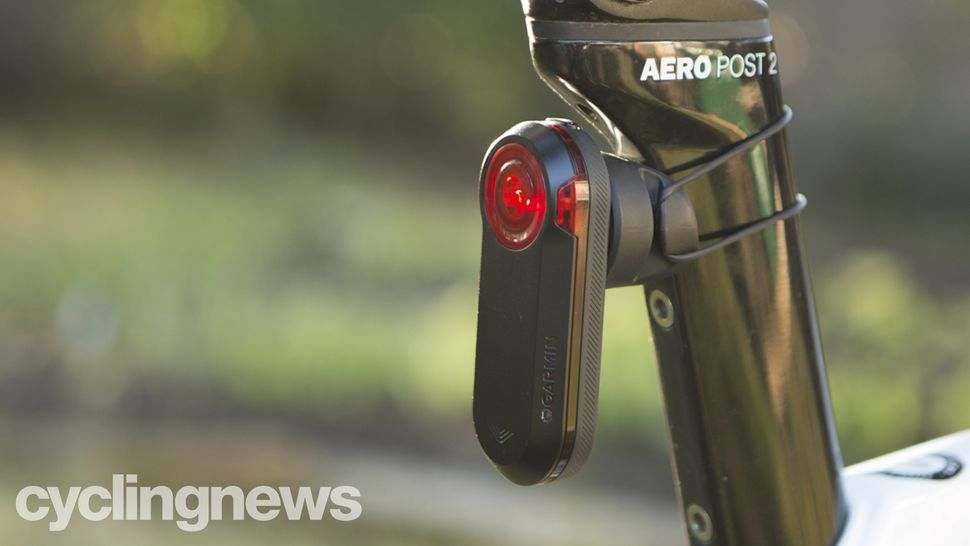 This is a light that will change the way you ride. It's actually so good that it will change the way everyone near you rides also. What it does is use radar to let you know when cars are approaching from behind you. It never misses a car and when it senses one you can see not only how far away but also how fast cars are approaching. It also changes its flash pattern as a car approaches. 
It's so good that friends riding along with you will start to understand what the beeping means and everyone will understand when it's time to get into a single file. If you are riding primarily in the city, it does work just as well but if there's a lot of cars around there's less value. Where it really shines is with a small group on country roads. Go ahead and spread out so you can chat, when a car comes you can move to the side. If the charging port moved to USB-C this would be perfect. 
The latest Varia RCT715 incorporates an HD camera as well as the radar and reactive taillight, so like the Cycliq Fly 6 you've got continuous loop recording of what's happening behind you and incident detection.
Garmin also sells the Varia RLT515, which omits the camera and the RVR315 which just gives you the radar.  We've got a review of the RTL515 radar with taillight as part of our Garmin Edge 1030 Plus review. 
StVZO compliant rear lights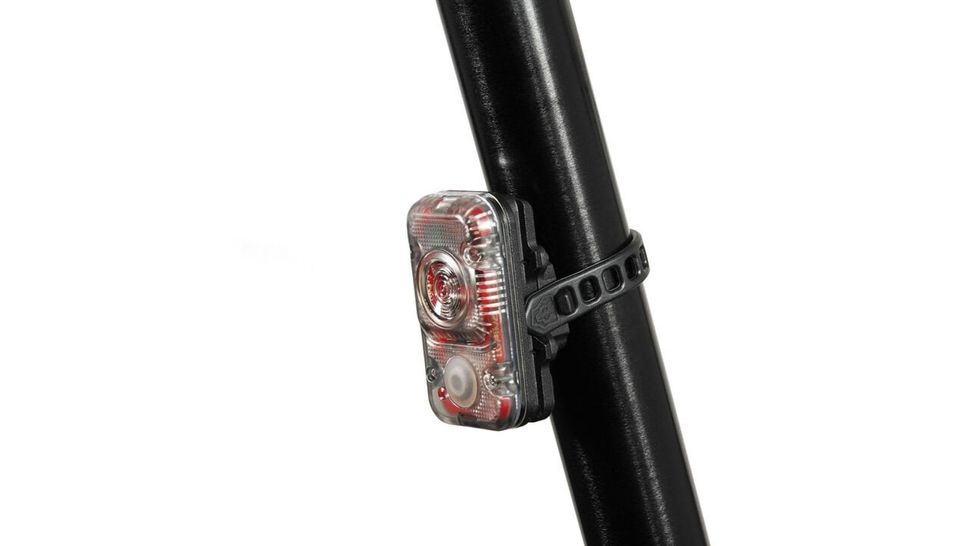 Lupine's StVZO rear light has some clever features that make it stand out, including a seriously bright 160-lumen output, up to 30 hours of run time and automatic adjustment for brightness depending on the ambient lighting, as well as a brake light mode when you quickly slow down.
Attaching it to a seatpost is easy thanks to the simple silicone band that locks it in place, and the angled mount means the light won't aim towards the floor when it's mounted to a seatpost on a particularly slack seat tube.
It's also got a variety of optional mounts available, including a seat rail mount and a backpack mount.
There are four different light modes available — including steady and flashing — and up to five different dimming levels for each mode. We did find it a little tricky to switch between the different levels, it must be said.
At 55g, the light isn't really light, but it's good given the power output, longevity and smart functionality.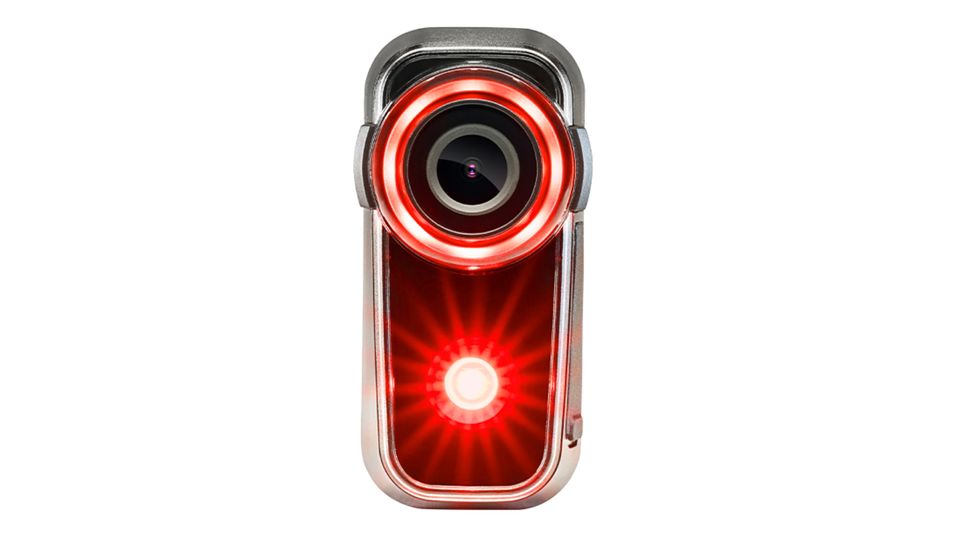 The story for the Cyliq Fly6 is almost exactly the same as for the Fly12 front light. The included flashing rear light is the secondary feature. Although the four-hour battery life, and 50 lumens, is respectable, the real trick is that there's an integrated camera. As vehicles approach from the rear, they are being recorded at up to 1080p at 30fps. 
The recording loops and if anything ever happens, you'll have video evidence. While we are happy to see USB-C charging, the video quality for the rear camera isn't as good as the front. Most notably, there's no image stabilisation.  
How to choose the best bike lights for you
As a rule, the brighter the light, the better your chances are of being seen by other road users. It's also worth looking for bike lights that are durable, waterproof and capable of emitting a strong beam regardless of the time of day. To help you make a decision, here are some frequently asked questions answered.
Do I need a light to ride my bike at night?
While legal requirements differ from country to country, it's at the very least common sense to equip your bike with lights for night riding. 
There are two distinct types of lights for cycling on the road: those that help you see, and those that help you be seen. The best bike lights which are designed to help you see also aid with visibility, but not all lights designed for visibility are bright enough to light up the road in front of you. 
Lights to help you see will often have larger lumen counts, reflectors and a lens that throws a wide beam of light down the road, while lights for visibility will put out an unfocused beam in every direction. 
If you're commuting down a well-lit road or bike path, a simple flasher will probably suffice, but if you're heading out for a night time training ride or your route is lit like the beginning of a horror movie, look for something brighter with a more road-specific beam pattern.
How many Lumens do I need for a bike light?
Just how bright is bright enough?
With advancements in LEDs and batteries, it's possible to buy bike lights that are several times more powerful than car headlights. 
However the brightness needed depends on where you're riding, and can impact the cost of your lights as well as their battery life. The higher the lumen-count, the harder they'll need to work, and the more they're going to set you back financially.
For riding on poorly lit roads you don't need a 5,000-lumen light on your bars, as it will dazzle oncoming drivers. Instead you could opt for something between 500 and 1,500 lumens to do the trick up front, and something over 200 lumens at the rear.
Of course, if you're riding in well-lit areas and don't need to illuminate the path ahead of you, you can get away with fewer lumens, which would bring the price down. A 100-200 lumen front light and 60-100 lumen rear light can still do a great job of keeping you visible.
What battery type is best for a bike light?
Pretty much every light will use a rechargeable lithium-ion battery. Some lights will be completely self-contained, while others will use a separate battery pack. 
On the road, we tend to go more for self-contained lights which eliminate the awkward cables and cumbersome battery packs, the latter of which are usually bigger and considerably more substantial. 
For lights that consist of the head and separate battery joined by a cable, you'll need to find somewhere to put the powerpack. As batteries degrade over time, external packs can be replaced or upgraded, and some brands even offer options with different capacities.
How long should my bike light battery last?
Lights that won't last the entire duration of the ride are about as useful as mesh cycling shoes in the Arctic Circle. Take into account how long you're planning to ride for and budget a bit extra when looking at run time. 
Did you know that many batteries are affected by temperature, and therefore the cold can have a severe effect on run time? If you live in an area where night time temperatures go below freezing, consider buying a bigger battery. 
Knowing how much juice your lights have left is also vitally important. Some bike lights have rudimentary green, orange and red battery indicator lights, while others will show you time or percentage remaining. 
How do I mount a light to my bike?
For riding on the road, a single light mounted to your handlebars and seat post would be more than enough – mountain bikers often use a helmet-mounted light to illuminate where they are looking, but for road riding these aren't necessary. 
Many lights will come with a plastic/silicone mount, however, some of the more heavy-duty bike lights will have a dedicated mounting bracket, often made from aluminium for extra security. 
With the advent of out-in-front computer mounts, there are plenty of options which see an action camera-style or brand-specific bracket on the underside; we like these as it cleans up your cockpit but still allows you to ride with a light. 
If you're commuting and you need to secure your bike outside with a bike lock, look for lights that can be quickly removed without a multitool. 
Why are bike lights so expensive?
There are a lot of cheap, poorly constructed and unreliable options out there, and the truth of the matter is, you get what you pay for. 
The last thing you want is a light that fails mid-ride, especially a rear one that you're unlikely to notice right away. Therefore, it's imperative that you invest in a set of bike lights from a reputable brand. 
While this might cost you a little more initially you can rest assured knowing they will last a good few years and often be covered by a warranty.
Should my bike light be still or flashing?
It's important that your bike lights have at least two lighting modes: flashing and constant. 
The RVLR (Road Vehicles Lighting Regulations) states flashing modes should pulse between 60 and 240 times per minute (1–4Hz) but there's no clear indication as to which mode is most effective. 
As a result, many cyclists run both flashing and constant lights just to be safe, and some lights feature a pulse setting which consists of a constant beam with a pulsing brightness.
What is a StVZO light?
StVZO bike lights are named as such because they meet the requirements of Straßenverkehrs-Zulassungs-Ordnung, German Road Traffic Registration Regulations. 
They're specifically designed to shine a focused beam of light that points to the road ahead, rather than emitting a wide beam that spreads outwards and upwards and puts oncoming road users at risk of being blinded.
The advantage of StVZO lighting is twofold: as we said, it doesn't blind other road users, but it also means there's minimal light wastage, so you get a much better lighting experience overall. The path ahead will be lit up brightly, showing all the details you need, as every bit of light is focused in one direction, where you need it most.
What is Lux and why aren't StVZO lights measured in Lumens?
In the majority of cases, the output of StVZO lights is measured in Lux rather than Lumens. Lux is used because it's a measure of how much light is projected onto a surface (called luminance), whereas lumens simply refers to how much light can be produced. 
Lumens is all about potential, but Lux is about how much light you can actually use in the real world. 
Why aren't all bike lights StVZO-certified?
Countries outside of Germany don't have to comply with this certification. UK law says steady lights should be marked to BS6102/3 or BS3648, or an equivalent EC standard, but as long as you do have lights at night, then that's all that the police would care about, unless you blind them.
You tend to see StVZO lights in the wild (in the UK, at least) either fitted as standard to e-bikes, or fitted aftermarket by those using a dynamo hub.
As time goes on, more and more manufacturers are producing lights with StVZO-certification, so there are quite a few to choose from, whether you want a front or rear unit, a light that's bigger and more powerful, or something more compact for fast riding.
If you want to improve your road (or off-road) lighting and keep other road users happy, then don't go for the most lumens you can afford — get a StVZO light instead.
How do we test bike lights?
The Cyclingnews tech team are a group of dedicated cyclists who cover thousands of kilometres, and miles, every year. We ride road, and gravel, bikes and just like you we do it after the sun goes down, or before it comes up. Some of us commute on bikes and some of us only head out on our bikes for fun. With all the miles covered, we need lighting and that means using the best bike lights available. 
We've pulled from our experience to put together a list of what we think are the best bike lights on the market for a variety of different situations. We've got the best front bike lights and the best rear bike lights and some of them are bike commuting lights while others will work best for adventures. We even pulled a few in that have special tricks like cameras and radar capability.