Annemiek van Vleuten admittedly had a difficult start to the 2023 season – her final year of racing before retiring – but after winning La Vuelta Femenina in May and 'recharging her batteries' at an altitude training camp, the three-time winner is gearing up for her last assault on the Giro d'Italia Donne and, two weeks later, the Tour de France Femmes.
By most riders' standards, a fourth place in the Volta Valenciana and Strade Bianche would be solid spring results, but in 2022, Van Vleuten won two Classics, the Giro d'Italia, Tour de France Femmes and Vuelta Femenina and the world title. Understandably, having to wait until May for a first success could be frustrating.
Van Vleuten admitted that before the Tour of Flanders, she felt her enthusiasm flagging, but the Vuelta was a big boost for her morale.
"I came back from altitude just before Flanders, and I was like, wow, I feel a little bit – you don't have the eagerness anymore to race. Then suddenly it became a bit different, and the Vuelta actually became an energizer," the world champion said in a pre-race press conference.
It wasn't an easy victory by any stretch of the imagination, either. Van Vleuten didn't win a stage, and she only distanced Demi Vollering (SD Worx) when her rival stopped for a nature break in a crosswind section and couldn't return as Movistar guttered the peloton. 
Even though she was nowhere near her normal dominance on the final stage and had to turn herself inside out to hold onto her lead as Vollering leapt clear on the Lagos de Covadonga, Van Vleuten thoroughly enjoyed the race.
"I had a lot of fun – from a disappointment of the spring, and yeah, I'm back again and back in the mix. It gave me a lot of energy to feel that. Then I came with that feeling to altitude – I took my boyfriend – it was maybe one of our best altitude camps so far. It didn't feel like a training camp, and those are usually the ones where I have the best results. I really recharge my batteries. And that's what you need for such intense periods of racing coming up."
While the Tour de France victory in the race's debut last year was a massive result, the Giro has a special place in Van Vleuten's heart as "one of the first organisations that really take us serious[ly]". In her first appearance in 2010, the race finished on the Stelvio – one of the hardest climbs the women had done to that point – something that she said showed the women were being taken seriously.
"It's maybe why I started to fall in love with the Giro," Van Vleuten said. "At that moment, they were not thinking, 'Oh, maybe not everyone can finish it, or it's so sad for some girls that maybe they won't finish' – no, they took us serious. We also had finishes on the Mortirolo a couple of times."
However, this year, the belatedly announced route has none of the numerous famous ascents that have made Italian cycling history – just the Passo del Lupo (10.1km at 8.4%) on stage 5 and some shorter uphill finishes on stages 6, 7 and 8.
Van Vleuten says without the major climbs, it will be hard to make a difference "because the super hard climb (the Passo del Lupo) is really early in the race – after 15 kilometres, it starts. People that know me know this is something that is not really scaring me.
"In general, I was hoping more for a famous climb – I would have loved to race up the Mortirolo or the Stelvio one more time, especially because I usually a lot of time train there. I think it's not an easy one that Lupo – and I'm sure we'll have to be really attentive for all nine days, but I'm also a bit disappointed that [the stages] are a little bit short."
The nine stages include a 4.4-kilometre prologue and only three stages over 125km. The maximum average distance for Women's WorldTour races is 140 kilometres, and the Giro falls far short of that with an average of 103 kilometres.
Van Vleuten hopes that when RCS Sport takes over organising the race next season, it will be longer, but expects her final edition to be filled with "punchy, aggressive racing", especially with strong rival teams like SD Worx, Lidl-Trek with Elisa Longo Borghini and Gaia Realini, and Canyon-SRAM with a newly resurgent Chloé Dygert.
She admits that it will be hard for her Movistar team to control the race without a major mountain stage, but says it's not very different to 2022 when she attacked a category 2 climb on stage 4 and put a massive lead of 4:51 on everyone except Mavi Garcia (UAE Team ADQ). However, four of the same five riders at her side helped her win the Vuelta last month.
"I think everyone is here with a good fitness level, and they're ready to race," Van Vleuten said. "I think it's mainly harder for me to find a moment to make a difference in this Giro. Especially when you look at Gaia Realini, for example. There is no long time trial, and there are not a lot of mountains."
Whatever the outcome, Van Vleuten says she is not expecting to "copy-paste" her spectacular 2022 season.
"If you do something exceptional like last year, to ask me to copy something exceptional is not very realistic. So it was never ever my goal – I don't like copy-paste. The target is just to get the best out of myself and my team."
Not knowing the route until the week before the race, she said, was not a detriment because she would probably not have tried to do any reconnaissance of the course.
"I don't know if I could have done it if I would know [the route] beforehand – only when I would have been around my training area in Livigno. I'm really well prepared with my level of training and my training sessions, but I don't need to see everything. I also really like to race with my heart … I like to go with the flow, and you cannot control everything in cycling. That's also the beauty."
Although she is somewhat disappointed in the route, Van Vleuten said not having a harder course makes turning around to race the Tour de France Femmes in two weeks a bit easier.
"I think if there was so short of a time between two Grand Tours of the length of the guys, then it wouldn't be possible. But this way, it's nine days of racing and such short stages. I'm not scared at all that I need a long recovery. I think it will take two days easy at altitude, and then I will start training again. So if you feel super fit, there's not a problem."
Nostalgia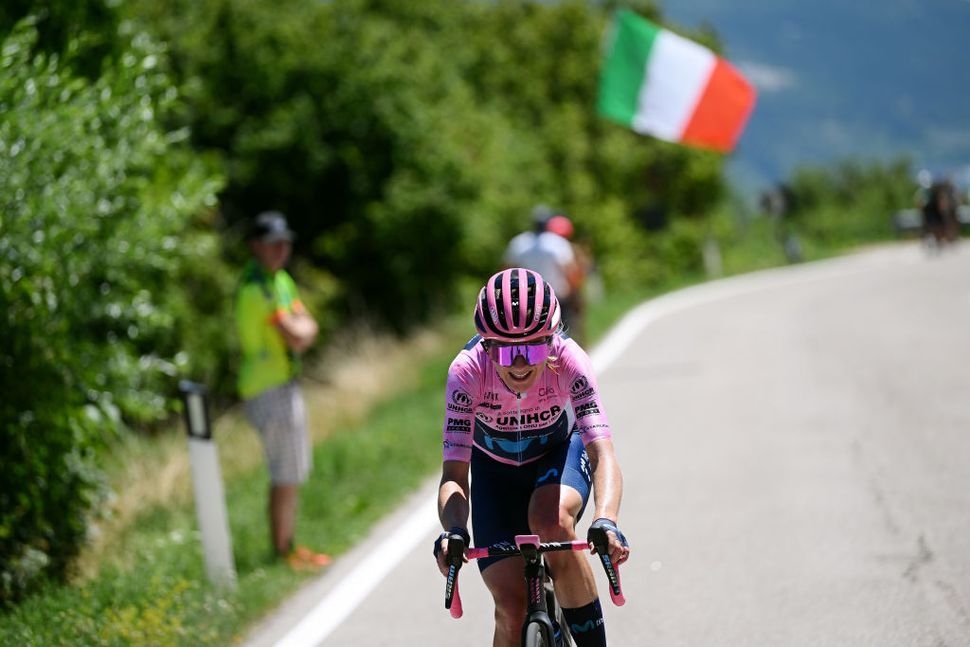 The Giro d'Italia Donne has a long history of thrilling racing, challenging courses, and spectacular views. It also has a reputation for chaos, the occasional snafu. For Van Vleuten, the race is one of the first where she felt the women were being treated as valid competitors.
"The first thing that stands out to me is that already in my first edition of this Giro, the Italian organisers really take us serious. I also never had a disappointment in the Giro. It's always a special race but Italian organised. Sometimes I always expect at least one time that we were sent the wrong way, which also puts a bit of a smile on your face.
"What always stands out to me is the tifosi – the people that are supporting us. I have the feeling in Italy that, even more, they support men and women equally or at least like athletes – men or women, it doesn't matter. They have respect for us. And I really like that from the Giro that's also something I will remember. And that started already in 2010.
"The Giro is so different from the Tour de France, I know in the Tour de France, there's so much tension around it. The Giro at first was maybe my main goal – it feels a bit more like racing with fun and a little bit less pressure around, so I always love to race in Italy."
She admitted the lack of clarity on if the race would happen and what it would look like was disappointing, however. "That this is still happening is a bit surprising, to be honest, because I think we are on the way up. There's a lot of attention… I can understand that it's not easy for the organisation to fulfil WorldTour commitments, but I think nowadays it should be possible with all the attention."
In 2024, RCS Sport will take over organising the Giro, as they do with the men and the under-23 Giro, and possibly add a women's event to Il Lombardia. The positive turn of events is not giving Van Vleuten any regrets or second thoughts about calling it quits at the end of this season, however.
"No, no, no second thoughts," Van Vleuten emphasised. "I will be happy – this organisation is having problems organising [the Giro] financially. There should not be situations like this in the Giro – hopefully, RCS will be better in that they have a bit more financial support and options to organise it well and announce it also well and beforehand. I think to announce also the route so late, I feel not taken seriously."
Van Vleuten also hopes that a women's Il Lombardia will be organised soon. "If you look at our calendar, I think there's a whole gap after September, we don't have any race anymore [except Tour of Chongming Island and Tour of Guangxi – ed]. I really hope that a solid calendar will come in the autumn for the women. I was really hoping I would have the opportunity to race Lombardia."
If the race goes on, however, she promises she will not delay retiring. "I will stop, don't worry!"