Even in the blindingly bright sunlight of the Tour of Oman, it was difficult to miss seeing Ukrainian national champion Andrii Ponomar.
The yellow and blue jersey of his country's colours stand out strongly against the ochres and oranges of Oman's stony mountain ranges and even at 20, the former junior European champion spent much of the race in a prominent place at the front of the bunch, working hard for his new Arkéa-Samsic squad.
Given the ongoing war in Ukraine and the anniversary of the Russian invasion, nobody could blame Ponomar if he was struggling to focus on something as trivial as a bike race. His father is currently fighting against the Russians, his hometown of Tcherniv was 70% destroyed in the earliest days of the invasion, and his mother and sister spent 11 days in an underground bunker before escaping to Italy.
It almost goes without saying that cycling in Ukraine has been hugely affected, with the National Championships cancelled, and the very fact Ponomar is still wearing the yellow and blue colours of the current champion he won in 2021 is a physical reminder of that.
At the end of this week, Ponomar's jersey will be on view again at the Omloop Het Nieuwsblad and, possibly, Kuurne-Brussels–Kuurrne. But as he sees it, racing in the Ukraine colours goes way beyond any usual obligations or motivations.
"I need to race strong and win so that people can see this jersey," the 20-year-old told Cyclingnews before the last stage of the Tour of Oman. "We have a war in Ukraine so we couldn't do the Nationals last year, so this year I'm very pleased to be able to show the colours of this jersey in all the races I do."
In Oman, Ponomar's best chance of winning was arguably on stage 4, a lengthy 200km grind through rugged mountain foothills where the early breakaway attempts came thick and fast with a race speed of well over 42kph. As race leader Matteo Jorgensen put it later, "everybody was coming after us at that point."
"I tried to get in one of the breaks early on in the first two hours, but sadly it didn't happen," Ponomar said, "but still I did some hard work for the team on the rest of the day, even on the climbs. After that, I just got to the finish as best I could."
He has certainly turned in an impressive track record in stage races to date. In 2021, aged 18, he became the youngest rider to complete a Giro d'Italia since 1929. And in 2022, riding for the Drone Hopper-Androni Giocattoli squad, he once again raced the Giro d'Italia from start to finish.
"I'm still trying to find out what kind of rider I am, and what my favourite type of racing could be," he adds. "I need to test myself, and joining Arkéa-Samsic this year, at WorldTour level, will surely help me to do that."
Meanwhile, the racing goes on, and after Oman, his next race will likely be Omloop this Saturday, but Ponomar is cautious about his chances, telling Cyclingnews that, "it's my first experience of that kind of Classics. I do like racing on the pavé and if I can do something, then great, because Classics are very different to the stage races."
Although he speaks Italian after two years with Androni, the question of the language barrier in a French-speaking team is not one that he has been able to resolve instantly, he says. "[But] we get by in English, which seems to work out OK. Things are going well with the new team and little by little, in the language, we're getting there."
'You never get used to this situation'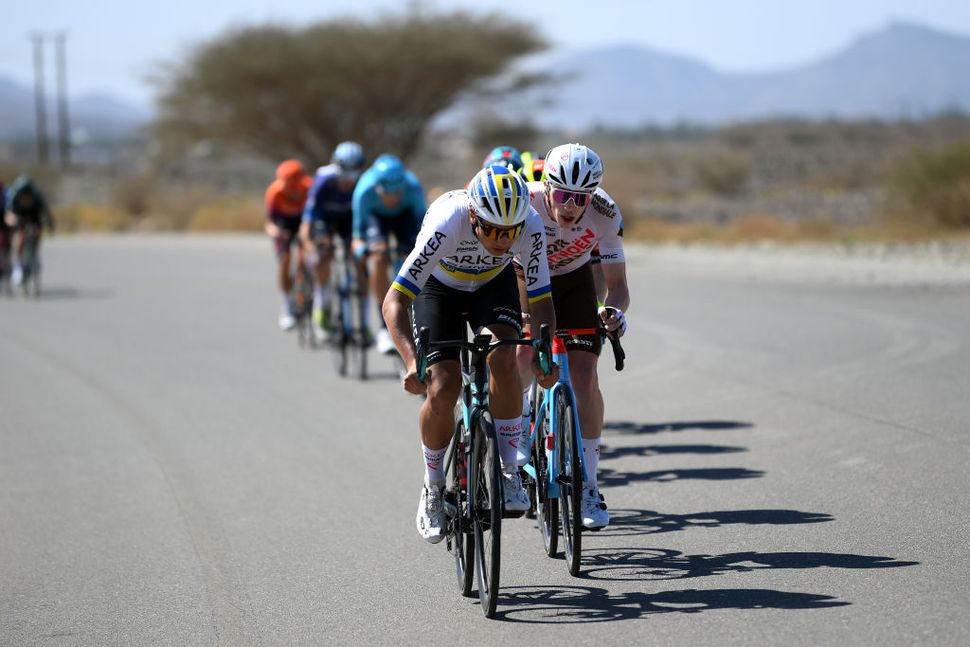 Given his family's and his country's circumstances, Ponomar has no need to glance down at his national jersey to remember the war. And although the daily routine of bike racing helps keep him from dwelling on it too much, he found it impossible to do so in the early days of the invasion when his city, which is on one of the main roads towards Kiev and close to the Belarus and Russian borders, was being attacked.
"When the war started last February 24, I was racing the first stage of Gran Camiño, a Spanish race," he recently told Belgian newspaper La Dernière Heure. "When I was on the bike, I told myself I needed to stay strong, that was the best attitude to have.
"But for the two following nights, I couldn't sleep at all, I couldn't stop reading the latest news updates, to try and reach my relatives. I was worried sick about my relatives whom I imagined were in danger and I had a total sense of powerlessness when faced with that.
"On stage 3, my body gave up. I started to ride but the stress inside me emptied me completely. After 10km I got in the car."
Ponomar did not race again for the following month and a half, until his sister and mother, desperately trying to make it out of Tcherniv and then out of the country, finally managed to join him in Italy in the Veneto region where he was residing. Meanwhile his father, whose career as a soldier was due to end in April, he told La Dernière Heure, had been mobilised and continues fighting in Ukraine.
"We still exchange messages but I don't manage to get him online via WhatsApp more than once a month more or less. He tries to keep me calm by saying he's doing fine and we are going to win this war," Ponomar said.
"You never get used to this situation but we learn little by little to handle the stress and the permanent tension we all feel."
But while his most important objective of 2023, would be peace in Ukraine, as he told the Belgian newspaper, he continues to do what he can, and give his national champion's jersey the highest profile he can.
"It makes me enormously proud. I've raced in many different countries with my jersey and the more people that see my blue and yellow jersey, the better. I want to represent my country in the peloton and being a kind of ambassador for Ukraine in the period we're going through makes me feel stronger.
"I see it as a kind of mission. And I get lots of commentaries and kind words from other riders, who ask me for my news and wish that we can have peace there again."