As a tech department, we're usually pretty good at spotting tech that's out of the ordinary. During time trials we're used to seeing new aero innovation, and while there are certainly aero tricks used in road stages, they are harder to spot. A case in point, throughout the Volta ao Algarve, Alexander Kristoff has been wearing an old discontinued time trial helmet, complete with visor removed, in the road stages without anyone picking it up. He even won took home a bunch sprint beneath the lid. 
Sprinters are perhaps the most aero-attuned of the pro peloton, besides those TT specialists. As air resistance is proportional to the square of the rider's velocity, the faster they go the greater the difference aero gains can make, so at full sprint, something like wearing a time trial helmet could indeed be the difference between winning and losing. 
Kristoff bested the likes of Jordi Meeus and Fabio Jakobsen while wearing the Sweet Protection 'Tucker' time trial helmet. Given its short form it's easy to see how it could be mistaken for a road aero helmet, but slap the removable visor and side plates on and it'd be right at home against the clock. The chopped rear end is similar to that of the Specialized Evade, but with noticeably lower sides and reduced frontal vents. It is listed in some places as "sufficiently low profile for road races", which is a claim that can't be levelled against most of the weird helmets at the Tour de France last year.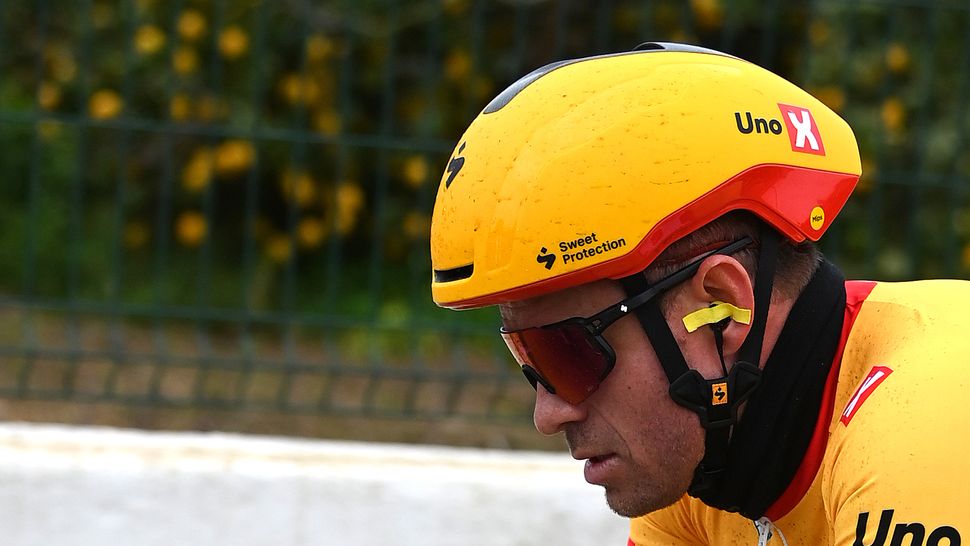 The model has been around since 2019, though the brand wasn't sponsoring teams at this level then, and it has since been discontinued. This is presumably because of a wild new time trial helmet also spotted at the Volta ao Algarve recently, but regardless it's certainly interesting to see a pro adopting four-year-old tech from a different discipline to get a winning edge.